1961
Facel Vega V8 Convertible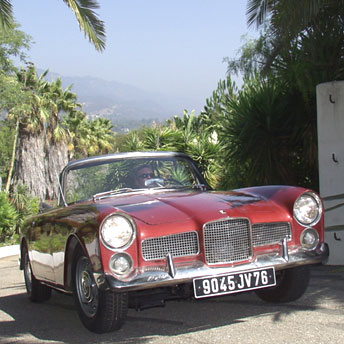 The quickest Facel Vega in the World, with an incredible story behind it! French Haute Couture on wheels.
1961
Jaguar XK-E

Series One, 3.8 liter Flat Floor Roadster. The 832nd E-Type built.
1961
Lincoln Continental Convertible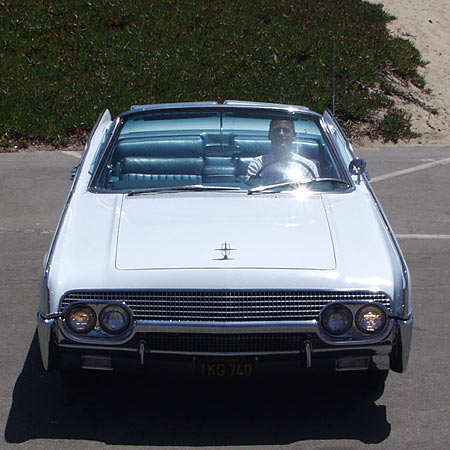 True survivor from SoCal, still licensed with its vintage black license plates.
1961
Mercedes 190SL
Roadster

The "Schlumpf car!
1961
Mercedes 300SL
Disc-Brake Roadster

Black with red leather, soft and hard top.
1961
MGA Roadster
with V8 power

Meet the Gyro Geerloose Special!
1961
Plymouth Fury 2dr. Hardtop Coupe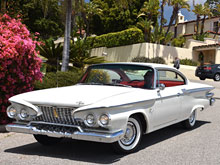 With just 41K miles on the clock, most likely the finest original of its kind in the world.
1962
Chrysler Newport Sedan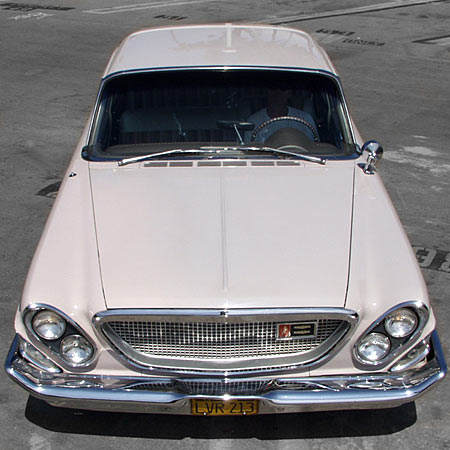 One of the finest survivors in the World. From Bill's personal car collection.
1962
Ferrari 250GTO
Recreation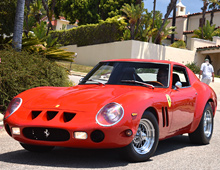 Rosso Corsa over black, powered by a 4.7-liter Corvette V8.
1962
Ferrari 250GT Spyder California Recreation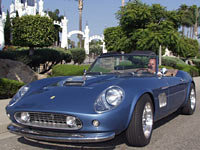 One of the finest examples of its kind in the World!
1962
Fiat 500 Giardiniera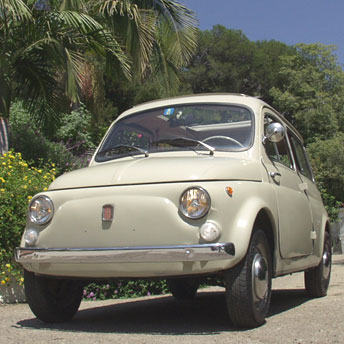 The biggest small car in the World! Viva Italia!
1962
Ford Thunderbird Sports Roadster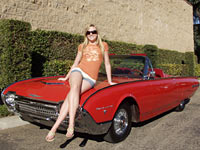 Rangoon Red with Kelsey Hayes chrome spoke wheels. Sexy!
1962
Jaguar XK-E Series 1 Coupe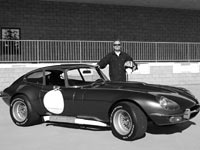 Powered by a 416 hp Chevrolet V8 mated to a Muncie 4-speed transmission.
1962
Karmann-Ghia Saxomat Coupe
Most likely one of three in existence! Redifining the term "rare."
1962
Lakester "Something"
A fully documented, historically significant, land-speed-record-holding Bonneville Salt Flats Lakester.
1962
Plymouth Fury Convertible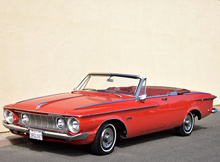 Bone-stock California car with the 260-horsepower 318 Polysphere V8, mated to a Chrysler 727 type-writer transmission.
1962
Kellison Astra J-5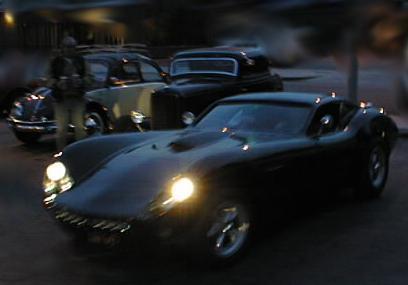 A wild ride! Extremely rare Vintage street/strip car with a super sexy body. "X-Rated!"
1962
Mercedes 300SL
Disc-Brake Roadster

The last one built; brand new! We sold this car shortly after 9/11/2001 for less than $85K. Since then its price has more than doubled.
1962
Studebaker Gran Tourismo Hawk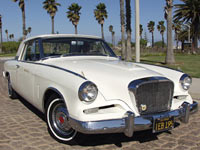 27,900 original miles. One of the finest, all original cars on the planet.
>
1963
Bentley S3

Gloria Swanson's last ride.
1963
Denzel-Porsche Spyder

A wild ride! We wish we would have kept this one . . .
1963
Ford Thunderbird Convertible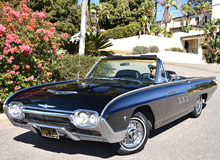 Factory triple black. Original black California license plates. Kelsey-Hayes chrome wire wheels, plus optional Roadster tonneau.
1963
Mercury Monterey Breezeway
2 dr. Hardtop Coupe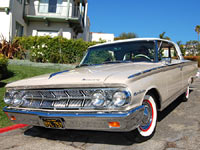 A breathtaking, all-original survivor, truly suberb.
German Version
1963
Mercury Monterey Colony Park
Station Wagon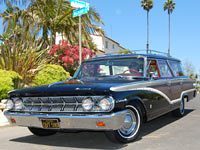 An almost 50 year-old car that looks like one that's merely 5 years old.
1963
MGB Roadster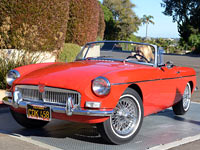 The 37th MGB built, in September of 1962. A 51,253-mile, 1-owner car.
1963
Plymouth Valiant Convertible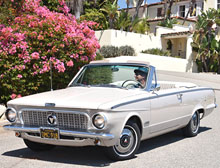 An all original California black license plate car with only 39K miles on the clock. Reference quality throughout!
1963
Porsche Speedster
Recreation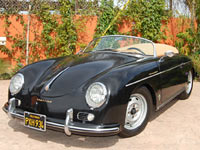 Based on a 1963 Porsche 356C with its 75-hp 1600 Super engine.
1963
Porsche 356B Coupe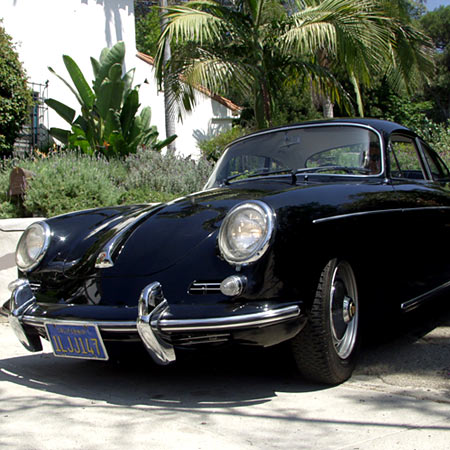 An exceptionally nice example. Factory black/black!
1963
Volkswagen Beetle Ragtop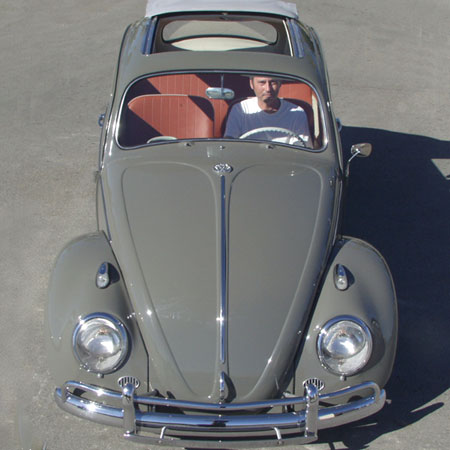 Incredible show-stopping Old School Bug, dubbed the "Flying Dutchman."
1964
Austin Mini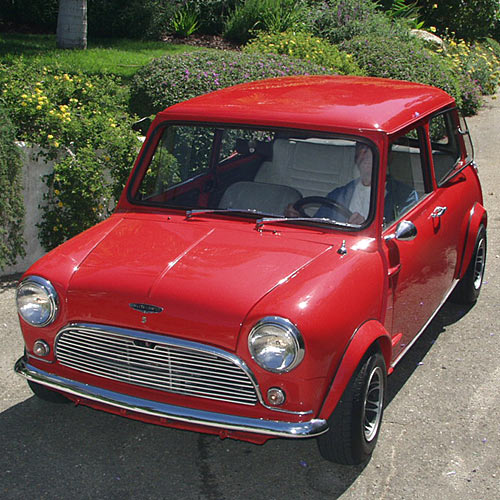 Original California blue plate car, not a rusty or converted import.
1964
Chevrolet Corvair Monza Convertible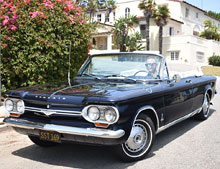 Black over white, at a fraction of the cost of a Porsche 356 Cabriolet!
1964
Ferrari 330GT 2+2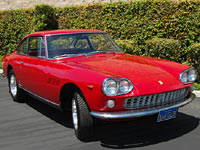 Chevrolet powered. Bargain of the Century!
1964
Ford Country Sedan
6-passenger Station Wagon
Perfect wagon for towing a vintage race car or nostalgia fuel dragster!
1964
Mercedes 220SE Coupe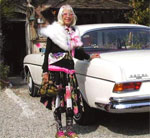 Original owner: Countess Petrosilia Zwackelmann!
1964
Porsche 356C Coupe

Irish Green/black interior. Original owner for 36 years!
1964
Porsche 356C Coupe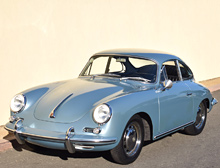 The story of STRUUDL, a one-family-owned heirloom Porsche.
1964
Bentley S3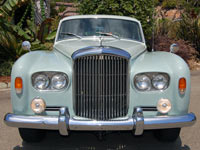 Wonderful presence of a stately, luxurious heirloom coach. Lucius Beebe's favorite!
1965
Harley-Davidson Servicar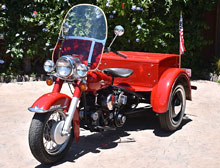 Beautifully restored Servicar, in California from new. Original engine with electric starter.
1966
Cadillac Fleetwood Brougham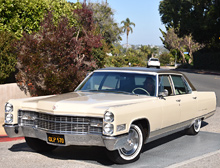 Sandalwood over Medium Beige Dartmoor cloth and leather. All original with only 25,075 miles on the clock.
1966
Chevrolet Corvette
Coupe

Original 427c.i./425 HP car w. a 4-speed. 52K mls.
1966
Jaguar XK-E Roadster

An Anglo-American hybrid in Silver-Sand/Oyster, powered by a Ford V-8.
1966
Jaguar XK-E
Series 1 Roadster

Red/black. One owner, 28,139 actual miles!
1966
Jaguar S-Type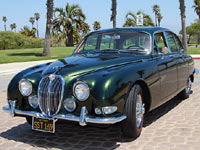 A matching numbers California black plate car that comes with original books and delivery documentation.
1966
Jaguar Mk X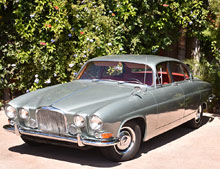 Ice Green Metallic over red leather. Extremely rare, 100% rust and accident free California Jag, in lovely condition throughout.
1966
Mercedes 230SL
(W113) Pagoda Roadster

White over red. The "Admiral's" car.
1966
Mercedes 230SL
(W113) Pagoda Roadster

Triple Green. Ex Tony Clifton: The Color of Money!
1966
MGB-GT Coupe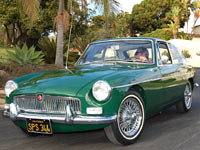 Just 45,316 actual miles and is still titled in the original Lady owner's name!
1966
Porsche 912 Coupe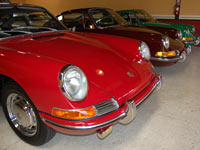 One of the finest Porsche 912s money can buy.
1966
Rolls Royce Mulliner
Park Ward Coupe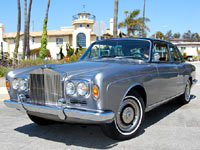 One of the earliest SS Coupes, with a marvelous celebrity provenance.
1966
Volkswagen Beetle Cabriolet
The story of an amzing one-off, pan-off, nut-and-bolt built!
1966
Volvo P1800S Coupe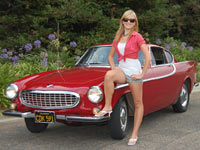 The "Saint" car, equipped with factory air conditioning, overdrive, and cruise control.
1967
Alfa Romeo Giulia
Sprint G.T. Veloce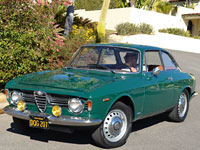 Tipo 105/36 Bertone "Stepnose" 1600 Coupe.
1967
Cadillac Coupe deVille Convertible
One-celebrity-owner California black license plate car, featuring original paint and interior.
1967
Cadillac Eldorado Coupe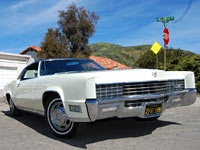 A majestic personal luxury Coupé, first of the FWD Cadillacs -- this one is the one to have!
1967
Chevrolet Nova II Wagon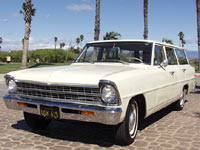 All original local Santa Barbara car, purchased from the 85 year old, first and only Lady owner.
1967
Chevrolet Corvette
Stingray Coupe

An amazing "Survivor of the Third Kind."
1967
Morris Mini Moke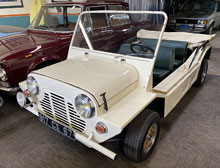 All numbers matching, fully sorted original Moke with heater, full weather kit, and Heritage Certificate.
1967
Jaguar 420 Saloon
Owned by one of the most remarkable people in the nation: Dr. Bruce Virgil Elings.
1967
Maserati Ghibli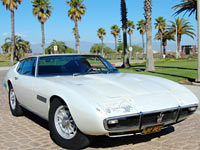 Originally special-ordered by Sonny & Cher and mildly customized by none other than George Barris.
1967
Mercedes 230S
(W111) "Tailfin" Sedan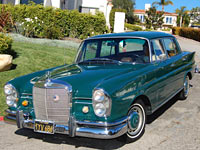 The most beautiful unrestored original example of an early S-Class you'll ever see.
1967
Mercedes 250SE V8
Cabriolet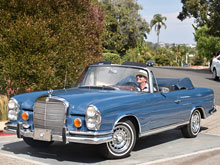 Lucille Ball's Mercedes convertible!
1967
Mercedes 600

A "Grosser Mercedes," the car for Kings and Potentates!
1967
MGB Roadster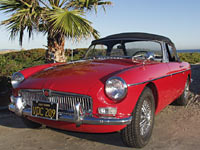 A fantastic example of the marque, even by our elevated standards.
1967
MG Midget Roadster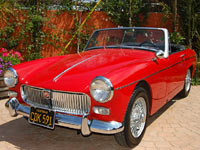 Perhaps the most genuine example of its vintage remaining.
1967
Shelby GT 500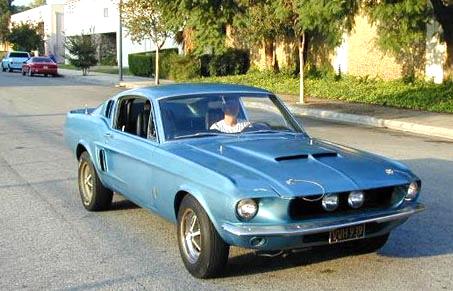 Blue/ black. "Barn find" with original 428/355 HP, 4-speed.
1967
Karmann Ghia Coupe
The original "Larry's Old Volks Home" car, which still holds land speed records in 11 different classes today.
1967
Plymouth Barracuda Convertible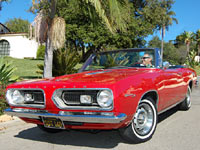 A rare survivor, one of 4,416 made for the model year.
1967
Triumph TR4
Surrey Top Roadster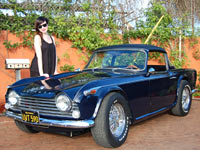 Powered by an all-aluminum 215 cu.in. Buick-Rover V8 engine.
1968
Austin Healey Sprite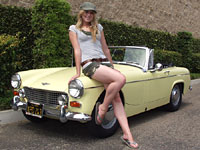 The little Sprite is surprisingly spacious and a fantastic little Roadster to own.
1968
Chevrolet Camaro RS/SS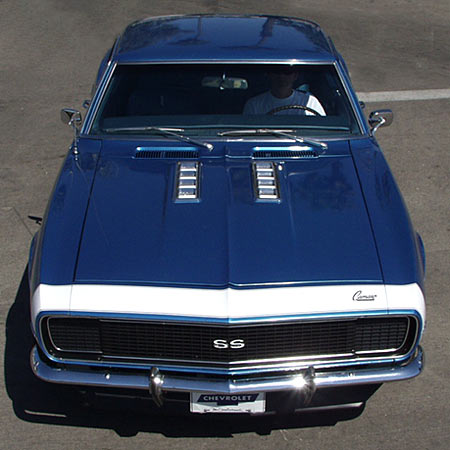 One owner California black plate car with big block and four on the floor! Blue Chip Muscle Car!
1968
Chevrolet Mako Shark Convertible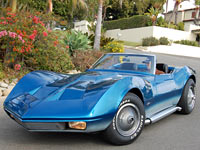 Bill Mitchell's incredible concept car, with 427 cu.in. big block and 4-speed Muncie.
1968
Fiberfab Jamaican V8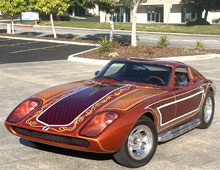 Arguably the sexiest Jamaican on the planet! Big Austin-Healey frame and 400 Chevy V8 power!
1968
Karmann Ghia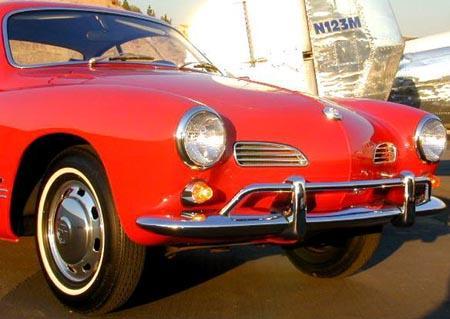 Red over black.
A museum's piece with only 7,402 original miles.
1968
Intermeccanica Omega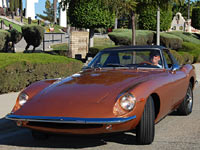 Predecessor of the Italia, and one of only 33 cars built, with final assembly at Holman Moody!
1968
Porsche 912 RHD Coupe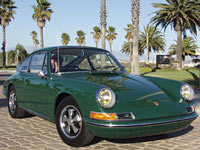 Fully restored factory right-hand-drive car, in California since 1969.
1968
Porsche 912 Softwindow Targa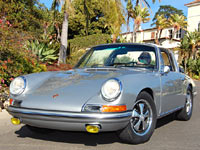 Zero miles on comprehensive restoration by a well-known marque specialist.
1968
Porsche 912 Softwindow Targa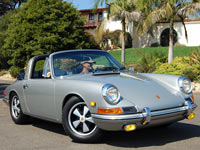 Matching numbers and CoA, as well as documentation so comprehensive, it boggles the mind.
1968
Rolls Royce
Mulliner Park Ward Coupe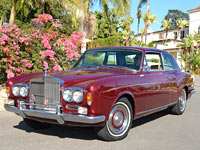 Fully documented California car, special ordered by a U.S. army Brigadier General.
1969
BMW Lloyd Jagdwagen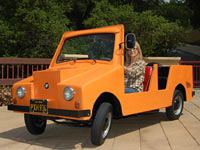 Goggomobil-based ("Hunting Car") works prototype with Krupp all-steel body.
1969
Chevrolet Camaro Z/28
Showcar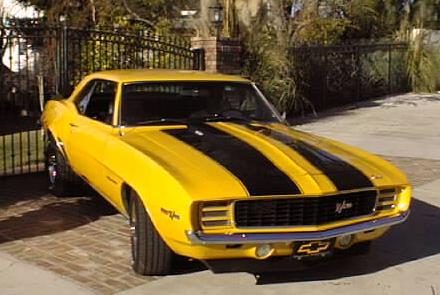 Big Block + "DZ"-code 302. Daytona Yellow.
1969
Dodge Coronet
Bonneville Race Car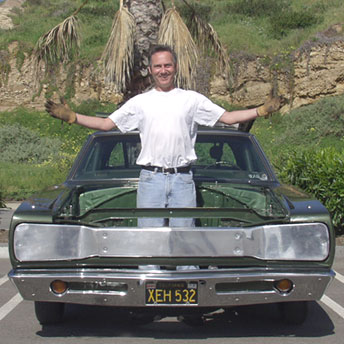 Bill's former Land Speed Record car: the famous # 426!
1969
Dodge Daytona Coupe

The authentic "Joe Dirt" movie car! Wild!
1969
Excalibur SS Series 1
Phaeton
California blue license plate car with only 16K actual miles. Immense fun to drive!
1969
Mercedes 220D V8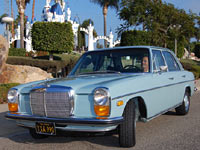 In 1973, when the factory 55-hp Diesel engine expired, a 1969 Ford 302-V8 was installed.
1969
Mercedes-Benz 250SE Coupe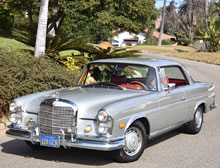 Exceptional, fully documented California car with an interesting provenance.
1969
Mercedes 280SL
Pagoda Roadster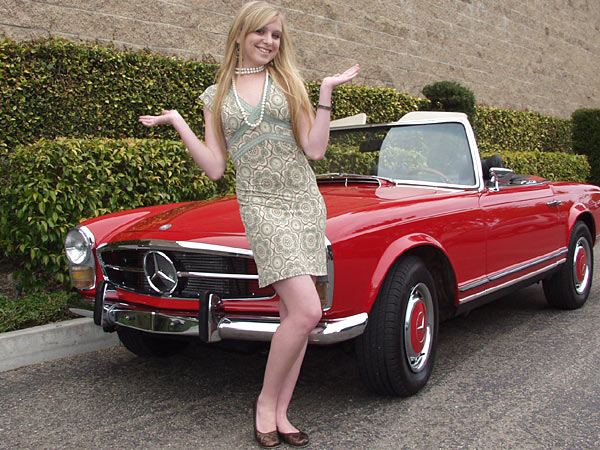 A documented $75,651.57 were invested in the previous owner's pursuit of perfection.
1969
MGC-GT Coupe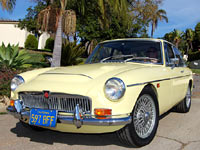 Original California blue-license-plate car in factory Primrose paint, 13,289 actual, documented miles since new.
1969
Porsche 912 Coupe
California black-license-plate car finished in its original and very desirable Tangerine (code 6809)over black.
1969
Triumph T100R Daytona 500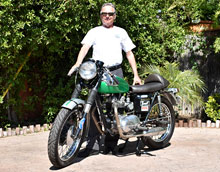 Ex-Bonneville Land Speed Racer, superbly documented, expertly rebuilt, and 100% matching numbers.
1970
Alfa Romeo Giulia 1300ti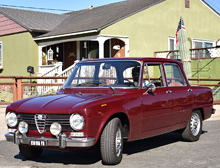 Amaranto Red over saddle. A largely unrestored original, equipped with 2x2bbl Solex sidedrafts and 5-speed.
1970
Dodge Challenger R/T 440 Magnum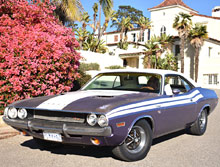 Factory Plum Crazy 2-owner California car with just 88,788 original miles on the clock.
1970
Ford Mustang Boss 302
w/ 4-speed manual transmission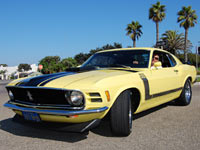 Matching #s California car w. 50K orig. miles. Broadcast sheet and Marti Report.
1970
Jaguar XK-E Coupe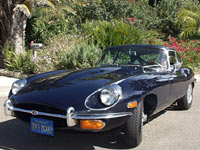 Dark blue over gray leather. All original California blue plate car with original miles. The finest unrestored Jaguar of its kind we have ever seen.
1970
Lotus Elan Convertible
with Big Valve Head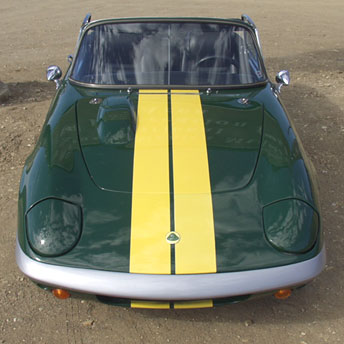 Colin Chapman's most successful creation.
1970
Mercedes-Benz 280SL
Pagoda Roadster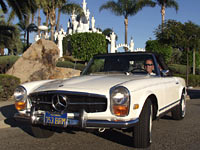 The finest unrestored 280SL we have ever had.
1970
Mercury Cyclone Spoiler 429SCJ
One of 341 "top dog" Cyclone Spoilers with factory 429SCJ and Drag Pack.
1970
Plymouth Road Runner Superbird
One of the outrageous 1,933 winged warriors created for NASCAR racing.
1970
Porsche 911T 2.2 Sunroof Coupe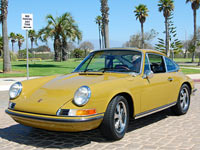 Factory Olive (Code #414). Electric sunroof, leather Porsche sport seats, wooden steering wheel, "Deep Six" FUCHS alloys.
1970
Porsche 911S 2.2 Targa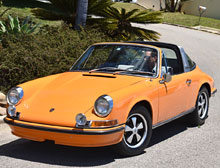 100% rust free, 100% matching numbers, KARDEX-documented, fully sorted, California blue license plate "S".
1970
Porsche 914-6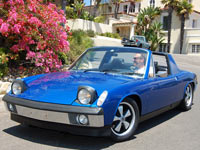 Matching numbers car with 2.0-liter six. Porsche Certificate of Authenticity.
1970
Tice CanAm Special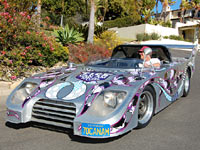 A tube-framed, aluminum-skinned, winged Can-Am supercar for the road. Absolutely mindboggling!
1970
Triumph GT6 Coupe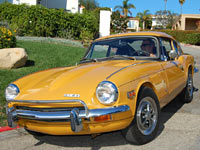 Local Santa Barbara one-owner blue license plate car. 40K or. miles. Factory original down to the Rostyle hubcaps.