It all started with a sketch, drawn on a napkin, back in 1956.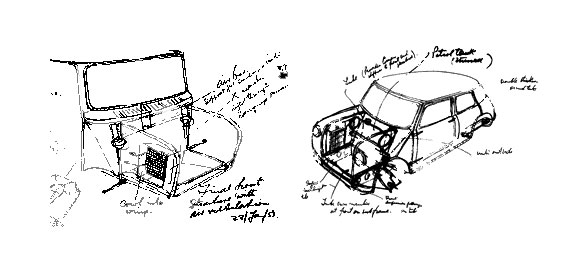 A small car, bigger on the inside than the outside, with enough room for four adults and luggage. Quick, nimble, and thrifty. Perfect for inner city traffic.
Its designer, Sir Alec Issigonis, affectionately called it Mini.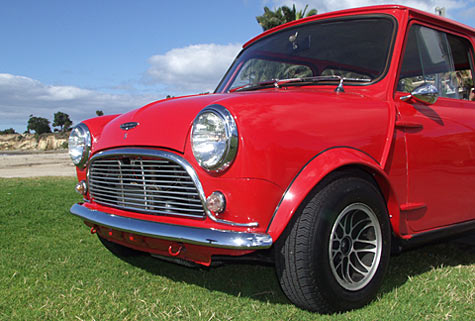 Click on the above image for an XXL-sized view (800 x 540 pixels)
Production of the BMC Mini--concurrently as the Morris Mini Minor and Austin Seven--started in August 1959. Who would have guessed, back when tail-finned behemoths ruled the streets, that the Mini would become one of the most successful car designs of all time? A small car. A fun car. And--in the guise of the now legendary Cooper--a sports car that would conquer the grueling Rally Monte Carlo four times in a row (from 1964 to 1967).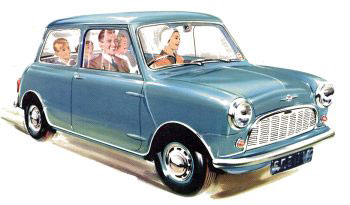 Compared to the oh-so-hip NEW MINI by BMW, the original Austin/Morris Mini is a dwarf car. Just 120 inches long, it weighs less than half as much as its Bavarian successor. (The NEW MINI outweighs a 1965 Ford Mustang Fastback, by the way.)
Offically, BMC exported very few Minis to the United States, from 1960 to 1967 only. "Classic" Minis offered for sale today are for the most part privately imported, rusty Euro cars, haphazardly re-habbed or often "recreated," using not much more than an old VIN and the grafted-on body from a newer model. Some of these recent imports started life as right hand drive cars in New Zealand.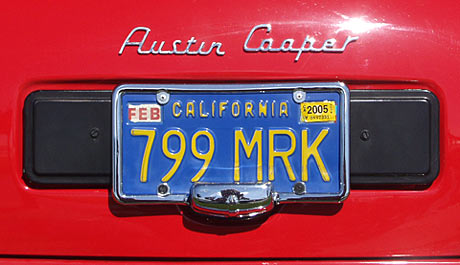 This Mini is an exception!
A California resident since new, the 1964 Austin Mini presented for auction here, VIN*AA2S7L625099A*, was sold new in the Southland. It still proudly wears its original, vintage, blue-and-yellow California license plate like a badge of honor. The car was always adult-owned and has never been raced. Its odometer currently shows 27,787 miles.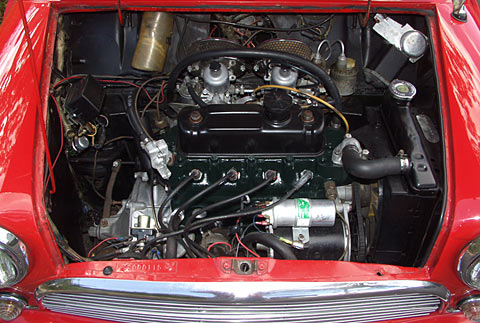 Click on the above image for an XXL-sized view (800 x 538 pixels)
This Mini comes with a big heart. Healthy as the proverbial ox, its 1,275cc power plant is fed by dual SU carburetors. Breathing is being aided by a competition camshaft, and the Mini exhales through a tube header. Enhanced cooling is provided by a finned aluminum oil pan and a custom-built radiator. This combo is powerful enough to catapult the feather-light cube through traffic like a speeding bullet!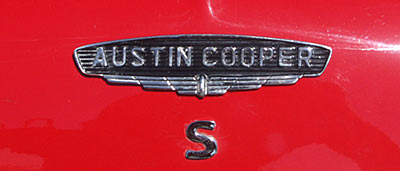 You might have noticed: this engine matches full Cooper "S" specs! Yep, that's right. It doesn't get any bigger or any faster in an "original" Mini!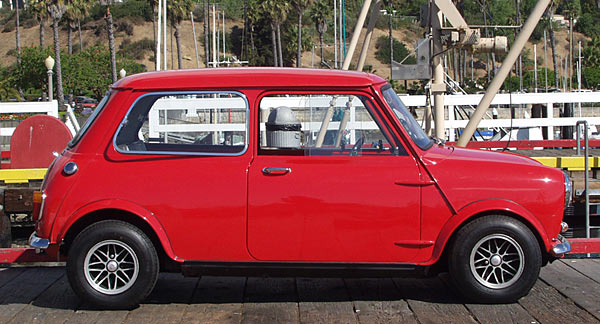 Click on the above image for an XXL-sized view (900 x 549 pixels)
It does get better, though.
Please, follow me around while I inspect this authentic, 40-year-old Mini from every possible angle. Top to bottom, inside and out.
Let's start with the doors. All pre-1980 Minis have the door hinges on the outside; they should be tight and smooth, as they are here. Worn door hinges as well as sagging or "converted" doors are a red flag.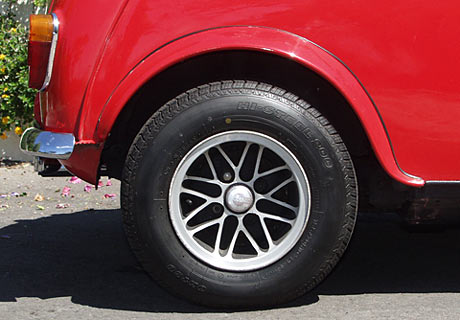 Click on the above image for another, XXL-sized image (800 x 588 pixels)
Another clear indicator of a real vintage Mini are the wheels and tires.
If you see anything bigger than 10 inches in diameter, be alarmed! All Minis until late '79 came with 10" wheels and there is no reason to convert an early car to larger wheels. In fact, the 10" wheels are an essential part of the fun ride, just inches above the ground!
This Mini is equipped with the very desirable COSMIC aluminum alloy wheels, as found on many competition models, and, yes, it is also equipped with front disc brakes, a Cooper option, back in 1964.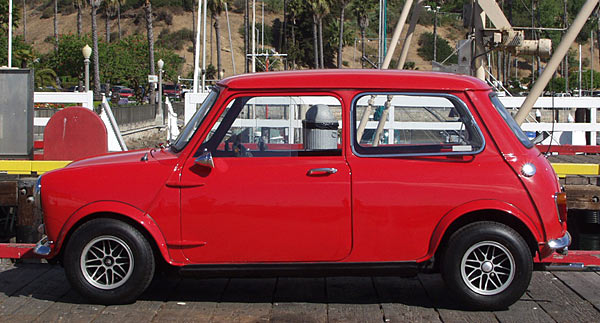 Click on the above image for an XXL-sized view (900 x 574 pixels)
Attention-grabbing Mini features older, but very glossy Guards Red paint. Bodywork is very straight, with just a small ding atop the left front fender. There are a few very small marks along the bottom of the doors, otherwise, the body appears to be rust free.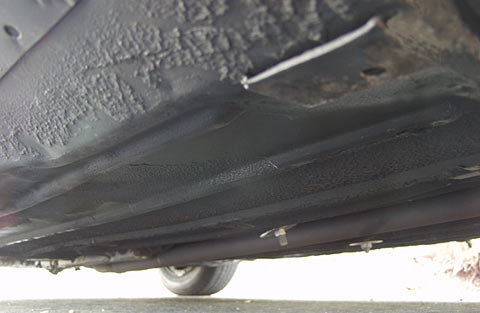 Click on the above image for an XXL-sized view (800 x 521 pixels)
Of great importance is a rust free undercarriage. Most Minis, with their exposed bellies so close to the ground and insufficient factory corrosion protection, have a lot to hide in this area. This one is the exception to the rule. Everything looks clean and solid; you couldn't poke holes into this Mini's floors with an ice pick!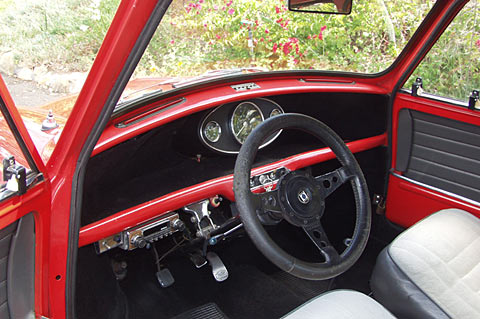 Click on the above image for an XXL-sized view (800 x 531 pixels)
Now, let's take a look inside. Wow, this is one spacious cabin!
Mini truly is a minimalist car: it provides the bare essentials, nothing else. In doing so, it is a very practical vehicle. For example, sliding windows afford large storage bins in the hollowed-out doors. There is a shelf on each side of the gauge cluster. The ingeniously designed, transversely mounted engine driving the front wheels means no transmission tunnel to take up valuable interior space. You are 6'5" tall?
Yes, you will fit!
Click on any of the above images for a full-size view
Mini also is the individualist's car. Every detail speaks volumes, from the Paddy Hopkirk ('64 Rally Monte Carlo winner) gas pedal and iconic, mid-mount Cooper instrument binnacle (all of the gauges work!), to the vintage 3" DEIST racing lap belts.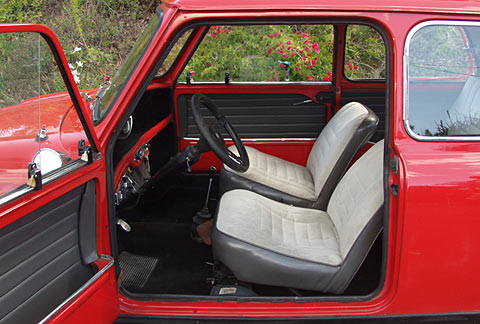 Click on the above image for an XXL-sized view (800 x 546 pixels)
Simple does not have to be spartan. Mini is legendary for being comfortable, too. Seats are large and well-stuffed, and Mini's suspension, another Alec Issigonis stroke of genius, using rubber cones with progressive spring rates, keeps the ride ultra-smooth at all time, even with four Sumo wrestlers aboard.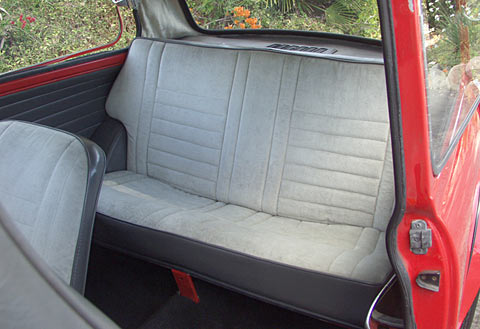 Click on the above image for an XXL-sized view (800 x 600 pixels)
Yes, there is plenty of room in the rear. Gray vinyl-and-velour seats are in excellent condition. Black carpeting throughout is brand new.
Note the pop out rear side windows!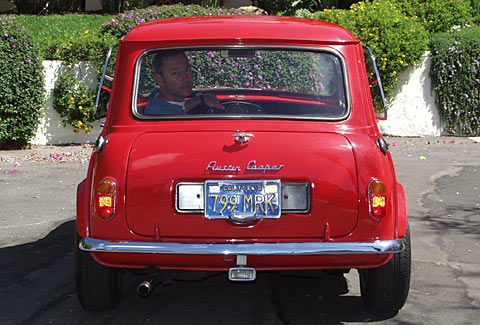 Ready for a test drive?
So are we! But there's one more area to inspect: the trunk.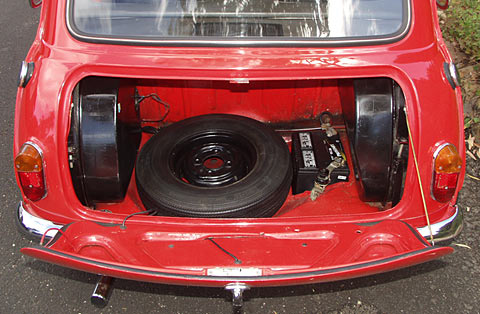 Click on the above image for an XXL-sized view (800 x 589 pixels)
You immediately notice the dual fuel tanks (one on each side), once a Cooper exclusive. Correct 10" spare lives in recessed section, as does the battery, another ingenious detail to lower the center of gravity and improve handling.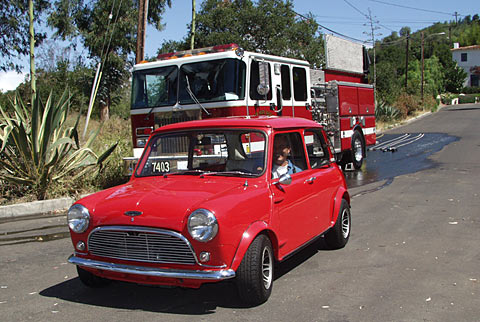 Click on the above image for an XXL-sized view (800 x 546 pixels)
Naturally, driving an original Mini is a unique experience. Riding inches above the tarmac, Mini handles like a Go-Kart, entirely unimpressed by gravitational forces that make Ford Explorers and other SUVs roll over so easily. It jumps lanes, squeezes into the smallest spaces, and screams forward with the fearless determination of a giant.
Mini's secret is its outstanding power-to-weight ratio. Combined with its exemplary handling even a contemporary Porsche 911 won't be able to keep pace, once the road gets twisty.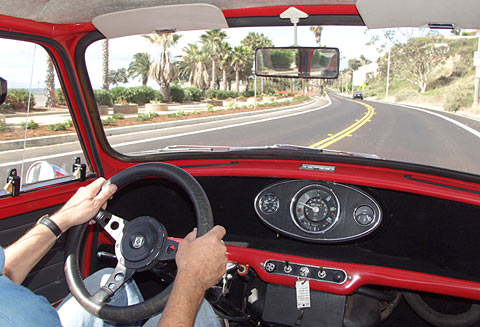 Click on the above image for an XXL-sized view (800 x 600 pixels)
Visibility in all directions is superb, and the attention you receive is priceless. Everybody loves the Mini. It's a true icon of the swingin' Sixties!
More so, every drive is a bit of a trip to the race track. This little giant screams and howls, rumbles and growls, just the way we've come to like it. It is not a whisper quiet car, and it might shake loose a kidney stone or two on rough terrain. It will make you feel alive, though, give you a reason to sneak into the garage in the middle of the night and go for a drive, following Paddy's tire tracks. You'll love it!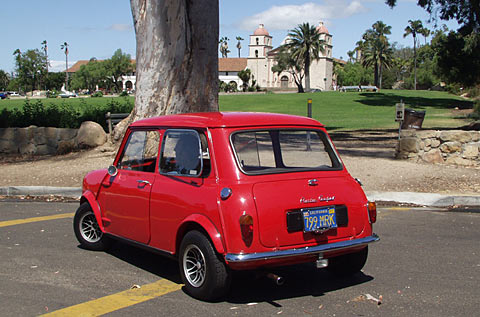 Click on the above image for an XXL-sized view (800 x 552 pixels)
Despite being produced in substantial numbers in the 1960s, there are precious few survivors today. An authentic, 40 year-old Austin Mini, featuring Cooper specs, having resided in the benevolent California climate all of its life, is a rare find, indeed.
Frankly, it doesn't get much better than this.
Yeah, baby!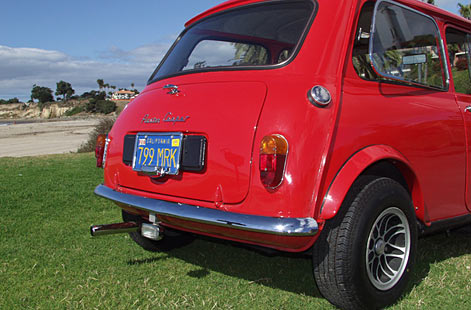 Click on the above image for an XXL-sized view (800 x 579 pixels)
Addendum: This Mini sold in Summer of 2004 to a young Lady in Las Vegas, Nevada. She works as a performer at the Excalibur and loves her new old car!