Automobiles and Hollywood movies are inextricably linked. Cars have promoted movies (just think of American Graffiti), and movies have turned cars into superstars (James Bond's Aston Martin DB5 comes to mind).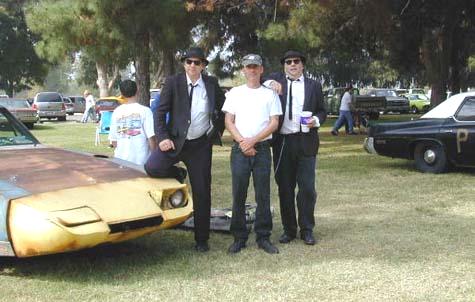 The 1969 Daytona presented here starred in the 60 Million Dollar-grossing hit comedy "The Adventures of Joe Dirt," just released on DVD, PayPerView, and video cassette.
This movie, produced by Adam Sandler and starring fellow SNL-Alumni David Spade, Dennis Miller, and Christopher Walken, tells the story of Joe Dirt, a hard-rock-loving janitor wearing a '70s mullet hairdo, who criss-crosses the country in search of his parents.
One of the funniest scenes depicts Joe Dirt at the impound lot: financially unable to retrieve his mint '67 Plymouth Hemi GTX convertible, he's buying the Charger Daytona instead . . . for $450.00!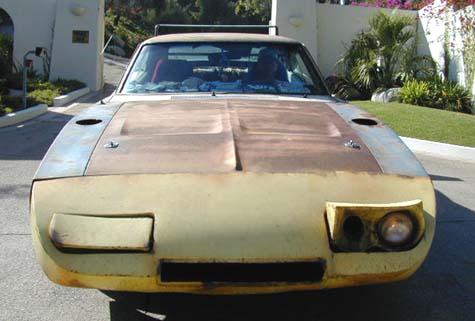 This is outright hilarious since a Dodge Daytona, even a restoration project, is not something a minimum-wage-earning worker bee would ever be able to afford. Unattainable for anyone but the most astute collectors, these extremely rare winged wonders feature prominently in muscle car collections around the World. If one changes hands (which rarely happens), prices upward of $100,000.00 are frequently realized.
The ultimate Charger was created by the father of the HEMI, Bob Rodger, and his men as MoPar's answer to machines such as the Torino Talladega and Cyclone Spoiler in a bid to regain supremacy on the Nation's NASCAR superspeedways. Sold as a 69½ model, 503 examples were produced, just enough to qualify for NASCAR racing. Of these, 70 had the feared 426 Hemi engine; the rest came with the stout 440 Magnum. An immediate success on the track, the cars virtually dominated stock car racing in 1969. Buddy Baker became the first man to break the 200mph barrier, at Alabama International Speedway, and NASCAR champ Bobby Isaac took his Daytona to Bonneville where he set a new land speed record of 217.368mph.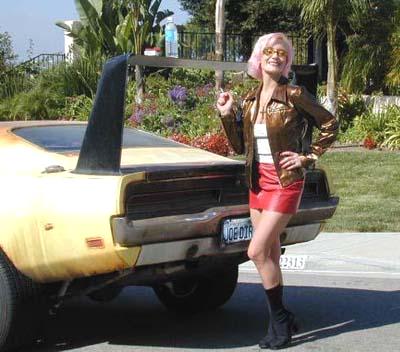 Three primary features distinguish the 69½ Charger Daytona from a "regular" Dodge Charger; they were designed to help the car achieve its astonishing 200mph-plus speeds and keep it stable while flying along at low altitude:
The 19-inch, aerodynamic nose cone with the flip up-style headlights.
The flush-mounted rear window.
The gigantic, adjustable rear wing, which serves more than one purpose: it's also a handy towel rack or a shelf for cigarette packs and beer cans during pit stops.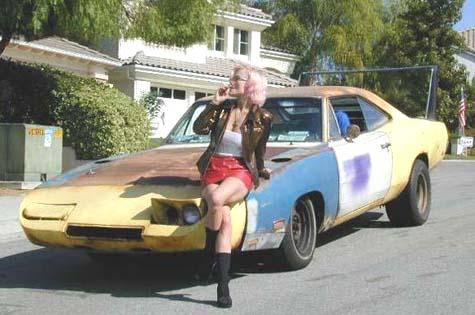 Of course, this being Hollywood, Joe Dirt's Daytona is wearing heavy stage make-up. We left the war paint untouched to preserve the car's original movie look. But don't be mislead by the mismatched exterior colors and the neglected appearance; Hollywood's masters of illusion accomplished an amazing job of artificially aging this straight and solid California survivor.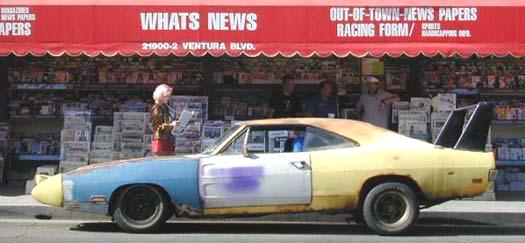 This car started life as a 1969 Charger, the real thing. Since I have not researched the VIN, I am uncertain about the car's exact equipment as delivered by the factory.

For the numbers archeologists who'd like to do some digging, here's a close-up of the VIN on the dash.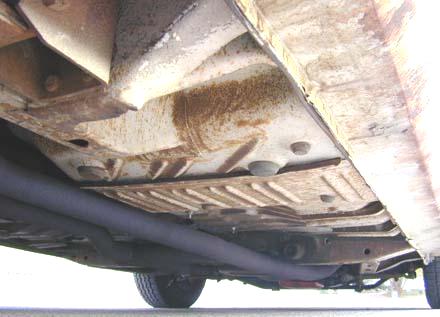 Click above image for another, larger image
Let me explicitly state that Joe Dirt's Daytona is not a rusty car! One look at the undercarriage, which has never suffered the indignity of having been Ziebarted, and you will find perfectly unmolested, bone dry and healthy metal! (Check out the fake rust.)
Typically, the only place where any scaling is to be found would be the trunk, under the mat.
Click any of the above images for a full size view
In fact, before the car was artificially aged, it was wearing a show quality, statutory grape paint job, which is still visible when opening the doors and the hood. It's a plum crazy twist on the usual shiny-paint-over-bondo philosophy; here, dull (movie) paint hides clean, rust free metal!
( Please note, these are actual photos, taken on 11-3-2001.)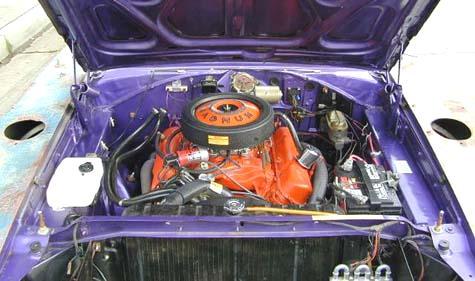 Since the hood is raised, we might as well show you a little something to drool over:
The Daytona is propelled by MoPar's legendary big block, the 440 Magnum, rated at 375 horsepower in stock trim. This one is a veritable work of art. No other than MoPar drag racing legend Dick Landy lent his magical touch to assemble the engine, to the tune of thousands of $$. It is in brand new condition, healthy as a fighting bull, does not leak and does not smoke. Surely as good as it gets !
Click any of the above images for a full size view
Polished DLI heads are topped by a WEIAND intake and a brand-new EDELBROCK Performer carburetor. A mild, .455 lift camshaft keeps the idle smooth, spark is hopped up by MSD, and stock cast iron exhaust manifolds dump into a dual exhaust system with FLOWMASTERS. The Charger features power steering, front disc brakes, and a 727 Torqueflite automatic transmission that was actually rebuilt during filming, less than 1,000 miles ago.
the Dirtmobile's interior displays a mesmerizing, shagadelic '70s cozyness, with a chrome footprint gas pedal, fluffy dayglo seat covers (hiding perfectly upholstered white sport seats), Tijuana special chrome chain steering wheel, handcuffs and 8-balls gracing the rearview mirror, and, most importantly, the 8-Track player. Listening to BTO's "You ain't seen nothing yet" or Lynyrd's "Sweet Home Alabama" is mandatory while piloting the Daytona!
Click any of the above images for a full size view
Above, left to right:
Correct details of the Charger's aircraft-like cockpit include 150mph speedometer, masterfully arranged trashboard, "Howling at Home" cartridge. Hey, all instruments and lights work perfectly, down to the ignition lock illumination and the horn. Beep, Beep!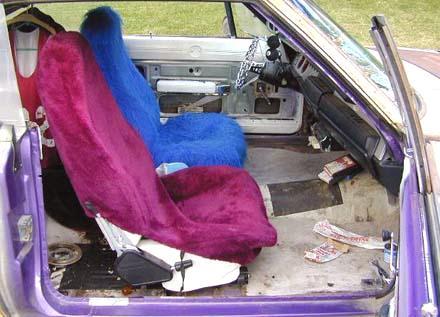 Click the above image for another, larger image
Joe Dirt's favorite place, displaying the right ambiente for the big date with Brandi!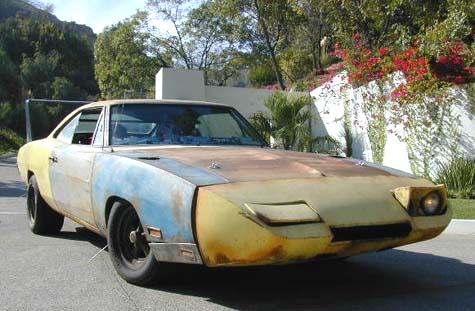 Pump the chrome foot twice, listen to the typical whine of MoPar's gear reduction starter, and the winged wonder rumbles to life, immediately settling into a very pleasant idle. Put 'er in gear, and off we go to Beverly. Hills, that is.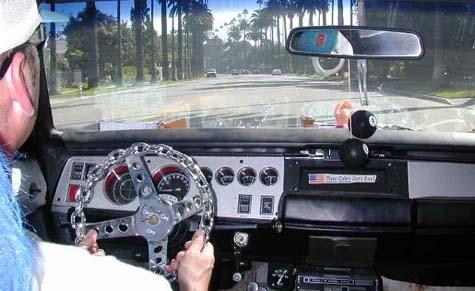 The Daytona is as much at home on sun-drenched, palm-lined Boulevards as it is on rural interstate highways. Joe Dirt's a cruiser! Needless to say, being a true 1960s muscle car with close to 400 horsepower on tap, the Daytona is fast, very fast, indeed.
Watch out for Smokey!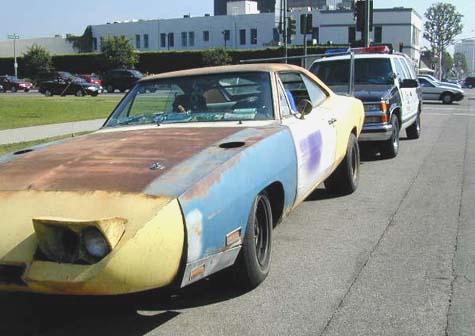 Oops . . . we're being pulled over on Rodeo Drive, just beyond Santa Monica Boulevard. Da fuzz just had to check out the strange bird. Yes, officer, we're just passing through. No, we're not going to come back. Thanks, anyway, for the friendly warning. Just shoot me . . .
Check out the stylish curb feelers. The tires are brand new, and so are the original CRAGAR S/S 5-spoke chrome wheels. Rusty? Nooo . . . that's makeup, too!
Currently licensed with California vanity plates that read JOE DIRT, the car is registered until June 2002. Being over 30 years old, it is smog exempt in all 50 States of the Union. The Colorado license plate, mounted on the car during the movie shoot, is also included, as well as . . .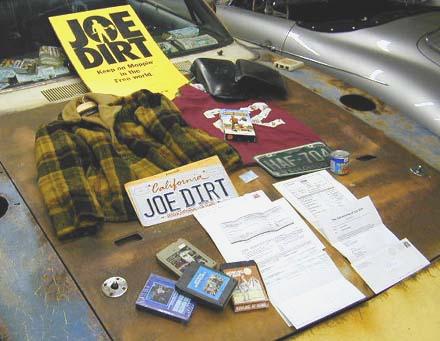 . . . a suitcase full of original props and documents specifically related to the filming, such as:
"Joe Dirt" lobby card
Original call sheet for 06/24/2000
Invoices, copies of cancelled checks from the production company
Indemnity certificate for the Daytona
Various 8-Track cartridges (AC/DC, Lynyrd Skynyrd, etc.)
Joe Dirt's lumberjack jacket and red "#22" T-shirt
Can of Libby's Vienna Franks
Ticket stub from the movie
"The Adventures of Joe Dirt" video (Betamax)
Pair of Daytona fender scoops with mounting hardware
May 2001 issue of MoPar Collector's Guide which includes a feature on this Daytona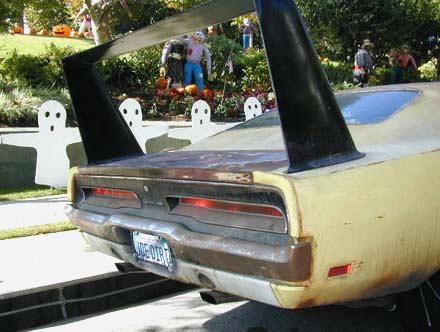 Movie cars usually have Doppelgängers. There are dozens of General Lee Chargers, a couple of Austin Powers' shagadelic Jaguar E-Types. Columbo went through a few Pooh-Joe 403 convertibles; about five or six Batmobiles still exist. One of the three (fake) Shelby Mustangs named Eleanor from Nicholas Cage's recent "Gone in 60 Seconds" sold at auction last year for a cool $98,000.00.
However, and this is very important regarding this particular movie car's collector value, there is only one Joe Dirt Dodge Charger Daytona. Furthermore, the car has not been modified in any way since it left the movie set.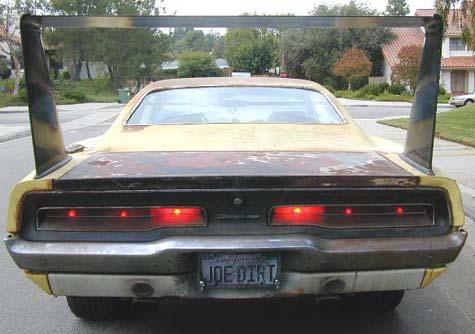 In the end, Joe Dirt is reunited with his parents at an Adult Trailer Park in Simi Valley, California. Art is imitating life here: the Daytona's pink slip lists a Simi Valley address!
You will have more fun driving Joe Dirt's Dodge Daytona than you thought humanly possible. It's the only one ever built, it's complete and in "as filmed" condition.
It's ready to be a functional centerpiece for a great muscle car collection; a favorite, head turning cruiser; and an extremely popular attraction at the next MoPar Nationals.