The French have a glorious tradition of ultra-exclusive, fast road cars. Les Grands Routieres featured big, powerful engines, flashy bodywork, and space for two consenting adults and their Louis Vuitton bags. It's quite a trip from Paris to the Côte d'Azur, and la Maitresse is always so impatient . . .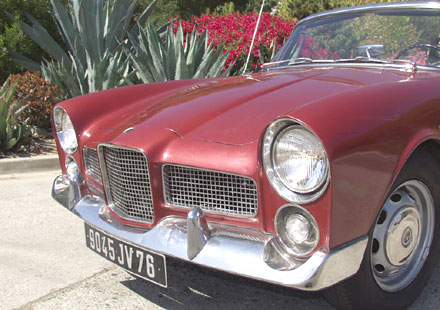 For various reasons, the revered marques of the Fourth Republic did not fare well in the post-war years. Bugatti, Delage, Delahaye, and Lago-Talbot all tried to continue right where they had left off when Der Führer arrived in Paris six years earlier; alas, to no avail. Beset by health and finance troubles, the proud old stalwarts had to pass the baton to the avantgarde.
Monsieur Jean Daninos, head of Carrosserie Facel, met the challenge and launched in 1954 a beautiful brute that would instantly achieve world-wide fame: the Facel Vega.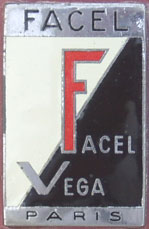 Having built elegant bodies for sporting Coupés by Ford ("Comète"), Panhard, and Simca, Mr. Daninos longed to create a Grand Tourer bearing his company name. Like Sidney Allard, Tony Crook, Carroll Shelby, and many others back in the 1950s, he decided that an Euro-American hybrid would be most desirable. Thus, the famous Chrysler Hemi-head V-8 torque monster became the wild heart beating inside a trés chic french suit.
300 honkin' horsepower, a super-strong tubular frame, haute couture bodywork as timeless as the best designs of Yves St. Laurent, an orgy of leather, stainless steel, and sculpted glass: those were the elements needed to fashion a most magnificent automobile in the tradition of Les Bolides, the great French ultra-luxury Coupés of the 1930s.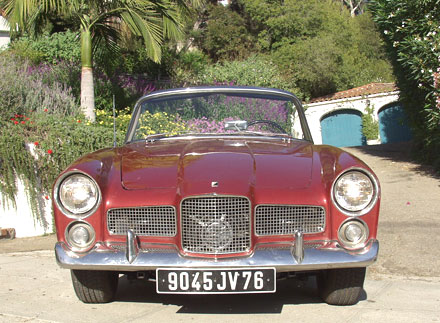 Using an over-sized tubular steel frame but ultra-light aluminum alloy for hoods, doors, and decklids, less than 200 of the big Facel Vega Coupés were built annually, including the 4-door Excellence model. Not enough, really, to ensure the firm's survival into the Sixties. The decision was made to add a smart convertible, styled and built along the lines of the successful HK500.
The Facel Vega Facellia arrived in the autumn of 1959, with optional DUNLOP disc brakes all around, and the added bonus--or so they thought--of a small-displacement, French-designed DOHC-four engine. This engine was an unmitigated disaster and initiated the downfall of the house of Facel. (Though some say Nobel Prize-winning French author Albert Camus' fatal crash on January 4th, 1960 in a Facel Vega contributed to the firm's demise.)
Enter, stage left: the V-8 Facellia convertible.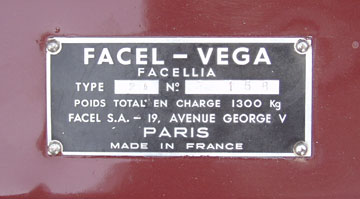 Built in Paris as the 356th Facellia made, the car for auction here was delivered new to North Country Motors in Great Neck, N.Y., and sold to a Facel aficionado from Middleton, Wisconsin, in the summer of '61.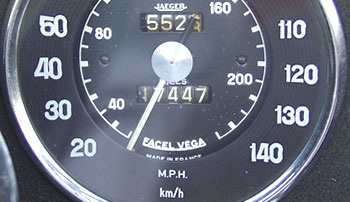 Yep, it's true: just 17,447 original, actual miles accrued in 41 years, less than 400 miles in the past five years! Hand-painted numerals on the fine, chrome-rimmed JAEGER dials are but one of many luxurious touches of the Facel.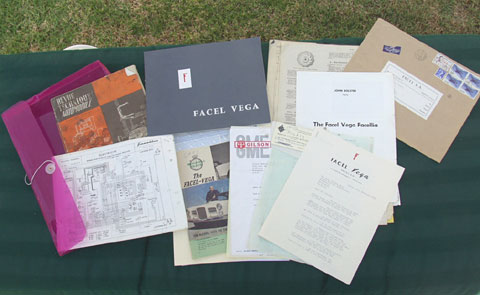 Brochures, books, old magazine articles, and numerous items of correspondence between Dr. Gilson, the car's owner, and the Facel factory, dating back to 1959, accompany the car, establishing an amazing documentation concerning its provenance.
Click on any of the above images for a full size view!
The picture of a devoted Facel Vega owner emerges quickly. Full of praise for his beautiful new convertible, he enthuses in a letter to the factory dated October 20, 1961: "I consider this a superb vehicle esthetically as well as mechanically."
The honeymoon lasts only as long as the Facel's original engine: less than 10,000 miles. Stymied by seemingly intractable reliability problems, in 1967 the Gilsons--father and son--devise a plan to convert the exotic convertible to a proven US-powerplant. The surgery turns out the be a prolonged one, partly due to the Doctor's advancing age. The son keeps on going and the ambitious project is finally finished at his workshop, 30 years and $22,000.00 later!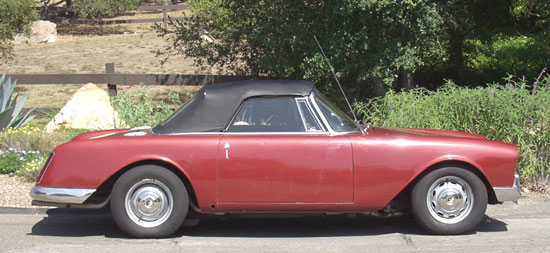 Click on the above image for another image, showing the car's left side
Meet one super-fast Facel Vega convertible! In a very smart move, the compact Chevrolet Corvette 327 cu.in. small block V-8 was chosen over the all-too-heavy Chrysler. Keeping the car's breathtaking design fully intact was a prime objective. No modifications to the precious Parisian carrosserie were allowed!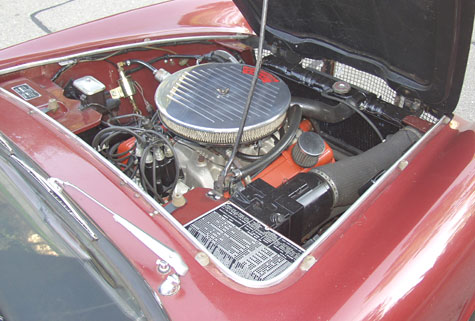 Click on the above image for another image showing the engine
Voila, c'est un moteur américain, ici!
Alterations were not limited to the engine, though. This Facel Vega features a bullet-proof drivetrain, including:
Fresh 300hp, 327 cu.in. Chevrolet Corvette V-8 engine
Camelback heads
Electronic distributor with tach drive
New MUNCIE 4-speed transmission
1960s N.O.S. aluminum scattershield
High-performance clutch set up, including t/o bearing and pressure plate
Custom-built driveshaft
New FORD 9in. rear end with shortened and beefed-up axles
1960s Mr. Gasket traction bars to prevent wind-up
Re-worked rear springs
Frame connectors/bracing
New clutch and brake master cylinders
Brake proportioning valve
Stainless steel exhaust system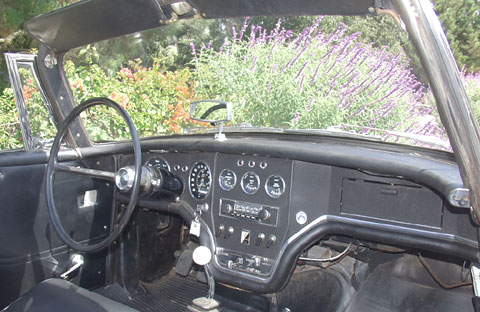 Click on the above image for another, larger image showing the dashboard from the other side
The no-nonsense, jetfighter-style command center presents itself 100% stock and features a black wrinkle finish, just like the race-prepped Ferraris of the '60s. Monsieur Daninos abhorred wood in his cars; most early Facel Vegas feature painted-on, simulated wood.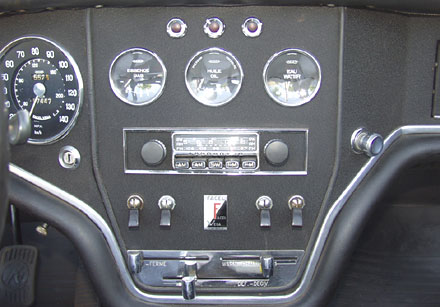 Center console sports more gauges, classic toggle switches and factory BLAUPUNKT 3-band Radio (which still works great).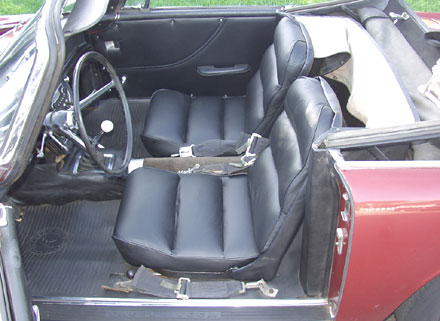 Futuristic looking seats are very comfortable, have just been re-upholstered at considerable expense in the original style, using imported black leather. Even the Marquis de Sade would feel at home here, surrounded by all-black leather and rubber. Yes, this Facel still proudly features its original, unblemished, heavy-duty, embossed rubber floor mats, worth their weight in gold!
Check out the vintage racing lap belts.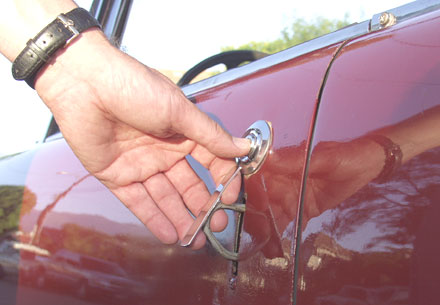 All details, such as the Art Deco door handles, were executed beautifully by French stylists with impeccable taste. Let's get in and go for a ride!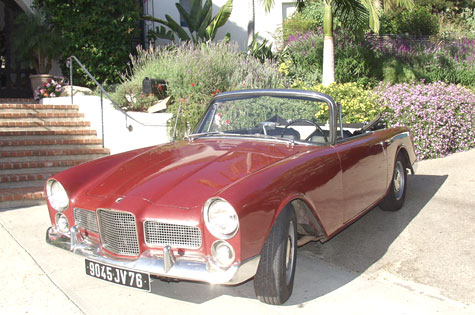 The Iskenderian-cammed engine starts easily, its rumbling idle announcing that this elegant, continental cabriolet is fully able to run with the Cobras; it has enough on the ball to raise the blood pressure of a mummy. If you can't get 140mph out of this Facel, with the top down, it's because you're chicken. The Gemmer steering is precise, clutch and brakes demand a real man's touch. Abundance of torque enables easy drive-off in second gear. HURST shifter looks très masculine and is a joy to use.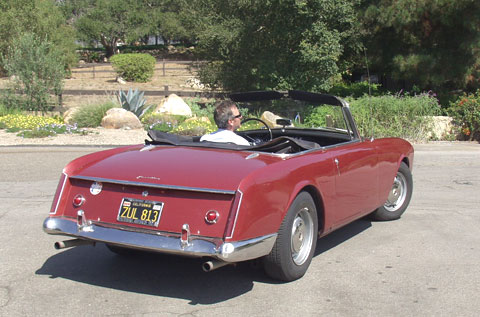 Back from our test drive over mountainous Hwy. 192--the Santa Barbara-Montecito loop took a mere 16 minutes to complete--we take a closer look at the Facel. If you don't mind a bit of attention, this convertible might be just what Dr. Feelgood prescribed. Almost like a low-mileage 1961 Corvette with a coachbuilt body, you will never find a faster, more stylish and exotic Roadster this side of $40,000.00.
Click on any of the above images for a full size view!
Due to being parked inside a big, warm garage for most of its 41 years, the Facel's body has survived remarkably well. Repainted 17 years ago in metallic burgundy, the shiny Nitrocellulose finish shows its age with a myriad of small blems, chips, and scratches. The craclée effect makes the surface look like antique Dutch porcelain. Call it patina, if you wish; being avowed aficionados of cars that were allowed to age gracefully, we think it's quite attractive.
Black convertible top looks new. Tonneau is original and has shrunk a bit, however, there are no tears.
Brightwork is exclusively made of stainless steel, a Facel specialty. It's 100% complete and free of any pitting; the all-original bumpers show a few dings and would profit from a straightforward refinish.
Glass, lights, and lenses are fully intact and nicely preserved, as you would expect from a low-mileage car. Everything works!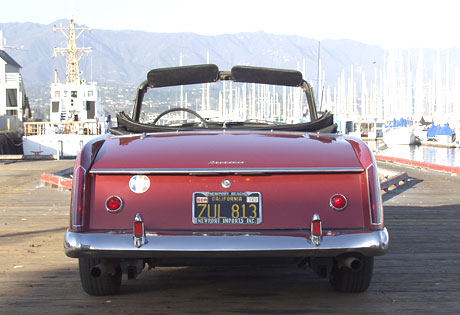 Brophy Bros., right inside Santa Barbara's harbor, serves the best seafood on the South Coast. Tonight, Facel Vega is the most exotic fish, by far! Taking these photos, we were politely interrupted several times by excited folks, locals as well as tourists, asking if they could take a photo of the car for their album.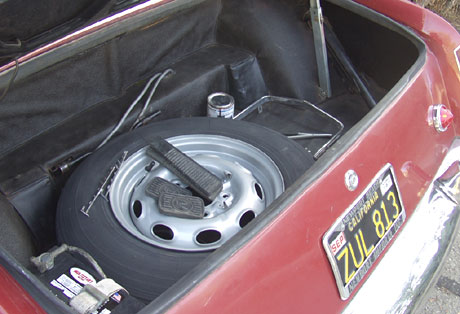 Morrokide-lined trunk contains original spare, the fuel filler, and battery. Originality abounds. A second grille frame, windshield wiper, a set of Facellia chrome scripts, various N.O.S. pedal rubbers, and even a perfectly fine pint of touch-up paint comes with the car.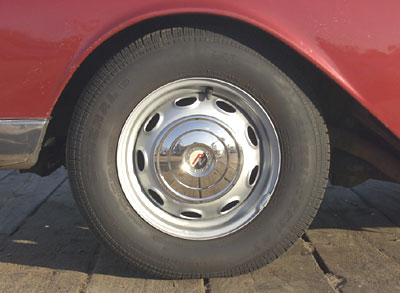 "Facel Vega - Paris" proclaim cloisonné emblems on dog dish hub caps, with typical French subtlety.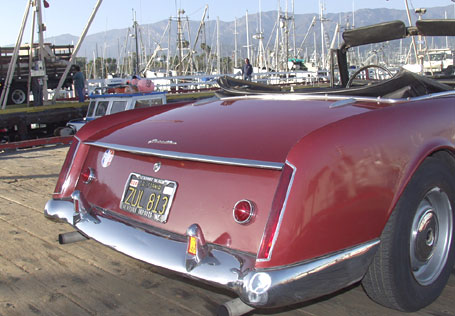 Here's an opportunity to own a car that has more class in its lug nuts than most people have in their whole lives. Sexier than the Place Pigalle, brawnier than Red Adair, this Franco-American Roadster conjures the spirit of Briggs Cunningham and adds welcome reliability to its supercar design and performance. Mechanical items are only as far away as your local Chevy dealer. Body parts and interior trim pieces are available from specialists like Roger Spaulding, if needed.
It really is the best of all worlds!
"In the midst of winter, I finally learned that there was in me an invincible summer."
(Albert Camus)