Gone in 60 Seconds?
Gone for 20 Years!
The place: a modest suburban home in the Harbor Gateway area of Los Angeles. A creaky, wooden garage door is lifted. An almost unrecognizable silhouette beneath stacks of blankets, cardboard boxes and old newspapers comes into view. It is the shape of one of the most desirable muscle cars of all time, the 1967 Shelby GT-500.
The Shelby was primus inter pares among the likes of Yenko Camaro and Hemi 'Cuda, wild and extremely powerful automobiles that formed the core of mid-Sixties pony muscledom.
Derived from the mundane Mustang, yet distinctly different in visual character and mechanical specification, the Shelby qualified as a collector's piece from day one, and most surviving examples have long since disappeared in the vaults of serious aficionados. The SAAC's register contains valid information about most of these behemoths, and nowadays, to unearth a 'lost' Shelby is almost unheard of.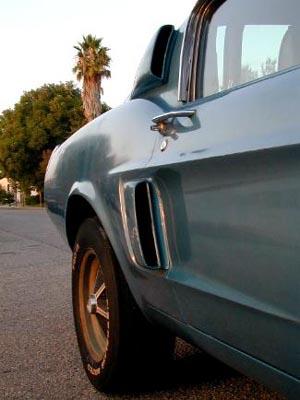 To find a GT-500 scoop & snorkel-mobile that has been kept largely complete and original, is truly amazing!

The Shelby gracing these pages--serial number *67402F8A00607*--was built at the old plant near LAX, on Imperial Highway, more than 33 years ago. It was sold new at Galpin Motors in Sepulveda, Calif., on 2/13/1967.
The Ford VIN is *7R02Q147019*.
Originally 'Brittany blue' (Shelby paint code #8), it has been repainted once, many moons ago, right over its original finish, in a slightly darker shade. With the exception of some filler in the rear wheel well area (possibly modified once upon a time to accommodate oversized tires), its bodywork is wonderfully straight and rust free.
| | |
| --- | --- |
| | |
But let's delve a little more into the history of this rare muscle car. A Southern California black plate car, its owner dropped it off for some major brake work at a Glendale Ford dealership circa 1981. That was the last time he was seen . . . by anybody. A couple of years later the garage owner initiated a lien sale to recover the costs of his repairs, and the blue serpent was acquired by a well-intentioned Fordoholic. This gentleman, perhaps unaware of the California vehicle licensing laws, purchased a set of new, blue-and-yellow plates for the car, upon registering it in his name. To this day, the Shelby still wears its original black license plate up front. The rear plate shows tags that expired in June of 1985, proving the last owner's statement that he only drove ol' Shel' for a couple hundred miles before parking it in his aforementioned garage.

Disabled, with a leaking power steering cylinder, the one-time terror of the streets of Inglewood sat . . . and sat. Months turned into years, then a decade, until the Shelby's owner realized that his plans would probably remain just that forever: plans. Being a connoisseur rather than a hoarder, he decided to liquidate his prized asset, for another friend of the marque to enjoy. This Shelby is being sold with a clear California title, its original owner's manual, and both sets of original keys. Due to its age, the car is smog exempt.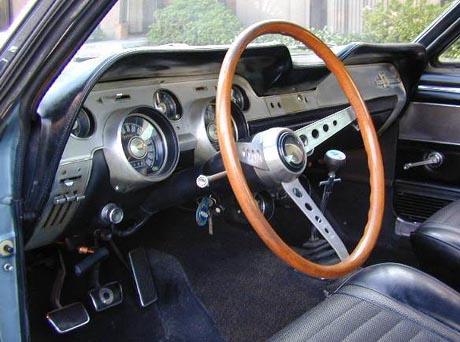 Hidden away from the sunlight, the black interior has survived the last 33 years very nicely, indeed. Looking at the pristinely preserved rubber pedal pads we wonder if the 29,599 miles shown on the odometer could possibly be the car's original, total mileage?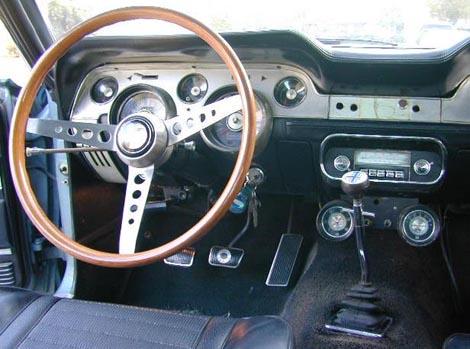 One of the definite highlights of early Shelbys was the handsome, wood-rimmed, Italian steering wheel with the three slotted spokes. 140 mph speedo and 8,000 rpm tach are standard Shelby fare, as well as oil pressure and ammeter gauge cluster--actually a '66 Mustang Rally-Pac mounted upside down--below the AM radio. Transmission is the original, bulletproof 4-speed toploader manual unit, casting # *07RQ-1000-08*. Power disc brakes and power steering are standard equipment on the GT-500. All interior lights, switches, and instruments work, the clock being the only notable exception.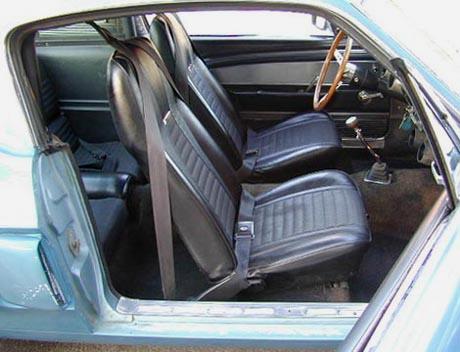 Basketweave upholstery appears in fine condition; carpet is faded but original. Dash top is a little wavy, but without any cracks.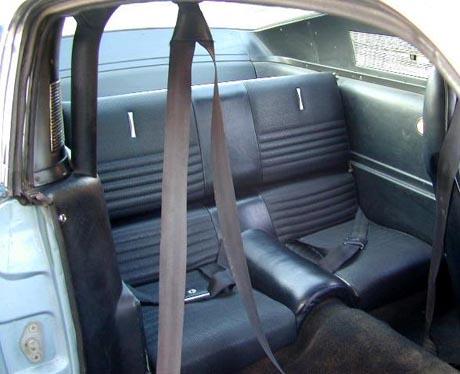 All side panels are intact. Folding rear seats are beautiful. Have they been used at all?
Note functional welded/bolted-in roll bar, working inertia reel seat belts, an industry first. Black headliner is super nice. Even the original weather stripping is largely intact and still supple!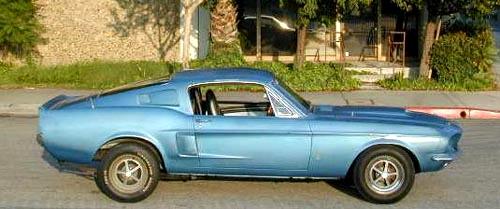 Ready to take on all comers. Ford aptly named late '68 big block Shelbys "King of the Road."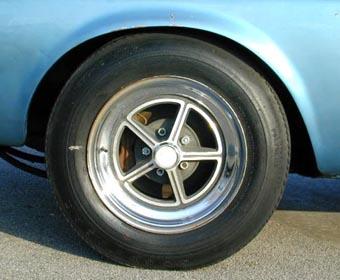 A full set of five original KELSEY-HAYES 15x7 inch modular chrome and aluminum MagStar 5-spoke wheels still complements this car. Tires are of the square variety.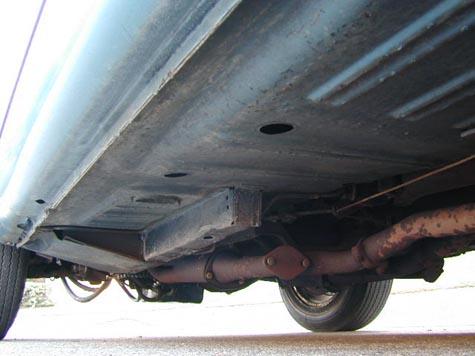 One picture speaks louder than a thousand words. If you know how rust-prone these cars were, you'll love this one, with its primo undercarriage. Check out the trick street-and-strip exhaust.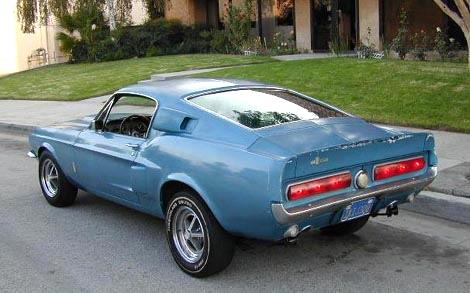 Functional side scoops and attractive rear lip spoiler design recalls Ford's 1966 Daytona and Le Mans-winning GT-40 race car.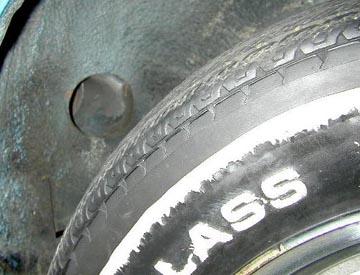 Yes, the rear brake scoops are functional!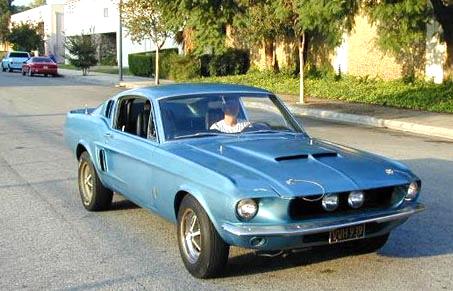 Wish you could hear this monster breathe! Step aboard and survey the stark black vinyl interior, blip the throttle twice to prime the twin 650 cfm double pumper HOLLEYS, turn the ignition key, and the reduction gear starter brings the 428 Police Interceptor engine to life. If the idle will send shivers down your spine, imagine the audible thrill of eight barrels pumping and eight exhaust header pipes dumping at full speed. According to contemporary road tests, the quarter mile was reached in a tad over 14 seconds at almost 100 mph. And that was bone stock!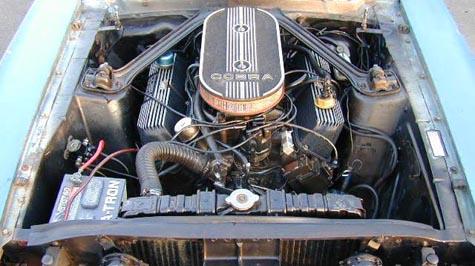 Of course, convincing the long-hibernating serpent to spit venom again required some snake charming on our part. Our Motormeister Helmut changed the oil, drained the old high-octane, removed the spark plugs, soaked the cylinders with some magical ointment for several days, and rebuilt both HOLLEY carbs, before he was able to yell "fire in the hole!" for the first time. A few minutes afterward he changed the oil for a second time. Good to have someone on board who knows what he is doin'!
The maestro also changed the power steering cylinder and control valve, idler arm, condenser, fuel sending unit, and a few little odds and ends.
The snake is now a wonderfully running, driveable muscle car, with new brakes all around, but she still might require some tinkering here and there, and we wouldn't trust those old tires to take her 'cross country, of course. Keep in mind, she has been asleep for a long, long time.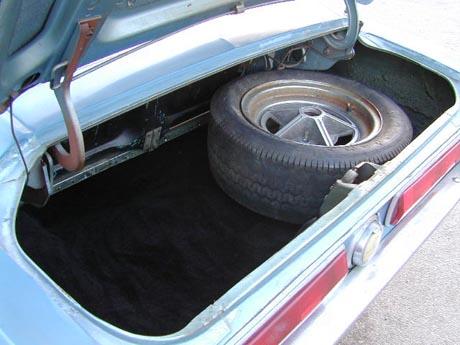 Trunk? Who needs a trunk? But you sure want that 5th wheel, don't you?
Thanks to the excellent availability of parts, refurbishing this arrow-straight, rust free, fine running example of Shelby's finest shouldn't present a challenge at all. Top condition GT500s have now climbed into the $45k-and-up range. You know the old saying: choosing the right car is of extreme importance. Well, you can't do any better than this, unless you know of a forgotten 429 BOSS in your neighbor's barn and he's ready to sell . . .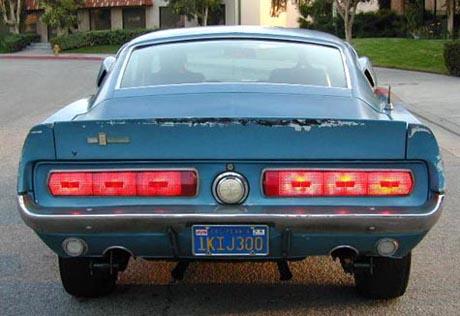 We have resisted the temptation to have the car painted and will leave that decision to the new owner. You might be delighted to hear that bidding for this long lost Shelby GT-500 starts at only $19.67.
If you are a dyed-in-the-wool Ford lover like our late friend Stoneman the O, you should check with your spouse and your banker BEFORE you bid. This auction will be over in seven short days, and it might be a long time 'til another opportunity presents itself to purchase a genuine slice of American muscle car history at NO RESERVE!
Thank you for your interest, and have a nice day!
---
Presentation & Copyright © 1999-2001 by Californiaclassix.com. All Rights Reserved.