A left hand drive Bentley S3 is a most uncommon sight, anywhere in the World. Cognescenti of the marque will be quick to point out that by 1963 Bentleys accounted for less than 39% of all motorcars manufactured on Pym's Lane in Crewe, and only a handful of left-hookers for "the rest of the World" were assembled each month. Priced at ₤5,384.00 in 1963, the Bentley pictured here did cost as much as a dozen Volkswagen Beetles, a price proportional to the quarter Million Dollars a new Bentley costs today: It's still the equivalent of a dozen New Beetles.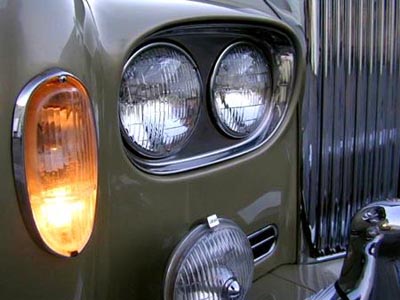 The third and final generation of the design that premiered at the Earl's Court Motor Show in 1955, S3 Bentleys are recognizable by their twin dual headlamps and reshaped turn signal units. All S3s are powered by the famous 6.23- liter V-8 aluminum alloy engine.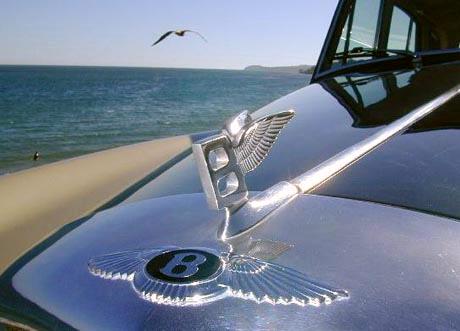 One of the most famous trademarks in history, the Flying B proudly adorns the radiator shell of every S3 ever built. Founded by W.O. Bentley in 1919, the factory's cars achieved worldwide fame by winning the gruelling 24 hour race at Le Mans four consecutive times in the late 1920s, laying the foundation for a performance image that lasts to this very day.
Only 1,286 Bentley S3 models with a body by Pressed Steel of Cowley were built in three years of production, a minority of those in lhd guise. The John Blatchley-penned bodywork featured many traditional elements of design, and the company was rather proud of this fact. The S3 can rightfully be regarded as the final evolution of the H.J. Mulliner style and has matured into a most desirable Classic of the highest caliber.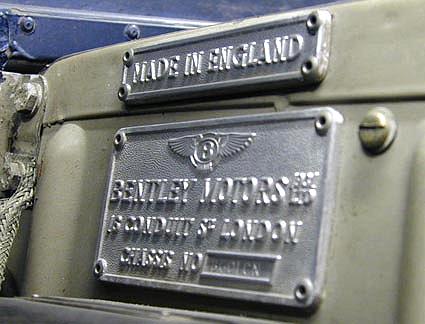 "Made in England" proudly proclaims a riveted plaque below the bonnet.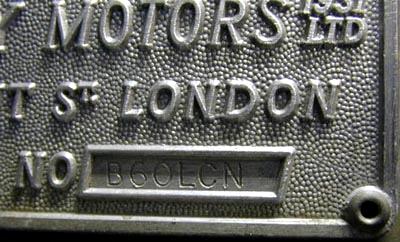 Above: This Bentley's VIN *B60LCN* is stamped onto another beautifully cast plate.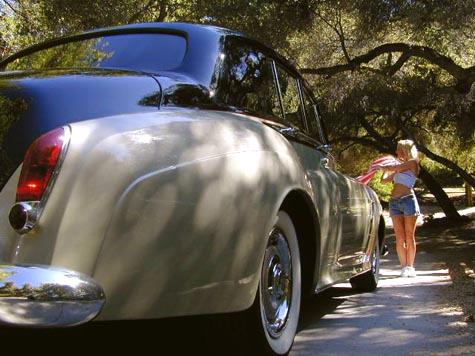 Bentley saloons were almost invariably ordered with carefully coordinated dual color schemes, this one--finished in Mason's Black over Silver Sand--being a particularly pleasing example.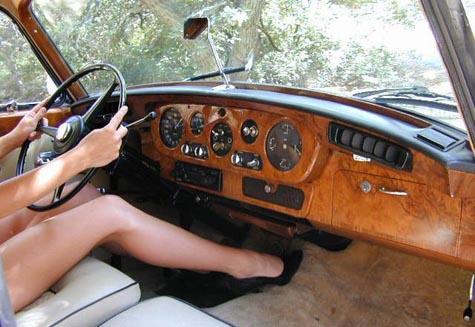 The dashboard certainly lives up to its name, being wall-to-wall wood. Not any wood, mind you, only the finest burl walnut was painstakingly finished by hand to create the singularly impressive look of opulence, unmatched even by the Bentley's fiercest contemporary competitor, the Mercedes 600. Black dash pad is made of finest leather, of course. Accoutrements include electric window lifts, heated rear window, SUNDYM tinted glass, a pull-out tray below the fascia (far more stylish than mundane cupholders), and even--via a remote switch on the steering column--adjustable rear damper stiffness.
Bentley's classic, aircraft-style white-on-black SMITHS gauges have been immaculately preserved and are in full working order. Just the clock has a mind of its own and functions only intermittently. But time could be an illusion anyway; inside a Bentley, it becomes an insignificant abstract concept.
The sun visors and wool headliner are still original and very nice.
Quality and detail of the burl wood throughout the cabin is stunning. There is no faded, discolored or cracking veneer anywhere, nor is there any water damage.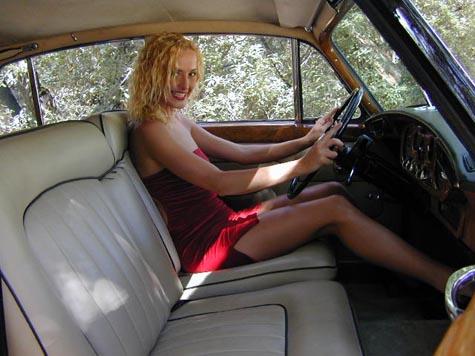 Generous legroom abounds, as demonstrated by a rather long-legged driver. CONNOLLY-clad leather seats are ultra plush and individually adjustable, with retractable dual center arm rests. The original leather still exudes the unmistakable and mesmerizing aroma you'll only find inside a Rolls Royce or Bentley. A close-up reveals the fine condition of the hides and their irreplaceable sculpturing; after 38 years of service, this amazing automobile still displays all that's right with superior British coachbuilding and supports the manufacturer's claim that a Rolls Royce or Bentley motorcar will last a lifetime.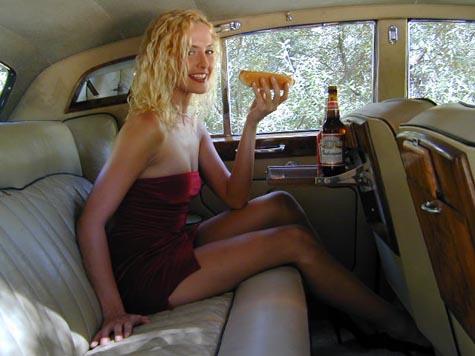 The famous, beautifully detailed fold-down picnic tables fitted to the rear make a quick lunch of hot dogs and Budweiser a most pleasurable affair. We're in the Great United States of America, after all, so who needs the Grey Poupon? Fuhgeddaboudit!
The extremely thick front doors feature neat cocktail cabinets, and the little clinking sounds caused by the delicate crystal during acceleration remind of a bygone era, when wealthy folks would deign to sip a little Scotch in their Bentley during a trip to the country manor. With Bentley being a featured marque at Pebble Beach this coming August, can you imagine the leisurely drive up Highway 1, in the spirit of the wild and wooly Bentley boys of the roaring Twenties?
The bluish dash light reminds of the WW II years and illuminates the controls with an eerie glow at night.
Dual vanity mirrors on the C-pillars are exquisitely finished and feature indirect lighting as well as a built-in cigarette lighter.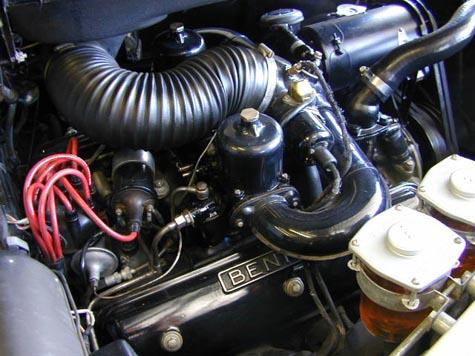 Below the center-hinged, aluminum bonnet, the powerful, cast aluminum V-8 presents itself immaculately clean, down to the last (correct) detail. Featuring a nitride-hardened crankshaft with five main bearings, for the S3 the compression was raised to 9.0:1. Larger, two-inch twin SU HD8 carburettors were fitted.
Power output? To use the standard factory answer: Sufficient!
Most important, however, is to know that these hand-built Bentley V-8s have such precise tolerances, they will run for hundreds of thousands of miles without problems. Doubtful, really, that there is a more durable V-8 engine on the planet.
Needless to say, with only 30,562 miles on the odometer, the Bentley's heart beats strongly, yet silently, due partly to hydraulic valve lifters. Transmission is the virtually indestructible but nonetheless sophisticated GM/RR Hydramatic 4-speed automatic.
The Bentley S3 is a driver's car, its majestic appearance notwithstanding. Equipped with the superior V-8, independent front suspension (IRS) and all the power amenities one could wish for, with generous legroom and an elevated seating position, on par with SUV operators, the S3 is perfectly suited to glide through traffic like the Titanic riding on a cloud.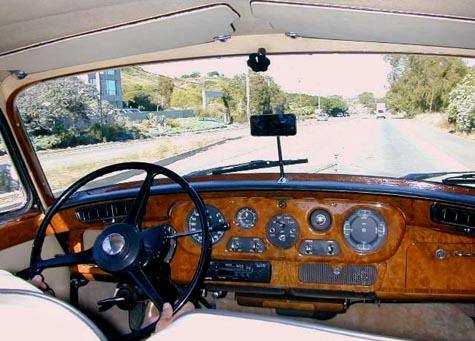 Once seated behind the black Bakelite volant, one enters the realm of the untouchable, a dimension apart from the profanity of ordinary life. Driving Bentley's finest is a vacation from the harshness of work and life; everything happens silently and without the need to confirm. Other motorists signal their hushed approval and go out of their way to catch a quick look at who's driving. More understated than a Rolls Royce, albeit of the same gene pool, a Bentley respectfully represents, not bluntly in any way.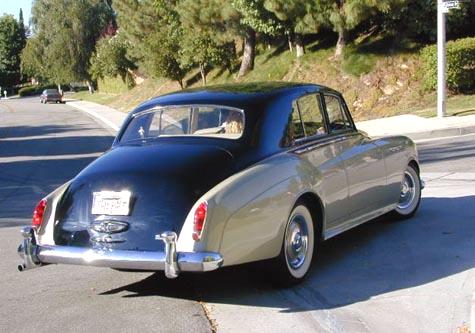 On a mere mechanical level, this Bentley drives as splendid as you would expect it from a well-maintained, world-class automobile, one that has been more than once referred to as "the best car in the World." The power assisted steering is light but direct, the brakes and front end have just been checked and found to be in fine condition. The transmission shifts smoothly. And the engine . . . a mechanical dream with the precision of a Swiss Rolex watch!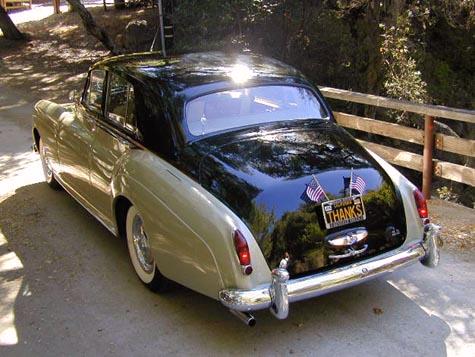 What is the state of preservation of the coveted coachwork, you might ask?
Thank you for bringing it up.
This S3 delights with a miraculously preserved body, partly due to the pioneering use of zinc-plated steel pressings for door sills and bulkhead panels, but mainly to the influx of the mild Southern California weather and a charmed life away from ordinary conveyances, stored and pampered inside a climate-controlled garage.
When we received the Bentley, it showed some crackling in the laquer paint finish, not unusual after almost 40 years. A fine motorcar deserves the best, so we had a reputable Rolls Royce and Bentley specialist strip the car's flanks of all paint, whereupon a breathtakingly perfect body appeared! As the detail image reveals, the doors (and hoods) are made of aluminum alloy, the factory lead work is still in flawless condition, and, most importantly, there is not an ounce of plastic body filler to be found!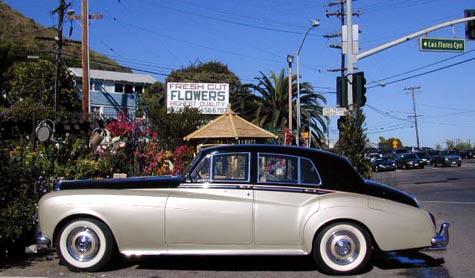 Following factory procedure, we had the lower section repainted in the correct "Silver Sand metallic" color. After a curing period of several months, the surface was carefully color-sanded and polished to a mirror-like luster.
A striping artist restored the red pinstriping on the body and hubcap trim. As a final touch, the original crowns and initials of the Bentley's original owner were replicated on the doors. (We purchased the car from the estate of Academy Award-winning actress Gloria Swanson's former private secretary.)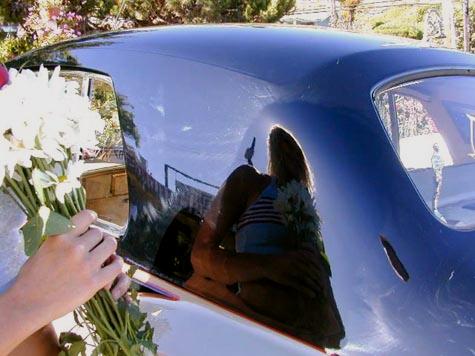 The black finish on the top was left untouched. Most likely original, it is in fine condition, not perfect, mind you, but not in a state that would justify a repaint, either.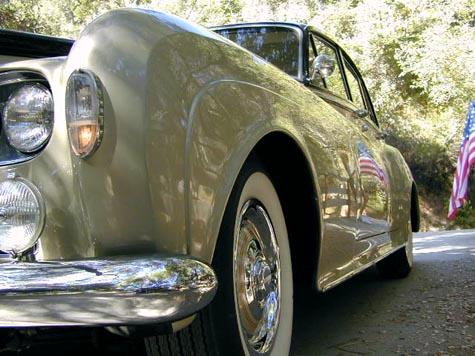 Altogether, we recently spent $5,600.00 for this expert refinish, and it shows. The Bentley's curvaceous Art Deco body looks as straight as one could hope for. Thanks to the "money is no object" approach outlined above, it should last at least another forty years. All the chrome brightwork is straight and sparkling; this Bentley looks like a million Dollars and receives admiring glances wherever it goes.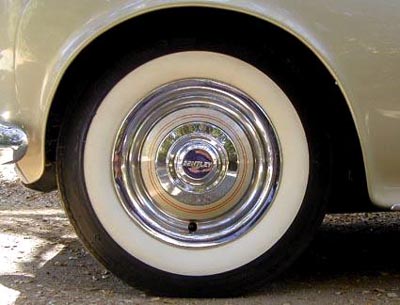 Riding on REMMINGTON Cushon Aire Wide White Wall tires in the dimension L78-15, the comfort level has been maximized. The British say: "my car is my castle" and this S3 proves the point.
Note color-coordinated trim ring with hand-applied pinstriping!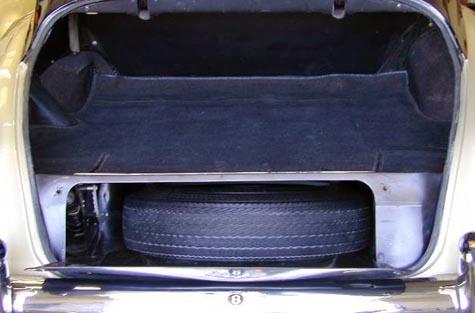 Bentley's trunk is cavernous, conservatively stated. More than sufficient space to load picnic gear and luggage for the entire family when heading to 4th of July festivities!
Hidden from view, in its own compartment, rests the full-size spare wheel, accompanied by jack and tools.
Photo on the left shows the ratchet mechanism to secure the spare wheel and the--rarely found--original flashlight with its mile-long extension cord. As the photo to the right shows, it plugs into the dashboard connector and is fully functional. Batteries not included - batteries not needed!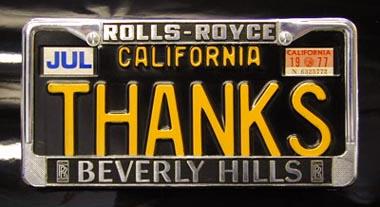 Long-expired vanity plate is now a collectible in its own right and will be included. The Bentley comes with a clear California Certificate of Title and is smog exempt. It is ready to be driven anywhere and I would not hesitate to say fly in--drive home!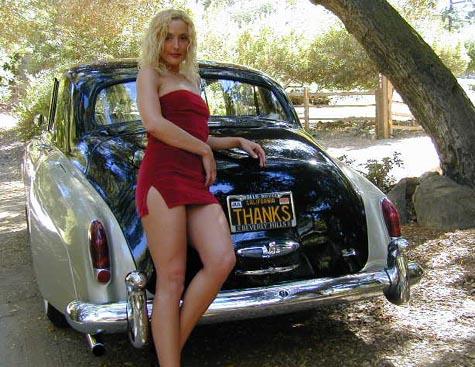 This Bentley S3 is a singularly attractive luxury automobile with perfect detailing and excellent taste in evidence throughout. Its provenance is impeccable! Hugely expensive when new, it appealed to the connoisseur who demanded the best money could buy. Only a fortunate few could hope to own such a magic conveyance, until now.