Rich Taylor, Modern Classics, p.349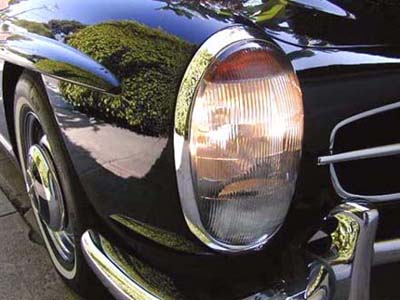 Celebrating its debut on the international sports car scene in 1954 as the glamorous Gullwing Coupé, of which exactly 1,400 were eventually hand-crafted, the legendary Mercedes-Benz 300SL continued from 1957 onward in the guise of a Roadster, until its much lamented demise in the early 1960s.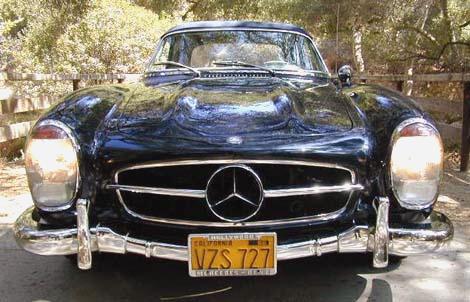 Exactly 1,891 Roadsters were built, including 33 continuation cars, for a total 300SL production of 3,291 units. The stunning example presented for auction here is the very last one manufactured by Gullwing International, irrevocably bringing this proud chapter in automobile history to a conclusion. Unlike other famous sports and racing cars of the past, such as Porsche's Speedster and 550 Spyder, Ford's GT40 and Shelby's Cobra, the 300SL has never been available in kit car form, thus retaining its hallmark exclusivity.

The 300SL presented for auction here, VIN 198.042.00.3291 comes with a clear California Certificate of Title in my name; it is appropriately licensed as a 1962 Mercedes-Benz Convertible and eligible for Collector Car Insurance.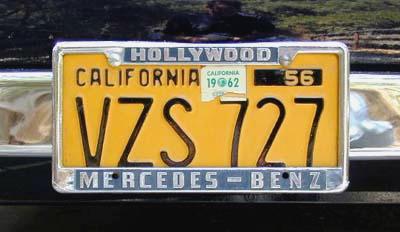 The car qualifies to proudly display its yellow-and-black period California license plates as part of the State's Y.O.M. (Year of Manufacture) program. Also included is the exquisitely preserved set of vintage Hollywood Mercedes-Benz license plate frames, adding further credence to the SL's provenance.
The unusual door handles pivot out when depressed by the thumb, using lever action to operate the door latch.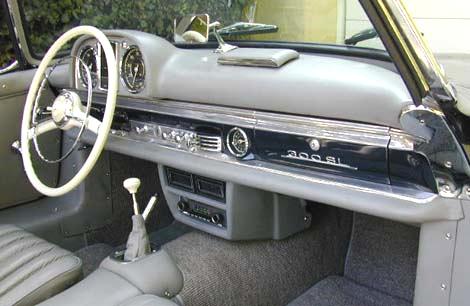 The car's cockpit is fit for royalty. Lovingly assembled by experienced, old-world-trained craftsmen, only the finest materials have been used to create an unmatched ambiente. The synthesis of polished aluminum, mirror-finish chrome, light gray leather--with matching wool carpeting--and the large ivory-colored Mercedes steering wheel can only be described as intoxicating.
A terrific asset is the unobtrusively mounted air conditioning system; even in hot and humid weather, this SL shines as an utmost pleasurable driver !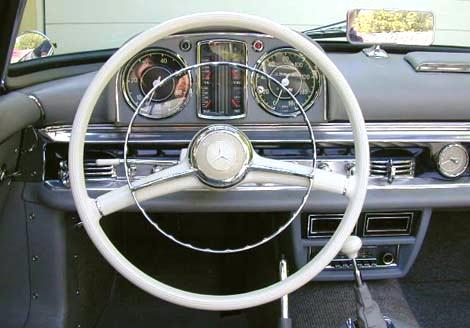 In harmonious symmetry, the central instrument cluster displays six gauges to monitor vital engine functions, including the large, round 7,000rpm tachometer and 160mph speedometer. Steering wheel, foot pedals and ivory shift knob are perfectly arranged to suit pilots of different sizes. Beauty and functionality are perfectly combined. A very interesting detail: without taking your hands off the steering wheel, move the horn ring's center bar a few degrees up or down to activate the turn signals.
The Stereo is a period 1960s German BECKER Europa AM/FM unit.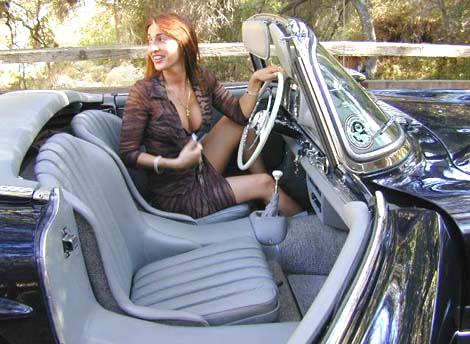 Purveyors of premium hides to the Benz factory for over 50 years, the house of ROSER exclusively used the time consuming vat-dye process until the late 1960s. Instantly recognizable by its addictive aroma, vat-dyed leather has become nearly unobtainable. In this car, it presents itself in pristine condition, wonderfully supple and perfectly unmarked.
The letters "SL" stand for "Sport Light". It could have been "Sport Luxury" as well!
Above, left to right:
Chromed heater levers exude German solidity, beautifully contrast the dark blue painted dash.
Odometer shows 00091 miles. This car is still brand new! (We couldn't resist the temptation to cruise around a bit since the picture was taken. Guaranteed actual mileage is around 00200 now.)
Ashtray atop the dash, capable of holding a big Stogie, reminds of times when smoking a Havana cigar was as much a sign of wealth and status as driving an ultra-expensive 300SL.
Pushbuttons allow access to map pocket below the hinged driver and passenger armrest. All surfaces are covered with leather!
VDO Clock works with German precision.
Swiss-cheese top boot lid illustrates the seriousness of the "Sport Light" concept. Top compartment is fully clad in fine leather and German Haargarn carpeting. Chrome radio speaker grilles are correct period equipment.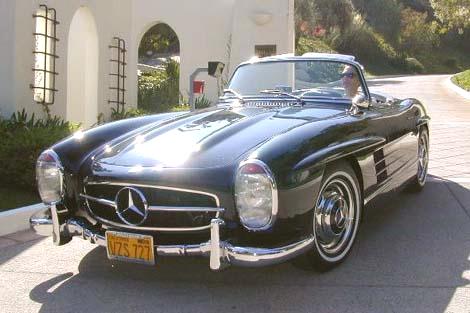 A legendary automobile of this caliber must be exciting to drive, you would assume. And indeed, it is!
Once seated behind the large ivory wheel, the impossibly long hood with its twin bulges immediately catches your eye. You don't have to "pump" the accelerator pedal, just turn the key, and the engine instantly comes to life with a burbling idle. You realize how comfortably the racing-style seats cradle your body. Push in the clutch, flick the shift lever into first and off you go, effortlessly.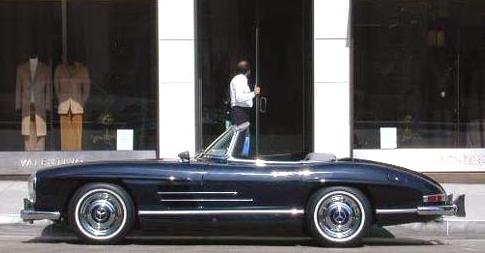 Cruising through Beverly Hills, one instantly becomes aware of the immense clout a 300SL still carries today. Even on tony Rodeo Drive, the SL receives instant, enthusiastic recognition. We parked the car in front of Valentino's, took the picture above and headed to The Grill for a wonderful lunch. Many Beverly Hills glitterati once owned 300SLs, among them Clark Gable, Zsa Zsa Gabor, Glenn Ford, Yul Brynner, and Tony Curtis. When we returned, we found a small crowd of Japanese tourists surrounding the car, cameras at the ready, probably expecting a celebrity to show up.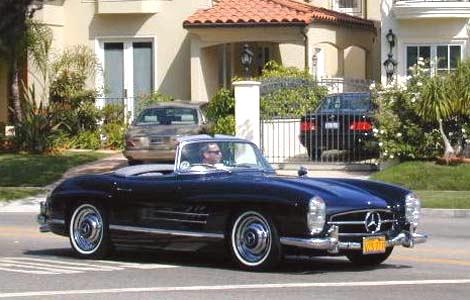 With four-wheel power disc brakes, power steering, a fully synchronized ZF 5-speed manual transmission, and air conditioning, the 300SL is a delight to drive, even in modern day city traffic. Its aluminum alloy engine provides plenty of low-end torque; lazily gliding along the sun-dappled boulevards of Bel Air is a truly exciting experience, in more ways than one.
This car feels equally at home in posh Beverly Hills and at the vintage show and rallying circuit. With 3:46 cogs and overdrive fifth, brawny SL is fast beyond your expectations, its top speed limited solely by the size of the pilot's cojones.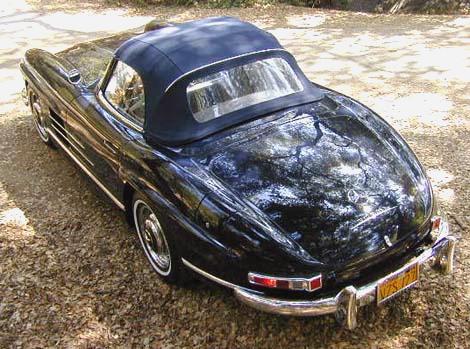 300SL's weather equipment is completely hidden from view in its own compartment when not in use. The immaculate, dark blue HAPPICH Sonnenland canvas convertible top with its beautiful chrome finishing strip and crystal-clear rear window fits tightly and wrinkle-free.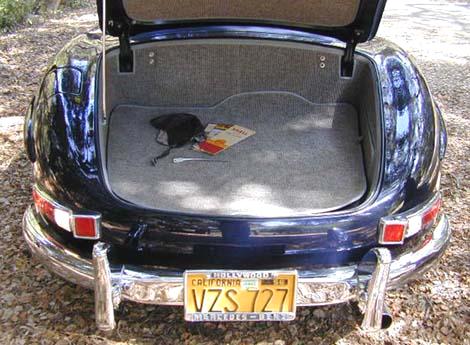 The trunk, fully lined with yards of expensive, two-tone gray German Haargarn carpeting, is large enough to swallow a couple of golf bags and all the luggage needed for a romantic weekend trip to Pebble or The Hamptons.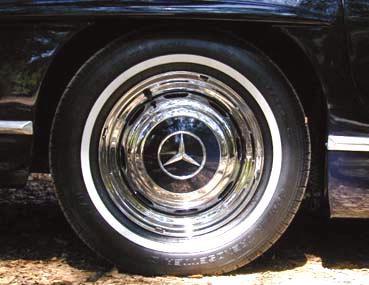 Optional, date-coded 2-piece chromed Sportfelgen road wheels are immaculate. The car is fitted with modern 195/75-15 radial tires, which are brand new, too, of course.
Mercedes' 300SL Gullwing pioneered the use of fuel injection in production automobiles. This car's BOSCH-injected M103 3-liter inline-six aluminum alloy unit with 9.2:1 compression continues the tradition and can live at its 6,450rpm redline for hours without the danger of overheating, thanks to a large aluminum radiator and twin thermostatically controlled cooling fans. Smooth running, powerful, and--perhaps most importantly--reliable: qualities its contemporary counterparts from Ferrari, Aston or Maserati undeniably cannot boast about.
Certainly the most revolutionary aspect of the Gullwing was its small-diameter, welded tubular steel space frame. Redesigned for this Roadster, it still is a most eclectic means of chassis engineering, providing maximum rigidity while keeping the weight down to a minimum. Just like the remainder of the car, the undercarriage presents itself in showroom condition.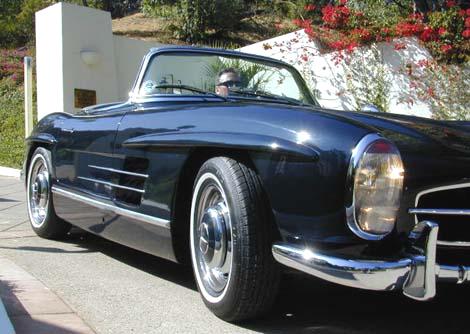 Surely a most elegant color combination: mirror-like Mitternacht blue (code DB904) exterior over a light gray interior. Famous SL chrome radiator grille is flanked by the desirable and utterly beautiful--as well as expensive--European headlights with integrated turn signals and fog lights. The composite body's panel fit is superb, all the brightwork is of show quality, and the paint finish is as luminous as the shimmering ocean on a calm and moonlit night.
Mercedes' 300SL has often been called "the greatest road car ever built." A 300SL Disc Brake Roadster with aluminum engine, the series' final evolution, epitomizes this iconic thoroughbred. If you had to limit your car collection to a single automobile, one that combines the traits of exclusivity, sex appeal, sportiness, and luxury, the car for auction here would be the one!
A California car, loaded with options, rust and accident-free, and with close to zero miles; what more could you wish for?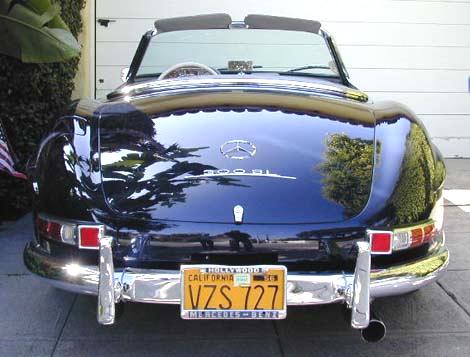 Back in 1999, these cars sold for around $120,000.00. Today, it is nearly impossible to find one, at any price. This example not only is the last 300SL ever built, it also is virtually brand new. Most of the 33 continuation Roadsters have long since become cherished keepers in the hands of savvy enthusiasts. In fact, a few of these open-topped Überwagen reside in climate-controlled garages alongside restored Gullwings that might be too valuable to be driven.