Ferocious Feline meets Motown Muscle
Ask any boy, man, or grandfather about the World's most famous post-war supercars, and they will invariably name the Mercedes 300SL Gullwing, the Lamborghini Miura, the Ferrari 250GTO, and Jaguar's XK-E Roadster. The latter one, created back in 1961, with its incredibly sleek and sexy shape, 4-wheel disc brakes and a 265bhp engine, created a true world sensation at its public introduction at London's Earl's Court Motorshow.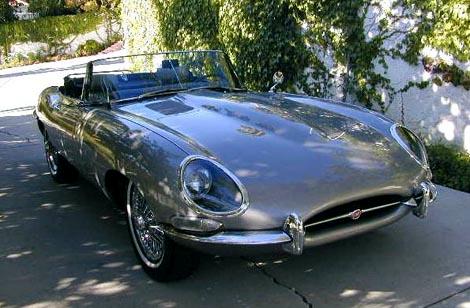 The XK-E's original incarnation, now commonly referred to as "Series One," is by far the most desirable iteration of the marque.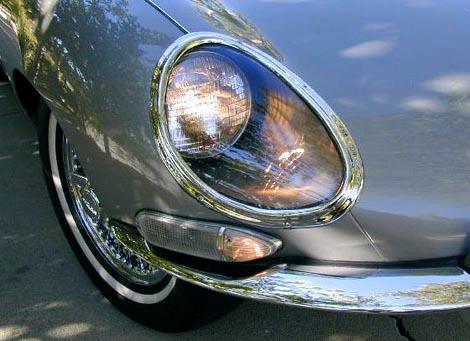 The distinctively elegant 'covered headlight cars' are prized possessions of collectors and aficionados around the globe.
The 1966 Jaguar XK-E for auction here is one of the few surviving Series One cars that today, over four decades later, are still in wonderful, healthy condition.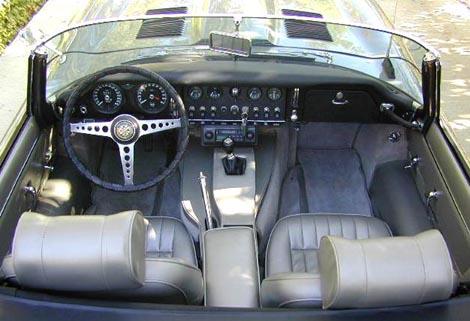 Finished in Silver Sand metallic over Oyster, the feline's interior provides an atmosphere of unmatched excellence.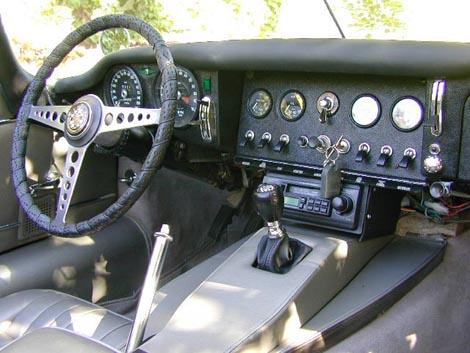 The dashboard layout with its toggle switches and array of gauges seems to be gleaned from a period aircraft. All the lights, gauges, and switches work with British accuracy.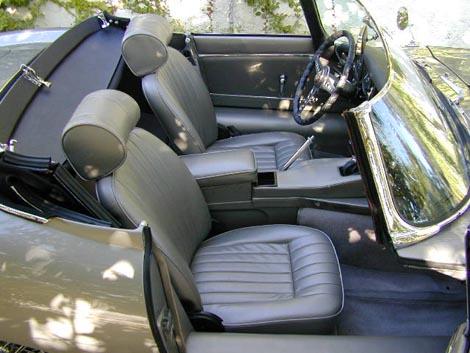 So let's get in and go for a ride!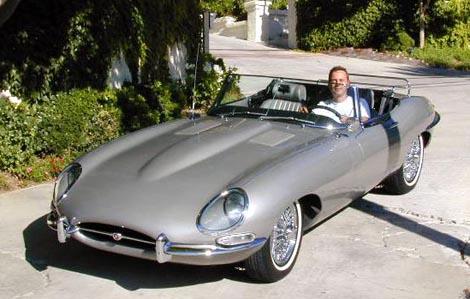 Once seated snugly behind the aluminum-spoke steering wheel, you turn on the ignition, blip the throttle a couple of times, and give the black Bakelite starter button a commanding push. The starter shrieks for a second and a half, after which the power plant fires right away and falls into a determined, slightly lopey idle, awaiting the things to come. The well-muffled rumble emitting from the stock exhaust with its twin chromed end pipes successfully disguises this cat's true identity.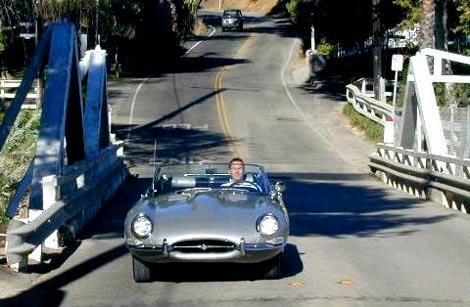 Driving this unique XK-E is a revelation!
Fully aware of the roadster's intimidating reputation, we took the sleek cat our for a Sunday morning exercise on our favorite road course, up on Mulholland Highway, through the Santa Monica Mountains in Calabasas, along the 'oh my Lord is this beautiful' Malibou Lake, and back up Highway 1 along PCH toward Agoura Hills. A trip to remember in any open road car, it becomes an almost mythical experience in an E-Type Roadster!
Precisely balanced and decades ahead of its time suspension-wise, the Jaguar handles sure-footed and with utmost confidence. Its precise steering and four-wheel disc brakes--Jaguar was among the first manufacturers to use this technology--make twisty backcountry roads fun to negotiate. Cruising at 70mph on Route 1, the engine turns at a mere 2,800 rpm. Top speed is only limited by your guts (or the lack thereof . . .). All the while you are the center of attention and the recipient of more 'thumbs ups' then you imagined would be humanly possible. Actually, it's the predaceous feline they admire, but you, as her master and tamer, are the man.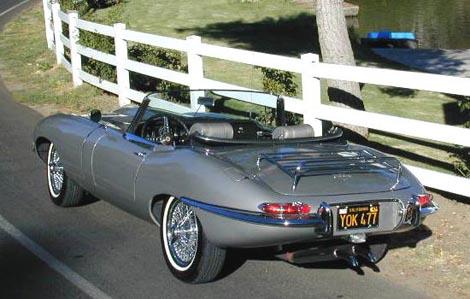 XK-E's awe-inspiring appearance elicits unanimously admiring comments. In fact, it is one of a handful of cars that look terrific from any angle, hereby confirming that Sir William Lyons created a piece of automotive art. Hence, it's an E-Type Series One Roadster that is displayed in New York's Museum of Modern Art.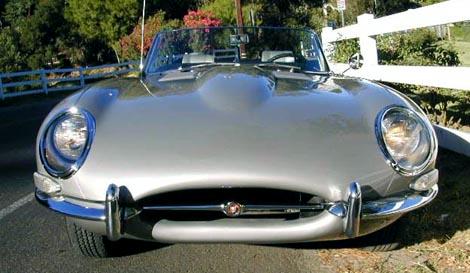 Ironically, perhaps, the original configuration was just not suitable for relaxed open-topped driving in California or Arizona summer weather. Owners quickly grew weary of having to watch the temperature gauge at all times. The slightest traffic congestion could spell trouble. The factory engine was famous for overheating and notoriously short maintenance intervals, and could spoil all the fun of an otherwise most exciting package. No such problems here!
Hence, the Million-Dollar question: what's hiding below this Jag's bonnet?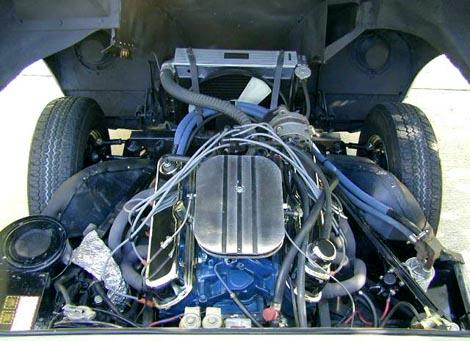 At first glance, everything looks stock, as in factory-installed stock. But wait, the Jaguar works never had a suitable Vee-Eight motor on their shelves!? Indeed, this cat is motivated by a stout example of Detroit's finest, a genuine, 1968-vintage Ford Mustang 302 cubic inch muscle car engine, coupled to a Ford 4-speed manual transmission. This power plant offers a slight weight advantage over the Jag unit, combined with a power curve more suited to stateside driving conditions. The 302 possesses sufficient torque to bark the baloneys during every shift. In fact, you would not ask for MORE power, unless you are an experienced CanAm pilot. I guarantee it!
Of exuberant health, this engine frees the Jaguar's owner from any and all mechanical worries once and for all. By the way, this is exactly the route Jaguar picked for the XK-E's descendant, the current XK-8 luxury sports car. The XK-8 is powered by a Ford-designed V-8 motor . . .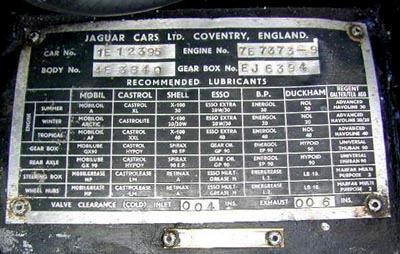 The original VIN plate. ID # at top left proves that it is, indeed, a genuine Series One roadster. This is not a converted Coupé!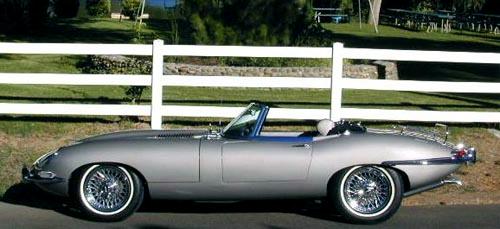 This particular car was sold new in California. Its owner passed away in 1990, shortly after the Jag was appraised by the late Jan Verbiesen, proprietor of the famed Verbiesen Motors in Studio City, CA. The signed appraisal at $35,000 is still with the car. In the past 10 years, the car has been driven exactly 817 miles, by the owner's son, until he finally had the heart to part with this family heirloom.
Having been restored in the mid-1980s, the car is still stunning to behold. Naturally, there are a few minor paint imperfections, but there is nothing to take away from the car's beauty. The floors and trunk area look very nice. This is not a rusty car. After all, it has always been stored in a climate-controlled garage in SoCal! The car is licensed for street use with a current-issue California license plate. It has a B.A.R. sticker affixed to its doorjamb, making it a smog-legal conversion, although it is inspection-exempt in the State of California now, due to its age.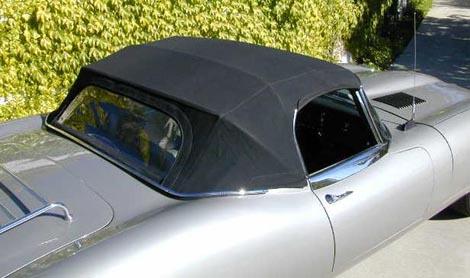 The black canvas convertible top has hardly been used; it opens and closes easily and provides excellent weather protection. The plastic rear window is free of scratches and cloudiness.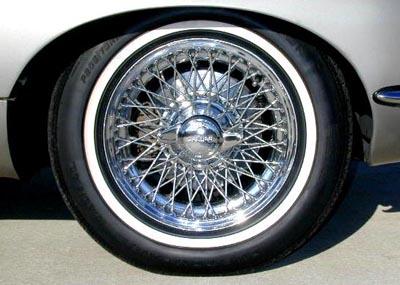 One of the hallmarks of true English sports cars: the center-lock, knock-off wire wheels. These rims are in fine condition, perfectly trued, without any loose spokes or 'curb rash'. 205/75-15 REMINGTON whitewalls provide a nice, elegant touch.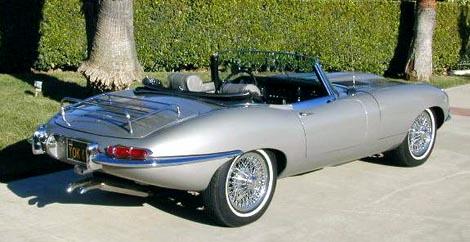 To be put into service again after its long hibernation, the Jag required only very little mechanical attention. Its distributor was rebuilt, everything was carefully lubricated, the brake system was inspected, ball joints and clutch hydraulics were replaced, and the front end was aligned. For security, a remote-controlled AUDIOVOX alarm has been installed, and the tunes are provided by a KENWOOD Cassette system. Also included are a chromed luggage rack and a custom-tailored cotton car cover.
A compartment below the trunk contains the spare spoke wheel, complete with jack and 2-pound THOR copper and cowhide knock-off hammer.
Visible in the hardura-lined trunk is the black tonneau for the cat's top.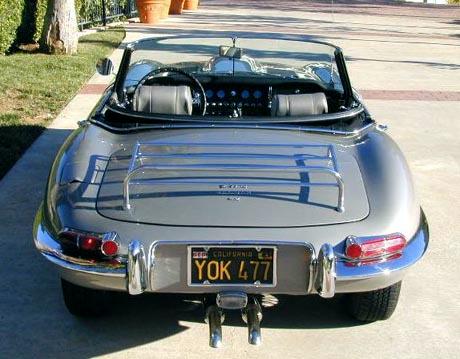 Series One Jaguar roadsters are highly valued among automobile connoisseurs, and command prices as high as $75,000, reflecting the XK-E's supercar status. If you are someone who enjoys driving your collector cars, you will appreciate this cat's powerful, virtually bulletproof drivetrain. This fine automobile needs nothing, and it is poised to become your favorite toy. We do not hesitate to say: "Fly in and drive home!"
---
Presentation & Copyright © 1999, 2000 by Californiaclassix.com. All Rights Reserved.
No part of this presentation may be reproduced without written permission. E-mail inquiries to the Webmaster.