The Color of Money!


Reno, Nevada -- the late 1960s.
An enigmatic lounge singer known as Tony Clifton performs nightly at the Golden Horseshoe, right across from Harold's Club. Like William "Bill" Harrah, proprietor of the biggest gambling hall in town and automobile collector extraordinaire, Clifton is a car fanatic.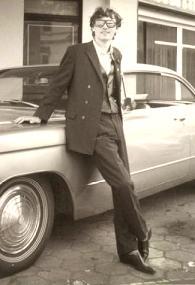 When Bill Harrah asks Tony to sing at a private function, Tony suggests something rather special as remuneration: a Mercedes-Benz Roadster unlike any other: the Color of Money

!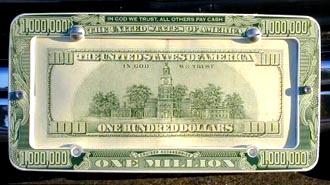 The Color of Money was factory ordered in Mercedes dark olive (DB paint code 291) and features a matching dark green leather interior and canvas top. According to some recent research in Mercedes' club archives, this car most likely is the only triple green Pagoda SL in the country, perhaps the World!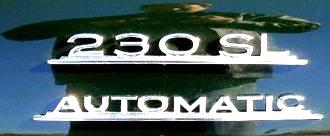 This Mercedes remains Clifton's pride and joy for more than a decade until he moves to Hollywood, California. Thereafter, Tony's trusted friend Jimmy, long time pit boss at Harold's Club, becomes caretaker of the SL.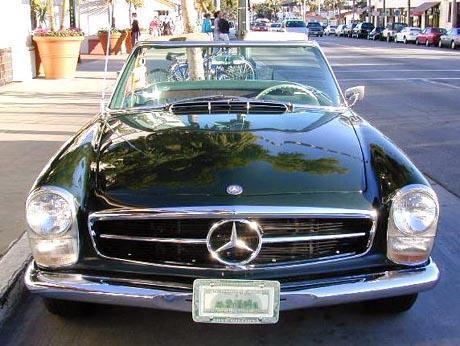 Being a prized post-war automobile design, the Color of Money is a car that truly stands out!
Part of my personal collection in Santa Barbara for about a year now, the Roadster presents itself in nicely refurbished condition. It has been repainted once--in the original color--and the convertible top as well as the interior have been replaced recently. The chrome-trim, where needed, was re-plated to a high standard; the mechanicals have been gone through as needed. Claiming the car to be an eye-catcher is certainly not an overstatement!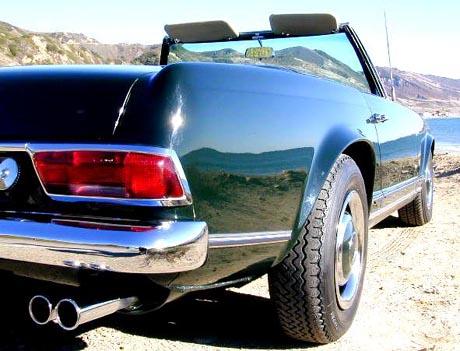 The Color of Money's body is straight, without any dents or scratches. You surely will be pleased to learn that the paint surface is so smooth, so glossy, that it reflects light like a mirror. In certain light conditions, the car almost appears to be black.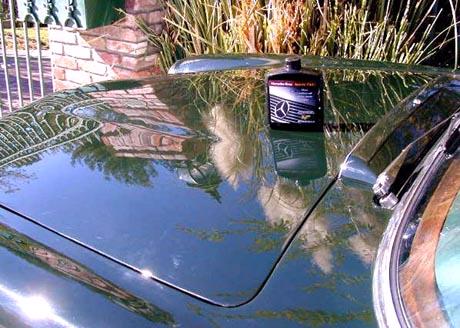 The entire exterior was painstakingly hand rubbed and carefully polished to achieve the best possible finish!
The above picture--taken on November 24, 2000, conveys this fact to some degree, but the car has to be seen in person to be fully appreciated.
The engine compartment is very clean and tidy.
Valued by many connoisseurs as the purest of all W113 cars, the 230SL is powered by a high revving, fuel injected, overhead-cam, inline-6. This M127 power plant has 150 lively horses on tap; maximum speed quoted from factory literature is 124mph.
Engine starts easily, doesn't smoke or burn oil and runs like a dream. It is, in fact, the best driving Pagoda Mercedes I had the pleasure to drive in a very long time!
No expense has been spared here!
The dashboard and the surrounding surfaces have been recovered; all wood appointments refurbished. The door panels are new; the correct, dark olive Mercedes square weave wool carpeting is also new.
All instruments and lights work perfectly, including the original BECKER Europa TS 4-band radio, the vulnerable, illuminated heater levers, and even the unique glove box lamp. The only notable exception here is the VDO clock; it shows the correct time twice daily.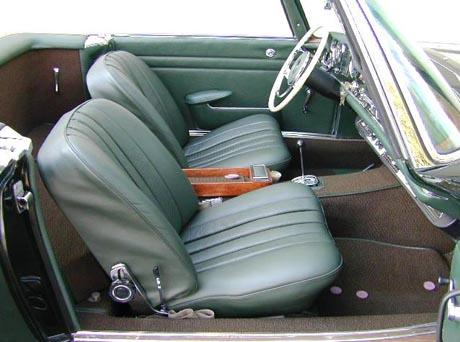 The comfortable chairs have been completely redone, too. Starting with new horse hair seat pads, new full leather covers, made from vat-dyed Italian ROSER hides, have been professionally fitted.
Lap belts with chrome buckles were O.E.M. equipment and present themselves in amazingly fine condition; the immense white steering wheel has aged gracefully with just the right amount of patina collectors generally long for. Liberal use of chrome accents complete this stunning interior.
The Color of Money is equipped with an original KÜHLMEISTER Magne-Temp air conditioning. However, the SL being a convertible, it has not been used in years.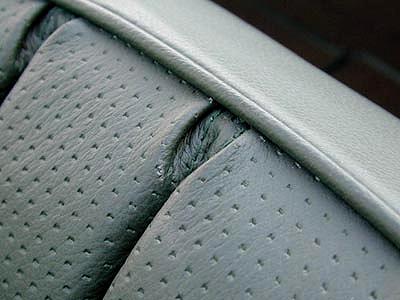 ROSER has been supplier of hides for Mercedes automobiles since the late 1940s. Roser leather is truly superior to the Detroit leather found in a pedestrian Cadillac or Lexus. These hides are carefully selected, then vat-dyed for several days. A time consuming process, it is now exclusively performed by Connolly, in England and Roser, in Italy.
Detail photos above, clockwise, from top left:
Odometer shows 47,823 miles. Since I do not have complete records, I cannot guarantee this to be the actual mileage.
Center wood console, professionally refurbished. Ashtray has never been used.
Chrome shift gate is 'as new,' including the white plastic shift guide. Note that carpet binding surrounding the shift gate is made of leather!
Wooden radio speaker grille has been refinished to a high luster. Padded dash and instrument housing are immaculate!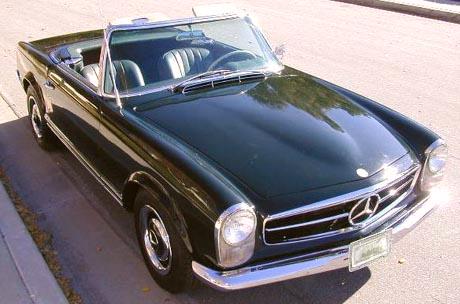 The car sure looks stunning, but "how does it drive?" you may be tempted to ask.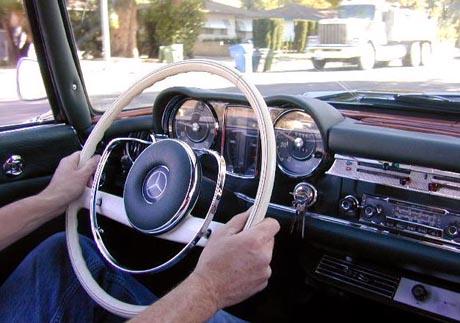 A valid question, no doubt! All too often hampered by insufficiently maintained or failing mechanical components, driving a classic car is not always a pleasurable experience. On the other hand, driving this SL is Heaven on Earth ! Steering and suspension are as tight as a new car's. No shakes or shimmies here! The automatic 4-speed transmission has been rebuilt and shift points are precise and unbelievably smooth!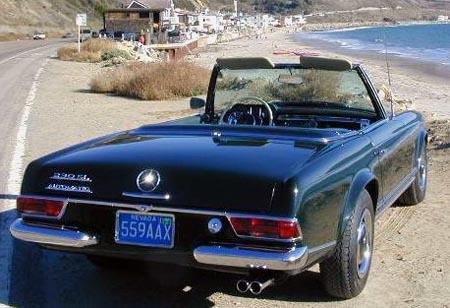 On November 24th, when we took these pictures, we lowered the top, turned on the efficient heater and had a blast, barreling down along Pacific Coast Highway to Malibu, were we stopped for a nice sea food lunch at Gladstone's. Returning, we took a detours via Ojai and enjoyed the twisty bends of scenic highway 150, all the way to Carpinteria. The SL performed flawlessly throughout this 200-mile roundtrip!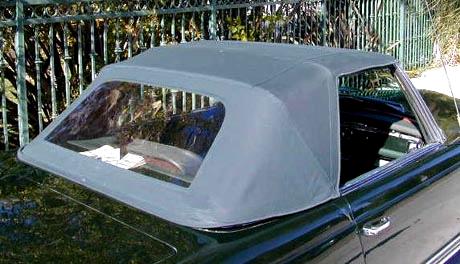 In case of a surprising rain shower, there is the brand new, special order, matching German soft top in the color of money waiting to be raised. Frankly, I have just raised it to take this photo but, depending on where you live, you actually might get some use out of it . . .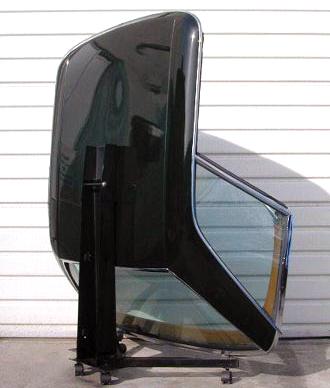 In case you would like to use the Color of Money when it's really getting damped and chilly . . . no problem at all!
Versatile as it is, the 230SL comes with its original factory steel hardtop. It mounts without any tools within a minute or two and transforms this Roadster/Convertible into a weather-tight Coupé.
A Mercedes SL is actually three cars in one!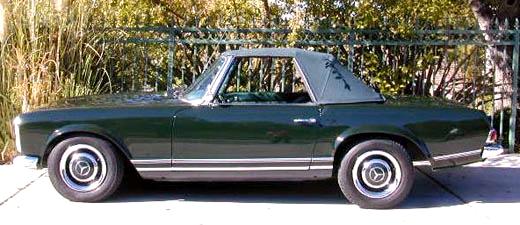 Lee Gohlicke, the author of the "Illustrated Mercedes Benz Buyer's Guide," (ISBN 0-87938-162-0) writes on page 86:
"The 230, 250 and 280SL series has been steadily growing in popularity among collectors, and this trend will likely continue, making these cars a good investment."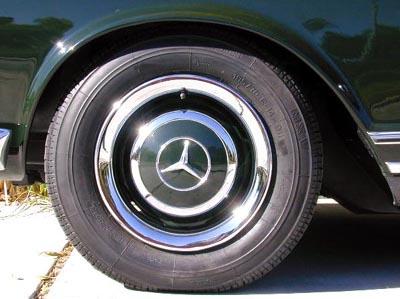 This SL rides on a perfectly correct set of wheels! All four, factory 6 x 14 steel rims are date-coded and still wear their original, dark olive paint. The original wheel embellishers as well as the original center hubcaps have just been professionally (and extensively, I might add) re-finished.
Tires are . . . you guessed it . . . correct vintage MICHELIN XWX radials in the correct size 185 HR 14.
It doesn't get any better than this!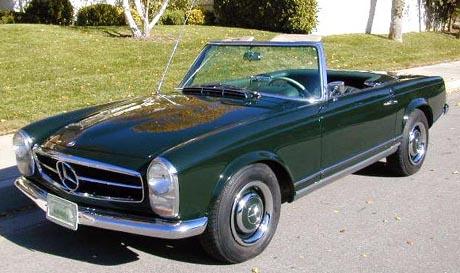 These wonderful Pagoda SLs are among the last largely hand-built Mercedes automobiles. Individually numbered aluminum alloy panels, such as the hood and doors, are hand-fitted by master craftsmen to the steel unibody.
Thirty-six years after its introduction to the public, the 230SL has lost nothing of its mesmerizing charisma. Whether you drive to the country club or your favorite restaurant, parking attendants will fight over the privilege to park your car at a preferred front row spot! There are few classic cars that incorporate luxury, elegance, sportiness, tastefulness, and prestige so well as the 230SL does.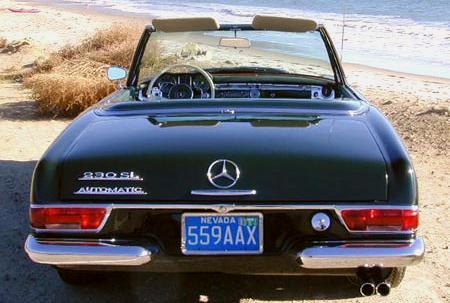 What a surprise when I inspected the trunk for the first time. Aside from some old Dollar bills hidden here and there in remote areas of the car, I found a box of old EWING gambling chips below the spare wheel! While most of the chips were still in the box, I found a quite a few of them in places you wouldn't believe. All this loot will be included with the car. View it as a 'cash back' bonus!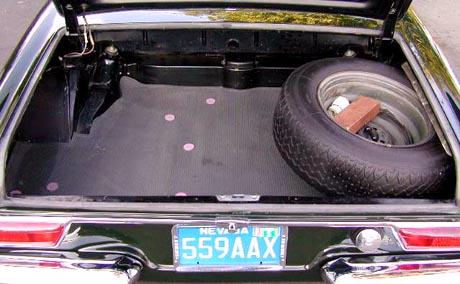 Perfectly sealed by brand new factory weather-stripping, the surprisingly spacious trunk is clean as a whistle! Aside from a . . . you guessed it . . . brand new factory rubber trunk mat, there is the date-coded factory spare--with the correct, vintage MICHELIN tire, as well as the Mercedes factory jack, lugnut-wrench, and triangle wheel block.
Often replaced by a non-stock items is the original locking gas cap. Here, it is a perfect, N.O.S. item!
The bête noire of any Pagoda Mercedes is its trunk floor. On the Color of Money, it is not only rust free, but in amazing original condition!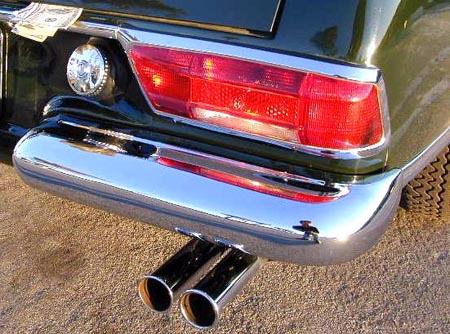 The Color of Money is still eminently driveable, even in today's dense traffic. Parts availability for SLs is unrivalled in the classic car field; collector car insurance rates are very affordable. Thus, the potential for further appreciation of clean and well-kept Pagoda SLs is tremendous and it doesn't take psychic ability to predict that prices will move only in one direction: up!
Given the choice, you should opt not only for a clean car, but, if possible, for a car that stands out among its peers.
This is your chance to acquire a unique SL, one that you most likely want to keep as long as you live and then pass on as a heirloom to your children and grandchildren.
Thank you for your interest, and have a nice day!
---
Presentation & Copyright © 2000 by Californiaclassix.com. All Rights Reserved.
No part of this presentation may be reproduced without written permission of the author. E-mail inquiries to Webmaster@Californiaclassix.com.