All Porsche 356 series cars are very collectible today. First in a long line of exciting rear-engined sports cars, the 356 came to be universally regarded as a milestone design, a monumental achievement from the austere realm of immediate post-WWII West Germany.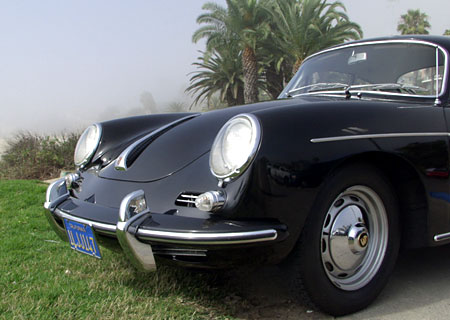 Important parameters influencing the desirability of any given 356 include:
Rarity
Provenance
Documentation
Originality
Condition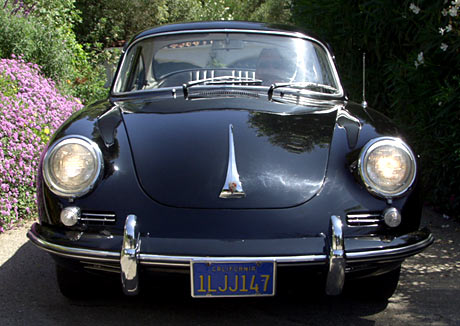 The stunning-looking 1963 Porsche 356B Coupe presented for auction here qualifies with flying colors as a keeper. True Porsche cognoscenti will enthusiastically confirm this fact after careful consideration of the Black Beauty's impressive combination of much-coveted traits.

1. Rarity:
Fahrgestellnummer *124857* is one of only 1,935 Porsche 356B T-6 1600 Super Coupes manufactured by Reutter in Stuttgart for the model year. KARDEX-correct options, such as special order paint, Speedster side trim, Schlummerrolle (head rest), BLAUPUNKT Frankfurt multi-band radio, and Porsche-crested lap belts significantly enhance the car's value.
Click on any of the above images for a full size view
2. Provenance:
Miraculously and highly unusual for any 40-year-old automobile, the Black Beauty comes with both her original Bill of Sale and 1963 California Registration. The car was purchased new on September 26, 1963 at reknown Jack McAfee Motors, Inc. on Hollywood Way in Burbank, California, for the princely sum of $5,040.53. Just for the sake of comparison, this amount would have been sufficient to buy a brand-spanking-new 1963 Chrysler Imperial Southampton.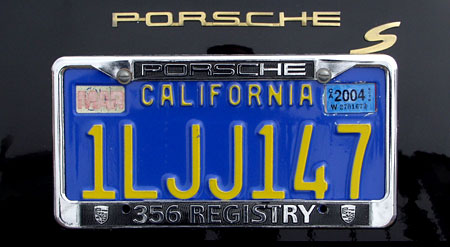 Amazingly, the car comes with a full pedigree: its ownership history is 100% documented. The original owner, from Alhambra, Calif., kept the car for exactly seven years, until 9/26/1970, when it was acquired by a gentleman from Santa Barbara, California. He sold the Black Beauty locally on 4/15/1971 to its third and final owner to date, a vivacious, single Lady who cherished the car for over 32 years.
In 1976, she traded the original black-and-yellow license plates for a set of vanity plates advertising her marital status: they read "1 SOLO." In 1985, after getting married, she returned to the blue-and-gold California plate shown above.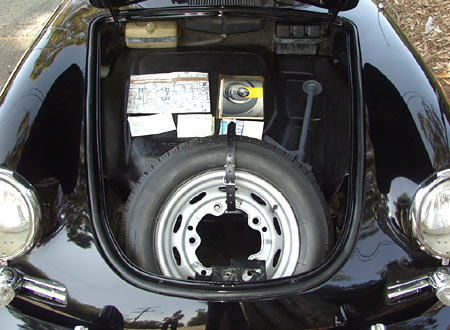 Click on the above image for another, XXL-sized, close-up image (800x600 pixels)
3. Documentation:
Authentic books and records include original Driver's Manual, BLAUPUNKT Frankfurt radio manuals, warranty certificate, various registrations, and a factory sales brochure.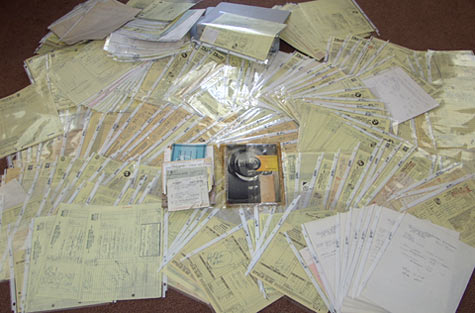 Click on the above image for a full size (800x527 pixels) image
4. Originality:
Exactly 236 receipts, totalling $32,083.76, preserved in acid-free clear sheet protectors and filed chronologically in 4 large binders provide an immeasurable aid determining the car's originality. Even after the odometer turned over, a strict maintenance regimen was continued. 125 repair and maintenance receipts written by reputable Porsche specialists VASEK POLAK (Manhattan Beach) and AUTOHAUS SCHNEIDER (Santa Barbara), plus dozens from equally qualified shops irrefutably confirm this.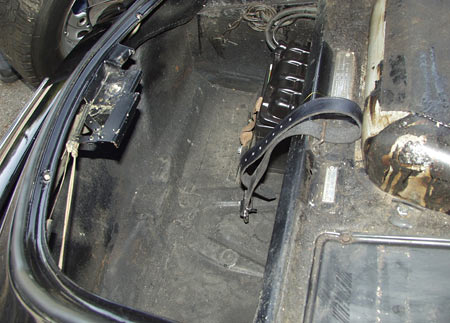 Click on the above image for a full size view (800x575 pixels)
5. Condition:
When inspecting a 356, starting with the battery box is a good idea. Serious corrosion always starts here. If you see any signs of rust, previous damage, or unprofessional repair work, you might want to walk away from such a car.
On the Black Beauty, one picture speaks louder than 1,000 words: she looks perfectly healthy!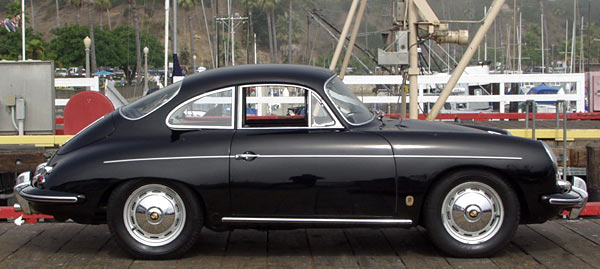 In fact, we were so stoked by the car's beautiful, accident free body that we commissioned Angelo Pino, world-famous craftsman, restorer of Porsche Parade winners and Seinfeld's 356 collection, to address a very common issue.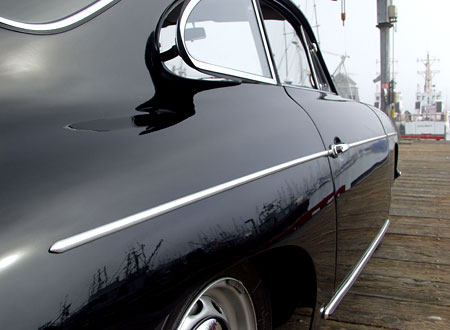 Click on the above image for a full size view (800x600 pixels)
See, even on pampered California 356s, the door bottoms tend to suffer since moisture gets trapped when drain holes eventually fill with road debris. Maestro Pino expertly applied his sheet metal and lead-working magic and--without the use of any plastic filler--returned the doors to factory fresh condition. The famous "gaps" measure up to Zuffenhausener specs throughout.
Combined with a new coat of glossy single-stage paint for the Black Beauty's voluptuous body, this successful rejuvenation removed about $8,000.00 from our thinly lined pockets. Ka-Ching!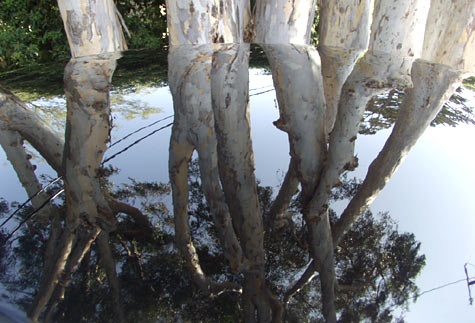 A very popular choice among restorers, it must be said that most 356s presented today showing off their shiny jet black coats were born sporting different colors. This one's a documented, original black (color # R6213) specimen!
Dick Livingston, the car's original owner, paid a premium of $56.50 to obtain a black 356, as documented on McAfee's Bill of Sale. Hard to believe, but black was a special order color in 1963!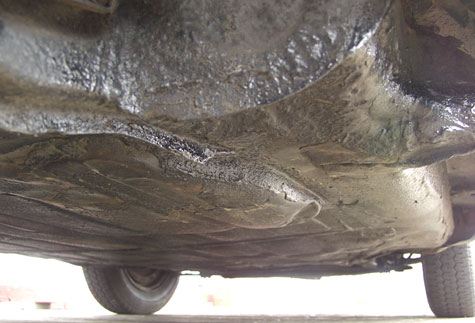 Click on the above image for full size view (800x544 pixels)
After checking out her beautiful body and make up, let's go down on our knees and inspect her all-important undercarriage. What are the odds of finding a 40-year-old Porsche with virginal floors?
Your guess is as good as mine. This one's a virgin, you bet!
Beautifully chromed Super hub caps feature enamelled Porsche crests. Tires are near-new MICHELIN radials all around.
Original coachbuilder's badge identifies this 356 as REUTTER-bodied.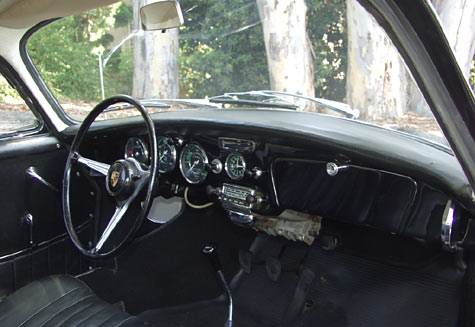 Turning our attention to the cockpit, we are struck by its originality. The symphony of green-on-black gauges, bakelite knobs, and chrome fittings looks especially attractive against the metal dash's original black paint. Yes, the BLAUPUNKT AM/FM radio still works! Note the ultra-expensive, original chrome loudspeaker grilles.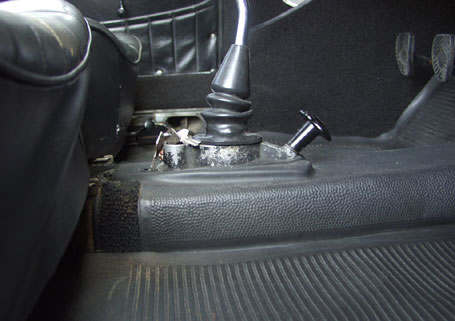 Details we love to see: Original ribbed rubber floor mats front, center, and rear. Functioning, original shift lock, a very effective theft deterrent. 4 original Porsche keys accompany the car, as well as the original head rest and o/s mirror.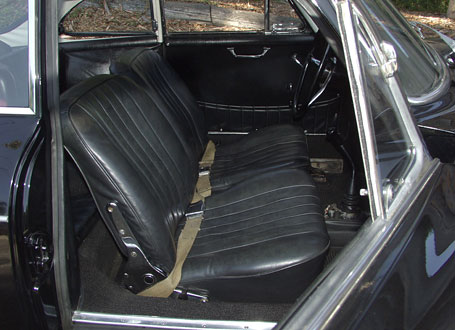 Click on the above image for a full size view (800x584 pixels)
Porsche reclining seats provide plenty of comfort, even for big & tall drivers and Bratwurst-eating, tuba-carrying co-pilots. Check out original safety belts.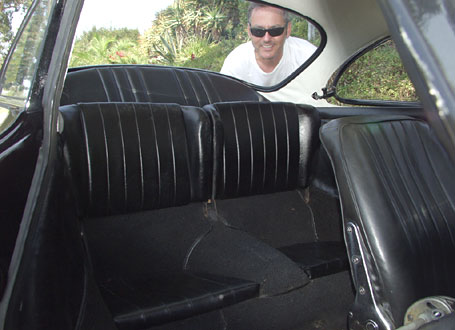 Rear luggage compartment featuring twin occasional seats is all original, looks unused.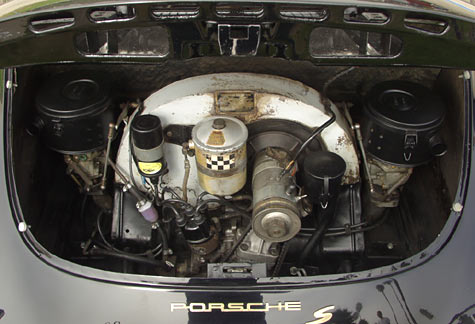 Click on the above image for another, XXL-sized, close-up image (800x600 pixels)
Located behind the rear seats is the heart of the 356, its 1582cc four-cylinder boxer motor. In its Super incarnation, 88 healthy horses are ready to gallop once you fire 'em up and tickle the loud pedal with your spurs. This ain't no glorified VW engine, it's the real deal!
Vintage details abound inside engine compartment, underscoring this survivor's authenticity.
Engine # P*0700866* is the factory-installed, KARDEX-matching unit. Case number is 616/12, identifying the engine as one of the reworked-for-1963 Super versions featuring gray iron cylinders, improved piston rings, and modified oil cooler.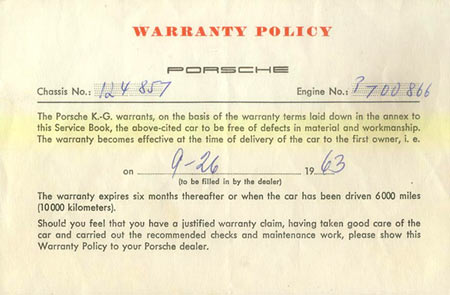 Click on the above image for a full size view
Original Warranty Certificate was found among the copious documentation, confirming original engine number.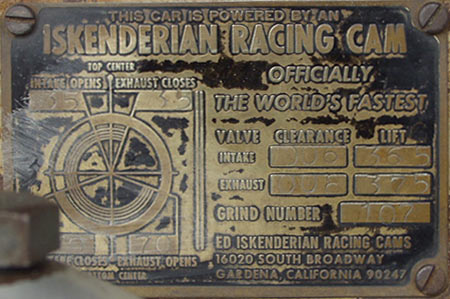 Exceedingly rare and exciting brass Iskenderian cam spec tag is still affixed to fan shroud. A truly priceless detail! Naturally, this Super motor runs very, very strong.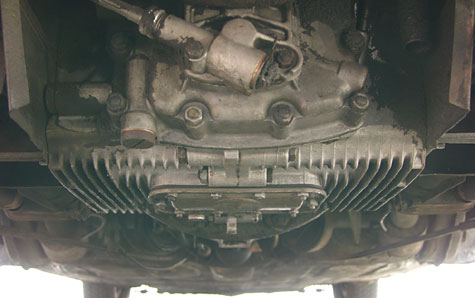 Splitting the case to fix an oil leak or two is no fun. Luckily, this boxer doesn't drip at all. It's as clean as can be.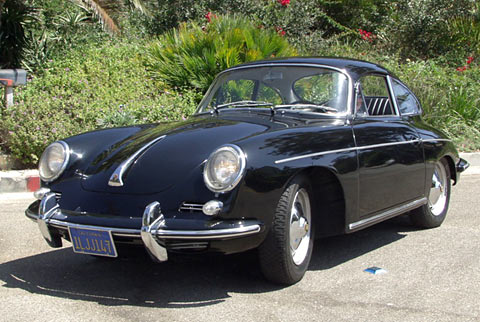 Click on the above image for a full size view
We took the car for a spin on September 19, the day we shot these pictures. Santa Barbara County with its many mountainous areas is a perfect place to examine a vintage sports car's mechanical prowess. In a nutshell, the Black Beauty delivered.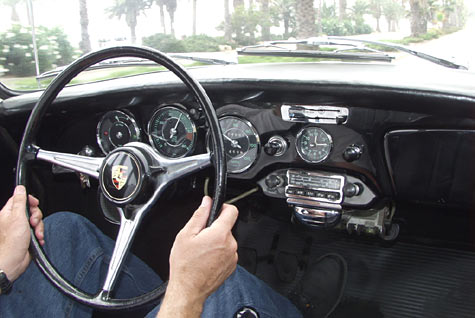 We had almost forgotten just how much fun it is to drive a 356 close to the limits of adhesion. This one runs, shifts, handles, and brakes wonderfully and feels like a much younger car.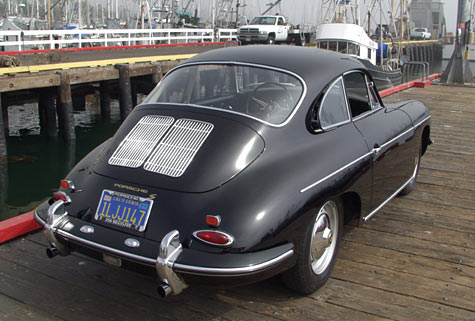 To paraphrase Denise McCluggage, this Porsche bears its originality with ineffable dignity.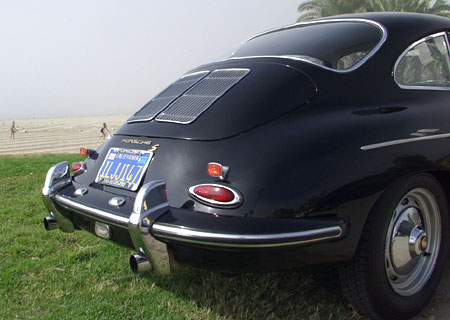 Click on the above image for another, XXL-sized (800x578 pixels), close-up image
Driving a Porsche 356 provides an indescribable thrill. Finding a matching numbers survivor, fully documented, rust free, sporting a rare factory color and exciting optional equipment is a small miracle, indeed. Cars of this caliber certainly do not appear very often. Here's a golden opportunity to secure one of the few remaining, certifiably original Porsche 356 T-6 Super Coupes!