For Mature Adults Only!
Could this be the ultimate thrill machine? Possibly even the ultimate adult toy?
Whoooa . . . big words!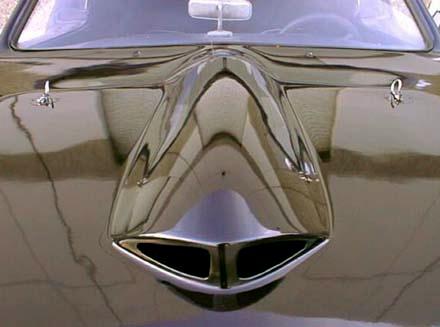 You be the judge. Please allow me to introduce you to the contender, dressed in black wardrobe with

pearl blue overcoat: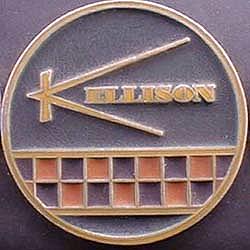 It's the Kellison ASTRA J-5!
It all started in 1954, when Jim Kellison, a former aerospace engineer from Folsom, California, penned what turned out to be the most copied coupé design for decades to come.
By the early 1960s, the culmination of his efforts, the J-5, had made history not only on drag strips and road-race courses, but also had reached a top speed of

186MPH on the Bonneville salt flats in Utah.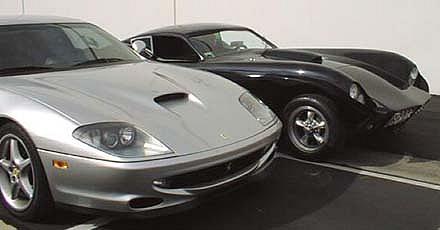 Even next to a 2000 model

FERRARI 550 Maranello , Kellison's pioneering use of styling elements that would forever define a true sports car, becomes evident:
Long hood/ short deck configuration
Low overall height
Air intakes (scoops)
Canted quad headlights
Severely angled windshield
5-spoke lightweight wheels
Chevrolet Corvette, Jaguar XKE, Bizzarrini GT Strada, ISO Grifo, to name but a few, have freely borrowed from Jim K.'s arsenal of highly advanced design cues. Never before or after the J-5 existed a body style that proclaimed raw speed and masculine sex appeal as radically as the hunkered-down, mean-looking Kellison coupé.
Undoubtedly inspired by the nascent sport of drag racing, early Kellisons featured a 96-inch wheelbase. Stretched to 102 inches on the J-5, ideal 50/50 weight distribution was achieved.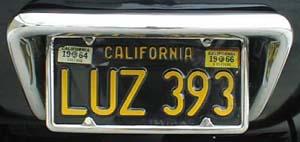 Jim Kellison, this true American entrepreneur, sold his business in late 1961 to Sacramento's Max Germaine, whose ASTRA Automotive Division continued to market the car. Mr. Kellison is still alive and well today, living in Marysville, CA, where he runs a diamond and jewelry exchange.
One of only a handful of street-legal pure-bred Kellisons in the country, LUZ 393 features the original black and yellow license plates that were assigned to the car in 1963. It is licensed as a 1962 ASTRA and currently registered in California until 2/16/2001.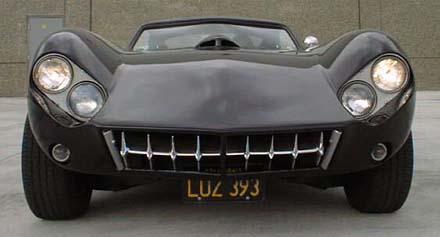 Our research of the car's provenance revealed, that LUZ 393--which had been last licensed for street use in 1966--was campaigned by the team of

LaFayette & Smith as the Strip-Teazer in the mid-60s and ran the ¼mile at Irwindale and The Beach (Lion's Drag Strip in Long Beach, Calif.).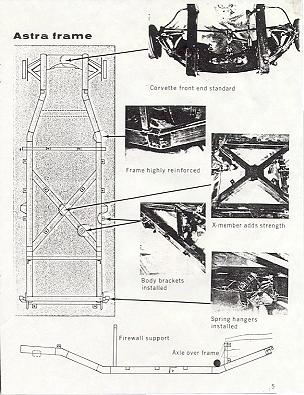 Very importantly, this particular example of the marque was ordered from the factory as a body-frame combination. Built in a rigid jig, the 3x4-inch tubular frame was constructed of .095-wall tubing and is much stiffer than the more commonly used modified Chevy units; it also permitted a greater engine setback than other frames. Out of the dozen or so J-5 models listed in the current roster of the Kellison Registry, X-Rated may very well be the only remaining example with this unique ASTRA frame. The car has never been in an accident, and the frame is rust-free and unaltered. Rack-and-pinion steering connects to the '54-'65 Corvette front suspension, and the rear leaf springs support a '57 Chevrolet rear end with 3.70-to-1 gearing.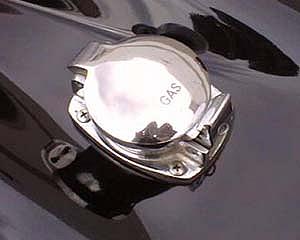 Quick-fill racing style gas cap looks beautiful atop left rear fender.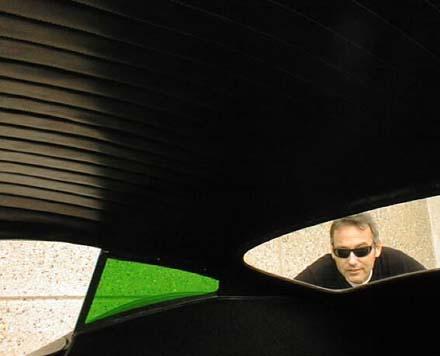 The upholstery of the Kellison has been faithfully replicated after illustrations found in the original factory brochures (facsimiles of which are included with the car.) All-black interior features '60s style Detroit loop carpeting and tuck-and-roll kick panels and headliner. The specially designed lightweight competition bucket seats have black slip-on Naugahyde covers with silver piping.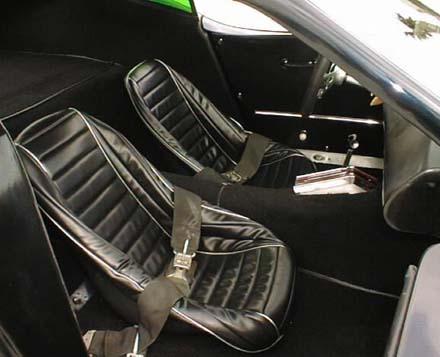 Aircraft-style seat belts and a full array of vintage

STEWART-WARNER instruments, along with the small-diameter, chrome spoke steering wheel and the MoPar shifter complete the interior's all business look.
Cup holders not included!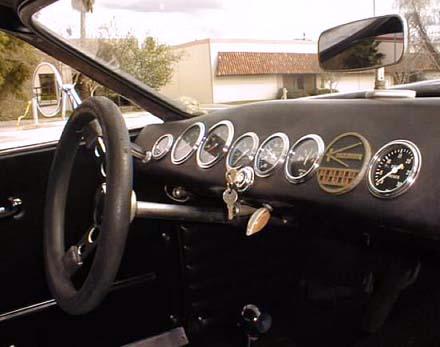 Luxury equipment:

NO
Cruise control:
NO
Power windows:
NO
Navigation system:
Funny . . .
Radio:
NO, sorry
E-brake:
NO
Windshield wipers:
NO
Heater:
NO again
ABS:
NO! (Ever wondered why a new, $300K FERRARI does not have ABS?)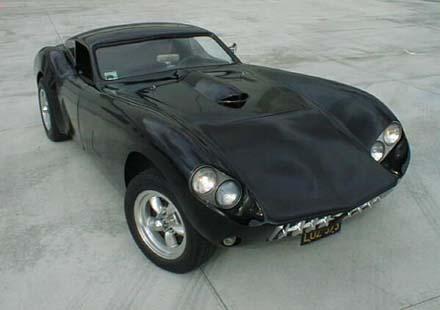 If you'd like to cruise in comfort, X-Rated is not for you. It is like a wild and exciting animal, slightly tamed to obey and licensed to prowl the streets, but it will never be a pussy cat.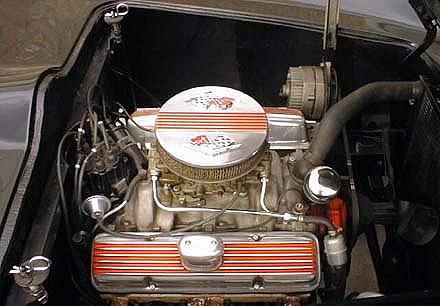 The engine was built as a dual-purpose unit, with street and competition use in mind. Beginning with a matching 1962 Corvette block of 327 cubic inches that was bored .030 over, the motor features 'Vette fuelie heads with 1.94 valves. The shotpeened and polished 327 rods are turning on a 283 crankshaft and are topped by TRW 12½ to 1 compression pistons. The whole assembly was carefully balanced. Cam is a healthy

COMPETITION CAMS grind with .500 lift.
Careful matching of combustion chambers and piston design enables the mill to perform outstandingly even on pump gas. Fuel distribution is handled by a 650 cfm HOLLEY double-pumper and a '64 'Vette intake manifold. Note the original MOON aluminum valve covers and the CAL CUSTOM air cleaner.
Transmission is a beefy Turbo-Hydramatic 400 , fitted with a B & M 3500 RPM stall speed converter.

So how does this Hot Rod drive, you may ask?
Nothing dramatic, really, assuming you have at least some experience in piloting a vintage dragster and don't mind the adrenaline rush commonly associated with bungee jumping.
| | |
| --- | --- |
| | |
Ceremonially, you pump the gas pedal a couple of times, leave it alone, and turn the ignition key. The starter shrieks for a second and a half and the engine fires right away. It settles into a mellow idle, almost reminiscent of a blower or gear-driven small V8. Instantly, you realize--this is not your average grocery-getter. You look ahead, beyond the impossibly long, bulbous fenders and the scoop through whose nostrils air will be sucked into the engine's throat with amazing velocity, an event just moments away. You remember the stern warning to NOT let the right foot drop until the beast's nose points straight in the desired direction and you are positively certain that there's nothing between you and the horizon.
You let the oil warm up cruising around the block. X-Rated rolls along with surprising civility, as long as you leave the loud pedal alone. Remembering what effect a 3500 stall converter has once the stall speed is reached, you have no problem enjoying the ride, actually quite relaxed, as long as you keep the revs below the threshold. Only the reactions of other motorists and pedestrians alike won't let you forget that you are sitting in a projectile on wheels, not a car commonly driven on public roads.

Finally, when the

Stewart-Warner gauges signal 'all systems ready', you know you won't regain peace of mind unless you have at least tried it once. When all seems to be right, you do it.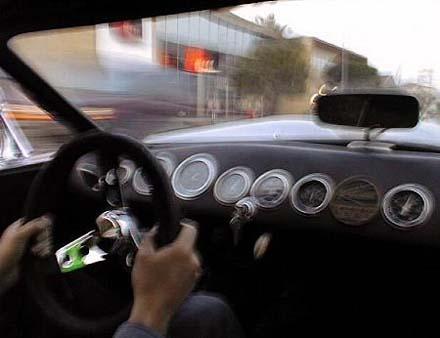 Steering wheel straight, car pointed straight, runway clear, you drop the pedal!

X-Rated screams and prances, pulling forward with a boundless force that makes you realize how it must feel to be catapulted off the deck of an aircraft carrier! You smell burned rubber and the amount of smoke makes you aware that street tires won't stand a chance to transfer all this power to the tarmac. Mentally adding a set of

M&H Racemasters to your birthday wish list, you become aware of the small tunnel you are being shot through. Suddenly, the fear of death grips you. Luckily, the brain wins over the right foot and you let go. Still you believe to hear necks crack and see people stare in your direction with eyes wide open and you are reaffirmed that there is nothing like this beast on your block. Then you regain consciousness.
It's not only how fast it accelerates, it's how X-Rated does it: pure, unfiltered, brutal, sense enhancing reality, far more intense than you had anticipated in your wildest dreams.
Yep . . . life's good.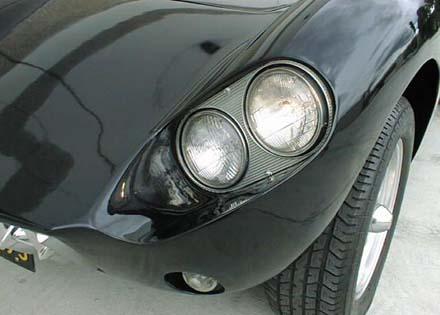 More than a few famous cars 'borrowed' styling cues from the Kellison coupé: Scarab, Cheetah, Devin SS, even the famous Cobra Daytona . . .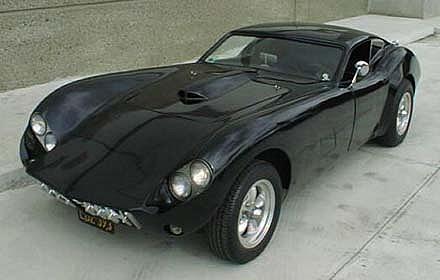 This is a car beyond comparison. Since it has been recommissioned, X-Rated has been driven a mere

75.6 miles!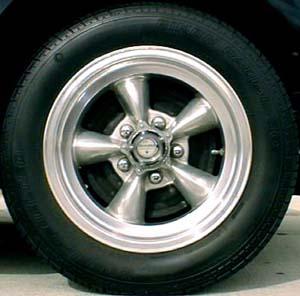 AMERICAN RACING

15x6-in. crow's feet D-spoke mag wheels are the genuine article and very rare today.
Rear view of J-5 is extremely impressive. License plate surround is vintage Corvette unit, and '50 Buick taillight lenses are mounted with hand-made chromed bezels. Rear window is also Buick, from the '49-'52 Sedanette model.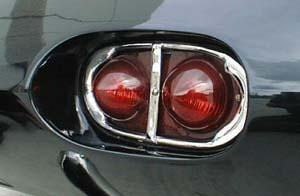 Ownership of the Kellison J-5 gives you carte blanche to participate in classic car rallies such as the

Colorado Grand or the California Mille , attend events like SCTA's El Mirage Dry Lakes races or drag racing's Bakersfield Reunion . At car shows, you will usually be in a class all by yourself, and no picky judge can scold you for having MOON valve covers on your small block!
This car redefines the term "once in a lifetime opportunity."
Street legal, licensed until 2001.
Miracles do happen . . .