From San Remo to Santa Barbara !
Ownership of a classic post-war luxury car can be a highly rewarding experience.
Perhaps the most satisfying prestige transportation imaginable came in the guise of the classically beautiful Mercedes Benz W111-series motorcar.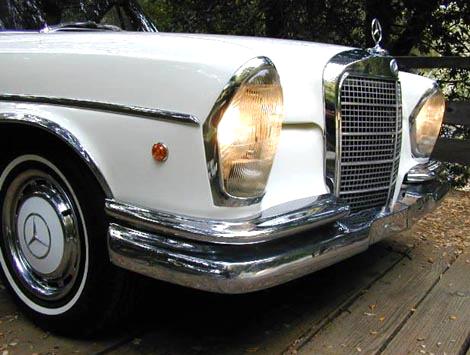 Of the 220SEb Coupé, less than 2,000 units were produced in 1964. A large car by anyone's standards, the big Opera Coupé was a technological marvel in its time. It featured a dependable, easily maintained mechanical system with independent suspension front and rear, a fuel-injected engine, disc brakes all around, and a smooth ride--on par with that of a contemporary Rolls Royce--that is as mesmerizing today as it was four decades ago.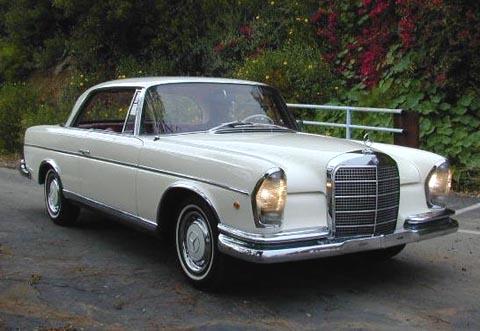 Add to this specification the Coupé's beautiful, timeless two-door hardtop design, and you will fully appreciate, that the W111-series cars are so highly regarded by aficionados of the marque.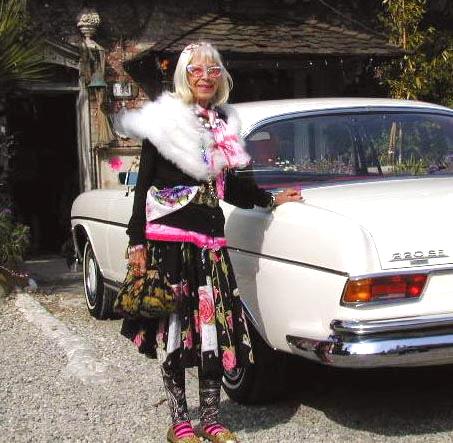 The particular 220SEb Coupé presented for auction here is a very special example. Its original owner, Countess Petrosilia Zwackelmann, a blue blood of Moldavian descent, took delivery of the fabulous Mercedes on April 24, 1964 in Vicenza, Italy. A special underhood tag, the MAGNETI MARELLI seat belts and small, round Italian-spec front turn indicators, among other indices, bear mute testimony to the car's provenance. La Contessa also special-ordered the full leather interior, which was color-matched to a sample of the dominant color in her family's coat of arms, as well as the exclusive MB "300" chrome trim package.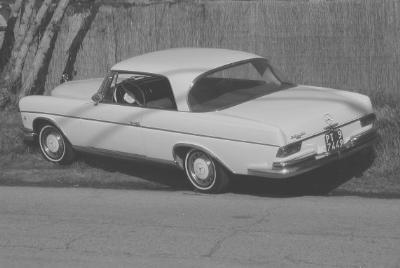 Living in close proximity of the French-Italian border, Countess Petrosilia mainly used her Opera Coupé for quick jaunts to Monaco, where she passionately attended the Opera during season, and--with equal passion, it is rumored--the Casino de Monte Carlo. Can you imagine the slightly eccentric owner taking her Mercedes through its paces on the winding coast highways of the Côte d'Azure, side windows rolled down, listening to Verdi arias?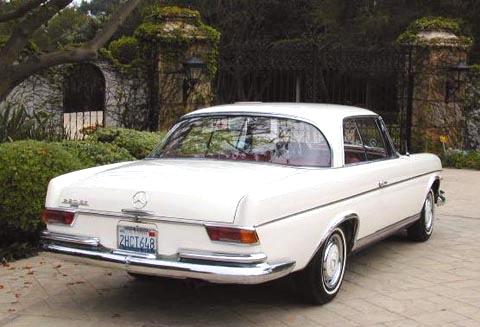 In the late 1970s, La Contessa decided to follow her heart (and her Beau, an all-American surfer) to beautiful Topanga, California, a former Hippie enclave in the Santa Monica Mountains between Malibu and the San Fernando Valley. The Mercedes was shipped from the Riviera to Long Beach, carefully stowed in a 20-foot container.
About a decade ago, though still almost as vital as in her twenties, the Countess nonetheless felt it to be time to quit driving, and the car was sold to a collector from nearby Woodland Hills, California, who used it sparingly, accumulating less than 900 miles during ten years.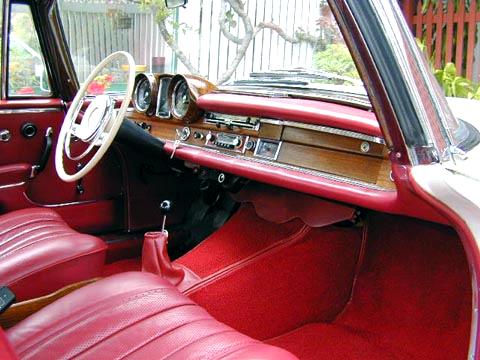 Its charming and most appealing provenance aside, there are other traits that make this car unique:
Completely rust free. Never had any rust or rust repair!
Amazing, perfectly straight, accident-free body. No dings, no dents, no scratches mar its shiny paint!
Original, lipstick-red ROSER leather interior and original wood trim.
Excellent mechanical condition throughout.
Rare factory four on the floor transmission, plus power steering and power brakes!
Factory-equipped with the very expensive "300" chrome package.
Very desirable early--convex--European headlights.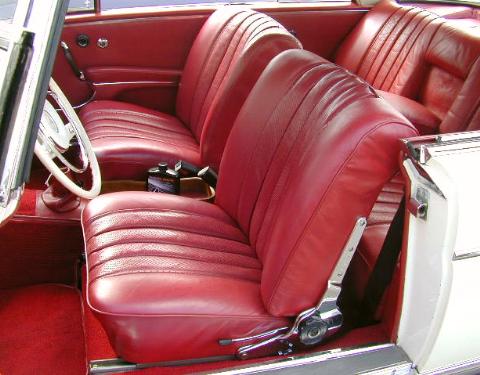 Looking at the original red leather interior, you might agree that only under the best of circumstances and with the utmost of care could it have survived in such amazing condition for more than 35 years.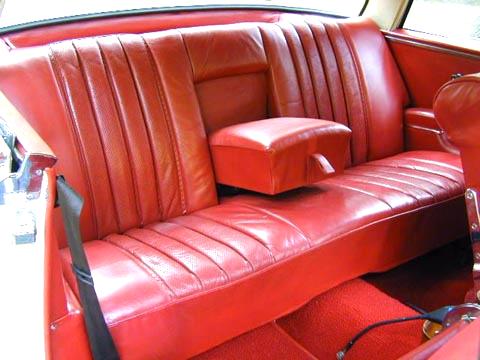 Knowing that Mercedes' original supplier of hides, ROSER in Italy, does not provide this vat-dyed leather anymore, settling for the second best, CONNOLLY of England, when refurbishing this interior, would cost upward of $8,000.00, and that's without the irreplaceable patina, which cannot be bought at any price!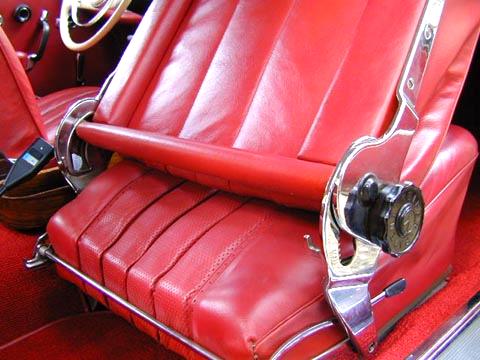 What sounds--prima facie--scarily expensive will make much more sense if you allow me to point out that these hides cover everything, including the seat backs, the dashboard, the rear parcel shelf, the console, the door panels, and virtually all other interior surfaces.
A car is the sum of its details, and if you take a closer look at the pictures above, it will be apparent that labor had simply become too costly by the late Sixties to continue manufacturing cars like this one.
Clockwise, from above left:
Exclusive, PATENT KEIPER seat recliners
Three-position interior light , surrounded by chrome (there's another one in the back)
Leather-lined glovebox
Rear seat folding center arm rest (click on image for a full-size view)
Original BLAUPUNKT radio speaker on parcel shelf
Wooden instrument binnacle (just nicely refinished)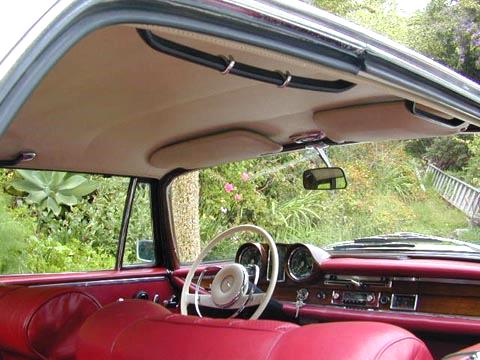 For a headliner to survive almost four decades without a rip or tear anywhere is unheard of. Well, almost, because here this Daimler still carries its unblemished factory headliner, vintage 1964 ! The original red carpeting, however, had faded over the years and was just replaced to the tune of $750.00. The Zebrano wood surrounding the windshield and instruments was stripped and refinished ($500.00); the dash wood is still decent. Check out the huge white steering wheel, a 1960s Mercedes trademark, which is nicely preserved. Fragile heater slide levers are still original!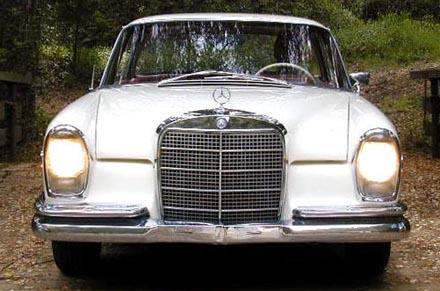 As mentioned above, body and paint are excellent. Doors and hoods close with a solid "clunk" and the shut lines are perfect. The generous chrome trim is in good to excellent condition, too, save for some--typical--dings on the original bumpers and some fading on a couple of the window surrounds. Add the mellow, porcelain white exterior to the lipstick red interior and you have a truly spectacular looking Grand Tourer of the highest order!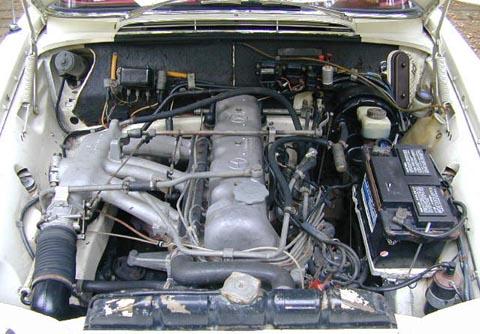 The heart of the 220SEb is Mercedes' legendary M127 engine!
Being a design of the late 1950s, this 2,195 cm2 (113.9 c.i.) inline-six power plant was far ahead of its time. So far ahead, in fact, that it was fitted to new Mercedes passenger cars until 1973. Featuring a single overhead camshaft (SOHC), almost square bore and stroke (for high revving ability), and BOSCH mechanical fuel injection, it is very lively and convincingly modern. As a small plate on the engine block and a casting on the head indicate, this engine has been replaced under warranty by a brand new, 2.5 liter factory unit in the late 1960s.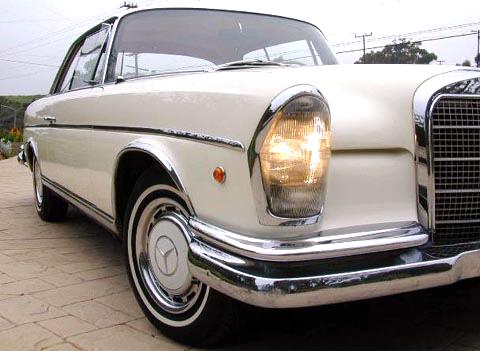 How does this beautiful car's performance compare today, in the year 2001?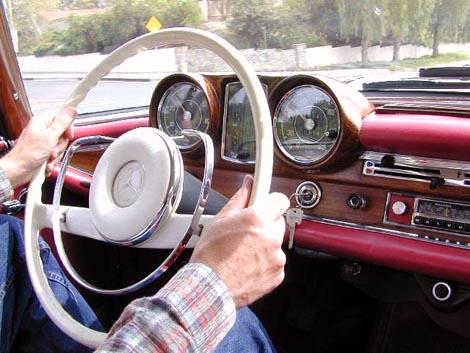 What strikes me most when driving a "Big Benz" is the atmosphere of solidity, the confidence-inspiring feeling that the craftsmen who built this car really did care about their work and had pride in the product they helped to create. Contrary to even a brand new Mercedes, which has become a mass-produced item where only the bottom line counts, a vintage S-Class Benz was made for the select few: people of taste, money, and heritage; nobody else could afford one. So thoroughly timeless is the 220SEb, that today's often hectic traffic conditions pose no obstacle to its operation at all.
The previous owner might not have driven the Mercedes much, he nevertheless recently spent a considerable sum on some needed repairs, receipts of which are included. The transmission received new bearings, synchros, seals, and gaskets; the clutch, throw-out bearing and hydraulic cylinders were replaced; steering coupling, pinion seal, and rear axle boot replaced. Finally, the fuel tank and system were cleaned and the fuel float was repaired. Total amount spent: $3,196.60.
As a result of all this care, the car starts, runs, idles, shifts, handles, drives and brakes great.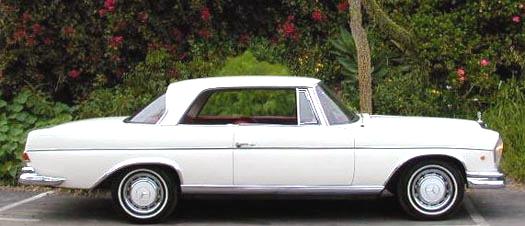 The aforementioned "300" package consists of six long chromed steel side moldings and four wheel well moldings. (The 300SE was the top-of-the-line model, with a body identical to the 220SE, but a 3-liter all-aluminum engine and air suspension. More of an engineering showcase, it was trouble-prone and outrageously expensive; only a few were manufactured.)
Today, purchasing the original "300" trim alone would cost in the neighborhood of $2,000.00

. Installing the 10 moldings properly would take the better part of two weeks. You do the math . . .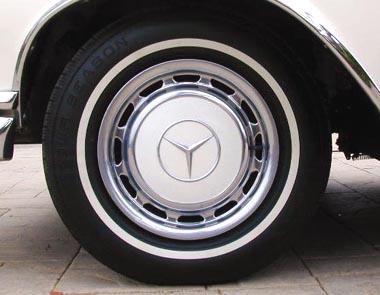 Beautiful whitewall radial tires in the dimension 195/75 R14 are almost new and improve handling considerably, compared to the old bias ply rubbers of 1964.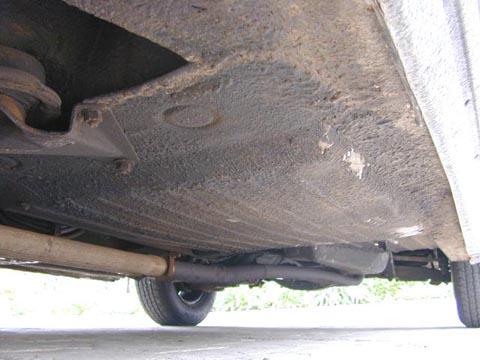 Having spent all of its life in most favorable climatic conditions, the undercarriage of this Opera Coupé is as close to perfect as you'll likely to find. It still has the factory look, and has never needed any restoration work. There is no rust or rot. There is no prior body repair, no sign of any damage at all on the Countess' favorite toy.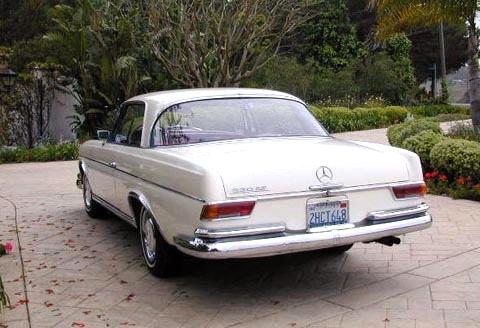 Aside from the undercarriage, there is another coppa nigra on all W111 (and W112) cars: the trunk floor. Even otherwise healthy cars sometimes have rust in the trunk area, often caused by leaking trunk weatherstripping and humidity trapped below the rubber trunk mat, consequently wreaking havoc inside this sensitive environment.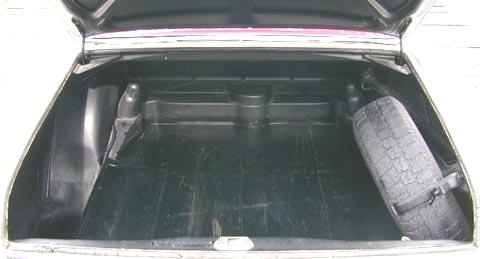 Not so here!
Not only is the original rubber trunk mat present, in truly exquisite condition; even better, the small trunk mat covering the left-side spare wheel well is equally pristine.
The huge trunk itself is free of rust and comes with primo condizione original tar strips. You will not find a better, unrestored trunk anywhere!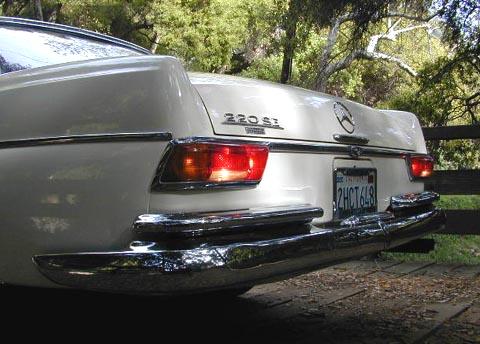 This beautiful Mercedes Opera Coupé is a premier representative of a quickly vanishing species: that of the affordable, hand-built European luxury five-seater touring car. Demand for fine examples from manufacturers like Facel Vega, Jensen, Bristol, and Daimler-Benz far outstrips supply. These most elegant Grand Touring vehicles can reliably be driven daily, even today. Spares (at least on the mechanical side) are plentiful, and so are knowledgeable mechanics.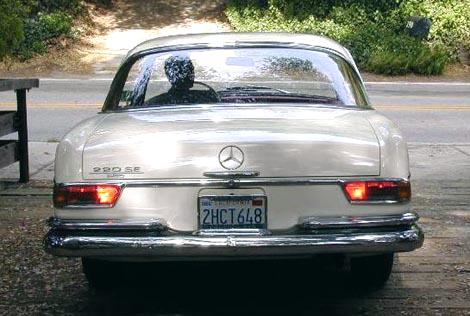 This truly grand 220SEb delivers pure, remorseless enjoyment. Its lines are elegant, its breathtaking interior delightfully appointed; its mechanical attributes make real enthusiasts take note. Best of all, you will not have to worry about the dreaded tinworm on this particular example. It was raised on the Italian Riviera and spent its adult life in sunny Southern California!
Thank you for your interest, and have a nice day!
---
Copyright © 1999-2001 by Californiaclassix.com. All Rights Reserved.
No part of this presentation may be reproduced without written permission of the author. E-mail inquiries to Webmaster@Californiaclassix.com.