Mysterious . . .

It has been rumored, that Monsieur

Fritz Schlumpf , the infamous Alsatian Bugatti -Collector, ordered a Mercedes Benz 190SL painted in the Bugatti color bleu racing de l'equipe française and subsequently stored it at his Pacific Palisades hide-out. He visited only infrequently during the early 1960s, purportedly to continue a tryst with blonde bombshell Jayne Mansfield. Can you imagine the amorous couple in this French blue SL, cruising up Pacific Coast Highway to Moon Shadows in Malibu? Can you?

Indeed, this extraordinary SL is a very enigmatic sports car.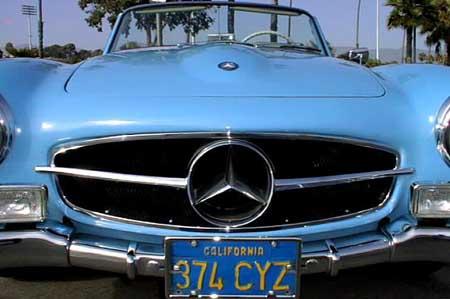 For starters, it bears more than a passing resemblance to its 'big brother,' the 300SL.
The frontal aspects, with the horizontal grille and the large three-pointed star, show a remarkable similarity.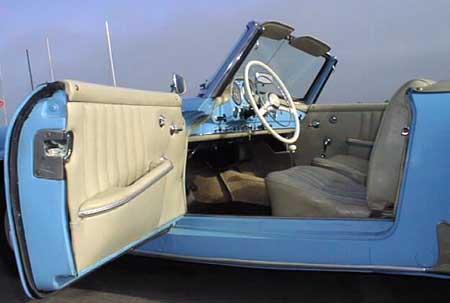 The interior design and instrument panel mirrors that of the Gullwing. Have a seat and enjoy the luxurious accommodations!

This example of the marque features one of the few available factory options, a parchment colored, full leather interior. Far surpassing most of today's luxury cars,

fine, plant-dyed, Italian ROSER leather sheathes not only seats, but also door panels, dashboard, convertible top boot, tonneau, and various other interior surfaces. Complemented by authentic German square weave wool carpeting, and lavishly accented by chrome fittings, the interior presents itself in impeccably clean condition.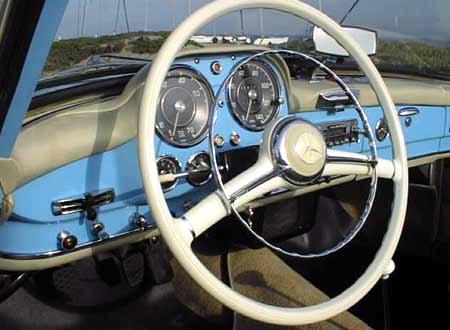 Equally impressive is the dashboard.
It is dominated by the famously beautiful, ivory colored

Mercedes volant; the turn signals are operated by moving the chromed horn ring! An impressive array of finely detailed instruments and warning lamps keeps the driver informed. Everything is fully functional here, even the elusive, hand-wound KIENZLE 48-hour clock works!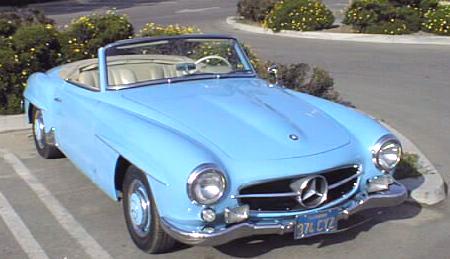 A

California car , the 190SL for auction here had originally sold in 1961. The mileage indicated on the odometer is 21,908 . This corresponds with the California Certificate of Title, which, on 9/18/1998, states 21,298 miles as the ACTUAL MILEAGE . Although many of the car's components show very little wear, due to a lack of records, I cannot guarantee the mileage to be correct. This automobile is currently registered until July 2000 !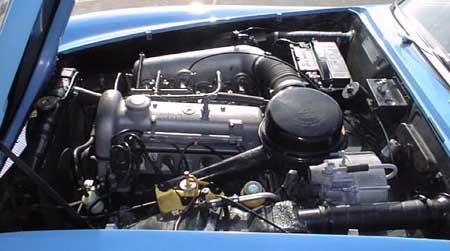 The engine compartment is dominated by the correct

Mercedes-Benz power plant, replete with factory-issue, twin dual side-draft SOLEX carburetors. An advanced feature for this 38-year old sports car is the use of standard power brakes. Original details abound, such as the vintage Bakelite distributor cap. Recent additions include a new set of classy 185/70R13 KLÉBER tires and a factory replacement EBERSPÄCHER muffler.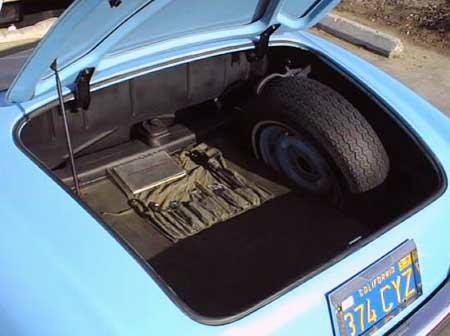 Nothing but pleasant surprises await upon opening the deck lid.

Factory spare, jack and the hard-to-find original tool roll, as well as a nicely preserved trunk mat are accompanied by both, owner's and spare parts manuals. And, No Sir, there's no rust underneath the trunk mat.
The original, navy blue German

Happich Sonnenland canvas top with its tan herringbone-pattern lining, has seen extremely little use over the years and presents itself in outstanding condition. Please note the aluminum trim strip, which is usually missing.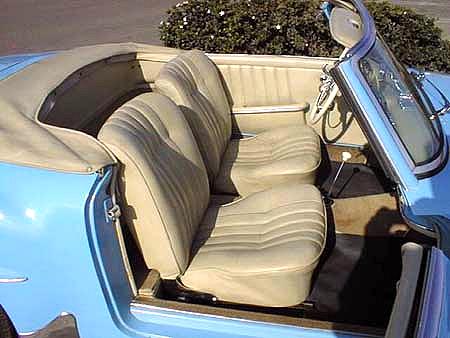 Leather, leather, everywhere! This is the quality that made

Mercedes-Benz famous.

The 190SL's strengths as a touring car were deservedly praised. Driving position, seats, the effortless way in which the car can maintain a 75 miles per hour cruising speed, the heater's unusual efficiency, and the smooth shifting manual transmission, all contribute to an exhilarating driving experience.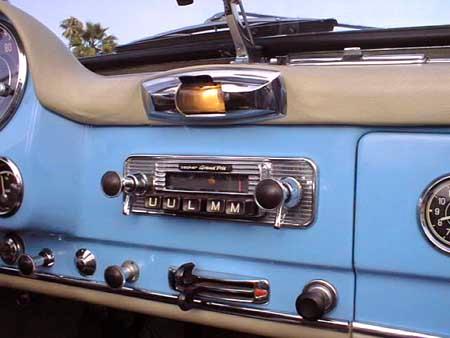 A plethora of thoughtful accoutrements, such as the three-position interior light, elevate this car above the mundane. Amazingly, not only is the 38-year old

BECKER Grand Prix AM/FM/Long Wave tube radio still in good working order, but also the original HIRSCHMANN aerial still raises and lowers itself automatically upon turning on the radio.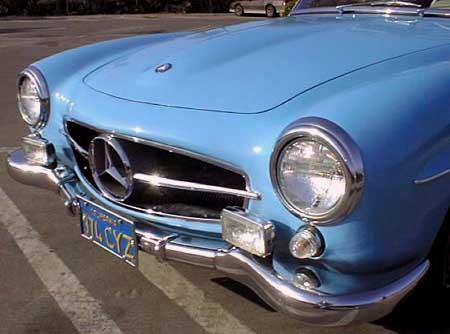 Although the paint is most likely several years old, it is holding up very well. Accompanied by sparkling chrome, the very appealing color gives the car a certain look and feel of timeless elegance. Not a restored show car or trailer queen, this fine running automobile will provide its new owner with many hours of driving pleasure. Admiring glances of other motorists are virtually guaranteed!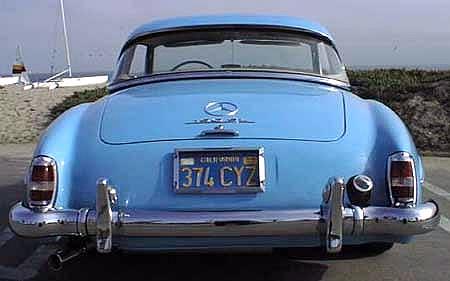 One of the few available options for the SL, and certainly the most expensive one, is the factory hardtop. Unlike most period convertibles and Roadsters, a

Mercedes Benz 190SL provides unmatched versatility, since it can be converted into an equally elegant Coupé within a few minutes. This particular car is equipped with the correct 1961 panoramic window hardtop.

If you have been looking to acquire one of these ultra-stylish, highly collectible

Mercedes Benz SLs, you might consider the fact that--due to increased demand by knowledgeable collectors around the world--values for the W121 models are going to continue their strong incline, well into the next millennium.
---
Copyright © 1999 by Californiaclassix.com.
No part of this ad may be reproduced without written authorization of the author. Violators will be prosecuted.