The Dragstrip Fugitive
Chevrolet's Corvette. Often called "America's Only True Sports Car," it has captured the hearts and minds of legions of fans since 1953.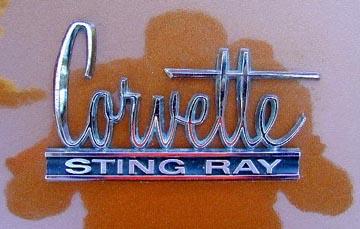 Now in its fifth generation and all but tamed, the earlier (and much purer) incarnations of the concept continue to mesmerize aficionados around the globe.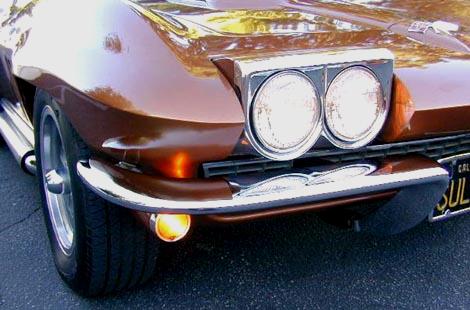 Especially the 'mid year' Corvettes, the Sting Rays, built from 1963-67, with their breathtaking styling and solid racing heritage are among the most desirable collector cars on the market today.
According to the dictionary, a Sting Ray is a "marine fish having a horizontally flattened body and a whip-like tail with one or more venomous spines." Yep . . . that definition's right on!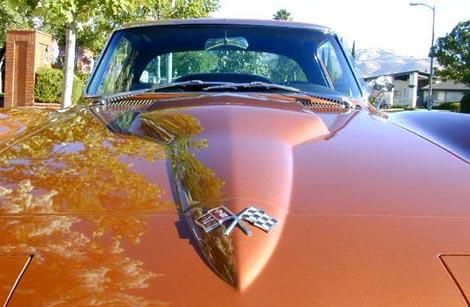 Among these Sting Rays, the 1966 and 1967 Big Block cars with their characteristic 'stinger' hold a special appeal and seem to possess an accelerated appreciation potential, leading to almost semi-annual double-digit price increases. Not surprisingly, because the mid-to-late 'Sixties will forever have their place in the annals of the automobile as a time of unbridled performance, where some of the most ferocious torque-monsters of all time were unleashed to an unsuspecting John Q. Public.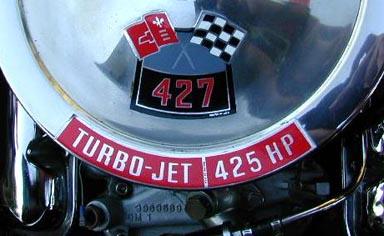 1966 was the first year for the 427 Big Block, available with 390 hp and--as the ultimate in high performance--with 450 hp. The D.O.T. yellowbellies, however, actually forced the manufacturer to limit advertised output to 425, so the top-of-the-line cars received new air cleaner decals proclaiming a mere 425 horsepower.
To this day, 1966 and '67 Sting Rays represent the nexus of torquism.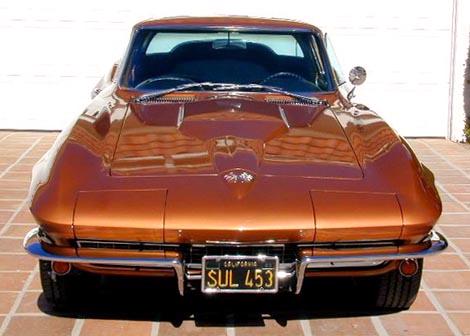 The 1966 Corvette for auction here is one of these rare, prehistoric relics.

Conceived as a 427cubic inch, 425 horsepower, 4-speed car with side exhaust, it carried top bragging rights in its day and far beyond. The L-72 engined '66 Corvette actually occupies the top spot in the "10 fastest" list of the book "American Muscle Cars 1964-67".

The above pictures are included for anybody interested in numbers and tags . . .I'll leave it up to the experts among you to glean information from the various codes.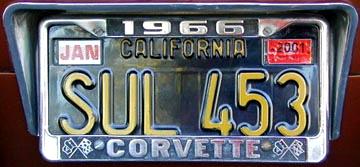 Most important is, that this Sting Ray comes with its original, 1966-issue, California black-and-yellow license plates, front and back, irrefutably documenting its original place of residence. In fact, the Corvette has never left the Golden State! Both plates are in beautiful condition, telling the automotive archeologist that the car has never been in a plate-twisting accident.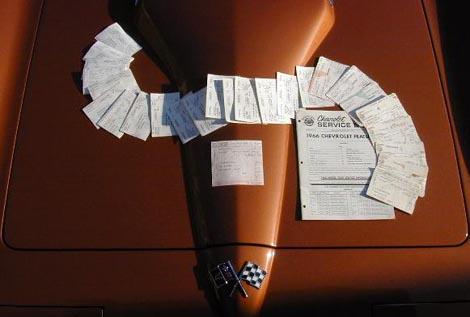 "Has the Corvette's long-time owner been a mature and orderly person?", you may ask.
Most certainly so!
Not only did this gentleman keep the stack of almost 30 past registrations, some still with the unused license plate sticker attached, but also present is the 1969 California pink slip, as well as the owner's manual and a rare, genuine Chevrolet service bulletin, listing all 1966 model year mechanical specifications and repair procedures.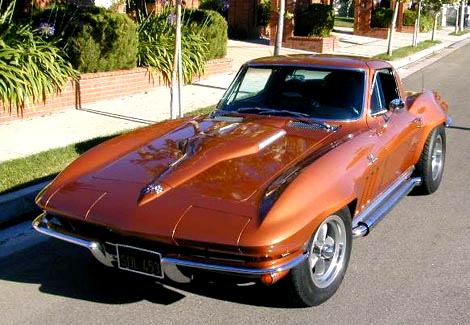 With only 52,363 original miles on the odometer--less than 1,500 annual miles, on average--this predator is not merely a survivor. What makes this 1966 Big Block Sting Ray so much more desirable is its provenance:
Acquired in the fall of 1968, with only 3,774 miles on the odometer, it has been pampered by its owner/caretaker for almost thirty years.
The car's first owner, a spoiled young man from Pacific Palisades, Calif., had wagered the Corvette's drivetrain in a drag race against an innocent-looking '66 Plymouth Belvedere sedan, not an unusual bet in those heady days. Little did he know, that the MoPar's shrewd owner was driving a much modified, HEMI-powered sleeper. Within a few seconds--about 12--the cheater proceeded to leave the kid in the dust. So much for history, our favorite subject in school.
Fact is, the car was sold without engine or transmission, shortly after the kid was drafted. After a couple of years, the Corvette gloriously emerged from the second owner's garage, just like it is shown on these pages. It has been kept unchanged for 30 years, to this very day. Amazing!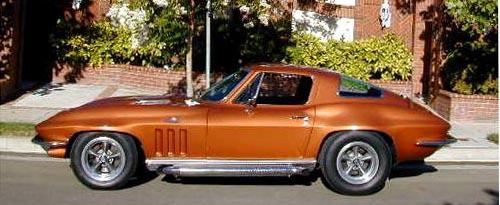 There are several exhaust systems on the market that let you hear what's happening; real side pipes allow you to feel it, too!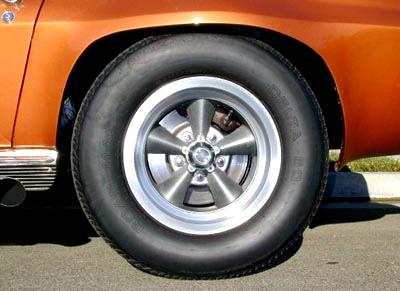 Original AMERICAN RACING Torq Trust aluminum five spokes . . . arguably the most desirable vintage wheels this side of HALIBRAND magnesium units, are in pristine condition.
Front wheels measure 8½" x 15"; rears are 10" x 15" with meaty vintage 275/60/15 rubber.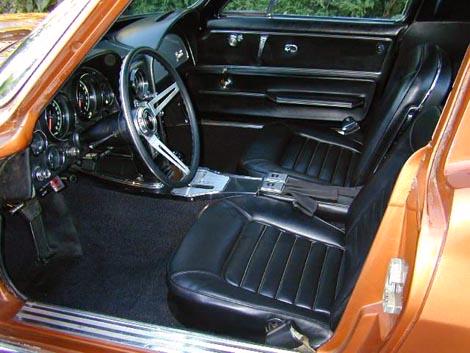 This is not a photo scanned from the factory brochure. Like all the photos shown here, it was taken on Sunday, July 23, 2000. This 34-year-old, stock interior gives mute testimony of the amount of care and pampering that this fine Sting Ray has always received. There are no rips in the seats, no holes in the door panels, no stains on the dash. Always garaged? You bet!
Also belying its age is the factory loop carpeting. If there's a main reason to buy a car with extremely low mileage, here's why! How can this possibly be duplicated? It can't, because you can't buy time for any amount of money . . .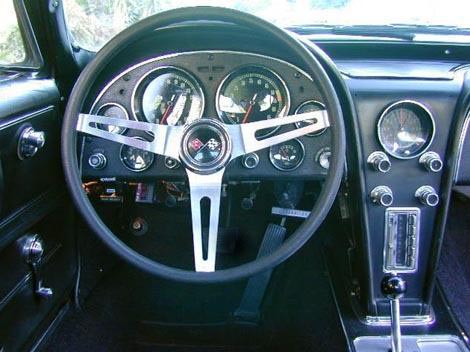 The beautiful dashboard is one of the design highlights of the mid-year Corvette. To sit behind this steering wheel is a very special pleasure. Original DELCO AM/FM radio works perfectly, as does the factory power antenna. All the switches and gauges work, too; however, in keeping with an old Corvette tradition, the clock does not work. Visible below the dash, next to the hood release handle, is the switch for the auxiliary fuel pump, installed to ease starting after extended periods of non-use.
Nestling between those swoopy fenders since 1970 is a vintage Big Block of unknown specification, coupled to a TH400 transmission. Engine compartment is sanitary! Mechanically, the car has been brought up to date with stainless steel brake calipers, rebuilt emergency brakes, and a full tune up.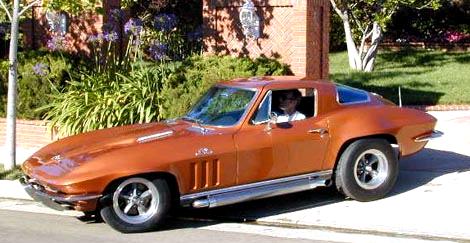 Driving the big 'Ray is something that burns its impressions into your soul! This torque monster is unlike any other car. You might have driven Hemis, Ferraris, Lamborghinis, or open-fendered street rods, but it's not the same. Trust me.
Sitting at the command center inside the car, you feel like Captain Nemo in his submarine. The British often claim that a man's car is his castle and whoever created the term must have swapped his Jaguar for a Sting Ray.
Straight ahead, you see the stinger, and in the rear you have the characteristic spine, shaped almost like a calamar's skeleton. It's almost an art object. Marine World's créme de la créme, along with Plymouth's Barracuda and AMC's Marlin. In an ocean of sterile, quasi-remanufactured 'Vettes, the car for auction here truly stands out!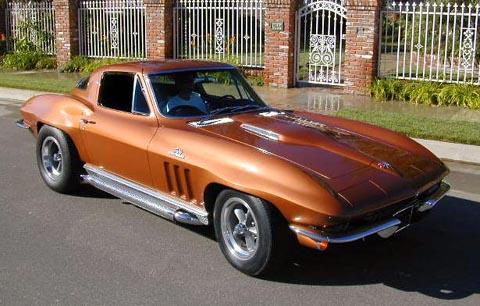 The Sting Ray is not a refined car by any means. The instant you turn the key, you know that this monster takes no prisoners. It rumbles, shakes, growls. You hear it, and you feel it. Even more so, you can actually see it when you check out the people around you. Everybody's looking!
When you step on the loud pedal, it's like you accidentally stepped on a sleeping tiger's tail. Wow! There is so much torque that you would perceive the acceleration as unspectacular if it wasn't for the smell of burned rubber and the pressure you feel in your back! You are grateful for the positraction rear end, and you realize that this Big Block Corvette is no boy's toy. Heck, no.
But fun it is, much fun, indeed! You don't have to show off in order to enjoy the beast. You don't have to prove to anyone what a Big Block Sting Ray is capable of. Everybody knows it. Then again, everybody seems to ask you for a ride. You are not surprised . . .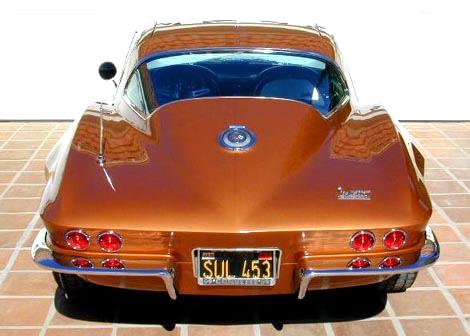 From every angle, Bill Mitchell's design genius is evident. Sting Ray's copper metallic color is ideally suited to enhance the car's sexy lines. A vintage car in a vintage color!
The thirty-year-old paint is in excellent condition, as smooth as liquid glass, of a deep and beautiful luster, with only a few minimal blems, and there is none of the commonly found spider webbing or cracking visible on the arrow-straight fiberglass body. The undercarriage is original and free of any corrosion. All chrome and stainless trim has been preserved in absolutely lovely condition as well.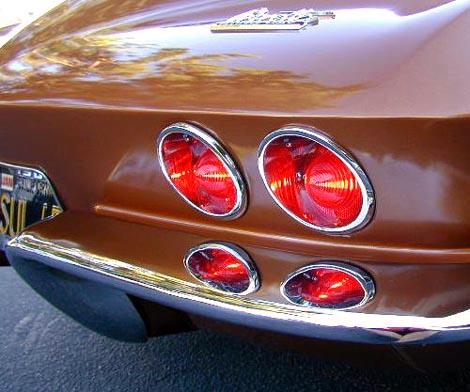 The electrical system on this Sting Ray is completely functional, including the headlights and interior lights, of course. They say beauty lies in the eye of the beholder. One has to be blind not to be captivated by this predator.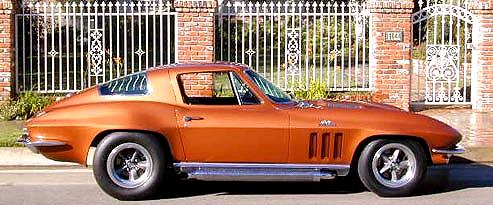 Featured in the Automotive Hall of Fame, a '66 Big Block Sting Ray is more than merely an older sports car. Without a doubt, it is an investment, a blue chip on wheels, one of the most desirable postwar cars to own.
They certainly don't make 'em like this anymore. This car is a piece of history. It catapults you back to a glorious past. It presents itself exactly like it was over three decades ago. The best part is, though, that it is not a static display. Show and go is the word. This 'Vette is meant to be driven!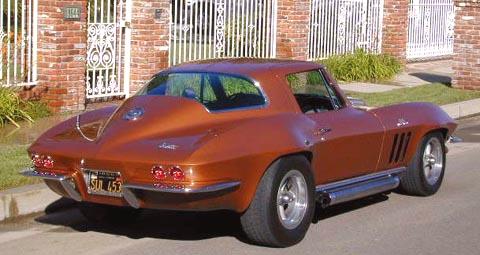 Finding a car like the Sting Ray presented here is almost a miracle in today's frenzied market for big block cars. Finding one at the right price seems to be downright impossible.
"WHITECASTLE fries
only come in one size."
Thank you for your interest, and have a nice day!
---
Presentation & Copyright © 2000 by Californiaclassix.com. All Rights Reserved.
No part of this presentation may be reproduced without written permission of the author. E-mail inquiries to Webmaster@Californiaclassix.com.