The Red Baron
Survivor of the Third Kind !
Any car that has escaped the wrath of the crusher for over three decades is a survivor. The term is so frequently used today, that it has become necessary to differentiate a bit.
The first kind of survivors: Sad relics of once-proud vehicles, used and abused, neglected, wrecked and finally abandoned in barns, yards or sheds, patiently awaiting resurrection by an able restorer.
The second kind: Former members of the above group of vehicles, now rejuvenated with fresh coats of paint, new vinyl and carpets, and many--if not all--mechanical parts replaced, often with aftermarket items. A whole cottage industry is busily laboring to create reconstituted Corvettes, often labeled "restored."
The third kind of survivors: Consisting of a mere handful of cars that were allowed to age gracefully, always conscientiously driven and maintained, and spared any well-meaning attempts at "restoration." Often, these Corvettes display a wonderful patina, just like a well-loved family heirloom.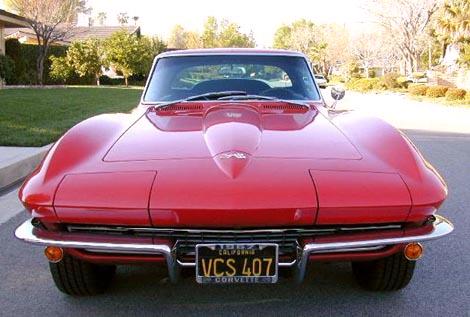 The 1967 Corvette Sting Ray for auction here is such a rare and exciting survivor of the third kind.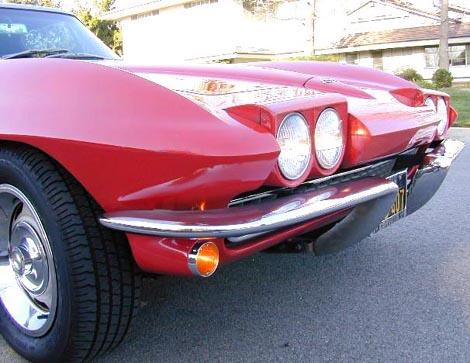 A young aerospace engineer bought this car on May 10, 1967 from Mr. Robert Brown of Bob Brown Chevrolet in Des Moines, Iowa. Just a few weeks later, he was lured to California by the promise of the Summer of Love, packed a few bags, hopped in his new 'Vette (affectionately named the Red Baron) and drove all the way to Santa Barbara. Ever since, the car has led a sheltered life on the West Coast.
Most importantly, this Sting Ray comes with its original California black-and-yellow license plates, front and back, irrefutably documenting its place of residence. In fact, the Corvette has not left the Golden State since 1967! Both plates are in beautiful condition, telling the automotive archeologist that the car has never been in a plate-twisting accident. The Red Baron is in fact so original, that three of its four factory-installed, long-since obsolete T3 sealed beam headlights are still with the car, after 35 years!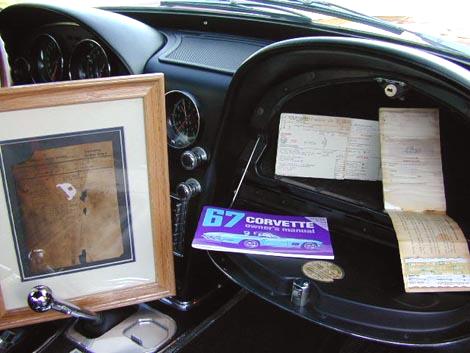 The Red Baron comes with a plethora of interesting documents, including:
The Order Copy (tank sticker)
Protect-O-Plate
Owner Protection Plan/Warranty
Owner's Manual
California registrations since 1968
A service receipt from Oxnard, Calif., dated 12-3-67, showing 10,073 miles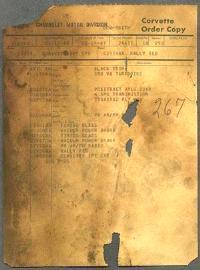 (Please click on the image above for a full size view. A separate window will open)
Beginning in 1967, the workers in Bowling Green affixed the option list for each car to the top of the gas tank during assembly. An original tank sticker is an invaluable tool to authenticate the original configuration of a Corvette.
Here, it confirms the following numbers, dates and options:
Assembly date Feb.24, 1967
Body built on Feb.6, 1967 (G06)
Body type A.O. Smith (A-0648)
Trim: Tuxedo Black (STD)
Exterior color: Rally Red (974)
Engine built on Feb. 21, 1967 in the Flint plant (V0221HT)
HT: Special High Performance 327cu.in./350hp Turbofire V8 (L79)
4-speed manual transmission: (M20)
Rear Axle: 3:36 Positraction (G81)
Tinted glass, all windows (A01)
Power brakes (J50)
7.75 x 15" Whitewall tires (P92)
AM/FM Radio (U69)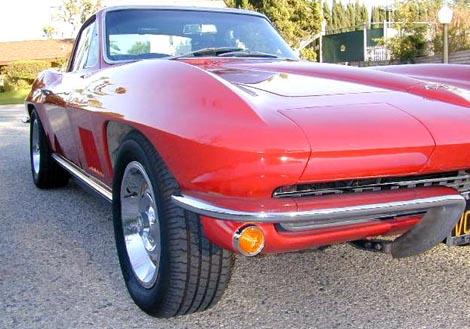 Interestingly, the Red Baron is one of only 2,361 A.O.Smith bodied 1967 Corvettes. Production at this manufacturer was hampered by a long strike that began on September 15, 1966 and lasted a full four months.
The 1967 Corvette displays the cleanest design of all mid-year Sting Rays. Without unnecessary trim or emblems, its flanks appear uncluttered, and even the angled side gills are functional engine heat vents. The Red Baron has never been lowered and sits just right.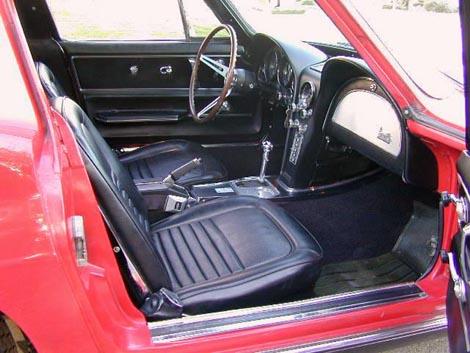 No matter how jaded your motoring appetite, slide into the cockpit of the Red Baron and you'll feel like a young pilot on his (or her) first solo flight.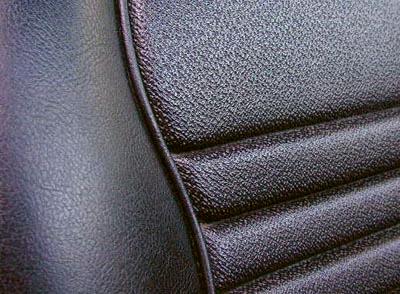 Once comfortably seated in those "Tuxedo Black" sport seats, you will wonder if they could possibly be original. Initially, I had doubts, since the interior is almost too clean. However, I now believe that everything you see inside this car is exactly the way it left the assembly plant on February 24, 1967, 34 years ago, and that includes the miraculously preserved, flawless black loop carpeting!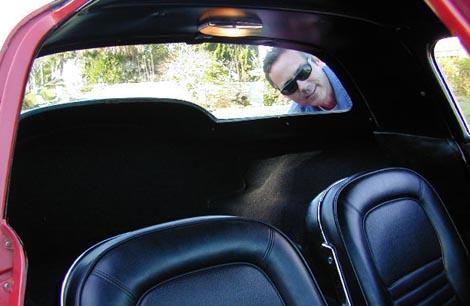 Her Majesty's car builders came up with the now legendary 'my car is my castle' aphorism. Aside from the Jaguar Mark I there arguably is no car on the planet that makes you feel so cozy and protected as the mid-year Corvette does. The effect compares only to the early Barracuda; it's like you're inside a gigantic fish tank. You are the big fish, and a wild and majestic one at that . . .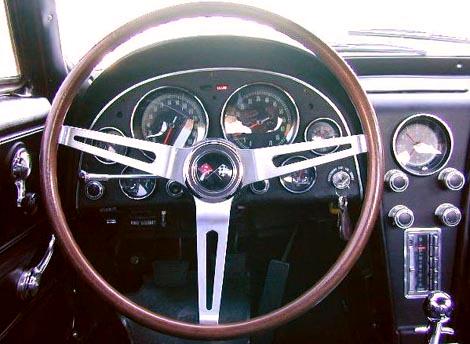 The Red Baron's beautiful dashboard is definitely one of its design highlights. To sit behind the aluminum-spoked steering wheel of this genuine Grand Tourer is a very special pleasure. Dials feature unique green-on-black numbers that glow eerily at night. The original DELCO AM/FM radio works perfectly, as do all the switches and gauges, including the clock!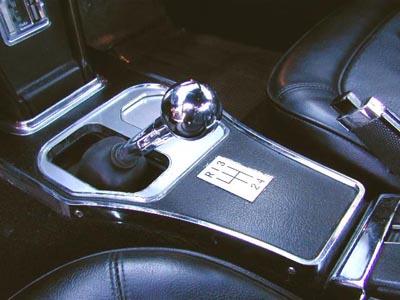 A piece of art in its own right, now rediscovered by Ferrari for its latest supercars, is the macho-looking, chromed shift knob for the 4-speed manual transmission. Nineteen sixty-seven model was the first Corvette to feature a console-mounted handbrake lever. I encourage you to take a close look at how exquisitely everything is preserved in here! The Red Baron has always been a pampered toy, never just a mere means of transportation.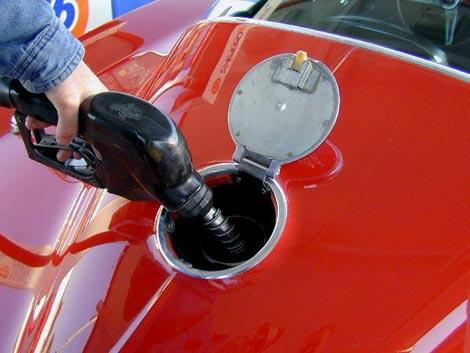 While we open the race car style fuel filler cap to fill the large fuel tank with Union 76 Supreme Plus, let's have a look at what lurks underneath the bonnet, shall we?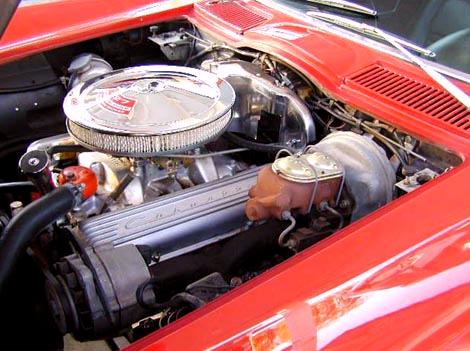 Not surprisingly, the engine compartment presents itself remarkably clean and original. In 1998, fresh out of 12-year hibernation, the Red Baron was brought to Dick Guldstrand Engineering in Culver City, California. During the following weeks its vital systems were checked, cleaned and repaired as necessary. Mr. Guldstrand runs one of the oldest and most celebrated Corvette shops in the nation (it's also one of the most expensive ones . . .) and, according to the car's last owner, almost $7,000.00 was spent on mechanical work, while taking extra care to preserve the car's irreplaceable patina. The Red Baron is now one of the best-running, smoothest-driving members of its species. I guarantee it!
Only concession to current needs is a new Edelbrock carburetor with electric choke. Of course, the original HOLLEY carb and air cleaner base are still with the car and can be reinstalled any time, if so desired, in case you are headed for the concours circuit.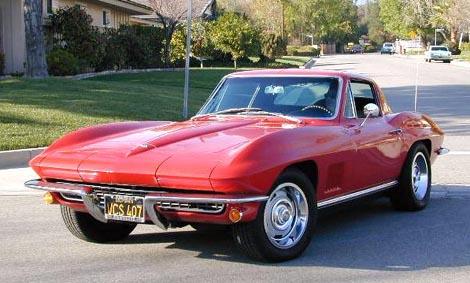 Good Heavens, she sure is a beauty, but how does she drive?
Let me assure you, she drives much better than you might hope, even in your wildest dreams!
Once comfortably seated, you press the clutch pedal firmly--after all, this is a manly man's car--and turn the ignition key. In an instant--cold or hot--she rumbles. While a big block Corvette is a scary torque-monster, suited best for straight-line acceleration orgies, a 350-horsepower small block Corvette, especially one equipped with a stick-shift tranny, provides infinitely superior driving fun, and is the preferred car for vintage road racing. Thanks to light weight, plenty of horses, and the factory Positraction rear, this Corvette barks the baloneys not only in first, second, and third, but also shifting into fourth gear, guaranteed!
As a result of the Guldstrand magic, the Red Baron is ultra-tight, utmost responsive to driver input, and does not give you the remotest feeling of driving an "old" car. I purposely drove the car at high speeds through potholes and even over railroad crossings, and it did not rattle at all. Please, don't try this at home; be assured that I have never had the pleasure of driving such a rock-solid Corvette! If you can relate to it, it's like driving a '96 Impala SS!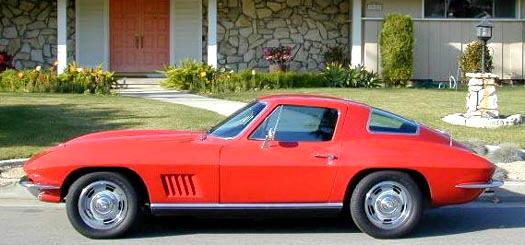 As exciting as she drives, let's direct our attention to other vital aspects of this rolling miracle from another (better?) time.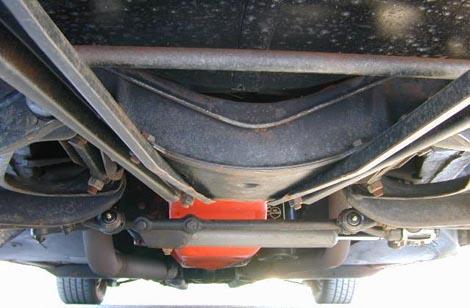 The undercarriage is untouched and virginal. Aside from the minimal, after 34 years inevitable, discoloration of exposed and uncoated metal parts, there is no rust, no paint, no ZIEBARTH covering, nothing that wasn't there, back in 1967.
The dual exhaust is original, the front end components are as tight as on a new car, and looking at the sanitary oil pan will confirm that there are absolutely NO LEAKS.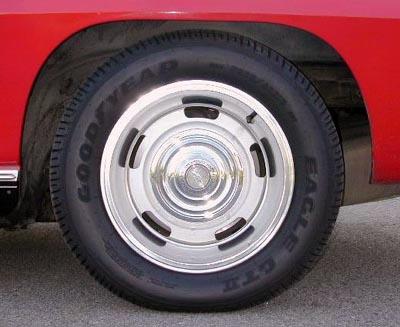 New for 1967 were the 6-inch wide Rally wheels. Still displaying their factory (not repainted) silver finish, with original center caps and trim rings, they have recently been fitted with a set of new GOODYEAR EAGLE GTII high performance radial tires of the dimension 255/60R15.
Inside the driver door you'll find this neat original GM decal and an old-fashioned service tag holder, revealing more interesting data. Shortly after the indicated service was performed, the Red Baron temporarily retired, until 1998. Current total mileage is 104,455; that's less than 3,000 annual miles driven, on average!
Awakened from its hibernation three years ago, the car comes with a clear California Certificate of Title and is currently registered until August 10, 2001.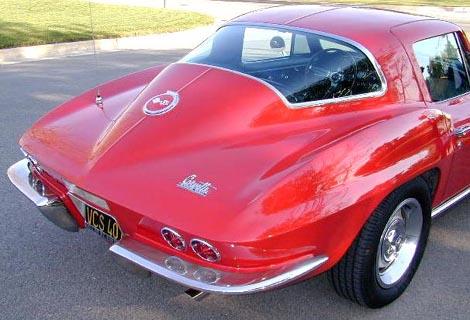 Of utmost importance is the Red Baron's paint. With almost forensic expertise and the help of one of the leading paint experts in California, we have worked hard on establishing the extent of its originality. Confirming accuracy close to certainty, I have been assured that the car still carries the correct, acrylic lacquer finish as used in the good old days. Since lacquer is amazingly receptive for blend-in touch ups, there is no way of knowing which sections have possibly received some help, once the paint is polished out. Most certainly the hood has been repainted at one time, using the appropriate materials, but otherwise, the remainder of the car might very well be all original. Amazing!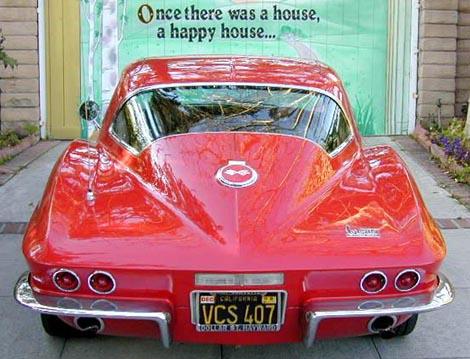 As the pictures will tell you better than a thousand words, the exterior has been polished often and displays a high luster. There are no annoying cracks in the Red Baron's 'glass body, however, despite its stunning appearance, there are a few minor imperfections here and there, mainly stone chips, a few small touched-up scratches, and some minuscule crackling, primarily on the hood. All of this serves to enhance the car's vintage charm. The Red Baron truly was allowed to age gracefully, with dignity and without the intervention of a plastic surgeon.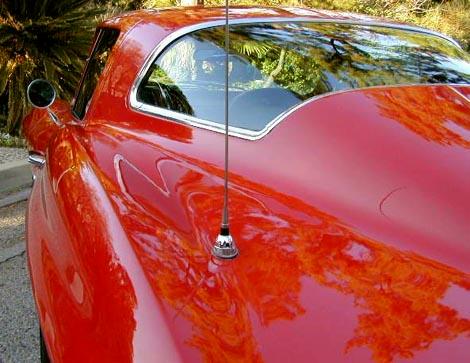 The Red Baron has character, indisputably. It has lived life to the fullest. After a long period of rest, this exquisitely preserved example was lovingly re-awakened by a man legendary in the world of Corvettes. It is now ready for many stealthy flights at low altitudes, and its pilot will have the ultimate joy of owning one of the last remaining original machines. This is not a copy! The Red Baron is a true survivor of the third kind.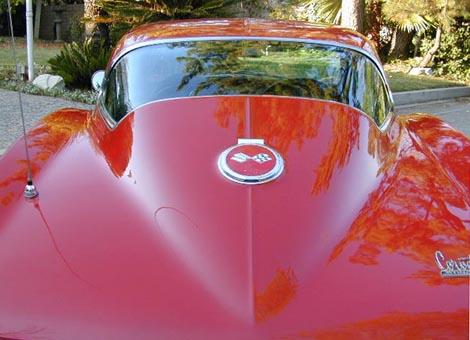 Like Jaguar's XK-120 and E-Type a rolling sculpture of automotive art, exquisite enough to be worshipped, this particular Corvette cannot be duplicated at any price. Decades have passed, wars have been fought, sports car fashions have come and gone; California saw riots, mudslides, bush fires, O.J. trials, and earthquakes. Nonetheless, the Red Baron has withstood all these challenges of time unharmed. If there is any car that deserves to be called a true survivor, it is this one. I doubt that you will ever find another Red Baron, for only under the most unusual circumstances will an enthusiast-owner part with such a gem.
Please, ask your wife, banker, and counselor, and make up your mind firmly, before placing your bid in this NO RESERVE auction.
---
Presentation & Copyright © 1999-2001 by Californiaclassix.com. All Rights Reserved.
No part of this presentation may be reproduced without written permission of the author. E-mail inquiries to Webmaster@Californiaclassix.com.