Originally conceived in the early 1950s as an image builder for the fledgling Volkswagenwerke AG and welcome addition to the Karmann family of coachbuilt cars, the elegant Karmann Ghia has long since attained cult car status.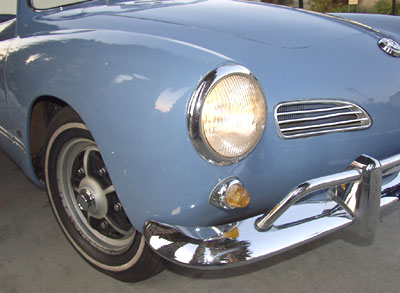 Luigi Segre of the Italian Carrozzeria Ghia designed a breathtakingly beautiful body for the utilitarian VW chassis and coachbuilder Wilhelm Karmann was smart enough not to tamper with the car's looks during the two decades of production in Osnabrück, the heart of the Fatherland. Despite having been built in impressive numbers, it is getting increasingly difficult to find a decent, any decent early Karmann Ghia Coupe today. But try to unearth an open-topped model, a Kabriolett, and you are facing a real dilemma.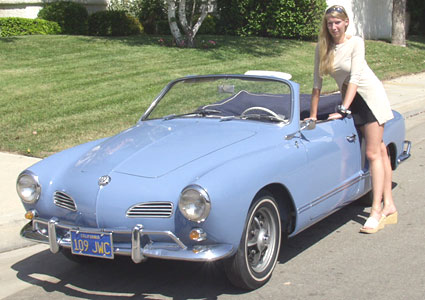 "My cars were not made to last forever," Herr Karmann himself stated on more than one occasion. And indeed, very few pre-1963 Ghias have survived the combined ravages of rust cancer, abuse, and neglect, making this rare Cabriolet a very exciting discovery. But it's not just a nice early Ghia convertible; let's take a closer look at the car, and you'll agree: this '62 Ghia takes the term "rare" to a new level.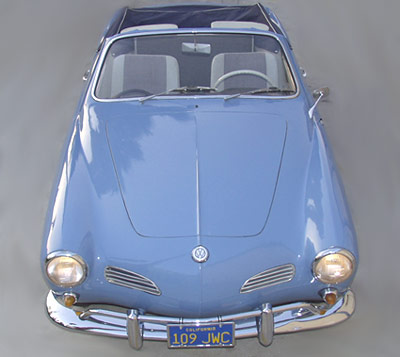 It might very well be the sole surviving example built to this exact specification!
A bold statement, no doubt. So what's so special about this one?
Color: special order L232 Iris blue
Mechanicals: 4-speed with SAXOMAT automatic clutch (one of a mere handful made)
Tunes: AKKORD pull-out radio
Option: factory VW shift/ignition lock
Accessories: LEMMERZ wheels and 1960s FIRESTONE bias ply tires
But wait, there's more!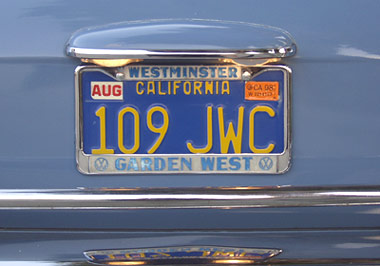 One of 4,570 1962 Karmann Ghia convertibles built, this special-order example was sold new in Hanau, Germany to an U.S. Army sergeant stationed in Gelnhausen. The German-spec car was shipped back to sunny California upon the completion of its owner's tour of duty. Used purely for pleasure driving by the retired sergeant, only 62,316 kilometers had accumulated by 2-17-81, as documented on a Big-O tire rotation sticker on the door jamb.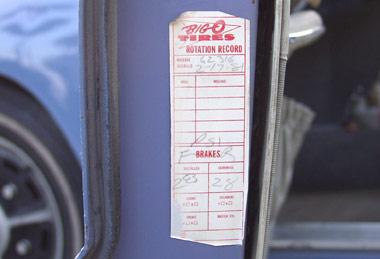 For the last two decades, the Volkswagen has been in dry indoor storage. Today, the odometer shows 67,457 kilometers, equalling 40,883 miles. The absence of wear on floor mats, pedal rubbers, and steering wheel, as well as the healthy state of the car's original drivetrain, support the indicated mileage. Wow!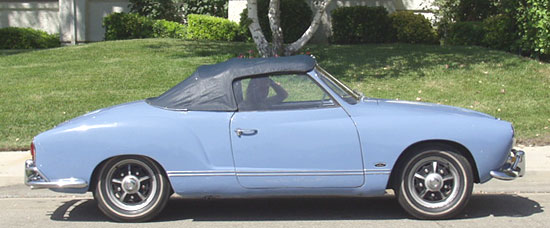 Click on the above image for a view of the car's left side
This Karmann is surprisingly original and complete. Exterior bright trim items--including the new-looking aluminum side strips--and emblems are in good to excellent condition. The original, blue canvas convertible top boot is intact and still fits nicely. The clean convertible top frame works great and features all the original attachments, including the small chrome coat hooks, and even the "auf-zu" paper label ! The convertible top itself should be replaced since the rear plastic window turned opaque and was removed.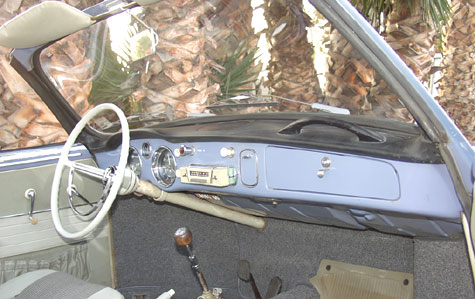 Factory-applied original paint graces the dashboard. The black padded dash top is in wonderful, un-warped condition and free of heat cracks.
Click on any of the above images for a full size view
Above, from left:
Steering wheel, original horn button and horn ring, gauge faces, chrome: everything looks perfectly preserved, even the fragile speedometer needle! All three VDO gauges work, including the clock (It's mighty slow, though . . .).
Note the hinged chrome radio cover plate.
The AKKORD pull-out transistor radio: a great idea whose time never really came. Unlike its 1990s cousin, theft-proofing was not the theme here. Instead, batteries and a small built-in antenna enabled the hip Karmann driver to take his (or her) Autosuper along to the picnic.
The combination shift lock/ignition switch proudly displays the VW logo. Original keys smoothly work all locks, including the locking trunk release.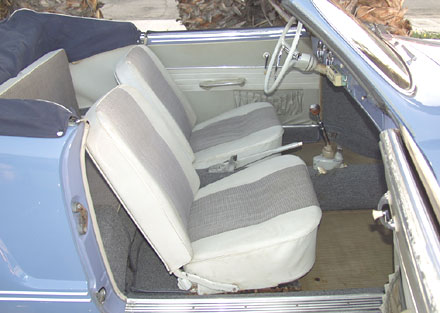 Click on the above image for another, larger image showing the front seats
Vinyl-and-fabric upholstery is completely original and affords a true time-travel trip back to the Sixties. A split seam on the driver seat could be mended; to replace the original houndstooth-style fabric would be a crying shame!
Click on any of the above images for a full size view
Folding rear seat carries original upholstery as well. Carpeting has been replaced recently; the rubber floor mats are original (new ones are unobtainable!) and in beautiful condition.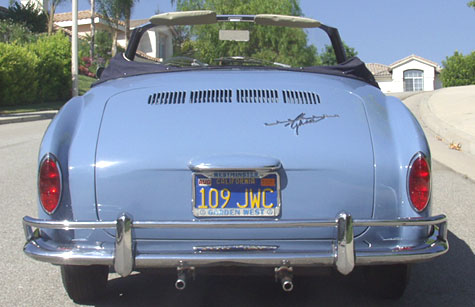 Approaching the heart of the Ghia, let's talk about the mysterious SAXOMAT. Developed by the German firm Fichtel & Sachs to aid the thousands of WWII invalids, this automatic clutch was made available by a number of car makers, beginning in 1955. Ford, Mercedes-Benz, Borgward, DKW, and Saab offered the system, to name a few. You could even get a Lancia Flaminia with SAXOMAT. Opel called the unit "Olymat," by the way.
Back in 1962, the VW customer willing to pay 310.00 Deutschmark more received one clutch pedal less! An electric switch in the shifter would supply vacuum via an actuator valve to a reservoir, operating the cluch "automatically."
To make it perfectly clear: it's not an automatic transmission; the SAXOMAT retains a regular clutch, backed by the standard VW 4-speed transmission, not to be confused with the later VW "Autostick" models (with three shift ranges and torque converter). Just think of it as a predecessor to Ferrari's paddle shift system.
This ingenious but simple system works great; parts are still available, if needed. Also included is a brand new, spare actuator valve for additional peace of mind.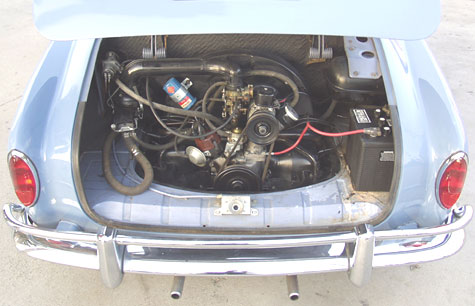 Click on the above images for a large closeup view of the engine
The original, indestructible, 1192cc, 40hp engine #6274066 starts and runs like a low-mileage motor should. There is no smoke nor any unusual noise, and the performance is lively. Note the vacuum tank for the SAXOMAT in the upper right corner of the engine bay. Cognoscenti of the marque will appreciate that this Karmann still proudly features its original 6-Volt electrical system.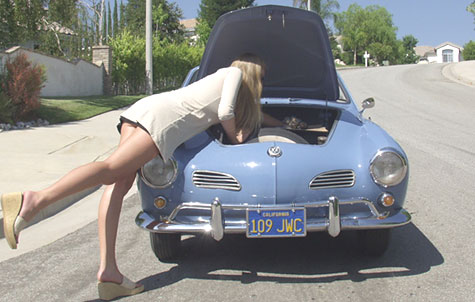 Click on the above image for a larger image showing the trunk
On the other end of the car is the trunk. Cardboard liner is in place, as well as the original tire jack.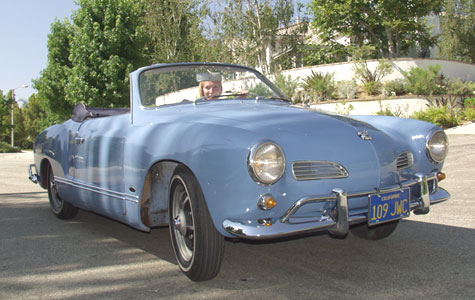 This 40-year-old Karmann Ghia runs and drives like a much younger car. Steering and suspension are tight. Brakes have just been gone through, including new flexible brake lines, and work great, including the emergency brake. Changing gears is child's play.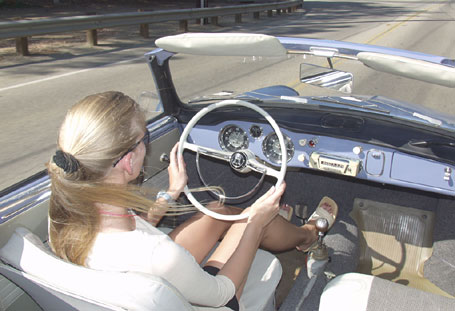 Could this be the proverbial fun car? Our friend Christine thoroughly enjoyed travelling some of Santa Barbara County's most scenic roads, the wind tugging at her long blonde hair, when we took these pictures on Saturday, August 3, 2002.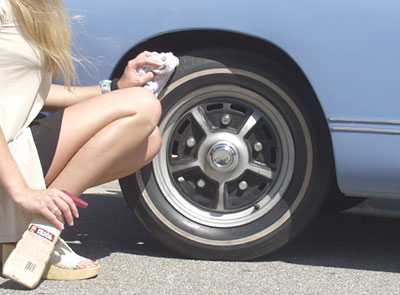 Five seldom-seen, BRM-style, date-coded LEMMERZ 15x4 in. accessory sport wheels grace this unusual Ghia. Period FIRESTONE tiger paw 4-ply nylon whitewall tires of the dimension 5.60-15 are in wonderful condition, without any apparent dry rot, and with plenty of tread life remaining.
Make no mistake: these ultra-rare wheels are a treasure in itself; they are invaluable on a concours car!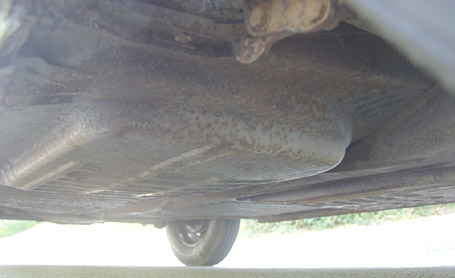 This Ghia's floor pans are all original, have not been replaced or covered with ZIEBART hide-the-rust products! Cleaning them up should not take more than a wire brush and some elbow grease.
Beyond the surface rust on the floors, there is rust in both rocker panels and corrosion on the bottom of the front valance (below the spare wheel). Doors and hoods still open and close very well. The car was amateurishly repainted once, many years ago, and shows some dings and scratches.
This Ghia is certainly a car that could be driven and enjoyed "as is" and still would receive many compliments. Nonetheless, it would benefit greatly from a sympathetic restoration, which ideally would be confined to body, paint, weatherstripping, top, and some chrome work. Touching anything else would not just be unnecessary, it would also be a sin!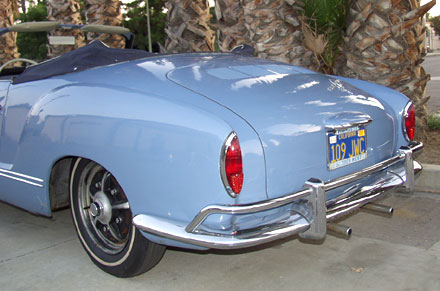 Here it is, the rarest of the rare. An early Karmann Ghia Cabriolet, featuring extremely low mileage and the unheard-of combination of a most uncommon factory color and very unusual period options. Can there be another Karmann Ghia convertible out there, more worthy to be preserved in the hands of a loving collector?
You'll have to decide quickly. Within a short week, one lucky enthusiast will be the new owner of this veritable piece of Volkswagen history.
Where were you in sixty-two?