The Swingin' Sixties, the Muscle Car Decade, saw a new generation of American cars rightfully cherished today as the most outrageous and fun means of transportation in automobile history: Pony Cars!
A few, like MoPar's Hemi-powered monsters, achieved fame through their prowess on the nation's drag strips, others, like Ford's '65-'66 Shelby Mustang Fastback, as potent road racers. However, when it comes to the most popular Pony Car of all time, there's but one worthy contender for the throne, uniquely personifying the Heartbeat of America: a first-generation Chevrolet Camaro, featuring a big block engine and four-on-the-floor.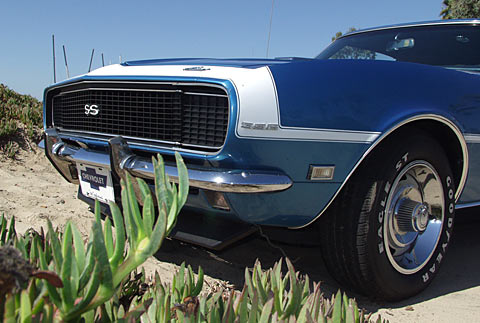 Click on the above image for an XXL-sized view (800 x 574 pixels)
At a time when Hemi Cuda convertibles fetch a million dollars (and more) and Shelby Mustangs hit the magic six-digits, it's safe to predict that big block Camaros will achieve stratospheric values in due course. If there ever was a time to jump on the runaway train, it's now!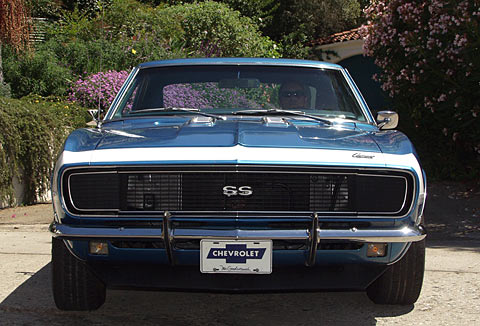 Click on the above image for an XXL-sized view (800 x 579 pixels)
However, it's of utmost importance to find the right car, and none will fit the bill better than a proverbial Southern California survivor. One that has never been exposed to inclement weather, one that never needed rust repair, one that never suffered from body damage. A car that features every desirable factory option: the biggest engine, the manual 4-speed tranny, Rally Sport Package (RS) and Super Sport Package (SS), the most striking color combination. We're talking about the proverbial needle in the haystack here. This one's looking for a new owner, after 36 years!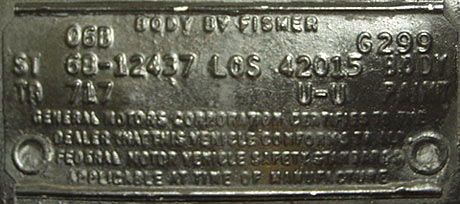 Built at the General's Van Nuys, California assembly plant during the second week of June, 1968 (see cowl tag above) and sold new locally at Fillmore Chevrolet, this Camaro has never left the Golden State. Included with the paperwork are original registrations from each of its three previous owners, as well as the original Owner's Manual. The car's caretaker for the last decade was a--single--female movie producer from Brentwood, Calif. She drove the car very little, enjoying the occasional "macho" arrival at a hip Restaurant or Bar to mingle with like-minded movie people and muscle-car fanatics, like Sofia Coppola.
Now married with two small children she reluctantly (and tearfully) let go of the car.
The Camaro was always garaged, of course, while in her possession.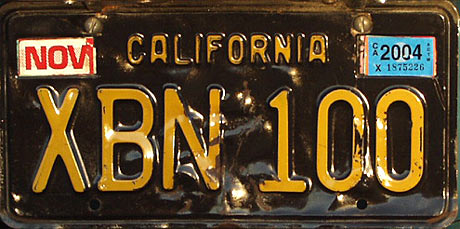 Amazingly, this Chevy is still registered to its original-issue California black-and-yellow license plate, which it wears like a badge of honor.
The plate is made of steel (not aluminum like later ones) and is unrestored; original paint and all. Unlike Y.O.M. (year of manufacture) plates, 1963-69 California black plates cannot be reassigned. Once a black plate is gone from a California car, it's gone for good. This fact makes our Camaro all the more desirable, especially for California residents. Frankly, we wouldn't even consider anything but a black-plate car as a "keeper."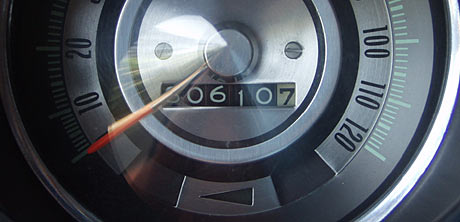 But, the good news doesn't stop here. The Camaro was acquired in 1989 with 77,818 miles on the odometer. The current reading of 80,610 represents its original, total mileage. This is indeed a very-low-mileage car!
Now let's inspect this amazing find inside and out, top to bottom, starting with the engine compartment.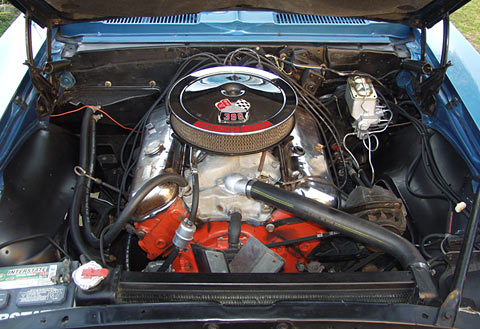 Click on the above image for an XXL-sized view (800 x 568 pixels)
Looming large under the hood: an original 396 big block, engine casting # 3935440, correct for the late-1968 build date of the car. We've withstood the temptation to change anything that was still original, like the aged chrome valve covers and the faded factory labels. This is no restified, reproduction-parts queen; it's the real thing! Any self-respecting two-lane blacktop warrior would have wanted it like this, back in the Sixties!
The monster power plant starts easily, idles with the unmistakable rumble only Chevy's rat motor can produce through an unrestricted exhaust. Having been gone through once, many years ago, it's happy with today's unleaded 91 octane fuel; there's no noticeable pinging or pre-ignition. Oil pressure is great. Helped by a flex fan, the Camaro runs cool, even on a hot California summer day in rush hour traffic. There are no annoying fluid leaks.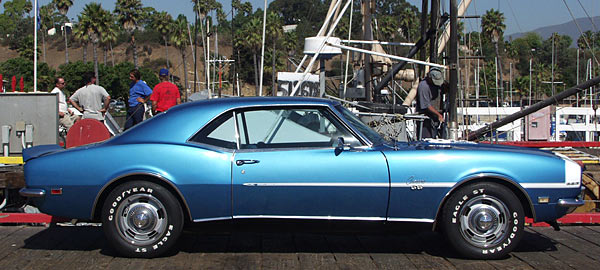 Click on the above image for an XXL-sized view (900 x 476 pixels)
235,147 Camaros were built in 1968. A scant 4,575 were fitted with the L78 Super Sport package that included the 375-hp Turbo Jet 396 cubic inch V-8 engine, a $500 option. We think it was the bargain of the Century! Only a percentage of those few were additionally ordered with "Rally Sport" trim (Z22). The "RS" package added the distinct grille with vacuum-operated headlight covers, among other items.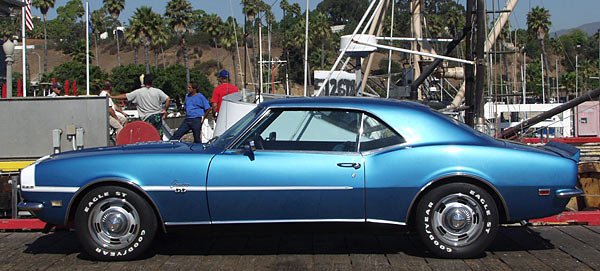 Click on the above image for an XXL-sized view (900 x 485 pixels)
Surveying the Le Mans Blue exterior (factory code: U-U), it's mind-boggling just how straight this Camaro is. There are no dents anywhere. A few fine scratches and touched-up chips don't take away from the pony's beauty. Paint finish is highly glossy. Chrome trim is in excellent condition all around.
Underneath, all's well, as you would expect from a Southern California native's undercarriage. There's no rust, never has been any.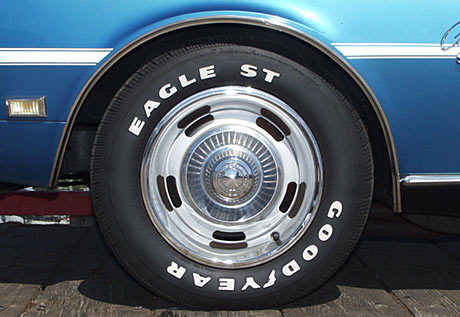 Click on the above image for an XXL-sized view (800 x 523 pixels)
Factory Rally wheels feature correct caps and trim rings, are shod with very nice GOODYEAR Eagle ST radials.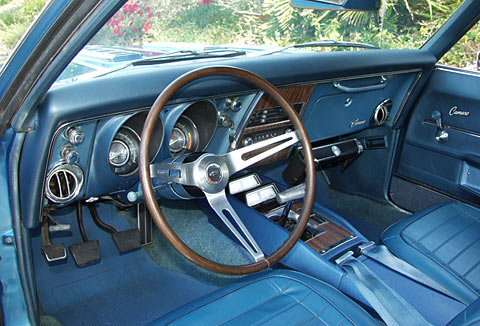 Click on the above image for an XXL-sized view (800 x 589 pixels)
Turning our attention to the inviting, medium blue interior, we immediately notice the woodgrain sports styled (N34) steering wheel, a rarely seen option on a '68.
Dash pad is immaculate, completely free of rips or tears.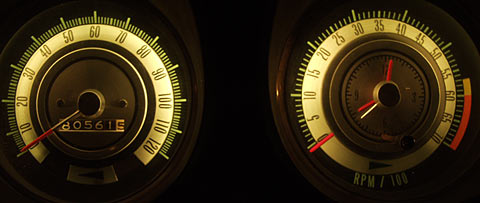 Click on the above image for an XXL-sized view (800 x 339 pixels)
Special instrumentation package (U17) includes the Tic-Toc-Tach , a combination clock and tachometer. Note the 6,000rpm redline. Four additional gauges, all of them beautifully preserved, are mounted on the center console.
Click on any of the above images for a full-size view
Details, details . . . (clockwise, from top left):
Special hood scoops, a "SS" exclusive
Pristine original headliner
Chevrolet logo tissue dispenser
Courtesy light close-up
All console-mounted gauges work flawlessly.
Original Owner's Manual - NOT a reprint!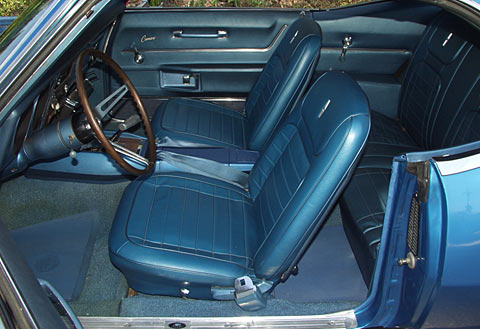 Click on the above image for an XXL-sized view (800 x 600 pixels)
Bucket seats were pretty much standard equipment on Pony Cars. These units are very comfortable. Upholstery is immaculate.

Click on the above image for an XXL-sized view (800 x 593 pixels)
Rear seats look like they've never been used. Detroit loop carpeting is original and slightly faded in places. Note original rubber floor mats.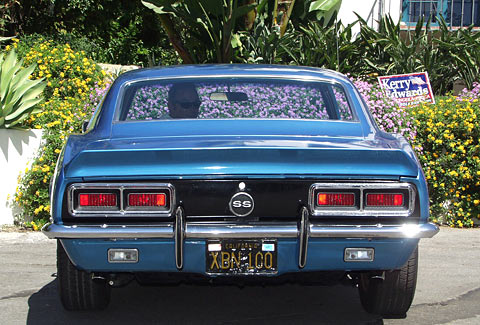 Click on the above image for an XXL-sized view (800 x 577 pixels)
Ready for a test drive?
So are we, but there's one more area to inspect first: the trunk.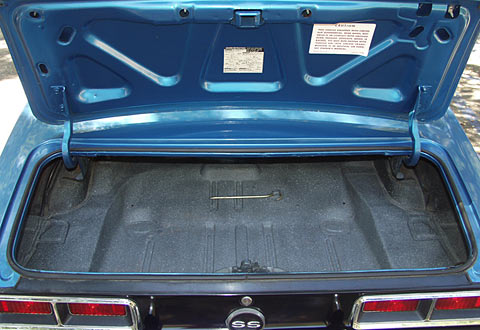 Click on the above image for an XXL-sized view (800 x 558 pixels)
Again, we are very impressed. This trunk floor is original and completely rust free. (Trunk mat, spare, and jacking equipment are included as well.)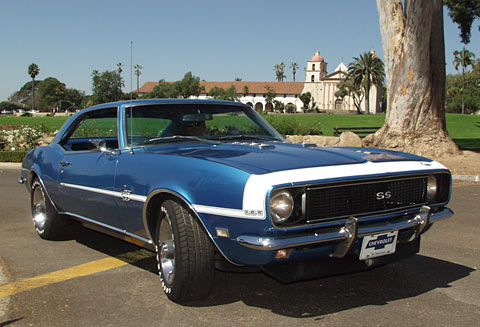 Click on the above image for an XXL-sized view (800 x 575 pixels)
How does it feel to be behind the wheel of an American icon?
Exhilarating, to say the least. Everywhere you go, the rumble of the 2¼ inch duals, the sound of 100% authentic Chevrolet muscle fills people's ears like so many straight-piped Harleys. It doesn't matter that the old DELCO radio has fallen silent; the noise and fury would drown out even Tommy James and the Shondells. Driving this big block Godzilla releases pure adrenalin. To stay off the loud pedal is nearly impossible. Frying a set of GOODYEARs almost becomes a mandatory rite of initiation.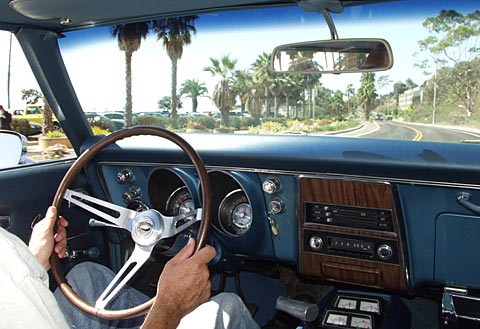 Click on the above image for an XXL-sized view (800 x 583 pixels)
Fitted by the factory with a stout 12-bolt posi rear containing ¼-mile gearing, you'll have to shift rather quickly to catch the runaway revs. This car was built to cruise Woodward Avenue. Actually, Van Nuys Boulevard. Thank heavens, this stellar example is not prone to overheating! Power steering and front disc brakes aid in taming the beast. In no time, you'll find yourself looking for rice burners to vanquish, I guarantee it!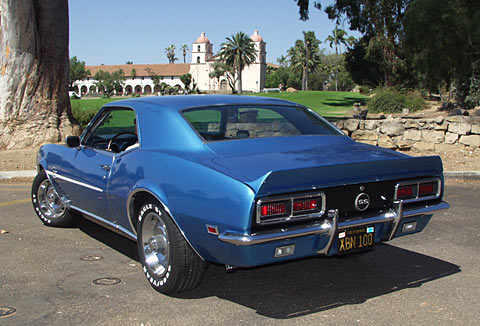 Click on the above image for an XXL-sized view (800 x 543 pixels)
A 1968 Chevrolet Camaro RS/SS 396 is the real deal. This one's not a restored trailer queen, but an authentic fugitive from the past that has been pampered like a favorite child.
You won't find a car like this very often, and if you were looking to find one just like it, you might never succeed. This SS/RS is not an entry level Camaro, but an incredible relic from the Muscle Car Wars that might turn out to be a blue chip investment as well.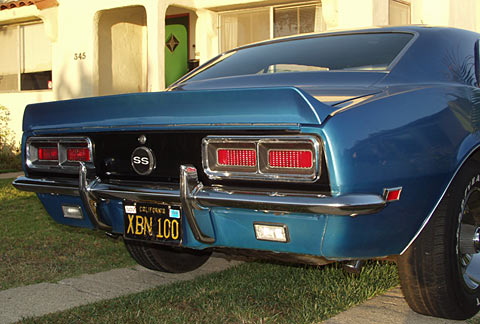 Click on the above image for an XXL-sized view (800 x 580 pixels)