The Admiral's Delight
Disclaimer:
This car is not LIKE NEW.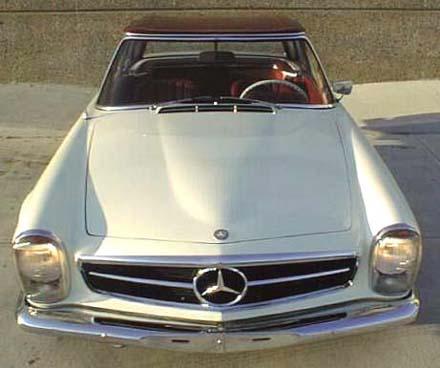 This car is not PERFECT.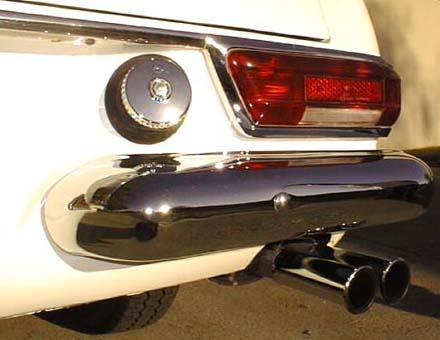 This car is not A TEN.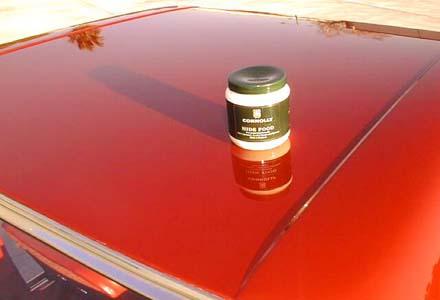 This car is not MINT.
End of disclaimer.
If you are looking for a "mint" car, one that is "like new," eBay seems to be the place to find it. Browsing through eBay's listings, it is truly amazing how many sellers make claims to that effect.
None of those superlative automobiles have ever been driven, we presume. Could they be put on the open road without losing their exalted status?
Personally, we prefer a car such as the one for auction here.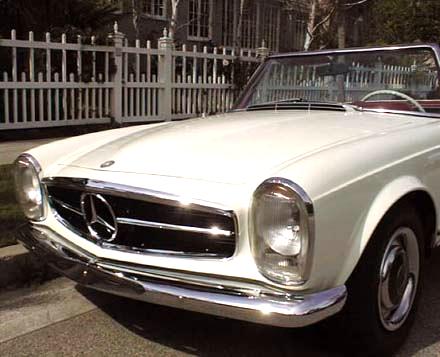 Owned by a real-life

2-Star Navy Admiral from Coronado, Calif., this 1966 Mercedes 230 SL roadster is one of the most delightful cars we have had the pleasure of driving in a long time.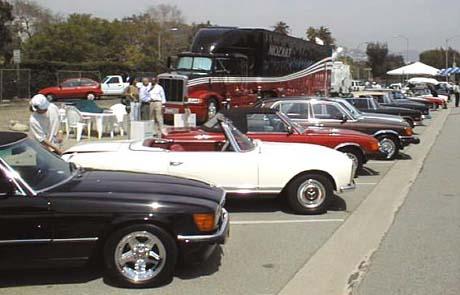 Just a few days ago, on Sunday, March 19, 2000, the annual Mercedes Benz of Beverly Hills Charity Concours d'Elegance took place. Developer and car collector extraordinaire

John Mozart (note his large semi truck above, in background) brought six examples of his Pebble Beach-winning rarities, Richard Gere showed his 280SE 3.5 Cabriolet, Jay Leno drove up in his towering 1909 Stanley Steamer, and we had the honor to show the Admiral's Delight.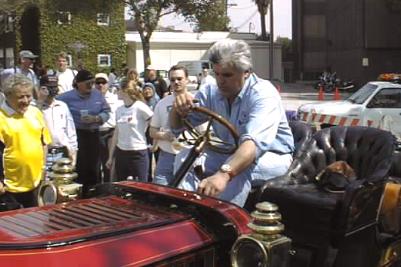 Above:

Jay working hard to make some steam . . .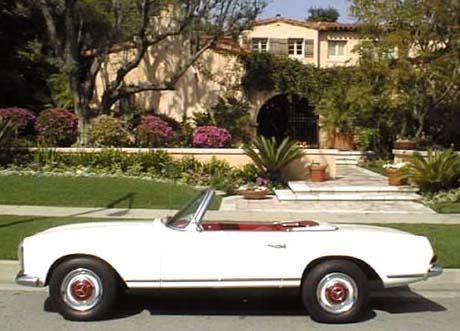 We had the car judged and scored 88 out of 100 possible points. Not too bad for a first-timer!
The judging sheet and all other event paraphernalia, including the commemorative T-shirt, will be included with the car.
US-delivery 230SL shows 102,381 miles on the odometer, and we believe this to be correct.

Lipstick red interior is largely original, and complements the olde english white exterior beautifully. Apart from a couple of very minor flaws, far too small to show in these pictures, the upholstery is in extremely nice condition. It definitely would be a sin to redo anything!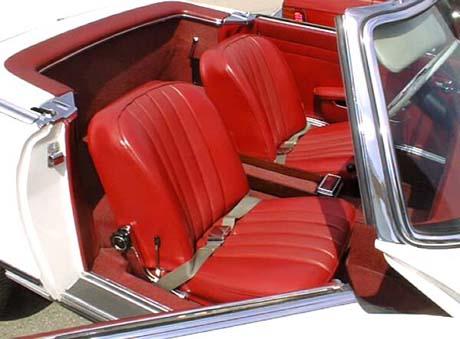 Lap belts with chrome buckles were O.E.M. equipment. Original red German square weave wool carpeting has been exquisitely preserved. Wood on console and dashboard looks beautiful in a rich dark cherry color, seats and door panels have just the right patina, and the immense white steering wheel has aged gracefully. Liberal use of chrome accents, here completely pit-free, completes this stunning interieur.

An extremely desirable (and expensive) update is the

BECKER MEXICO Stereo Cassette radio, considered absolutely top of the line 30 years ago. It performs beautifully, and even the small red STEREO lamp still works. Original VDO clock keeps time accurately.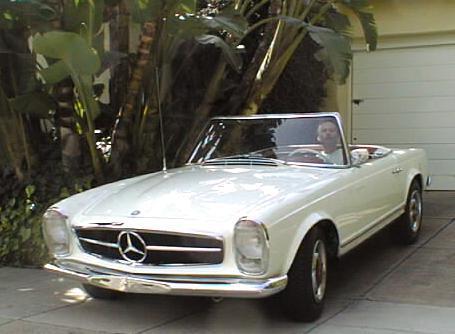 Paul Braq's rendering of the Pagoda SL is one of the prized post-war automobile designs. An important ingredient of this design are the smoothly incorporated European head lights. The former owner thought so too, and shelled out big bucks to have a set of these fine units installed.
Thank you very much, Admiral, Sir!
The quality of a collector car is often determined by the cleanliness of its every detail. Less easily accessible areas are often neglected and thus can serve as reliable indicators for the care a vehicle has received. What a pleasant surprise then, to find even the remotest and most vulnerable places--such as the convertible top well--immaculately clean. Not a trace of corrosion anywhere! The black canvas soft top is almost new, without any wear; the clear plastic rear window is perfect!
The namesake of the 230SL, its Pagoda-shaped hard top. Hard top and center hub caps were often painted to match the interior color. The

lipstick red and creme white two-tone color scheme creates a stunningly beautiful appearance. The Ladies simply l-o-v-e it!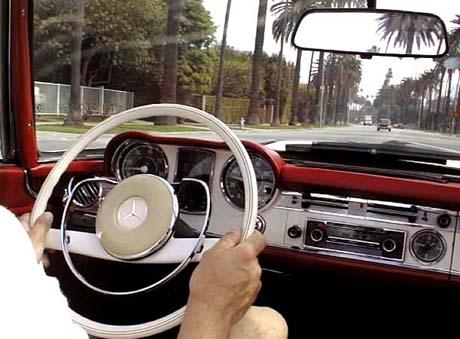 The streets of Beverly Hills.
After the show, the temperature still a mild 82 degrees, we headed home. Down Rodeo Drive, past the Beverly Hills Hotel, and up through Coldwater Canyon. Admiring glances wherever we went, even in this star-studded enclave. Equipped with power steering, power disc brakes and a wonderfully smooth-shifting (rebuilt) 4-speed automatic transmission, this 230SL drives like a modern car. Its excellent handling and brakes (also completely rebuilt) really make a difference, especially when blasting through the canyon's serpentine curves.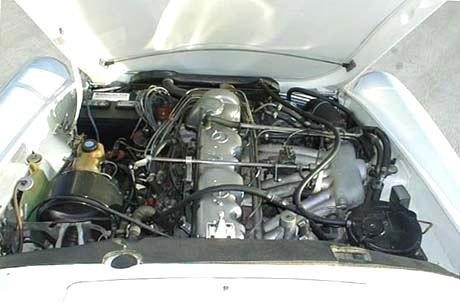 Engine compartment is spotless!
Valued by many connoisseurs as the purest of all

W113 cars, the 230SL is powered by the high-revving, fuel-injected, overhead-cam, inline-6. M127 power plant has 150 lively horses on tap; maximum speed quoted from factory literature is 124 mph.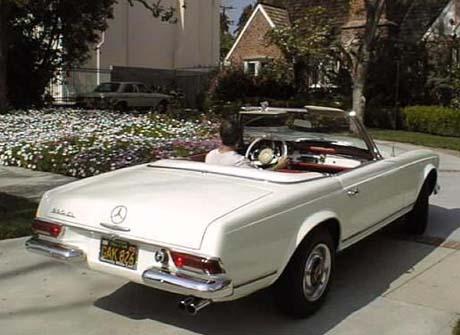 A highly original car, not completely restored and subsequently trailered from show to show, its straight body has been repainted once, in the correct color and to a very high standard. There are no dents, dings, or scratches. The brightwork is in outstanding condition. Almost needless to say, the car's undercarriage is rust-free and there are no traces of non-original undercoating.
Clean trunk features nice original floor mat, spare and jacking equipment. Note the original locking chrome gas cap.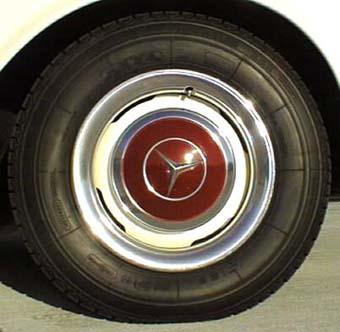 The goal to maintain originality doesn't stop here. Expensive, near-new original equipment

MICHELIN XWX tires of the correct dimension 185 HR 14 are mounted on factory 6 x 14 steel wheels. Painted center caps and--slightly scuffed--stainless trim rings provide the finishing touch.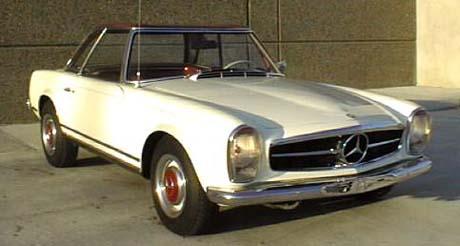 If you appreciate a wonderfully preserved classic car--one that has been allowed to age gracefully and with dignity--as much as a glass of fine vintage wine, the Admiral's Delight qualifies with flying colors. As the saying goes: you can't bring back originality at any price. A collector's car is more than a mere means of transportation. As a part of history, it deserves to be valued and cherished and eventually to become a family heirloom.
Prices for well-kept Mercedes Pagoda models are on the rise, not in small measure due to the fact that these SLs are still eminently driveable, even in today's dense traffic. Parts availability is unequalled in the classic car field. Bidding for the Admiral's Delight starts at $230, and a reasonable reserve, reflecting the condition of this vehicle, has been set.

Thank you for your interest, and have a nice day!
---
Presentation & Copyright © 1999, 2000 by Californiaclassix.com. All Rights Reserved.