I admit it: as a teenager, reading about Bonneville Speed Week in Hot Rod Magazine cast a spell on me.
The clean, big block Dodge I acquired from the original owner in Burbank, Calif., back in '88, was destined to survive as a nice street machine. But, having joined the Gear Grinders, a charter club of the Southern California Timing Association (SCTA), I quickly decided to test my freshly restored, 440 Six Pack-powered, forest green MoPar on that big white dyno in Utah.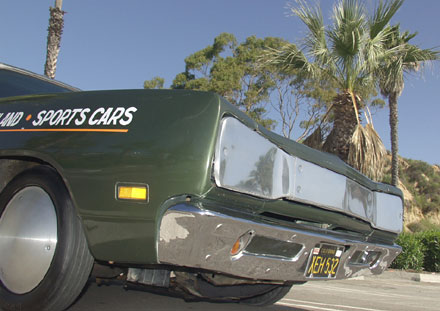 In August of '89, I made the trek from the San Fernando Valley to B'ville, after having the pros at Pro Chassis install a custom-fabricated roll cage, painted the exact color of the Dodge's bone stock interior. Pete Eastwood helped with the installation of a state-of-the-art fire system. In those early days I actually drove the Dodge to the Salt Flats on the highway, all the way from the San Fernando Valley, removed the dog dish hub caps, raced it in the B/Production class, and drove home. Top speed: a respectable 153mph. I was hooked!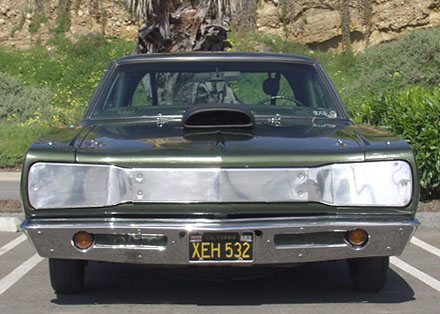 The next year I returned in anger. The stock 440 had given way to a stout STAGE V HEMI, and the car had acquired proper Bonneville wheels, Mickey Thompson LSR tires, Fred Larson-spun MOON discs, and a whole host of other goodies. Of course, it was trailer time now . . .
This two-door hardtop was born a real muscle car by anyone's definition. Factory equipped with a big block, 4-speed trans, front disc brakes, and little else, it weighed less than a "New Mini!"
Note color code "F8" (Forest Green) on the data plate.
A veteran of six treks to the salt, the car eventually achieved a top speed of 208mph in Bonneville and an equally impressive 190.67mph on dirt, on the El Mirage dry lake 1.3-mile course, right here in Southern California! On asphalt, it probably could have broken the 220mph barrier.
Silver State Classic, anyone?
During the four years I raced the car--from 1989 to 1992--I spent nearly $100,000.00 in my relentless pursuit of becoming a member of the prestigious 200mph Club.
I retired the car after the 1992 season; it was put in dry storage where it should remain for over a decade, hibernating peacefully.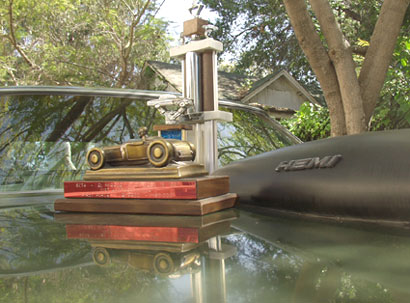 A reminder of a most exciting period of my life, the car became part of a small personal car collection and I intended to keep it forever.
Click on the above image for another, full size image of the engine compartment
Ultimately powered by a mighty 526 cubic inch Stage V HEMI, inhaling exotic combustibles through a Gene Adams-tuned Hilborn fuel injection and making close to 1,000 horsepower on the Dyno at Keith Black's old Downey shop (remember his 7-liter Mercedes-powered '32 Roadster?), the engine compartment looked like a plumber's nightmare. Boy howdy, was it ever fun to fire up the beast! The big green #426 Dodge was always a first-rate crowd pleaser, on the Salt and on the Lake. Folks were just in awe of that healthy Hemi pushing the big "billboard" to speeds of 200mph, unblown, on pump gas, without nitrous oxide. The ferocious sound of the mighty elephant engine was the sweetest, most brutal music imaginable.
With motor plates up front in its giant engine bay, this puppy is ready to accept any power plant!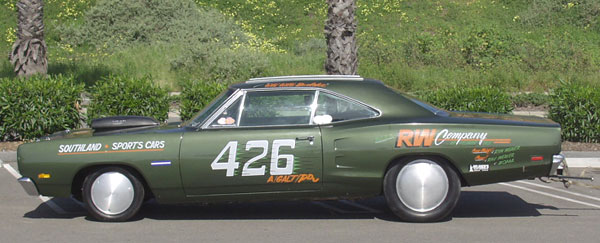 So how does a '69 Dodge drive at 200mph, you might wonder? Absolutely straight and steady, thank you very much. Whereas most Studebaker, Ford Thunderbird, and Camaro pilots sooner or later join the infamous Spin Out Club, the Dodge has always been solid as a rock. Maybe the four--removeable--bars in the trunk containing 300lbs of lead shot helped a bit.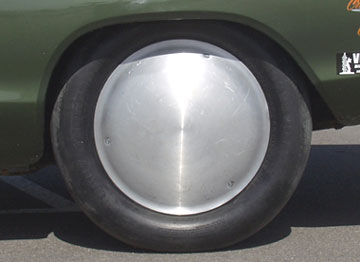 These wheels would work good on the space shuttle as well!
It's the best of the best: Hoppe wheels, Mickey Thompson LSR tires with MT Drag front runners and hand-built, gennie 19½" MOON discs held on by Dzus fasteners.
Investment in this rolling stock: over $2,000.00!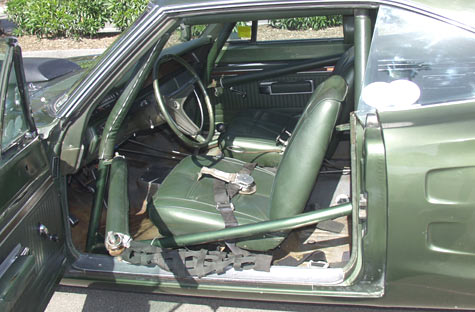 Click on the above image for another, full size image of the front seats
Interior looks almost stock, features all original materials from SMS. This is the most comfortable Bonneville car you could imagine. Recent rule changes would dictate minor revisions to window net and seat. In addition to the belt shown, the legal 3-inch DEIST harness is also installed, including the crotch strap.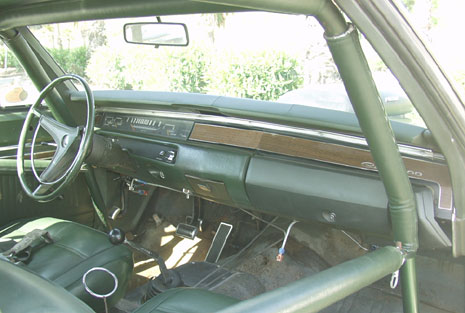 Stock dash. Note the rare radio block-off plate.
Zippered roll bar padding was stitched from a few yards of factory-correct green vinyl. It's a class act all the way, with no expense spared!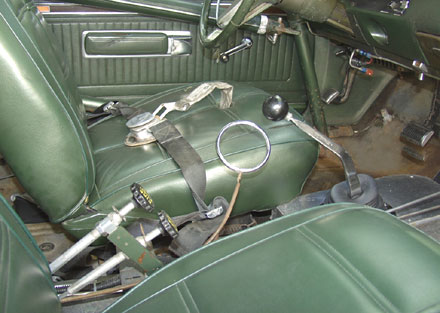 Close-up view of seat, with fire system, parachute pull handle visible. Stock factory shifter is included, along with the HURST shifter shown.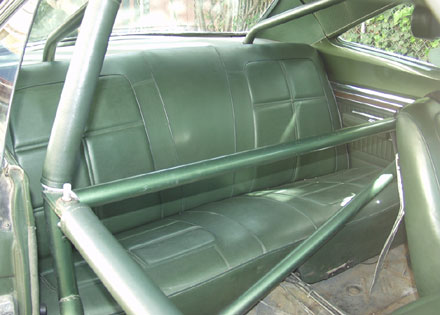 I once spent the night right here, waiting overnight at the El Mirage starting line to secure an early Sunday starting position. The first cars actually started lining up by mid-week in the old days . . .
Rear seat upholstery and headliner present themselves immaculately preserved.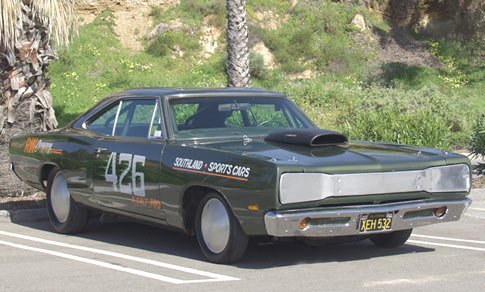 Mr. Sykes Jr., a reknown metal fabricator, hand-formed the attractive, polished aluminum grille cover. Original grille and headlights are underneath. Cover on - run "altered" class, cover off - run "production" class!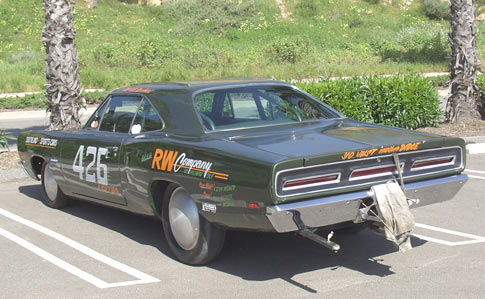 Since this was a wonderfully straight, rust free California car to begin with (check out the original black-and-yellow license plate still on the car), little bodywork was needed to create a super clean racer. Sure, the car acquired a few battle scars over the years, mostly during the extended storage period. However, as you can tell by these pictures which were all taken recently, right here in Santa Barbara, Dodge still looks stunning from any angle.
Since I've always meticulously cleaned and inspected my prized possession after a trip to the Salt Flats, corrosion is confined to a few bubbles along the lower, outer corners of the rear quarter panels and some--very superficial--surface rust underneath. By the way, the Dodge features subframe connectors.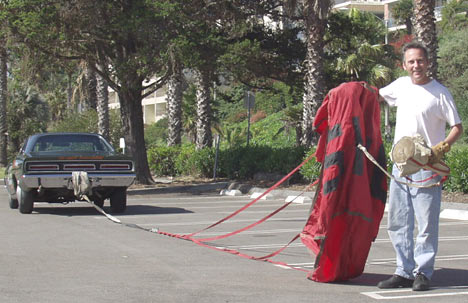 When cruising at over 200mph and approaching a stop light, deceleration becomes a matter of life and death. The huge, red-and-black DEIST parachute, included with this sale, never let me down. If you are planning on having fun NHRA style, you are already perfectly equipped for competition!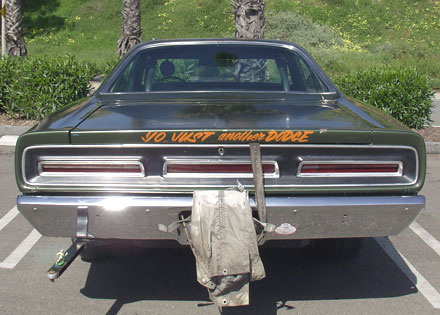 "Whazzat? Just another Dodge?" was the dismissive comment of a naive spectator, before we fired up the mellow-looking green beast, of course. It became the car's moniker.
Lettering was done during one all-night session by Tom "Itchy" Otis; has held up very well over the years.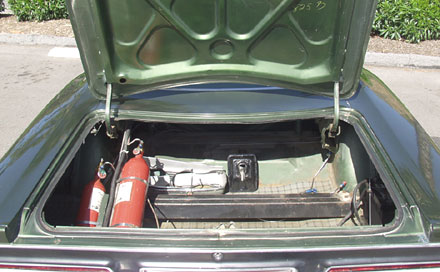 Click on the above image for another, full size image of the trunk
Trunk contains fire bottles for engine and passenger compartments, ballast, and battery. Note original trunk mat!
One of the last upgrades installed was a CURRIE ENT. massaged 9-inch rear end, ready to accept your preferred center section.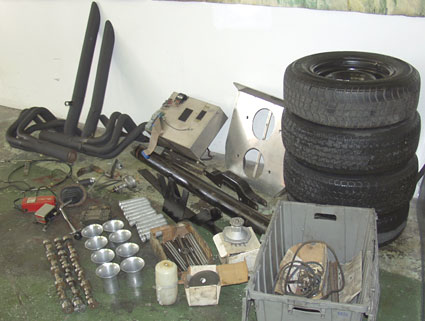 Click on the above image for another, full size image of the parts
The car is sold minus its drivetrain. A few parts from the glory days are included, though, among them:
various camshafts
headers and exhaust tubes
Distributor, MSD ignition, MSD Soft touch rev limiter
4 stock steel wheels
Injector stacks
drive shaft
various engine and trans mounts
miscellaneous goodies
The new owner will also have first right of refusal at a rebuilt RICHMOND 4+1 manual transmission, a CENTERFORCE and a McLEOUD clutch assembly including flywheel, and a scattershield, items which are NOT included in this sale.

Of course, this is not "just another Dodge." It is a once-in-a-lifetime find. One of the most beautiful muscle cars of all time, an authentic California black plate, big block/4-speed car at that, in amazing condition, with documented competition history and upgrades, yet so tastefully and carefully executed that its soul and integrity have been preserved. Continue to write racing history with it, on the Salt Flats or the drag strip, or drop in a 440-6 or 426 Hemi and drive a mind-blowing street machine. You'll wow the crowds at the next MoPar Nationals!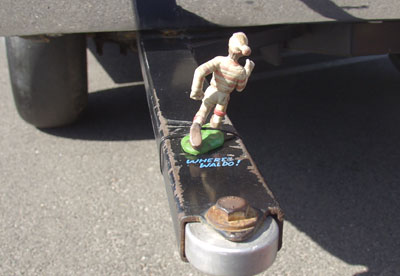 The World's fastest Waldo is still chasing the Dodge!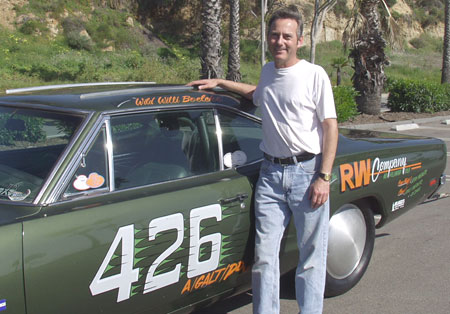 Addendum:
This fabulous Dodge found a new appreciative owner in September 2003.