Gone Fishin'!
The true story of a man and his Porsche.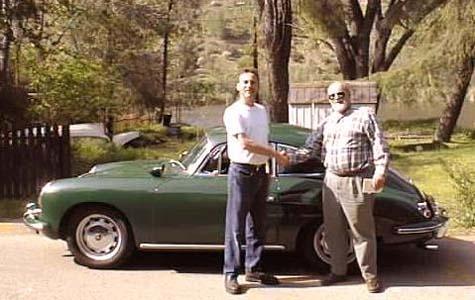 The year is 1952. The place is New York. At Max Hoffman's import car dealership, young Phillip is among the lucky few to work on the sensational, newly introduced German sports car, the PORSCHE. He is hooked right away and promises himself to--someday, somehow--own a new Porsche.
Years go by. Marriage, family, saving money, the move to Southern California. Finally, in 1964, the long held dream becomes a reality: he buys himself a shiny, new, Irish green 356 C Coupé at Competition Motors in Culver City, Calif.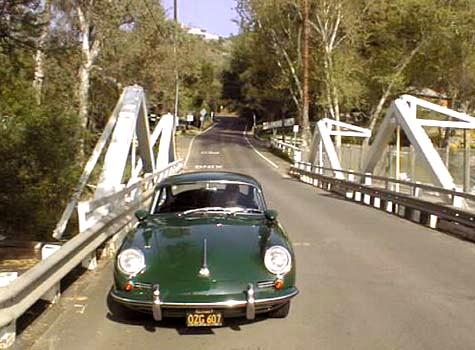 The car is being treated like a baby from day one. It is always covered, never driven in the rain.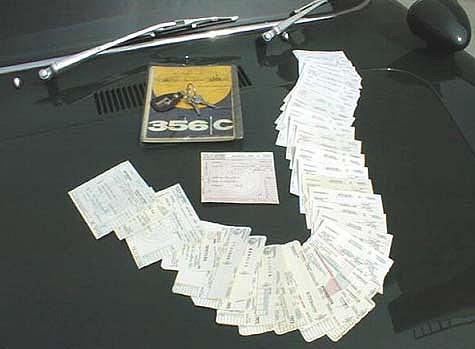 The love affair lasts almost 36 years. Being a widower, the retired executive has now decided to sell his Malibou Lake estate and spend his remaining years on the Pacific island of Mindanao, indulging his other passion in life, big game sport fishing.
Above: The original keys, owner's manual, California pink slip, and--count 'em--36 registration cards. Porsche is currently licensed through December 2000.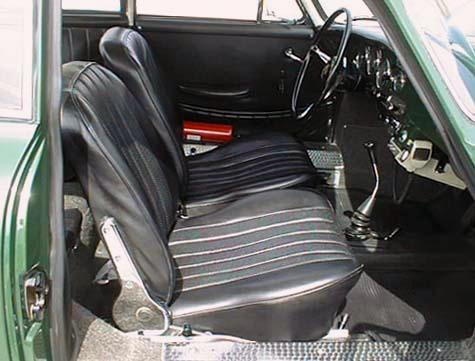 Phil took his care for the Irishman from Zuffenhausen to the extreme. The seats were covered by real sheepskins, the rubber floor mats protected with velour overlays. On extended trips, the car wore a front 'bra' and a flannel car cover was taken along. Whenever necessary, specially made foam rubber shields with embossed PORSCHE logos were fastened to his baby's vulnerable flanks.
Thanks a million, Phil!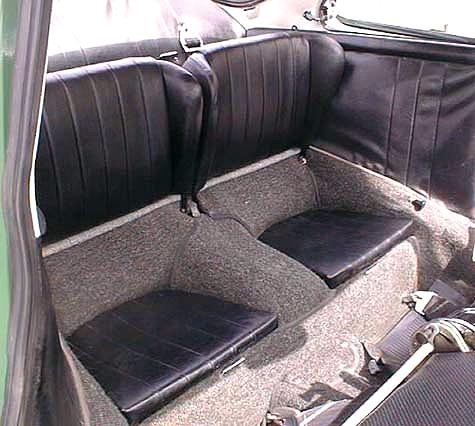 The black interior is in fantastic condition. Even close inspection does not reveal a single tear in the material. The O.E.M. German square weave carpeting is flawless. The headliner looks like it was installed maybe a year ago.
Of course, Phil, being the commensurate Porsche connoisseur, added a few sensible period accessories. Since the car was delivered without a radio, a vintage

Le Chaperon AM unit graces the dash. In the mid-seventies, a then-popular MOTOROLA CB was installed. Twin seat belts, plus a racing harness for the driver, as well as a fire extinguisher, were deemed a necessity. Finally, beautiful engine-turned aluminum sill plates helped protect the carpeting.
By the way, all these additions could be removed without a trace, if that's your prerogative.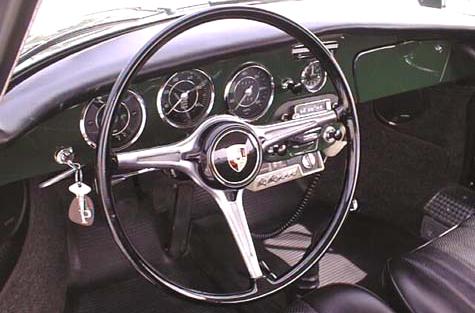 Flawless original paint on the dash board. Gleaming chrome throughout. Perfect dash cover.
E-ve-ry-thing works, including the clock.
Below: Porsche's ingenious shift lock. Who needs an alarm?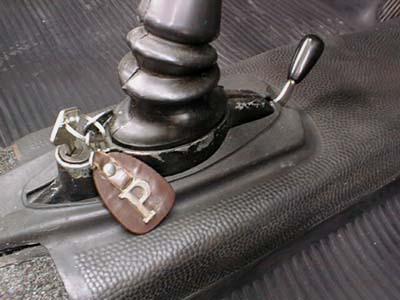 All these photos were taken on March 7, 2000.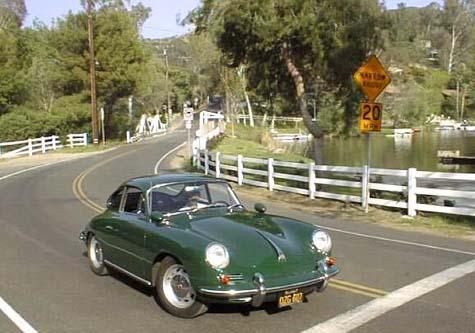 Still wearing its original
1964-issue California black-and-yellow license plates front and rear, this 356 has never been in any kind of accident. I guarantee it!
Being a fair-weather toy, it has been spared the woes of corrosion. There is not an ounce of non-factory undercoating on the pan. The car is absolutely rust free. I guarantee it!
A quick inquiry at the Porsche factory in Stuttgart-Zuffenhausen confirmed the owner's claim of Kardex-matching numbers. VIN 130246 still is propelled by its original engine, P*713952.
I guarantee it!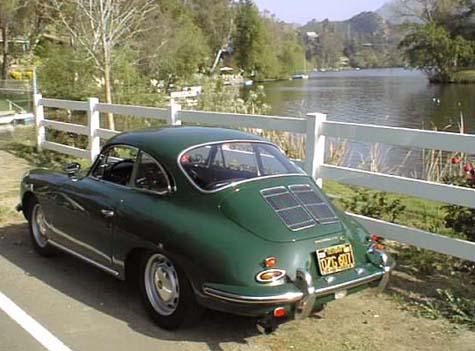 The Porsche has been driven less than 5,000 miles since a show quality, bare metal, windows-out repaint in 1995. Upon re-assembly, all new body and window rubber was installed.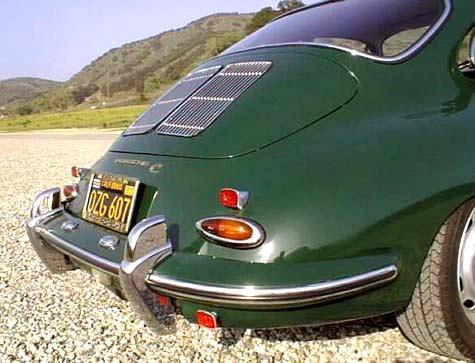 The rare and desirable Irish green, Porsche factory paint code # 6406, is a most striking color, indeed! Except for about five minuscule road chips up front, absolutely NO orange peel, nicks, dings, dents, scratches, or imperfections of any kind mar the glossy surface. This car is arrow-straight with perfect gaps all around. Of course, it still bears the last three digits of the VIN stamped into hoods and doors at the factory.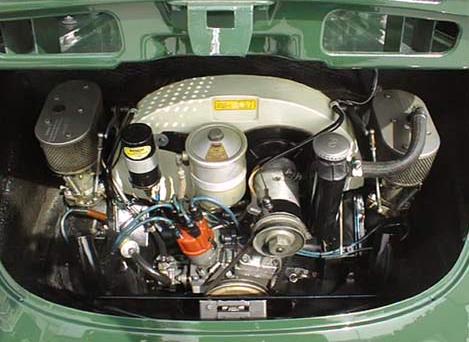 Professor Porsche's masterpiece, the air-cooled boxer motor. Its factory hp rating has been considerably increased by way of installing a 1750 cc big-bore kit, stiffer springs for the sodium-filled valves, a

NORRIS cam, big SOLEX carburetors, and a BURSCH exhaust. These period-correct mods do two things: they help elevate the performance up to--and possibly beyond--SC level and provide the means for an unmatched driving experience.
Very few cars have been said to possess engines that make music: Ferrari's V-12 and Porsche's 356 and 911 models. This car sounds incredible in full song!
The smooth shifting 4-speed transmission and the 4-wheel disc brakes are extremely strong and the car is an absolute joy to drive. We experienced this first-hand on a truly memorable drive along Mulholland Highway, through the Santa Monica Mountains, to Paramount Ranch, were we took these pictures.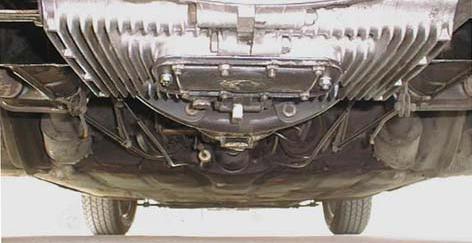 No oil leaks, no broken cooling fins; stock heater boxes and virgin floors!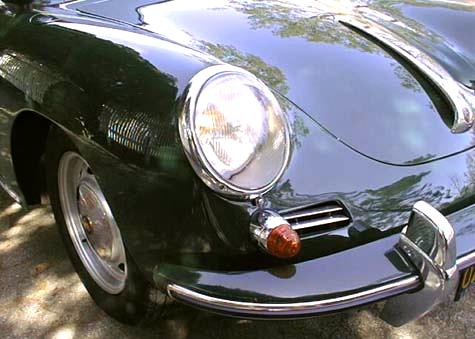 A rare sight: Original German 6-volt

BOSCH H4 Halogen units, providing much-improved lighting.
Again, note the amazing front hood gap and the concourse-quality paint.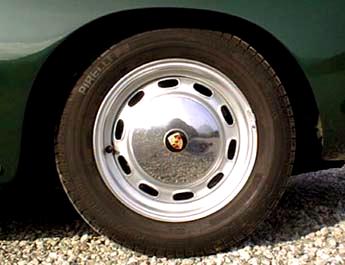 Handling and ride have been immeasurably improved by fitting 5.5 x 15-inch steel wheels and top quality Italian

PIRELLI P6 195/65-R15 tires. Damping duties are performed by adjustable KONI shocks all around.
The trunk compartment is almost inconceivably clean. Where have the years gone?
Vintage

PIRELLI CN 36 spare tire is held in place by leather strap; note factory BILSTEIN jack and tool kit.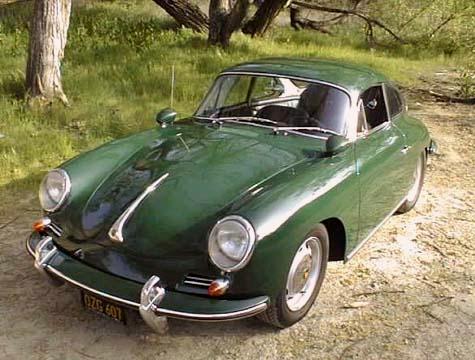 Dirk-Michael Conrad, in his book "Porsche 356 - Driving in its purest form," writes:
Without a doubt, of all early Porsches, the C-series of the 356 is the one best suited for everyday use; a C might even take the place of a modern car, thanks to this modelís reliability (after correct restoration), modern performance, pronounced driving comfort, and a secure supply of spare parts . . . It is pure pleasure to enjoy its unmatched seating position . . . road characteristics and drive quality . . . the C is a remarkably manageable automobile.

(p.209)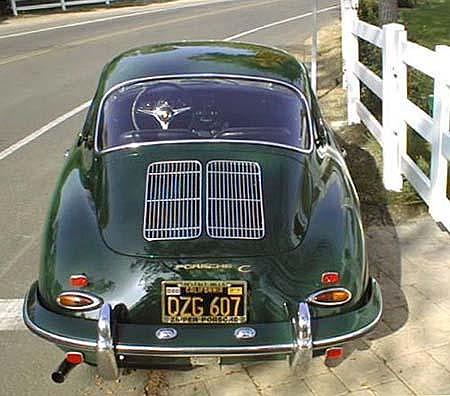 This car truly is a unique find. Rarely, if ever, will a Porsche 356 of this caliber and with such an impeccable provenance be offered for sale. Were it not for the extraordinary circumstances outlined above, the original owner would surely have kept this car forever. Alas, it's not a Schwimmwagen.
Come and get it!

Thank you for your interest, and have a nice day!
---
Copyright © 1999, 2000 by Californiaclassix.com. All Rights Reserved.