Volkswagen's classic Beetle needs no lengthy introduction. It is the most recognized car on the face of the planet, an automotive icon of the purest kind.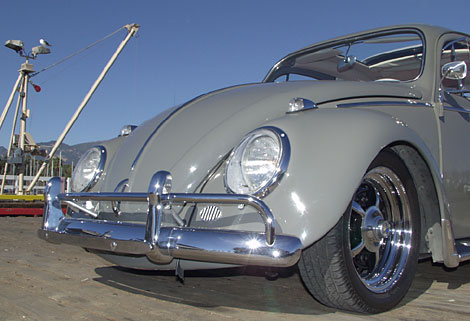 The Beetle defies comparison with other means of transportation. Its appeal seems eternal and universal. Enthusiasts include people from all walks of life, blue collar workers as well as bank directors. An old Beetle never looks out of place.
The one for auction here draws a crowd in any setting. It's the finest, one-of-a-kind machine money can buy!
A California resident since new, still sporting its vintage black-and-gold California license plate, this factory sunroof Bug never suffered from any rust or accident damage and was delivered with a rare, special order color combination, anthracite (factory code L469) over a salmon interior.
A few years ago, it was purchased by the well-to-do owner of several Orange County area skate shops and designated to become a Sunday toy and a star of the show circuit, equipped with the best stuff available anywhere. Evidentially, money was no object during its restoration!
It took two years and $24,000.00 to create this jaw-dropper!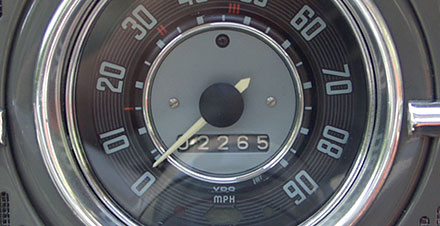 With just 2,000 miles of California sunshine under its tires, the dream bubble burst soon after all the money was spent. An old-fashioned California divorce (if you don't know the full meaning of the word "half" - inquire within) required liquidation of all the toys, paving the way for one lucky aficionado to acquire the finest West Coast Bug imaginable!




What makes this '63 Beetle so special, you may wonder?
Well, for once, it's equipped with an original JUDSON supercharger kit!
Period correct, a rare N.O.S. kit was purchased at an expense of $1,900.00 and installed by none other than Clyde Berg himself on a special engine, expressly built for the car.
(See additional engine info below.)
What else makes this car such a standout?
There's a lot, trust me. Better yet, follow me while I check out this Wunderbug step by step, inside and out.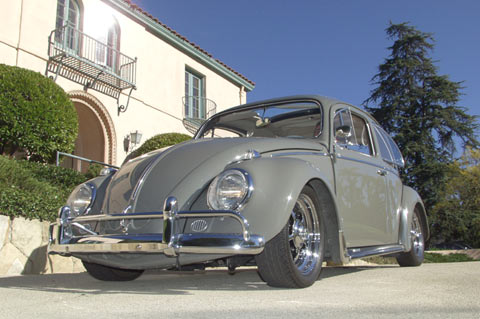 Click on the above image for an XXL-sized view (800 x 557 pixels)
First impressions are all-important. This show stopper wows 'em with its killer stance.
Click on any of the above images for a full-size view
The Cal Look is immeasurably enhanced by a set of fully restored, genuine EMPI Sprint Star wheels. They have been re-chromed, polished, and powdercoated and look incredible. Worth an easy $500.00 each (for a total of $2,500.00), these are better than new!

Click on the above image for another, XXL-sized image (800 x 559 pixels)
Correct and now impossible to find "big neck" gas tank (desperately needing one for another car!), virginal sheet metal, glossy paint, matching EMPI spare wheel - the trunk compartment is as clean as the rest of the car. Mindboggling!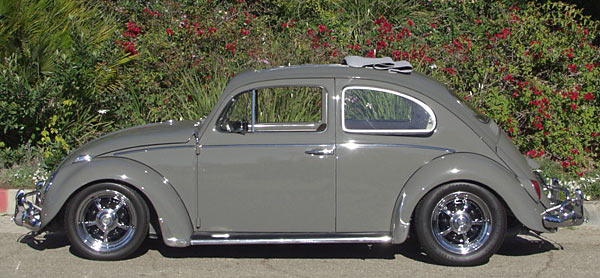 Click on the above image for another, XXL-sized image (800 x 539 pixels)
Bug looks gorgeous, with big-and-littles helping to create the politically correct rake. Brand new 195/50-R15 radials reside in front, 195/65-R15 bring up the rear.
Too low? Not low enough? No problem: front end is fully height adjustable!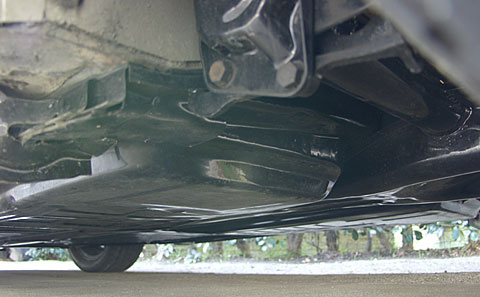 Click on the above image for an XXL-sized view (800 x 495 pixels)
The entire pan of this has been powdercoated gloss black and can be polished to a high luster. Don't forget to put the mirrors underneath the car at the next show!
It's a pan-off, ground-up, nut-and-bolt restoration, literally! All new brake lines, all new wiring harness, all new cadmium plated hardware. No corners were cut, anywhere!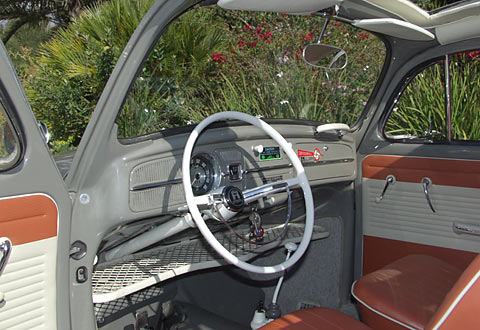 Click on the above image for an XXL-sized view (800 x 600 pixels)
The interior was the recipient of a similarly thorough rejuvenation. Dash sparkles like new. Check out the JUDSON badge on the glove box lid; it's magnetic and sticks to any metal surface! Steering wheel has been restored by Koch's.
By the way, this is a radio delete Bug; it never had a radio, nor an antenna!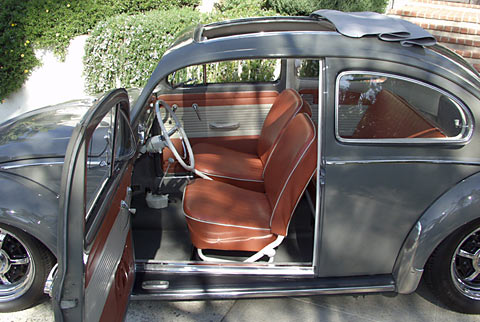 Click on the above image for an XXL-sized view (800 x 537 pixels)
Salmon and cream two-tone interior panels and seats, German Haargarn wool carpeting ($600.00), and correct gray rubber floor mats . . . it feels like time travel, clear back to 1963. Seat frames are powdercoated too.
Check out the gennie shift lock and the 4-piece, cast ROBRI rock guard set. This ain't repro stuff!
Click on any of the above images for a full-size view
A genuinely fascinating option, the original large GOLDE sunroof turns the Bug into a quasi cabriolet. Driving with the open roof constitutes an addictive pleasure.
Combined with the rare and beautiful rear pop out quarter windows, the car feels very airy.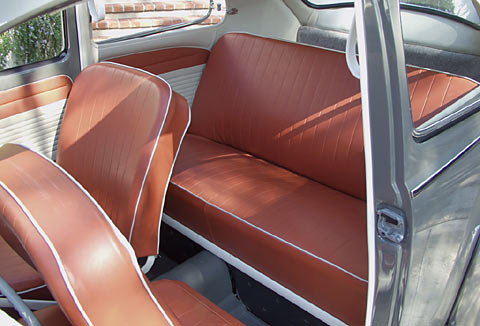 Never been sat on: the rear seat. Sit down and inhale the new car aroma!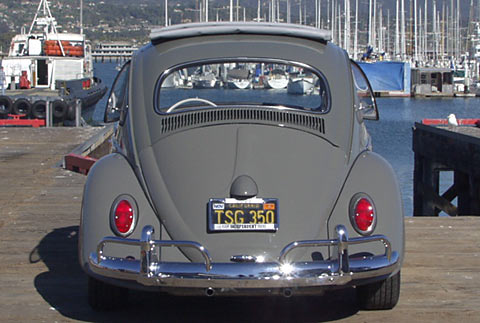 There's a surprise lurking below this sleeper's decklid!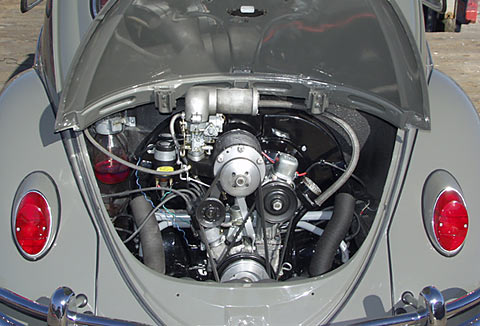 Click on the above image for another, XXL-sized image (800 x 600 pixels)
Motorvation is provided by a power plant built by Claude Berg, drag racer and son of the late VW performance guru Gene Berg. It is a period-correct single-port unit, featuring a slightly reduced compression to accommodate the supercharger's boost. Balanced and blueprinted, the engine is also equipped with a set of those fabulous BERG semi-HEMI heads!
The Judson kit itself is complete down to the last details, such as the air cleaner and the MARVEL inverse oiler to insure proper upper engine lubrication, crucial with supercharger-equipped engines. Engine is fed one drop MARVEL mystery oil every few seconds.

Click on the above image for an XXL-sized view (800 x 514 pixels)
Splitting an engine case to fix an oil leak or two is no fun. Only a perfectly machined and prepped engine will be leak free. Looks like Clyde Berg got his reputation for a reason . . .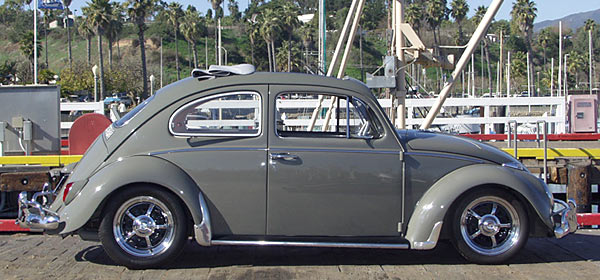 Now, let's check out the sexy body of the Bug.
Click on any of the above images for a full-size view
No bondo, fiberglass, or other filler is to be found here. The body was completely stripped to the bare skin, walnut shell blasted, and metal finished. There are no dings or dents. No rust repair was ever needed. Anthracite paint is mirror smooth, glossy, and appears to be a mile deep. Body rubber and weather-stripping are new throughout.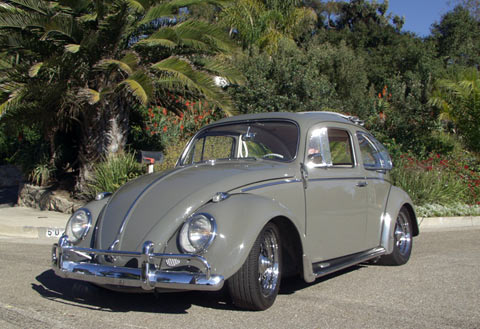 Click on the above image for an XXL-sized view (800 x 558 pixels)
With the nicest "winter weather" Santa Barbara has to offer--deep blue skies and not a cloud in sight--driving this ragtop through town on January 31st, 2004 is a chore we gladly accept. The smiles on our faces seem to last all day. No wonder they call this paradise!
Even in posh Montecito, parked on Coast Village Road, we receive compliments and thumbs up from everybody, young and old, multi-millionaires and simple millionaires alike.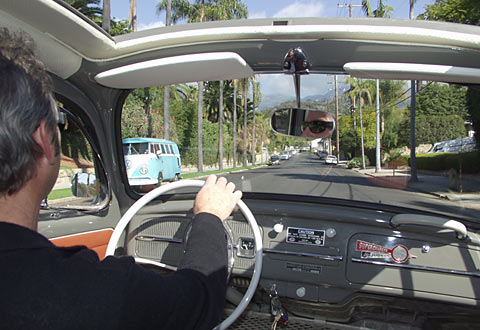 Click on the above image for an XXL-sized view (800 x 555 pixels)
Thanks to the mods outlined above, this Bug is built to last, and it's a real blast to drive. The ultra-smooth freeway flyer trans, built by reputable gearhead Howard Carter, keeps the revs at healthy levels and adds to the fun.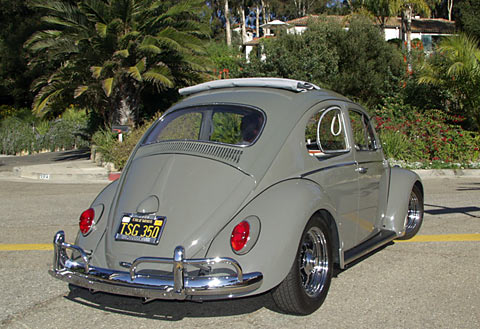 Click on the above image for an XXL-sized view (800 x 556 pixels)
There are many who stick the "restored" label on a Bug. Few, very few will be able to back up their claims. It's almost unheard of that someone goes the extra mile in creating a car that not only looks perfect but rides and performs like a cutting edge California Bug would have, back in the mid-Sixties, resisting the temptation to use any "modern" add-ons.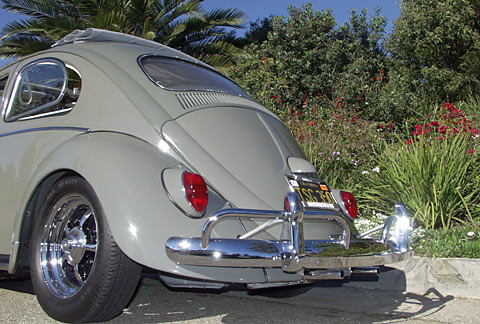 It's a no-brainer, really. If you want the best early Bug, period, buy this one. Trust me, you'll spend far more money if you start with a nice original California ragtop and then try to bring it to this level of perfection, and that's not even counting the EMPIs or Der Kompressor.
Opportunity knocks. You could be winning your first trophy this spring, showing this mind-boggling, supercharged, ragtop '63.