! ----------- Ticker tape message ---------> <! -------------- end of Ticker tape message ------------>
The Mystique of the Flat Floor Roadster!
1961. Almost 40 years ago!
Jaguar Motorcars Ltd. in Coventry, England, introduces a car bound to become one of the most desirable post war collector cars. A sports car, steeped in the firm's racing tradition, that also could rightfully be called the first 'super car' available to the general public. A car so beautiful that it is now on display in New York's Museum of Modern Art. The XK-E!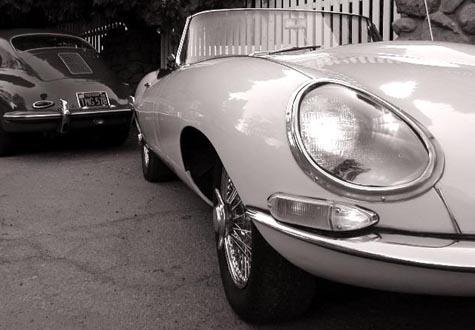 Later known as 'Series One' cars, these early 'E-Types,' as they are often referred to, are the purest expression of a concept that should last until 1974, finally shuttled by ever-tightening government mandates regarding emissions and safety equipment. Built for almost 6 years, the 'Series One' displays the futuristic looking glass-covered headlights, the small taillights mounted above the rear bumper, and the pure, early dashboard with its array of toggle switches. The cars built from 1961-1964 carried the renowned 3.8-liter engine, its bank of three SU carburettors helping to push output to 265 Horsepower and resulting in an advertised top speed of over 150 mph, truly mind-boggling numbers in the early Sixties. Classic bucket seats and a low, chrome-rimmed windshield rounded off the sporting appearance.
The earliest of the 'Series One' cars, however, are called flat floor cars. The famous flat floors and welded louvers can only be found on the first 1,000 cars to leave the factory. The car for auction here is the 832nd XK-E ever built.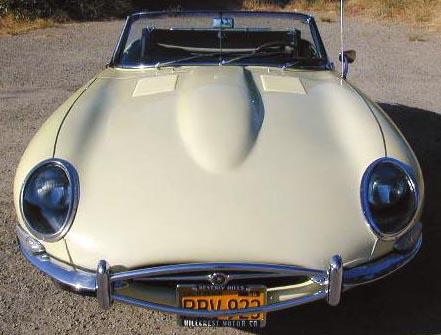 But it is more than that: It is an original California Roadster! Evidence can be found in its data plate area, shown below.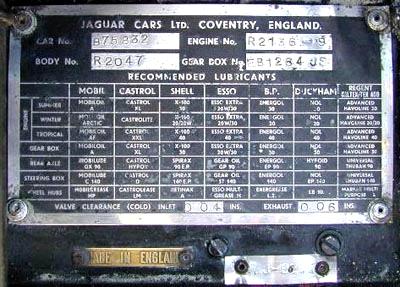 The small, riveted aluminum tag visible on the lower right reads J-62, identifying the car as a 1962 model (actually built in late 1961), bound for California, as it is only present on cars originally registered in this state.
A rare discovery, indeed!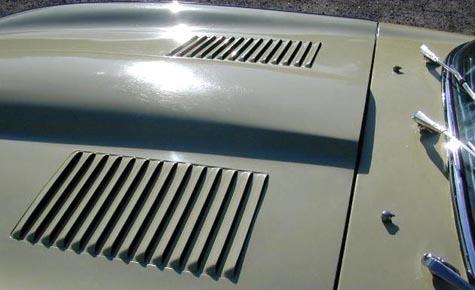 One the earliest 'Series One' cars, the louvered sections of the bonnet were fabricated separately and subsequently welded to the finished assembly. Later, a large fixture allowed Jaguar to stamp the louvers directly into the hood. Needless to say, an original, welded louver bonnet is a rare sight today, since it effectively has to act as the car's front bumper . . .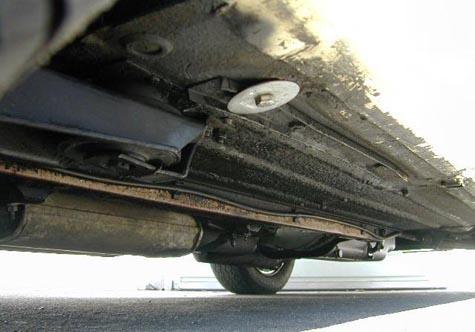 A view of the famous flat floors. Later XK-Es had slightly deeper floor pans, adding a nominal amount of legroom inside. Note the pristine condition of this cat's unmolested undercarriage. There is absolutely no rust or corrosion of any kind on this California XK-E. I guarantee it!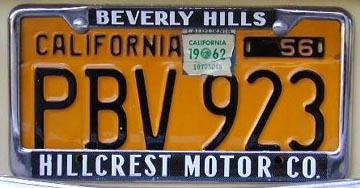 Originally delivered with the old style yellow-and-black license plates that were retired in 1963, the car subsequently wore ELP plates. However, under a special exemption for 1962 and earlier motorcars, it now qualifies to proudly display original year of manufacture (YOM) license plates once again, such as the set included with the automobile, which has already been cleared with the Dept. of Motor Vehicles.

Having been relished for the past decades by an affluent lady owner living in Central California, the car has always been properly stored and serviced, and it shows. This fine E-Type was only used sparingly--as a weekend toy--and has been garaged and properly covered all its life. Even a Jaguar owner's handbook is still present . . .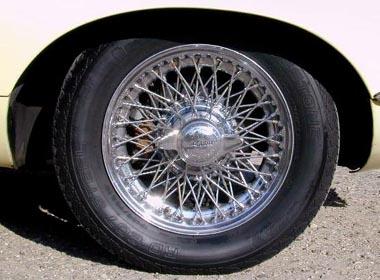 The obligatory center-lock chrome wire wheels are not new, but they are in most appealing condition. Bridgestone 185/70 R 15 H tires have been fitted and retain a goodly portion of their tread.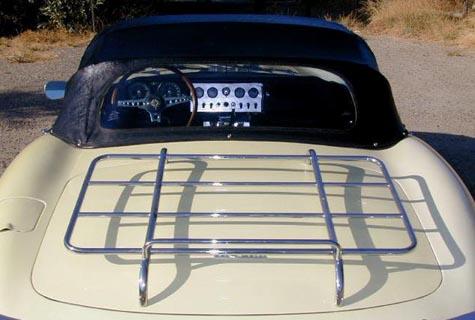 The black vinyl soft top is nicely preserved, the rear window being completely clear and free of rips or scratches. AMCO chrome rack is a period accessory, greatly increasing luggage-carrying capacity.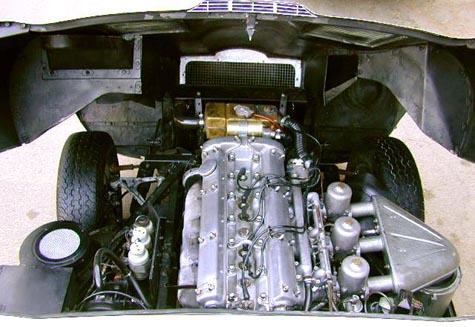 The aforementioned 3.8-litre straight six engine with Dual Overhead Camshafts (DOHC) was a trailblazing design, chiefly responsible for Jaguar's innumerable racing successes and in continuous, largely unchanged, production for well over 30 years. Engine starts easily, revs freely and runs oh so smoothly. The stamped numbers on engine block and cylinder head match the corresponding number on the car's identification plate.
Also, please note correct details such as the upper radiator tank and the original air cleaner assembly.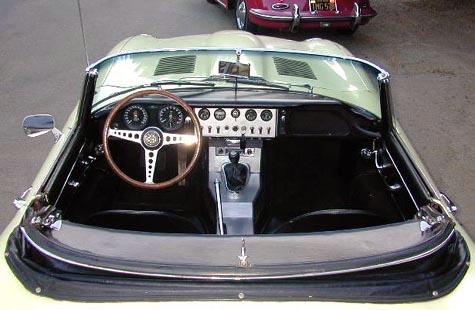 Many terms have been used in describing the E-Type's design and appeal. Probably the one automobile radiating the most masculinity in regard to shape, its looks are well received by Ladies and Gents alike. An E-Type is not a macho brute, like a Corvette Stingray, but a true Super Car, in one league with the Ferrari 250 Pininfarina Spyder. Perhaps no other Super Car exhibits quite the dashing looks of the E: an incredibley long, almost phallic bonnet, and a very sexy rear end. Driver and passenger fit cozily into a cockpit that seems to come right out of a period fighter plane.
Even critics admit: the shape of a 'Series One' roadster is a sculptured masterpiece that no designer has ever been able to improve upon. Driving this E-Type, you will get more smiles per mile than in any other car!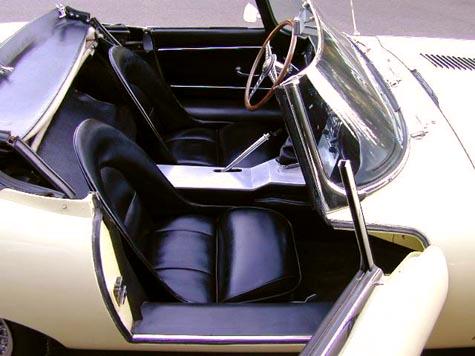 Factory bucket seats are in outstanding condition. Aside from minimal wear on the most stressed, outer edges of the seat backs--too insignificant to even show in any of these photos--there is not a single imperfection anywhere. The black carpeting is in very good condition, too. Material behind the seats is correct HARDURA.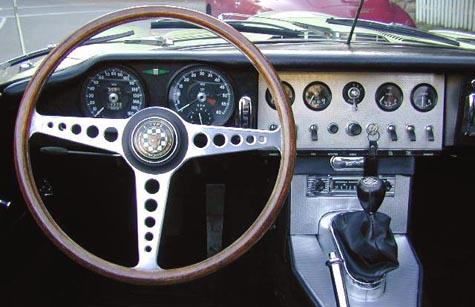 The proverbial British sports car dash. Perfection of design. Classic, white-on-black SMITH gauges, pinpoint aluminum paneling, leather shift bag, chromed handbrake lever . . .Please note the correct, 'thin' dash top and original, early wood-rimmed steering wheel without rivets. A period MOTOROLA AM radio completes the dash.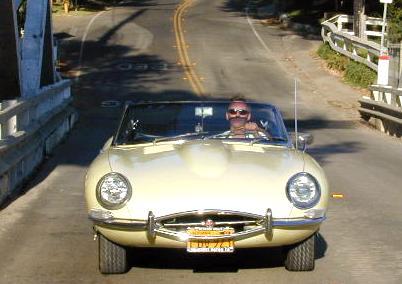 Driving any open E-Type produces a surge of excitement. A flat floor roadster is the purest expression of the XK-E: a driving experience that always seems to revive memories of the marque's glory days in the 1950s, when D-types ruled Le Mans and the ultra-rare XKSS was among the rarefied elite of sports cars that you could take straight from the showroom floor to the race track--and win, too.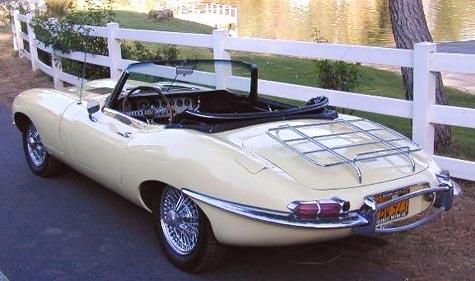 We took this cat out for a spin on our favorite test road in the Santa Monica Mountains, from Agoura Hills, along Malibou Lake, to Paramount Ranch with its remnants of the old SCCA road course, and back onto Pacific Coast Highway to Santa Barbara. The car runs just like a well-maintained XK-E should. Power, handling, brakes and gearbox are all much better than expected from a 40-year-old car. Actually, you can downshift without noise into first gear, which leads me to believe that a 1965-and-up trans with full synchromesh has been fitted, substituting the Moss crashbox. What an impressive and memorable drive! It is moments like these that make you realize that life is about more than just working hard and making money. Grab a hold of life, get out, enjoy the view, the wind tugging at your hair and clothes, listen to the car's hoarse, bellowing exhaust . . . while allowing the predatory feline to stretch its legs.
Life is good . . .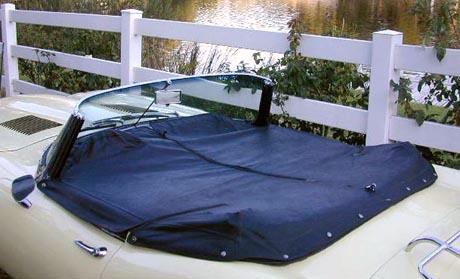 A welcome extra is the full tonneau cover.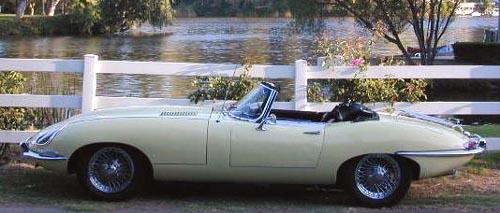 Not a show car by any means, this Jaguar is nonetheless a very presentable and most appealing motorcar. In fact, its patina contributes to the fact that it is so pleasantly perceived. Sure, its paint is faded a bit in places, there are a few nicks and chips on its flanks, most chrome and weatherstripping is four decades old. However, more and more knowledgeable enthusiasts now realize that a classic car should look like a classic car, one that has a story to tell, not some sterile trailer queen that you avoid driving, afraid it might acquire a stone chip.
This Jaguar is one of the few true survivors, and it proudly shows it!
The trunk floor is--of course--absolutely rust free, too. Spare and jacking equipment rest in a separate compartment.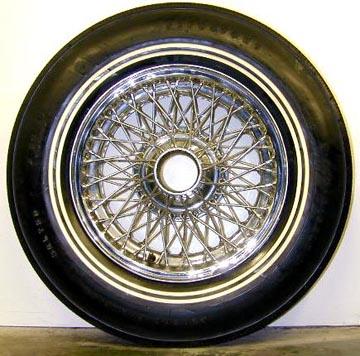 A close-up of the original, matching chrome spoke spare wheel: the long obsolete, twin stripe white wall FIRESTONE tire is stunningly well preserved!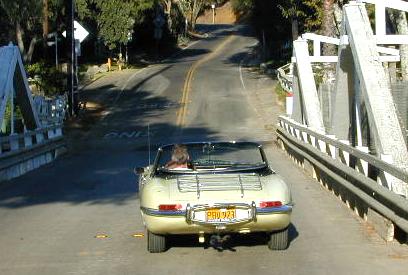 If you have looked around a bit, you know that prices for early XK-Es have been steadily climbing and that restored cars now bring upward of $60k at auction. Personally, I prefer ownership of an honest--if slightly careworn--car such as the one offered here. It has that indomitable spirit that wants you to jump in and just drive, whenever you get a chance.
Carpe Diem!
Thank you for your interest, and have a nice day!
---
Presentation & Copyright © 2000 by Californiaclassix.com. All Rights Reserved.
No part of this presentation may be reproduced without written permission of the author. E-mail inquiries to Webmaster@Californiaclassix.com.