Have you been a good boy?
Here's your Christmas treat!
Ask any boy, man, or grandfather about the World's most famous post-war supercars, and they will invariably name the Mercedes 300SL Gullwing, the Lamborghini Miura, the Ferrari 250GTO, and Jaguar's XK-E Roadster. The latter one, conceived back in 1961, with its incredibly sleek and sexy shape, 4-wheel disc brakes and a 265bhp engine, created a true world sensation following its public introduction at London's Earl's Court Motorshow.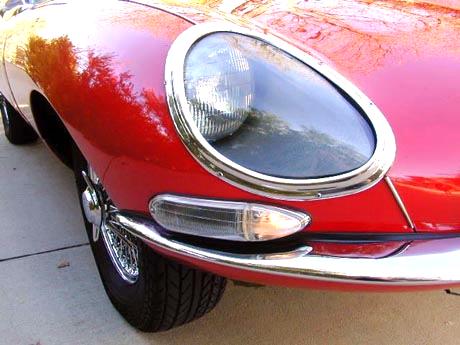 The XK-E's original rendition, now commonly referred to as "Series One," is by far the most desirable iteration of the marque. The Jag for auction here is of the sought after '4.2' specification, as introduced in 1964. The engine was slightly enlarged to 4,235cc, the brakes were bigger, the transmission--finally--fully synchronized, and the interior was made much more comfortable with new seats, enabling even drivers that were taller than Jim Clark to get with ease behind the wood-and-aluminum spoke steering wheel.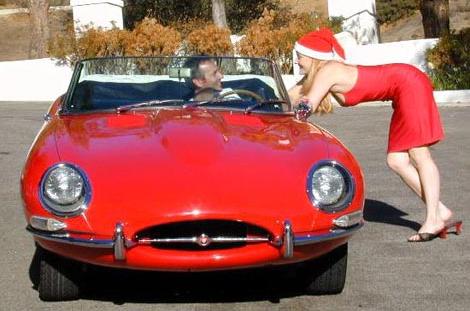 The early 4.2 XK-E retained its distinctively elegant 'covered headlights' and small taillights. An early 'E Type' is a prized possession of collectors and aficionados around the globe.
Let's delve into some of the vital details of this spectacular beauty:

The stamped numbers on engine block and cylinder head match the corresponding number on the car's factory data plate. This is a matching numbers car!

The small, riveted aluminum tag visible on the lower right reads J 66, identifying the car as a 1966 model bound for California, as it is only present on cars originally registered in this state.
A rare discovery, no doubt!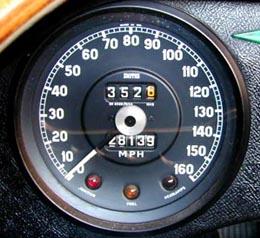 The 28,139 miles, as shown on the odometer, constitute the car's original mileage. To state it as clearly as possible: this car has covered on average 800 miles annually since new!
Hard to beat? I most certainly like to think so! You will be hard pressed to find an unrestored Series One Roadster with a lower mileage anywhere on the planet.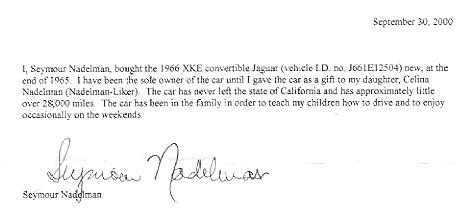 An interesting, signed document from the original owner, taking particular reference to the mileage and the fact that the car has never left the State of California, accompanies the vehicle.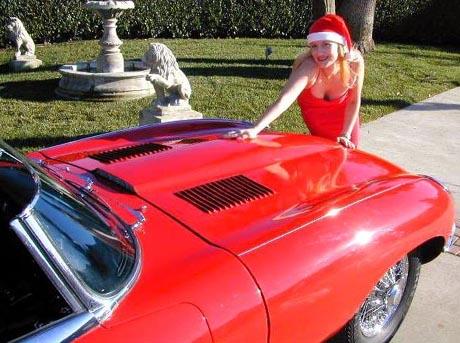 And indeed, if this car has never left California, wouldn't the reason be very obvious? Santa's beautiful helper Daniella needs it to deliver gifts to all the good children.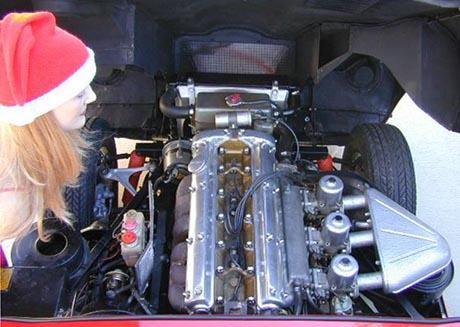 E-Type's 4.2-litre straight six "tri-carb" engine with Dual Overhead Camshafts (DOHC) was a trailblazing design, chiefly responsible for Jaguar's innumerable racing successes and in continuous, largely unchanged production for well over 30 years. This engine starts easily, revs freely and runs oh so smoothly, developing a raspy, bellowing sound that has to be experienced in person to believe it. Addictive, to say the least, is the feeling of 265 well-fed reindeer ready to pull this sleigh. Saint Nick's in heaven.

To be put into service again after an extended hibernation, the Jag required only very little mechanical attention. Its fuel system was thoroughly fettled, as the Brits love to say, and some belts and hoses were replaced. Since the car had been stored for a long time under a tarp in the owner's driveway, the exterior finish had suffered a bit, so a professional repaint to a high standard was in order. The chosen color, 1999 Ferrari Rosso Corsa, approximates Jaguar's Guardsman Red. Santa's red hat pales in comparison, such is the indescribable gleam of this mindbogglingly beautiful color! Additionally, the front and rear chrome bumpers and overriders were replated.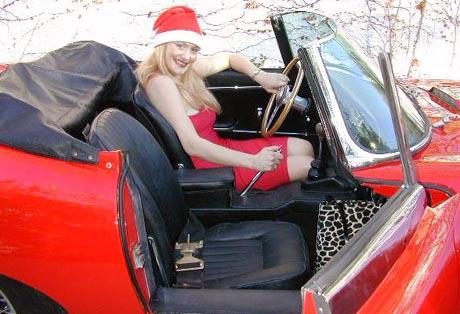 The car's original interior had remained nearly perfectly intact throughout the years. After a good cleaning, it was decided to leave it alone, for it displays a lovely and irreplaceable patina. To change anything would be a sin, and the offender would be rewarded with a big lump of coal!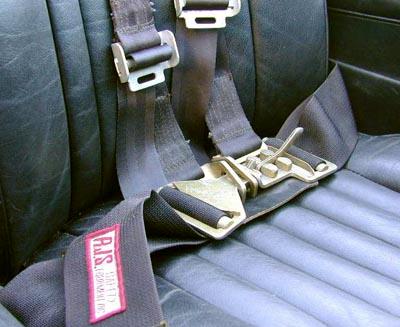 Especially the original black CONNOLLY leather seats are in outstanding condition. They were a bit dry and have been treated repeatedly with nourishing hide food to bring back the leather's original suppleness. Racing-type shoulder harnesses were installed by the original owner, apparently a caring father who wanted his offspring to be safe while learning to master the Jag's manual transmission.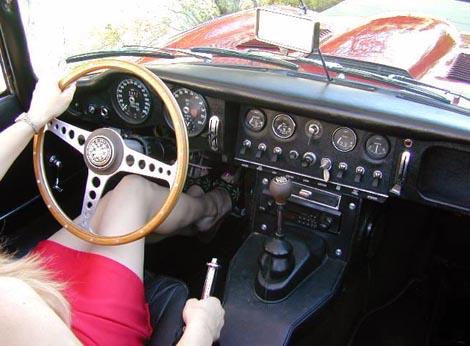 The dashboard layout with its toggle switches and array of gauges seems to be gleaned from a period fighter plane. All the lights, gauges, and switches work with British accuracy. There are no tears in the dash, and the original wool carpeting, door panels, and Hardura mats are in very nice condition.
The convertible top is still original and very faded with age. A brand new black top has been ordered and will be installed during this week. A photo will be added upon completion of the labor.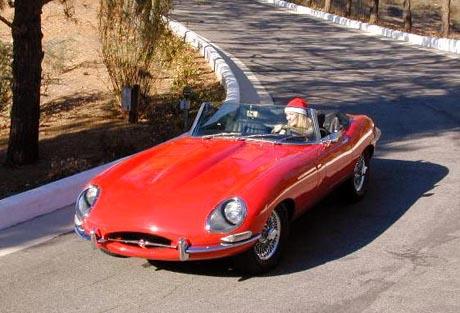 Precisely balanced and decades ahead of its time suspension-wise, the Jaguar handles sure-footed and with utmost confidence. Its precise steering and four-wheel disc brakes--Jaguar was among the first manufacturers to use this technology--make twisty backcountry roads fun to negotiate. Adjustable KONI shocks help, too.
Santa's dainty elf Daniella enjoyed a thrilling ride through the Santa Monica Mountains, where we took these photos on December 16, 2000. More than once, the speedometer needle crept past the 100 mph mark . . . what a wild little elf!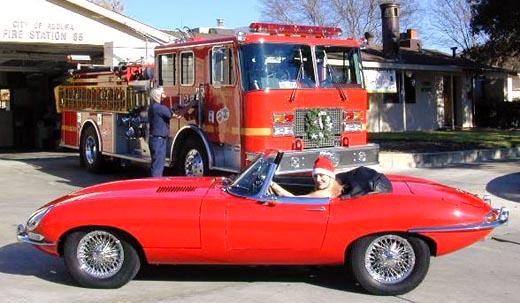 Fire engine red seems dull compared to the brilliant Rosso Corsa of the XK-E. The crew from Agoura's Fire Station 55 loved the feline! "What a hot cat!" they said.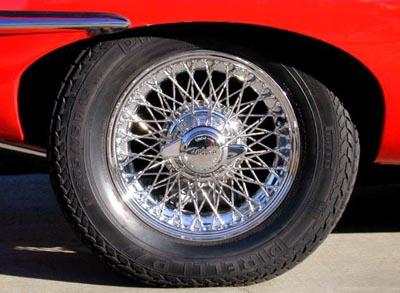 One of the hallmarks of a true English sports car: the center lock, knock-off wire wheels.
Fitted with sure-footed (and expensive) Italian PIRELLI P77 high-speed radial paws of the dimension 205/75 HR 15, the Jaguar's ride certainly benefits from modern tire technology.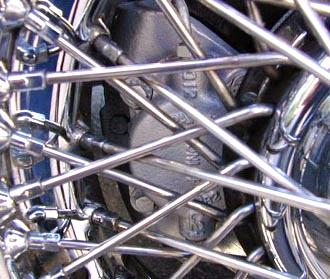 The wheel spokes have been replaced with corrosion-resistant stainless steel units. Note GIRLING disc brake calipers.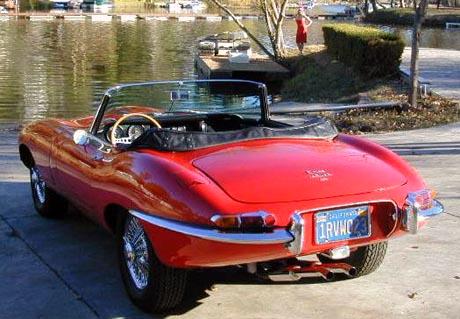 XK-E is one of a handful of cars that look terrific from any angle, hereby confirming that Sir William Lyons created a true rolling sculpture. Not surprisingly, it's an E-Type Series One Roadster that is on display at New York's Museum of Modern Art.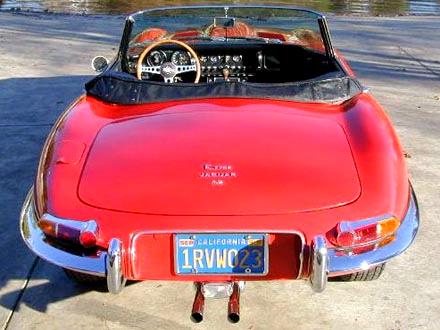 This well-kept Jaguar has withstood the test of time (and juvenile drivers) in remarkable condition. Having always resided in Southern California surely has helped to preserve its body in a rust free state. The car comes with a clear California Certificate of Title.
'E'-Type Operating, Maintenance and Service Handbook, plus a vintage JOC register, as well as various parts catalogues and a Service Manual are to be found in the clean trunk. Spare wheel is tucked below, in its own compartment next to the car's petrol tank.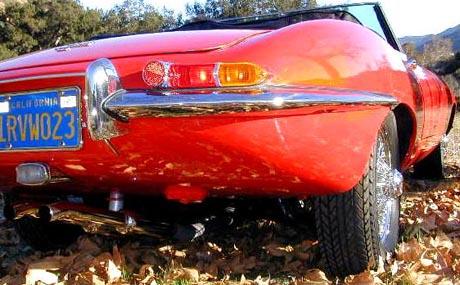 Series One Jaguar roadsters are highly valued among automobile connoisseurs, and command prices as high as $75,000,00 reflecting the XK-E's supercar status. If you are someone who enjoys driving your collector cars, you will appreciate the traits of a low-mileage California cat. This red-on-black stunner exudes sex appeal and is poised to be your favorite Christmas gift.
In the spirit of the Holidays, a NO Reserve auction will certainly turn one big kid's wish into reality. Put a red Jaguar under your tree and enjoy!
Thank you for your interest, and have a nice day!
---
Copyright © 1999-2001 by Californiaclassix.com. All Rights Reserved.
No part of this presentation may be reproduced without written permission of the author. E-mail inquiries to Webmaster@Californiaclassix.com.