The Best in the World!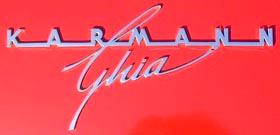 The Karmann Ghia has always been a cult car. Collectors all over the world appreciate the clean lines of its timeless design, combined with the ruggedness of its Volkswagen underpinnings. Relatively unknown, however, at least to most people, is its exiting heritage.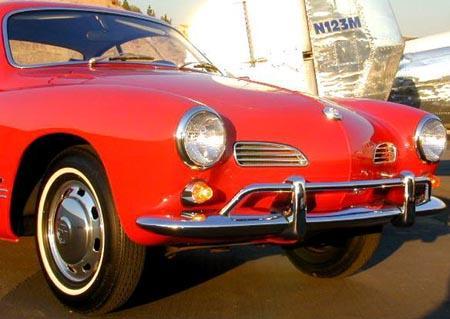 Based on Virgil Exner's ideas for a sporty Chrysler--the d'Elegance Show Car--Italian's exclusive Design Studio Ghia (like PininFarina a sub-contractor for Ferrari) was able to sell the Coupé's superb design to the German Volkswagenwerk, then emerging as an industry giant and looking for a high-profile vehicle to showcase its progress.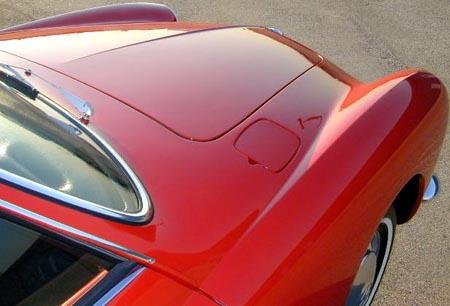 Based on the Bug's Type 1 platform and introduced in 1955, it was manufactured at the Karmann Karosseriewerke in Osnabrück, Germany. The Karmann Ghia was an instant success and was built for almost 20 years, until 1974. To this day, the Karmann Ghia with its sexy curves is met with admiration wherever you go.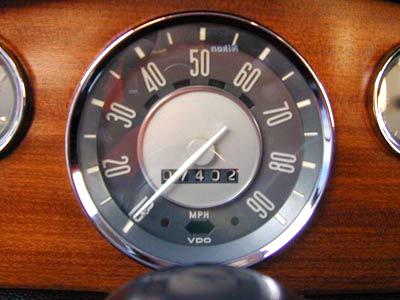 The valentine red 1968 Karmann Ghia Coupé for auction here is an incredible automobile. Regarded by many experts as the finest example worldwide, it has covered a mere 7,401 miles since new. Initially purchased by a successful dentist from Diamond Bar, Calif., it was part of the original owner's vast collection for almost 27 years.
After the dentist's demise, the Karmann was prominently displayed at the 1995 Newport Beach Classic Car Auction and presently resides in the exquisite JM Collection

in Woodland Hills.
The current owner has shown the car twice at the VW Classic Meet, the largest Volkswagen show on the West Coast. On both outings, the car not only took home the "First Place" trophy, but was also awarded the honor of "Most Original Car."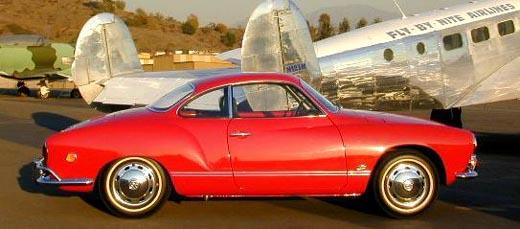 The November 2000 issue of Hot VWs Magazine includes a picture of the car. A full feature article is being prepared for publishing in an upcoming issue.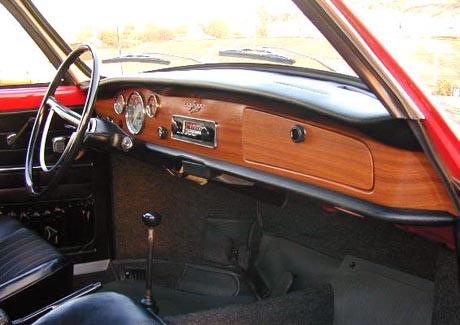 Entering this Karmann Ghia, one feels like getting into a time capsule. The English language does not have enough superlatives to convey the mindboggling state of preservation and originality in evidence here. Aside from two other examples, one at the Karmann Museum in Germany, and the other one in the Matsuda Collection in Japan, nothing compares to this car.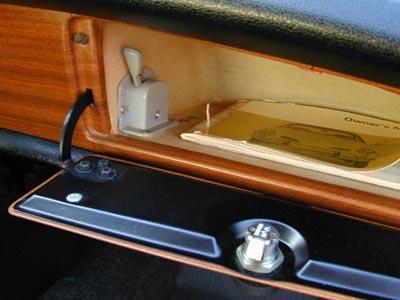 Even minute details are "as new." For example, the delicate gray plastic of the hood release--even on restored examples problematic--presents itself virginal.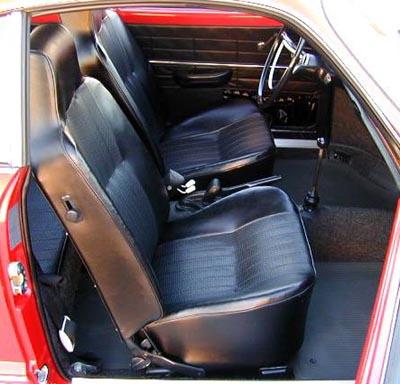 Black naugahyde interior is unrestored and immaculate. Gray rubber floor mats still smell new.
These pictures are not from the factory brochure; they were taken on November 17, 2000.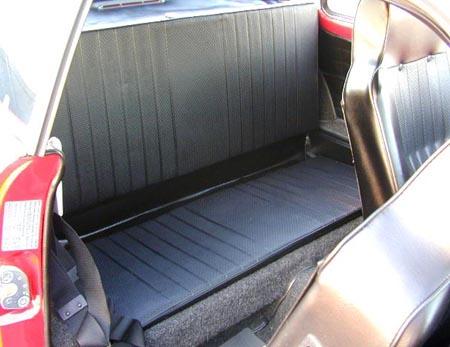 Not surprisingly, the rear seat has never been occupied.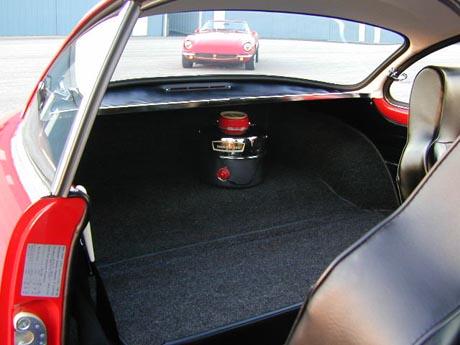 Similar to Mercedes-Benz' Kindersitz of its European SL models, the seatback can be folded down to create a sizeable, carpeted luggage area.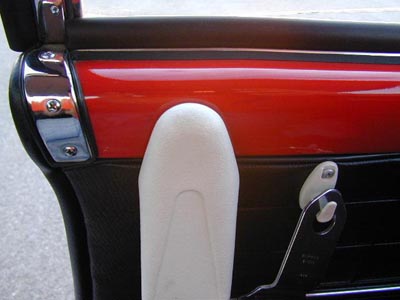 Obsolete and thus either missing or badly deteriorated is the white seatbelt anchor cover. Miraculously, it looks "as new" on this Karmann.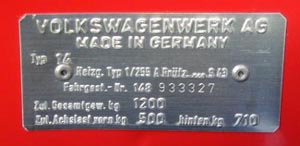 Photos above: This is all factory original; nothing has been touched.
Make no mistake: this is not your average collector car. It the best available for any amount of money and truly ought to be preserved as a reference car for future generations' enjoyment and education.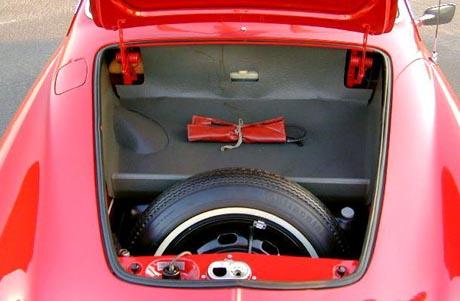 This is what a trunk looks like after 32 years of non-use: mint!
Photos above, from left to right:
Seat belt anchor and carpet detail
Spare wheel has never touched the ground
Inspection dot on factory CONTINENTAL tire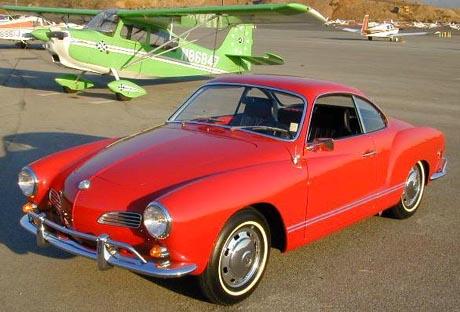 The original owner's widow states: "My husband bought cars like other people buy books. Whenever he liked a car and believed it to be a future collectible, he went out in the morning and came home with a new toy at night. And, being the consumate collector, he always chose the 'right' colors." The lipstick red exterior, combined with the black interior, emphasizes the Karmann's Italian heritage.
Note dealer inventory sticker from 1968 on lower left corner of windshield. It has never been removed!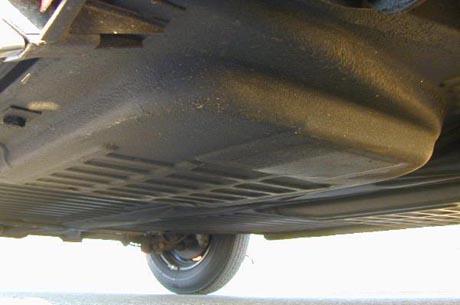 A picture tells more than a 1000 words. The pan is rust free, never had any rust or needed any rust repair and shows not an ounce of non-factory undercoating. A dream come true!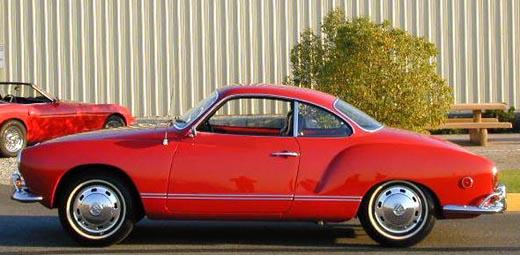 If you'd like to know: the red convertible in the back is an Italia Intermeccanica. You don't see one of these every day, either . . .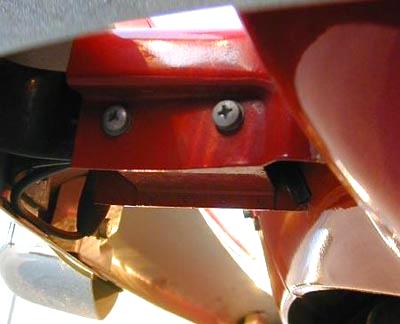 What is this?
It's a photo of the rear bumper bracket, viewed from below. Look how breathtakingly clean it is, after 32 years!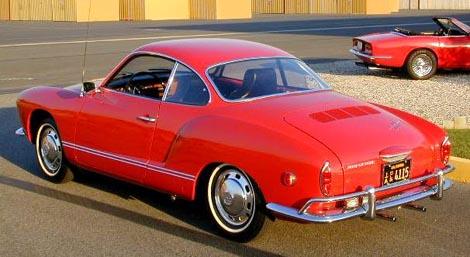 Let's imagine, for a moment, that you own a decent '68 Karmann Ghia with just a little wear and tear. Now let's assume you would want to bring that car up to the standard of this unrestored, original jewel. How much would it cost? $20,000, maybe $25,000? Keep in mind, though, even such an investment would not turn your project into an original car. You can't bring back originality at any price!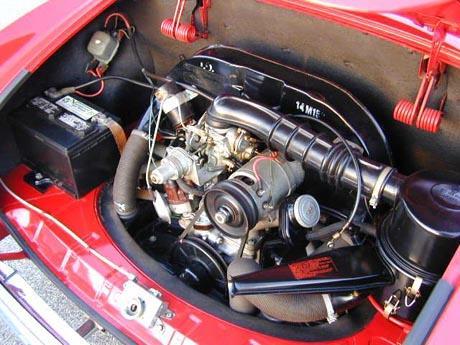 Ach Du Lieber, der Motor! This engine sounds very healthy and pulls super strong. Note the unmarked original paint in the battery area. Check out the silk-screened instructions on the air cleaner inlet. Aside from a fresh battery, this Karmann Ghia is a 100% original car, right down to the ignition wires, spark plugs, and exhaust.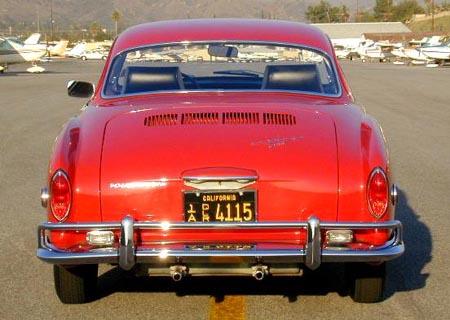 The Volkswagen Karmann Ghia is a MILESTONE CAR, certified by the Milestone Car Society. The example for auction here is the best of its kind in the United States. It is fully detailed and ready for the show circuit, including the Amelia Island and Pebble Beach concours. It will take top honors every time it is shown--I guarantee it--while it also drives like a new car! The best of all worlds . . .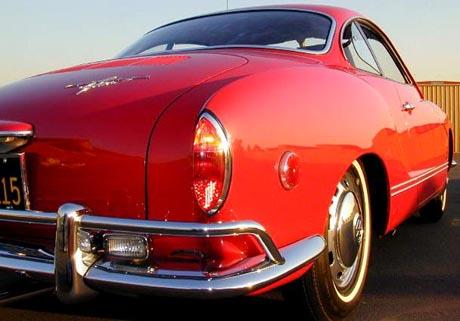 There are many nice collector cars available at any given time: some are restored, some have sat in a barn for ages, others have flashy looks and a few have a great story to tell. This amazing Karmann Ghia has it all, for it
Is the best of its kind in the Country
Is a proven show winner
Has travelled only 7,401 miles in 32 years
Is absolutely original, featuring a superbly attractive color combination
Has an interesting provenance
Is a rust free, accident free California car with utmost mechanical integrity
This Karmann Ghia is an irreplaceable, fully functional museum piece par excellence. You will never find another one like this, ever!
---
Copyright © 1999-2001 by Californiaclassix.com. All Rights Reserved.
No part of this presentation may be reproduced without written permission of the author. E-mail inquiries to Webmaster@Californiaclassix.com.