! ----------- Ticker tape message ---------> <! -------------- end of Ticker tape message ------------>

Not for Dilettantes:


The 300SL Disc Brake Roadster!

"Of all the blue-chip investment cars there are in the world, of all the four-wheeled machines built in the last 50 years, the 300SL is the top. There is no finer collector car. This is what is meant when you hear the word classic."

Rich Taylor, Modern Classics, p.349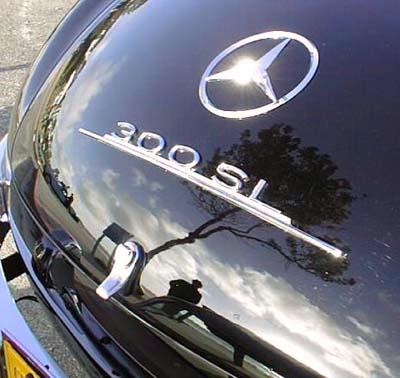 We wholeheartedly agree.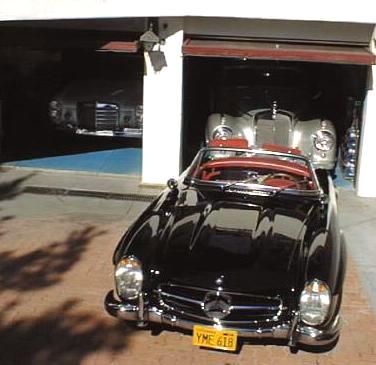 Sharing his home with a 300Sc Roadster, a 280SE 3.5 Cabriolet, a Porsche 356 Carrera Speedster and a Gullwing, the Mercedes Benz 300SL Roadster for auction here has been part of an eclectic private Southern California collection.
A total of 1858 300SL Roadsters were built between 1957 and 1963. They sold new for a--then staggeringly high-- $11,573 with the optional hard top. From late 1961 on,

DUNLOP 4-wheel disc brakes were fitted to these magnificent road cars. Virtually all surviving examples of the Disc Brake Roadster are now being guarded jealously by enthusiasts of the marque. Rarely being offered publicly, the most recent Disc Brake Roadsters sold--one at Pebble Beach in August of '99 and one in Scottsdale at Barrett-Jackson's--brought over $225,000.00 each.
Prices will never go down again. Having played second fiddle to its sibling, the vaunted Gullwing Coupé, far too long, the true connoisseurs have now begun to realize just how enjoyable driving an open-topped 300SL really is. After all, lack of adequate ventilation and luggage space have always limited the use of the 300SL Gullwing.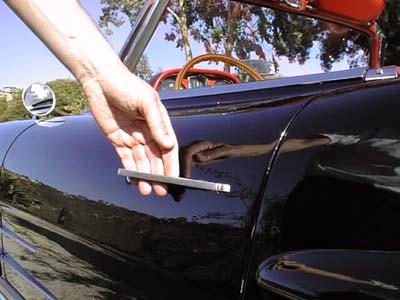 Four decades after the end of 300SL production, hardly any of these irreplaceable machines are likely to be exposed to inclement weather. Rather, you will enjoy leisurely sunny Sunday afternoon drives or participate in fabulous classic car events like the Colorado Grand or the California Mille. So why not travel comfortably while getting a tan? The 300SL Roadster truly embodies Mercedes' concept of the 'luxury sports car'.
The unusual door handles (above) pivot out when depressed with the thumb, using lever action to operate the door latch.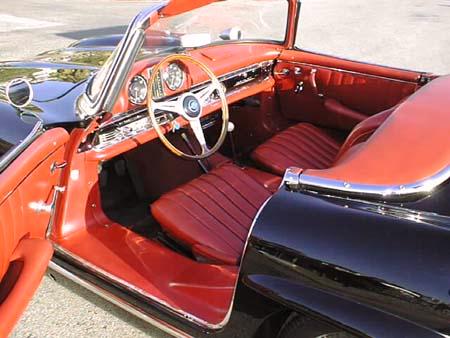 Certainly the most revolutionary aspect of the Gullwing was its welded, small-diameter tubular steel space frame. Redesigned for the Roadster, it made entering the car much easier, compared to the contortions required to thread into its predecessor.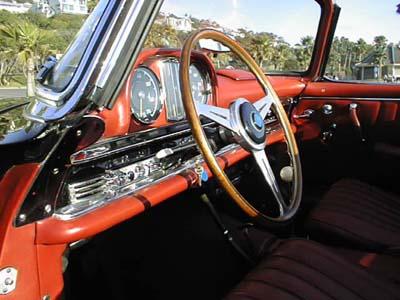 The car's interior is fit for royalty. Lovingly assembled by the hands of experienced craftsmen, only the finest materials have been used to create an unmatched ambiente. The synthesis of polished aluminum, engine-turned chrome, lipstick red leather and the wooden rim of the optional, signed

NARDI steering wheel can only be described as intoxicating.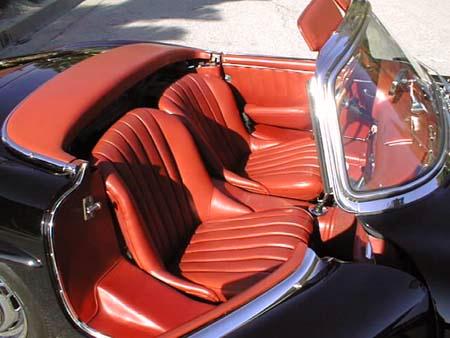 The original leather interior is irreplaceable. Purveyors of premium hides to the Benz factory for over 50 years, the house of

ROSER exclusively used the time consuming vat-dye process until the late 1960s. Instantly recognizable by its addictive aroma, vat-dyed leather has become nearly unobtainable. In this car, it presents itself in impeccable condition, wonderfully supple, crack-free, and with just the right patina to considerably heighten its appeal.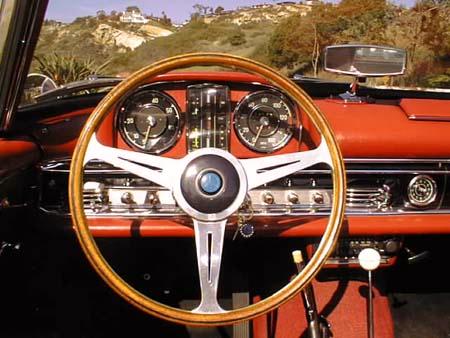 In harmonious symmetry, the central gauge cluster is equipped with four capillary-style instruments to monitor vital engine functions. Large, round 7,000rpm tachometer and 160mph speedometer are in plain view of the driver. Steering wheel, foot pedals and ivory shift knob are perfectly arranged to suit drivers of different sizes. Beauty and functionality are perfectly combined.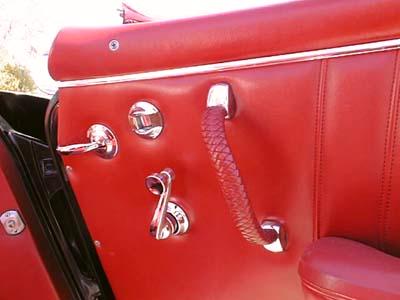 Superior craftsmanship is evident in every detail. Note the woven leather handle, the chrome escutcheons, the fine hand stitching on the leather door panel. Unassailable quality without compromise!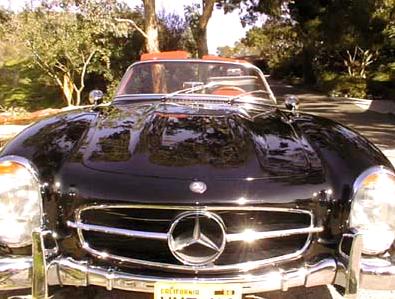 Surely the most striking color combination conceivable: mirror-like black (code W40) exterior over a red interior. Famous SL chrome radiator grille is flanked by the desirable and utterly beautiful--as well as expensive--European headlights.
It has been said, that famous actor and Mercedes aficionado Clark Gable ordered a 300SL Disc Brake Roadster in this exact color combination just a few weeks before his untimely death. Could this be the car? Certain is, that the automobile was delivered new in Los Angeles, California, in the fall of 1961.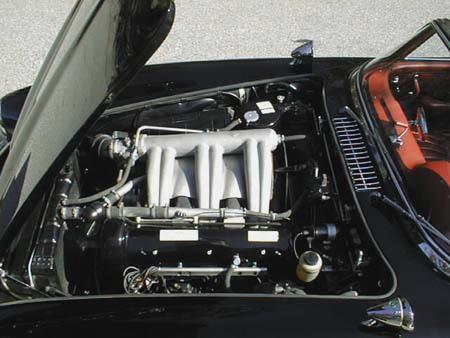 The legendary M198. An engine built specifically for the 300SL-series cars. Mounted at a 45- degree angle to permit a low hood line and fitted with the innovative

BOSCH mechanical fuel injection with ram induction, the 2996cc power plant looks as impressive as it performs. Conservatively rated at 243bhp, acceleration and top speed is more than adequate by today's standards, to use a Rolls Royce term. In its heyday, there was nothing like it, and a stock 300SL-- with a set of colder spark plugs installed--was a fierce competitor on the track.
The heart of this Disc Brake Roadster is in a prime state of tune, needs nothing and is ready for action!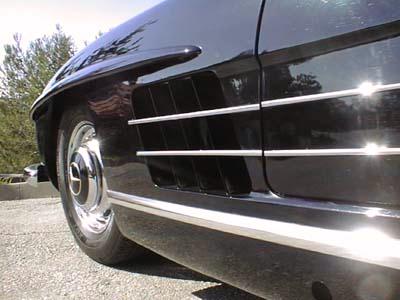 More than just a brilliant styling cue, the speed evoking, slanted side louvers serve as engine vents.
Thus, the engine can live at its

6,500rpm redline for hours without the danger of overheating. Strong, indestructible and, perhaps most importantly, reliable: qualities its contemporary competitors like Ferrari, Aston or Maserati certainly could not boast about.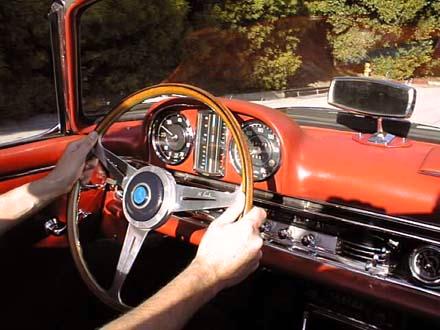 A legendary,

quarter-million dollar automobile must be exciting to drive, you would assume. And indeed, it is. The first thing to catch the eye, once seated behind the NARDI wheel, is the impossibly long hood with its twin bulges. Turn the key, and the engine instantly comes to life with a burbling idle. You realize how comfortably the racing-style seats cradle your body. Push in the clutch, flick the shift lever into first and off you go. Accelerating smoothly through the gears, you watch the revs climb steadily until, at about 60 miles per hour, the mild-mannered café racer is transformed into a veritable street rocket. The engine emits growling sounds, the suspension seems to hug the road, and the steering becomes wonderfully light and precise. Suddenly, you emphasize with Fritz Reiss, Hermann Lang and the other famous 300SL pilots of the past.
Driving this car truly is a priceless experience.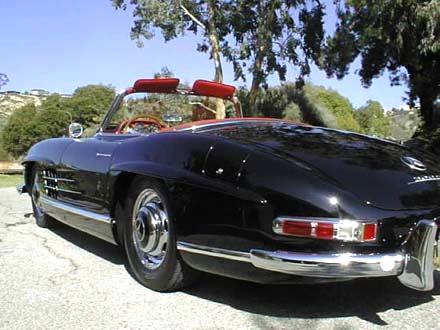 Largely responsible for confident road manners are the low-pivot rear swing axle and the fine

DUNLOP four-wheel discs, which mark the zenith of 300SL chassis development.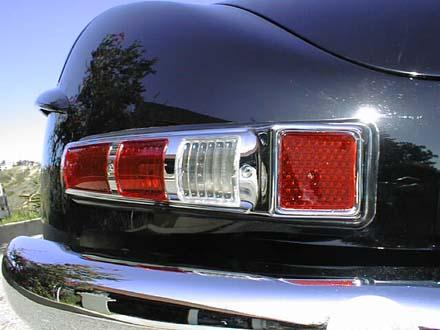 This beautiful Roadster, recently purchased from the estate of its owner for 22 years, has always received loving care and more attention than actually needed. It shines in all aspects: original leather, unmarked carpets, mirror-like paint, sparkling chrome, mechanically sorted . . . this 300SL is a dual-purpose vehicle. It is ready for show and go! Of course, there has never been any rust or rust repair on this particular California survivor. The odometer shows 19,185 miles, total mileage accrued in 39 years is 119k.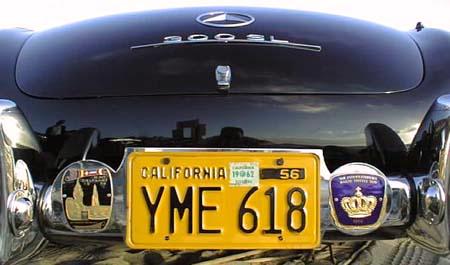 Accompanying the automobile is a set of near mint, original California yellow-and-black license plates. If the SL remains in California, they could be re-assigned to the car.
Check out the perfect gap of the deck lid. This vehicle has never been crashed or taken apart.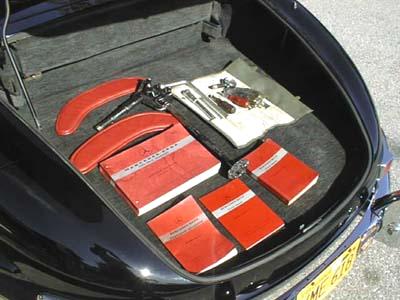 Pleasant surprises await inside the spacious trunk compartment. Here, displayed on the gray felt lining, are books and owner's manuals, even including the scarce parts catalogue. Boomerang-shaped cushions button to the exposed convertible top frame to protect occupant's heads. They are often missing and make the car all the more complete.
The original tool roll contains all factory tools in fine condition, including the tire pressure gauge.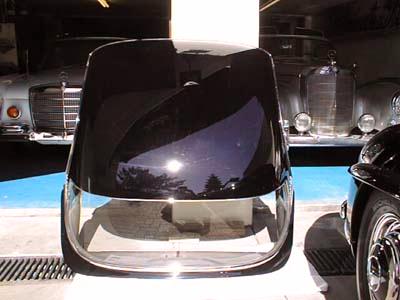 Tremendously increasing this Roadster's versatility and value is the optional factory steel hard top. Expensive and very sought after, with its extreme wrap-around rear window, it looks stunning when installed on the car.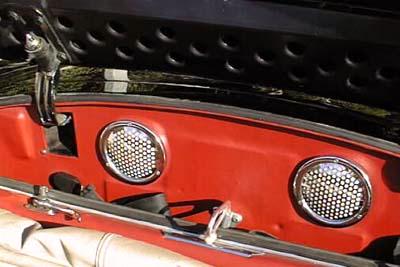 SL means 'sport light'. Swiss-cheese aluminum top boot lid illustrates the seriousness of this concept. Compartment is completely covered in fine leather. Period chrome speaker grilles are correct. Note the original aluminum top hold-down latch (center), a rare sight indeed!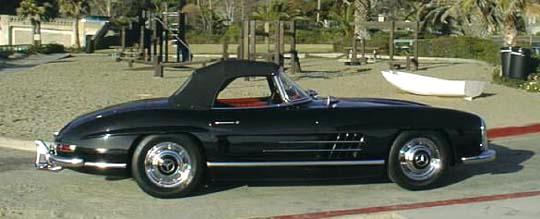 Black canvas convertible top is in immaculate condition and can be raised in less than a minute. Twin

TALBOT outside racing mirrors are factory-installed.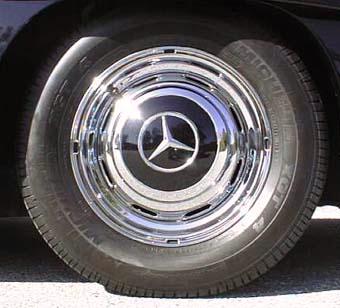 Optional 2-piece chrome road wheels feature aluminum outer rim with a steel center. The chrome is immaculate. Not meant to be a static display at concours events, car is fitted with modern

MICHELIN 205/70-15 radial tires to improve driveability and safety.
Mercedes' 300SL has often been named the greatest road car ever built. A 300SL Disc Brake Roadster, the series' final evolution, epitomizes this thoroughbred. If you had to limit your classic car collection to a single automobile, one that combines the traits of exclusivity, sex appeal, sportiness, historic importance, and luxury, the car for auction here would be it!
A California car, black over red, loaded with factory options, rust and accident-free, what more could you wish for?
Please feel to ask any questions you may have, or to make an appointment to inspect the vehicle at its location in Laguna Beach, California.

Thank you for your interest!
---
Copyright © 2000 by Californiaclassix.com. All Rights Reserved.