Just a couple of months ago, on the eve of the marque's 50th anniversary, Classic& Sports Car Magazine asked 50 motoring journalists and leading Lotus experts to choose their favorite Lotus ever. Not surprisingly, the 1962-74 Elan won, by an overwhelmingly large margin.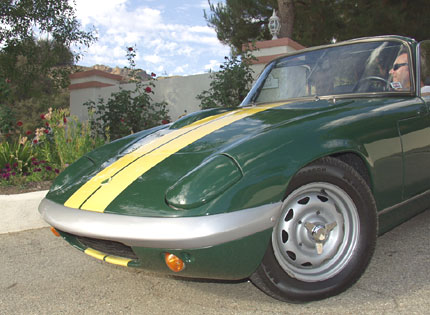 The unanimous verdict: The Elan, especially the Roadster model, is everything a sports car should be. What other car can do 0-60 in 7 seconds, top 120mph, and get 30mpg, all the while looking sexier than a dozen Honda S2000s?
Replacing the overly complicated Elite Coupe, the straightforward Elan proved to be Colin Chapman's definitive road car design. With its sheet-steel backbone chassis, clad with an elegant and aerodynamic fiberglass body that won't rust, many regard it as the definitive British sports car, still able to embarrass many modern cars. It certainly is the most fun-to-drive Roadster one could imagine!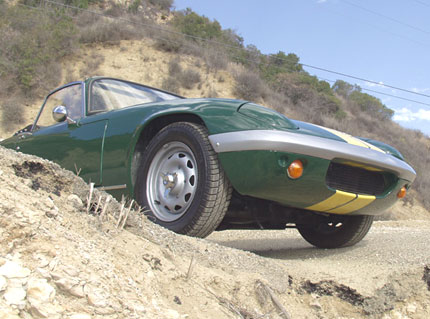 Weighing only 1,200lbs, featuring a very low center of gravity, minimal body roll due to a race-car-derived, all-independent suspension, rack-and-pinion steering, and 4-wheel disc brakes, the Elan has been a familiar sight on the race track as well. Its eminently tuneable 1558cc, Ford-derived Lotus engine features a twin cam alloy head and develops 100hp/liter with only minor tweaks.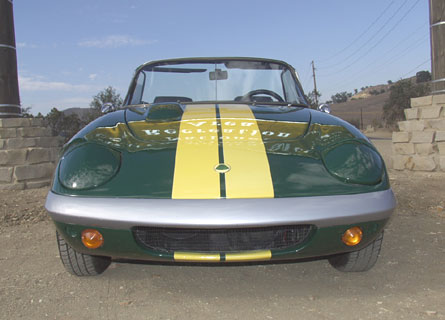 Immortal race car driver Jim Clark piloted an Elan at home, as his primary means of transportation, lending the car additional cachet. The Elan set new standards of road handling in the Sixties, so Clark's choice hardly surprises. I can picture The Flying Scot, reclining in the Elan's snug cockpit, making the most of switch-like gearshift lever and Go-Kart steering, barreling down the hedgerow-lined, twisty lanes of his native Kilmany at breakneck speeds.
The car for auction here, the fabulous S4 Roadster, VIN *459226*, was sold new in California and is a rare, matching numbers example of the breed. The engine number, G19674, is clearly visible on the side of the block.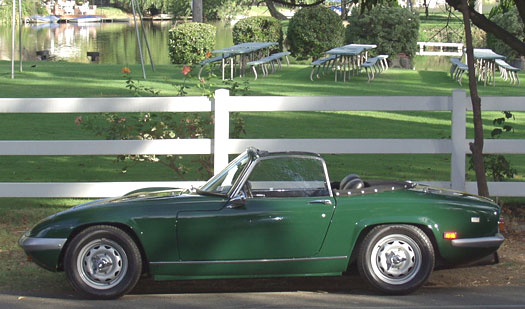 Click on the above image for a large image of the car's right side
Maintained in prime running condition at considerable expense, the car not only looks delightful--british racing green with twin yellow stripes surely is the most appropriate color for any Lotus--but it's also a blast to drive!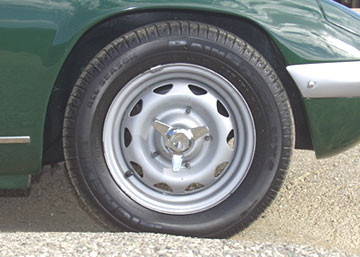 A fast car with fast wheels. You are looking at one of the optional, real knock-offs. This is not the bolt-on deal. Yes, those three-eared chrome spinners are functional. Copper hammer is included! Tires are excellent top quality MICHELIN Rainforce all around.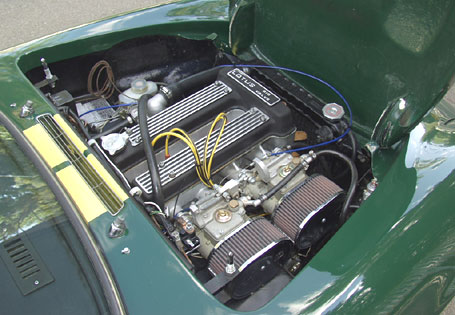 Click on the above image for another, larger image of the engine
The black krinkle-finished valve cover proclaims proudly: LOTUS BIG VALVE. This is one of the special, race-prepped DOHC alloy heads fitted with a pair of wonderful, double-throat WEBER DCOE 40 carburettors, easily pushing the factory rating of 126hp toward 150 lively horsies. Car is smog exempt in the State of California. Engine bay looks clean, with many recently replaced/refurbished components visible. There are no significant oil leaks. (Hey, it's still a British car, you know.)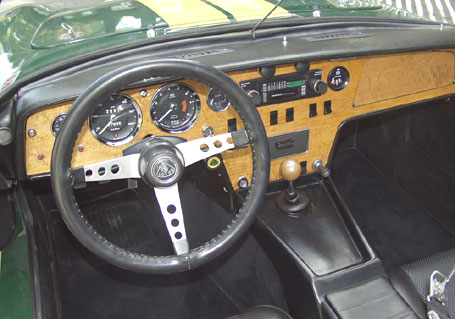 Classic Elan command center. Slightly paradoxical for a "road and track" car is Chapman's edict to use luxurious-looking wood for the dash fascia, and equip the Elan S4 with power windows (which do work). Give the customers a little something extra, that'll keep 'em happy, seems to have been the attitude of The Old Man. None of the sobering simplicity of a Lotus Formula One racer here, but a comfy--if snug--cockpit with many classy touches, such as the chrome-rimmed, white-on-black SMITHS gauges, the Colin Chapman-signed leather and aluminum steering wheel, and the wooden shift knob with the small, jewel-like, CBC-monogrammed Lotus emblem.
Everything here looks sparkling clean, without any rips, tears, or undue wear. Surprisingly, perhaps, all lights and gauges work as they should.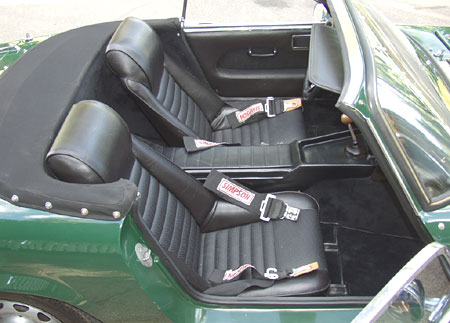 These seats are not only good-looking, they also provide excellent lateral support and enable a relaxed, semi-reclined driving position. Considering the small exterior size of the Elan (a MAZDA MX-5 is much larger), there is a surprising amount of space for pilot and flight attendant, enough, in fact, that a 6'5" tall driver will feel right at home.
Old-school SIMPSON racing belts are a nice touch.
Below the immaculate black canvas boot cover rests the top frame. Yep, the Elan is a true British Roadster, carrying its canvas convertible top in the trunk, along with the windshield wipers. It is recommended to just speed up when encountering rain; the droplets will blow clear over the cockpit. Don't try to affix the top if you can avoid it . . .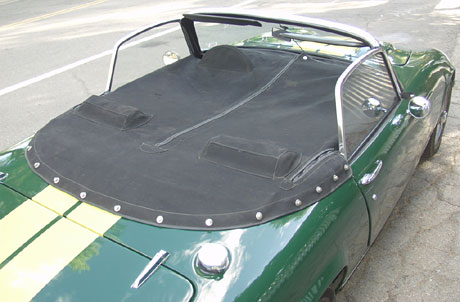 Luckily, a full tonneau cover is a most welcome part of the weather equipment. Should heavy rain surprise you while on the road, all you need is to unzip the driver's side of it and your car's interior is protected, while you're taking a refreshing shower. It doesn't get better than this; being one with nature!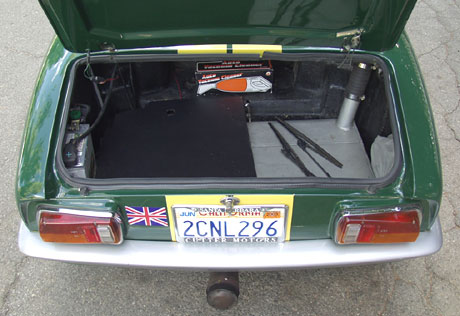 Trunk houses battery, fuel tank, and spare, leaving a very decent amount of luggage room. 12Volt car vacuum cleaner is also included, as well as a blue fabric car cover.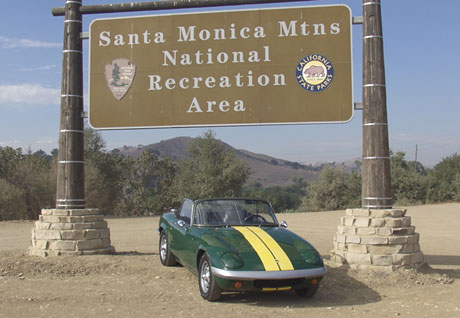 S4 exterior looks brilliant. Vacuum-operated headlights work great. There is not much chrome trim; the bumpers are silver-painted 'glass. Paint looks good unless you scrutinize it closely: there are a few chips and bubbles here and there. Thankfully, it can't be rust, since the Elan's body is made of glassfibre, as Chunky used to call it.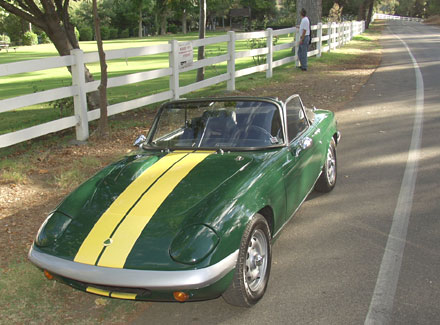 Elan S4 glistens in the California autumn sun like a precious jewel. Colin Chapman truly gave Britain a marque to rival Ferrari and Porsche. I'm itching to drive the Lotus; let's go!
Car starts instantly, idles with a deep burble. SUPERTRAPP exhaust provides quadrophenic sound effects, competing with the best of 1960s Jaguar or Maserati. It really is hard work not to drive at twice the posted speed limit. With the Elan, the term chuckable entered the public's mind.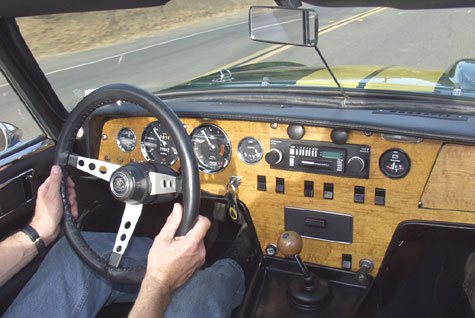 It's just a perfect fit. Steering wheel, shift lever, pedals, everything is right where you'd want it. It's a race car in luxurious street trim, delicate but delectable. With a boyish grin and thoughts of "tomorrow never comes," I enter the next corner at an exaggerated rate of speed. The Elan's chassis is so forgiving, its brakes so strong, that I escape unscathed, alive to rev it up again with a vengeance.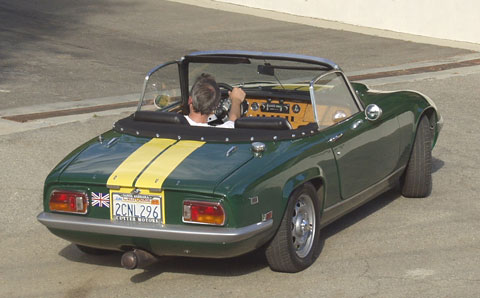 Elan runs cool, with excellent oil pressure. I return home tired; Elan could go on forever, or so it seems. If the S4 should ever be in need of anything, numerous reputable parts suppliers are there to help.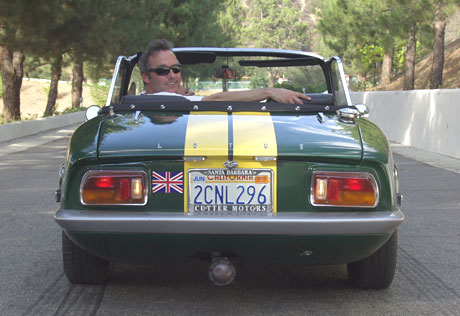 The Lotus Elan set a benchmark in the early Sixties that still stands. Its looks are much-copied; however, the Elan's race-bred pedigree simply cannot be imitated. Any competitor would have to earn his stripes on the race track first. Sadly, there are no Enzo Ferraris, Bruce McLarens, or Colin Chapmans around anymore. Once in a while, though, there is a chance to acquire a small part of their legacy. The Elan may just be the prettiest, quickest, and most affordable of them all.
"The only death is any day not committed to totally living."
(Zorba the Greek)