There's but one opportunity to make a favorable first impression. It's only natural that we try to "judge" people we have never met before based on what we see.
If they drive up in a new Cadillac Escalade or Lincoln Navigator, wear a Rolex watch, or dine at a fancy restaurant, we assume they are successful and financially secure. In many cases, that might be the truth, but every so often it isn't.
Using the impact of first impressions to their advantage, many not-so-wealthy people lease or finance luxury cars that are actually beyond their financial means. For the same reason, a huge black market for counterfeited designer watches and accessories exists. It's all about perception, all about the bling!
Based on that notion, there's a rather small group of people who are eccentric enough to indulge in reverse snobism. They enjoy giving a deceptive first impression, for various reasons. A prime example is Wal-Mart founder Sam Walton who, being a billionaire, still drove his rusty '79 Ford F-150 pickup truck to work. He was a member of The Club, as was Inspector Columbo, who drove his banged up 1959 Peugeot 403 Cabriolet all the way into television's Hall of Fame.
Being surrounded by drop-dead georgeous cars every day, Bill and I are members of that club as well. We both own personal cars that look so neglected, so run-down, so scary (for lack of a better word), that most people assume we simply can't afford to "fix 'em up." If you have never tried it, it's indeed difficult to imagine the satisfaction one can derive from being bluntly misjudged. It's an acquired taste.
It all started a few years back, when we acquired Joe Dirt's 1969 Dodge Daytona, the very movie car David Spade drove to fame on the big screen. While owning it, we drove the Daytona on and off for about a week, and people's reactions to it were a true eye-opener, having a lasting impact on us.
Boy, did we have fun!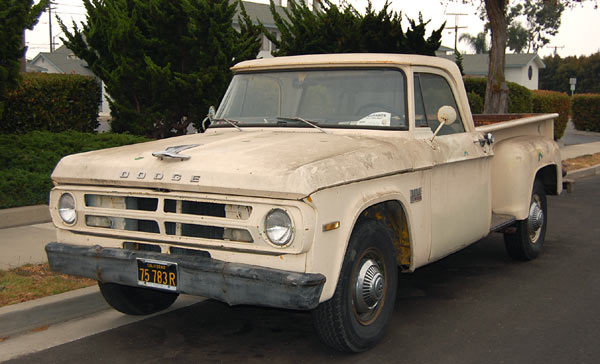 Click on the above image for an XXL-sized view (900 x 596 pixels)
Today, Bill owns not one but two such cars. One is his 1971 Dodge D200 Stepside truck that he has driven far longer than I can remember. It hasn't been washed in years, features crusted and heavily deteriorated paint, a genuine trashboard, and looks like it's worth a few hundred bucks, on a good day. Yet, if you opened the hood, you'd be flabbergasted to find a genuine MoPar 440 Magnum engine, yes, the same one that powers many $100,000.00 Muscle Cars. The truck's sole option besides the Big Block? A "Rolls Royce of Beverly Hills" license plate frame . . .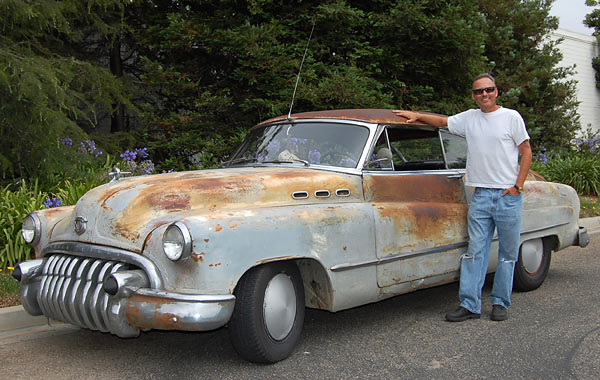 Click on the above image for an XXL-sized view (900 x 605 pixels)
One of Bill's favorite personal cars, however, is his 1950 Buick Super Riviera Hardtop Coupé. Well, under the rusty looking skin it's somethin' else, as the car cruises at triple-digit speeds like a modern luxury car, but that's a story to be told another time. What matters is that people constantly stare at the car, then at him, and ask when he's going to paint or restore it?

I like your car!
Are you making fun of me?
No, really! When are you going to finish it?
It's finished already. To me, it's like a fine wine that ages along with me. Only difference is that it will outlive me.
[Silence]
People
don't get it
, and how should they? The human brain is wired in a certain way, assuming that everybody desires the newest, best, and prettiest car they can afford, and this car creates a short in those human circuit boards.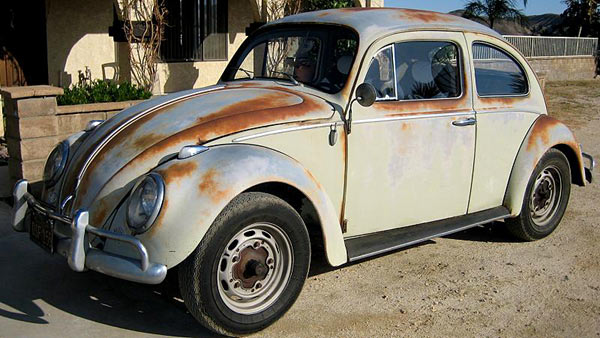 Click on the above image for an XXL-sized view (900 x 605 pixels)
Another good friend of mine, car guy Axel, who lives near Palm Springs, joined The Club last year, when he bought a beautiful 1960 Volkswagen Beetle. Still featuring remnants of factory original paint and the cherished California black license plates, the Bug, when finished, will be like new in the mechanical department, but visually it won't change a bit. Priceless!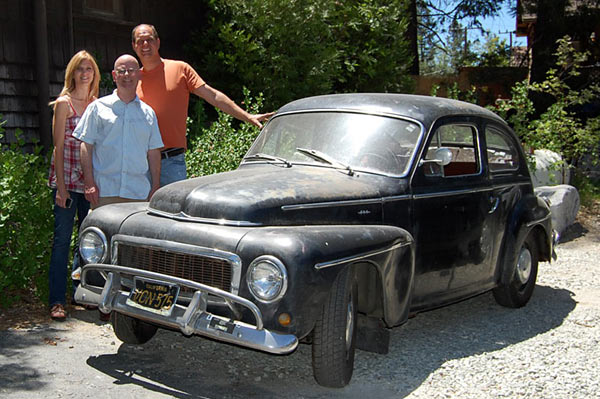 Click on the above image for an XXL-sized view (900 x pixels)
Well, I finally found a warrior myself. Actually, Bill found it, and he didn't have to twist my arm convincing me that it would be a perfect addition to my small collection of quite affordable "drivers."
The car is a 1962 Volvo PV544 Sport. Introduced in 1944 as the PV444 and built until late 1965, the car looks like a scaled down 1947 Ford sedan. Being of the same age as my wife, Tracie, it is all original, including paint and interior, and wears its numerous battle scars with pride.
I'll tell its story another time, perhaps when the Buick/Rover 3.5-Liter all-aluminum V-8 engine is installed.
If you'd like to join The Club, know that not every neglected-looking automobile will have the desired impact as a scary car. There are 5 rather specific qualifiers to consider:
Age.
The car has to be a Classic in the true meaning of the term. The youngest car that would qualify is one from the very early '70s; preferably, the car should be even older. Generally speaking, the older, the better.
Body Style.
Two doors or bust. A 2-door convertible, 2-door Coupé, 2-door sedan, or 2-door pickup will work.
Resist the temptation to buy a 4-door because of its lower price.
Coolness.
The car has to scream: restore me; I'm worth it!
A Dodge Neon, just to name one example, doesn't create such emotion.
Rust Free.
Yes, surface rust is fine, even enhances the impact, but don't think driving around in a car with huge rust holes is cool. It isn't.
Accident Free.
Again, dings or dents are fine, as they also enhance the impact, but a car with caved in body sections isn't cool. It's appalling.