Slow days at work are rarer than hens' teeth, so when opportunity knocked I used the time to take the photo shown below.
If you take a closer look, you'll notice that all of these cars share the following:
they are documented factory black (no color change here)
they are of European descent,
they are contemporaries (dating from 1955 to 1965) to one another and myself, and
they have round, sexy bodies, which make them look attractive even at age 44 to 54.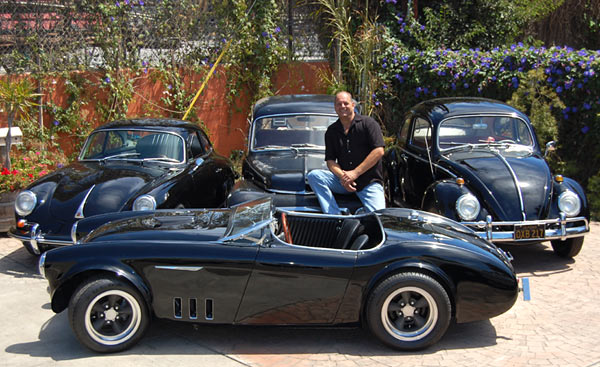 Click on the above image for an XXL-sized view (950 x 593 pixels)
Yet the fact that only the Volvo is the ugly duckling made me decide to do something I hope I won't regret: have it buffed and polished by Chris, our expert detailer. Comforting is that in case I don't like it, I can do the opposite again just as easily by rubbing it with MOTHERS metal polish which takes away the shine and creates fine surface scratches. (That, by the way, is part of the approach to age a newly painted body part that has to match an otherwise heavily patinated car.)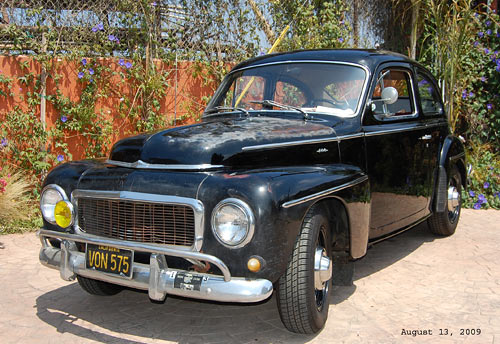 Click on the above image for an XXL-sized view (900 x 633 pixels)
Photo above shows the Humpback on August 13, 2009, now shiny, with straightened front bumper (thanks, John!) and a single MARCHAL Starlux fog light on the right, something I copied from Steve Mc Queen's Mini Cooper. Another subtile change are the 15x5.5-inch wide MoPar steel wheels, which replace the 4-inch stock ones, topped of by 1967-only Chrysler hubcaps, the smallest dog dish hubcaps that would fit.
Click on any of the above images for a full-size view
Close inspection reveals how nicely the 47 year-old, long neglected factory paint could be polished, something that would be impossible with today's inferior 2 and 3-stage paints. In fact, I doubt that many of the computerized late model automobiles will live to see the light of the mid-21st Century.
The other day I received a call from a fellow car guy, telling me about a PV544 on the local Pick-a-Part. Usually, these kind of cars never show up anymore, so off to the treasure hunt I go. The main problem with cars on junkyards is that it's difficult to get parts off without power tools, which results in unneccessary damage caused by people who really don't care about the parts they don't need.
Luckily I was able to get a straight front grille, a good rear bumper, a couple of taillight housings, and a wonderful trunk rubber mat.
Click on any of the above images for a full-size view
Rubber is among those materials that don't age well. As the rubber ages, it gets brittle, and when you're trying to lift an old trunk mat, it often just crumbles. New trunk mats are obsolete and I've seen an excellent, used one sell for $165.00 on eBay. Heck, looking at the mat after I cleaned it, I'd say that was $14.95 well spent!
The days get shorter and winter's darkness is crawling in. Time to take care of the broken Low-Beam/High Beam switch on the floor.
Click on any of the above images for a full-size view
Luckily replacements are just an e-mail away and quite affordable. The difference between the old switch and the new one is that on the old one the wires are screwed on, whereas on the new one terminal are used. Replacing the switch is as easy as 1-2-3.
Being 6'6" (194cm) tall, there are few cars I can sit in really comfortably. First and formost it's older Mercedes and Porsches, 911s as well as 356s. But the PV544 isn't bad, except that I was wishing for a bit more leg room.
Click on any of the above images for a full-size view
One night, I had a dream about moving the seat back a couple of inches!
I purchased aluminum stock that is 1.5 x 1.5 inches wide, which -- trust me on that -- is the perfect size! I cut it down to 14 inches in length, although I now know that 13 inches would have been enough. I notched it in front to clear the cross bar, and mounted it exactly the way the seat guides were mounted, using the same 3 holes on each side. I then mounted the seat guides on top of the extension pieces. When all was said and done, I painted the extensions black and now I can move the seat back farther than I actually need. The entire modification is fairly invisible and it will take an expert to even detect it. Best of all, there's no flex and there are no issues in regard to structural integrity.
One valuable advice: before you get started, make a cardboard template to establish the exact spacing of your seat rails so that your seat will still move easily backward and forward without problems.
It's the end of 2009 now, and I'm busy wrapping Christmas presents. In a few days it will be 2010. At this point in time the Volvo has already broken the $8,000 mark.