170 mph down the back straight
at Daytona!
Brandon Walsh was one of the lead characters in the TV hit show "Beverly Hills 90210." An open secret to many fans, Jason Priestley, the actor who successfully portrayed young Brandon for nine seasons, nurtured a serious passion for motorsports. Often called "a race car driver who happens to act for a living," Mr. Priestley quickly gained acceptance among his peers as a serious competitor.

After having successfully campaigned a Toyota Celica All-Trac SCCA Pro Rallye car for a couple of seasons, he stepped up to the big leagues in 1996 with a brand new 1995 Ford Mustang Cobra R, participating in the IMSA Endurance Racing Series.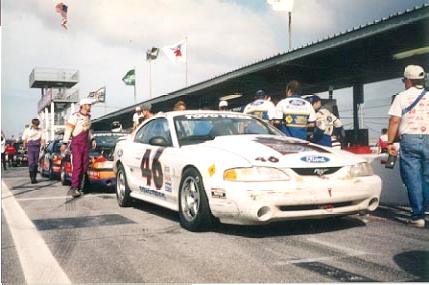 A special car, indeed, the Mustang Cobra R was Ford's most serious effort to produce a competitive factory racer since the BOSS Mustangs of the late 1960s.
For obvious reasons, Ford limited production to precisely 250 Cobra R cars. All of these cars were sold or assigned within 10 hours (!) at a MSRP of $37,599.00 to selected applicants who had gone through a rigorous screening process which, among other things, required a valid race license to assure the Cobra Rs would be used as intended: for competition only! Soon, Cobra R racers would appear on NHRA drag strips and race tracks around the world. Some of them were even licensed for the street, not surprisingly, considering their instant status as highly desirable investments on wheels. The cars were officially distributed as follows:
SCCA 94 cars
NHRA 86 cars
IMSA 32 cars
IHRA 20 cars
All others 18 cars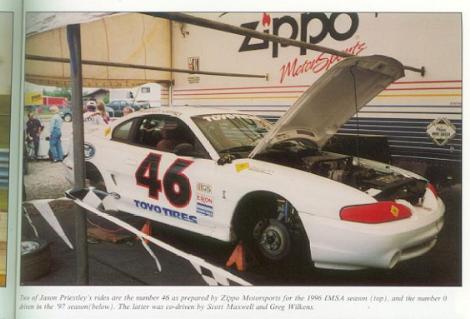 Photo above showing Priestley's car no. 46 on page 101 of the very informative book "SVT Mustang Cobra Recognition Guide 1993-2000" Used with express permission of the publisher
The aforementioned book contains--besides a wealth of general information--more on the history of Priestley's Triple Caution Racing team. It can be ordered directly on the Internet, at www.svtcobraguide.com.
Turn-key and competitive in G/S racing to this day, the Cobra R for auction here, known by its assigned number 46, has been part of Jason Priestley's personal collection for the last few years. His decision to step up one more time, this time to the GT1 class, motivates Mr. Priestley now to sell "No. 46," along with a truckload of mostly new spares. It is a complete racing operation, and the car could be out on the track immediately!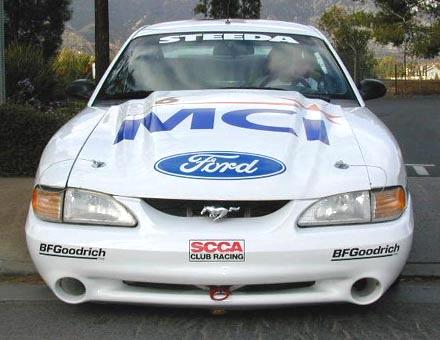 The Cobra R's factory specs are awesome, to say the least, and its stock performance made it the fastest street legal Mustang ever sold by Ford. How about 0-60 in 5.2 seconds, a quarter-mile time of 13.2 seconds @114mph, and a 60-0 braking distance of only 112 feet? This pony, with its 351 Windsor V-8 power plant, is seriously fast! A few expert tweaks to fuel management system, rear end, and exhaust, plus a set of racing slicks, and Priestley's Cobra R easily topped 170mph on the back straightaway at Daytona!
Immaculately cared for by North Hollywood, California's RW Automotive of Bonneville and El Mirage land speed racing fame, success for the Triple Caution Racing Team came swiftly and sweetly. Jason Priestley and his co-drivers Scott Maxwell and Andy Pilgrim drove the "R" to a 4th place at the Daytona 3 hrs race, and a 2nd place overall at Sebring. Sure, the team had to face calamity along the way, namely a wreck at Watkins Glen that necessitated major body replacement.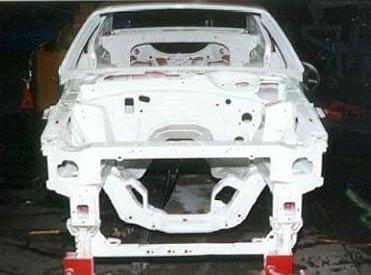 Fitted with a new factory-supplied body shell that was acid-dipped and fully race-prepped, No. 46 continues to be a highly competitive racecar, still eligible and ready to run in the 2000 Motorola Cup (former Speedvision Cup).
Cubic Dollars have been invested in this vehicle to optimize it in all respects, money being of no concern. In fact, the Cobra R for auction here, spares included, represents an initial monetary investment of well over $100,000.00!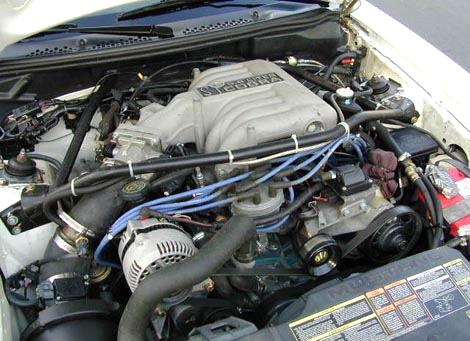 The heart of the beast, the contemporary version of the 351 Windsor V-8 with GT 40 cylinder heads, producing a healthy 430 horsepower, officially.
Check out the 5.8 liter COBRA intake casting; with only about 300 units made, the term 'hard to find' does apply! Also visible are the Cobra R-only radiator de-gas tank and the strut tower-to-firewall brace.

Aside from the track images, all photos were taken on October 28, 2000, and show "No. 46" as it presents itself today.
The car is fitted with the ultra-light (and prohibitively expensive) TecnoMagnesia magnesium wheels. Identical spare wheels accompany the car. Note the COBRA script on the vented disc brake calipers.
Tires currently fitted are BF Goodrich Comp T/A R1s, however, a number of spare tires of various compounds is included.
Interior is all business, with full cage, racing instrumentation, battery cut-off switch, fire extinguishing system, an expensive MOMO steering wheel, and kevlar racing seat. Original parts, such as the stock computer, the stock steering wheel and both air bags are still with the car and are included with the purchase.
Note little plug-in station for laptop computer above the B-pillar! It is used to gather data and/or reprogram the engine computer during a pit stop!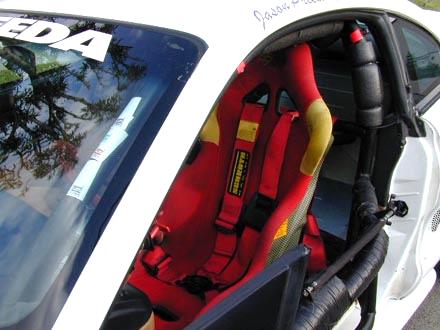 Another view of the MOMO seat and the SCHROTH 5-point harness. Instead of a back seat, there is aluminum paneling.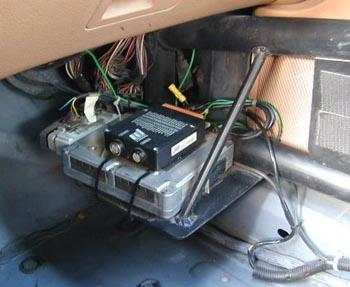 Expensive Jack Roush designed computer equipment, safely positioned away from engine heat but easily accessible, is mounted to safety cage inside the passenger compartment. Note, that the passenger seat, due to regulations, is still mounted. In fact, we took this racer to the streets for our photo session.
Yep, sometimes it's worth taking a risk in life . . . and boy, did we have fun!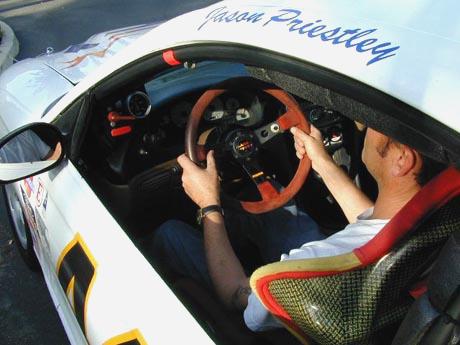 "So how does a race-prepped Mustang Cobra R drive?" you might be tempted to ask.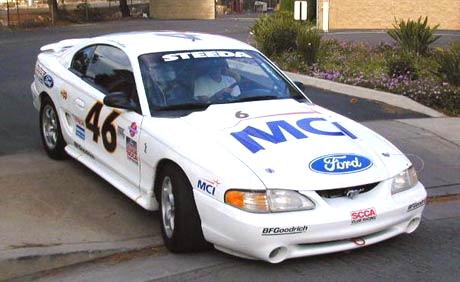 Well . . . it drives like a fast car, a very fast car that is. Keep in mind that both HiFlow catalytic converters are still mounted (the car comes with several other exhaust systems!), so in its current configuration is not noisier than a mild Street Machine, really.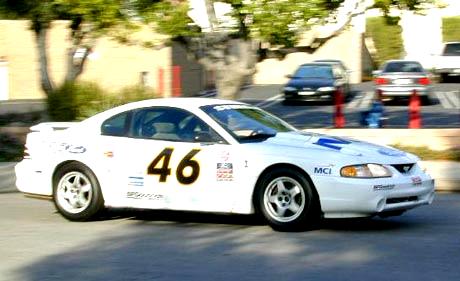 The ride is firm, the response and acceleration are confidence inspiring. The steering is power supported but direct, so the "R" corners like a go-cart. The car comes with a set of Multimatic quick adjust shock absorbers. These shocks, folks, cost a healthy $2,000.00 apiece, that's $8,000.00 for the set!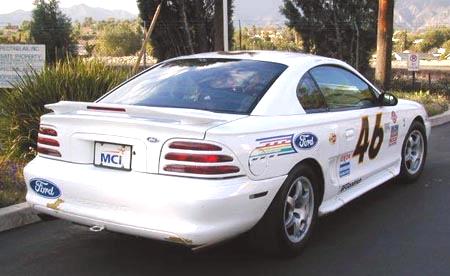 This well sorted, highly desirable race car would be a perfect candidate for Grand Sport (G/S) stock endurance racing, either in the Pro Racing or in the Club Racing class, since it successfully ran against Firebirds, Toyota Supra Twin Turbos, BMW M5s and the like. It not only has a proven provenance, but a documented track record.
Of course, you are free to do with the car as you like; please, understand that Californiaclassix only lists the car as the agent for the owner, Mr. Priestley, and it is sold as a race car on a Bill of Sale only. If you intend to register and license it for the street, you will have to do the DMV paperwork yourself.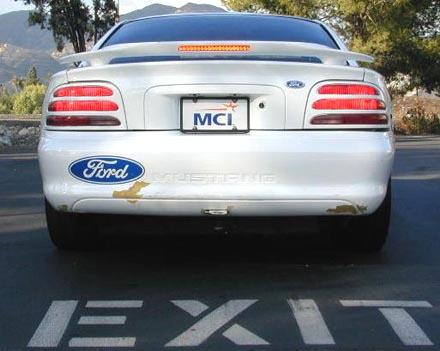 Nonetheless, all the lights and systems (including the power mirrors!) work perfectly, and since a truckload of parts comes with the car, your options are varied.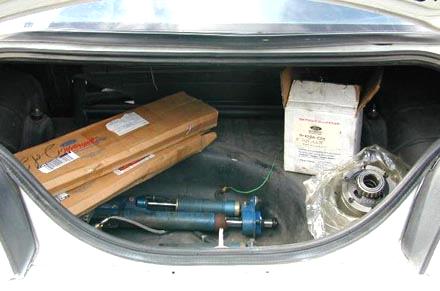 A peek into the trunk shows two (!) Ford Motorsport aluminum engine oil coolers, brand new and still in factory boxes. They go with the car as well as the brand new Detroit Locker differential and the Multimatic shocks. The value of the parts inside the trunk alone exceeds that of a nice used automobile!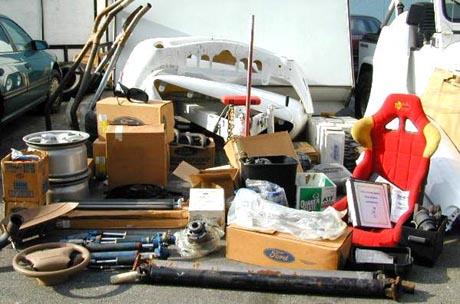 Parts? You want parts?
Truth is, the whole trailer is full of parts, some of them for another one of Jason's race cars, so we really weren't in the mood to take it all out for this picture. Be assured, however, that roughly $20,000.00 of spares are included with the car, and that's a rather conservative estimate.
Among other things, there are wheels, tires, headers, complete exhaust systems, an intake, diffs, driveshaft, shocks, a seat, airbags, steering wheel, and 5 or 6 sets of brand new springs for every application, still in the box!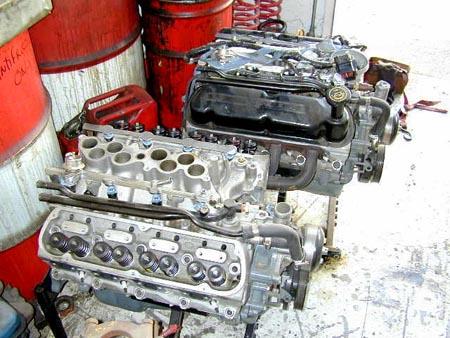 Just when you're thinking it can't get any better, the unexpected happens: With the car come two (2) spare engines of unknown condition. Even as rebuildable cores, they would be worth quite a bit!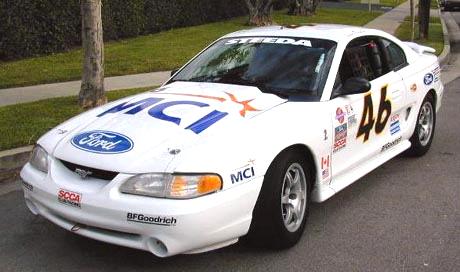 Considering the sheer value and irrefutable provenance of this package, you will be hard pressed to find a better deal anywhere. If you have dreamt of going racing, this package may be a brilliant opportunity to get in on the action. If you are a collector of Ford's finest muscle cars, the Priestley SVT Mustang Cobra-R certainly must be one of the most recognizable and collectible Cobras in the history of the make.
As mentioned before, the car (including parts) is sold by Mr. Priestley himself on a Bill of Sale as a race car. Additionally, we will supply the winning high bidder with a Triple Caution Racing T-shirt, dedicated by Mr. Priestley to him (or her), as well as an autographed photo. Should you have any other requests, be assured that we will work with you in approaching Mr. Priestley. However, please understand that the above is as far we can go in actually guaranteeing anything.
Thank you for your interest!
---