35,219 Actual Miles!
History. Ahhh . . . our favorite subject!
The 1960 JAGUAR MK IX featured here spent the first quarter-century of its life as a pampered estate car, only to be driven on festive occasions, logging

less than 29,000 miles over the years . . . Subsequently sold to a Jaguar enthusiast and JCNA member, the car was prepared for the show circuit and competed in over 35 Concourse events. It has placed or won its class consistently. Some of the highlights of its show career are:
1992 Winner - Eyes on the Classics
1992 Winner - Willistead Classic Concourse
1993 Winner - Meadowbrook Concourse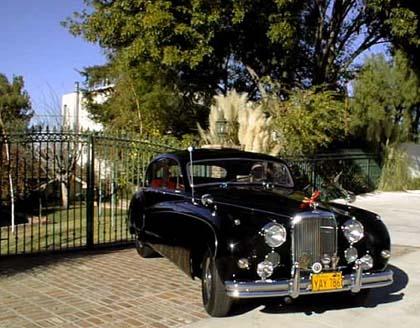 The highest

JCNA score achieved during this time was 98.57 points .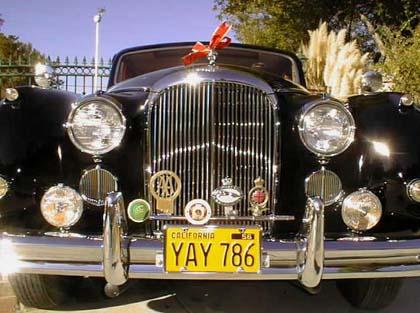 In

1994 , Barrett-Jackson, organizer of the world's top classic car auction, held annually in Scottsdale, Arizona, valued this Jaguar at $50,000-$60,000 and sold it for a world record setting amount at that year's event.

Craig Jackson stated: "There may not be a finer Jaguar MK IX in existence".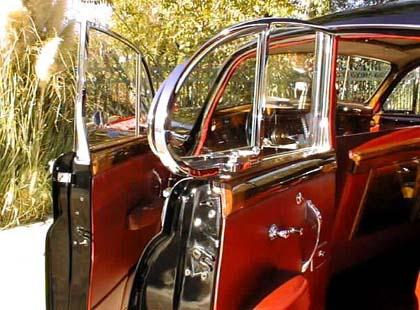 The new owner, a collector from San Marino, California, incorporated the vehicle into his collection and drove the Jaguar very sparingly, covering less than 800 miles in five years.

Total actual mileage, supported by the car's Certificate of Title, is a mere 35,219!
This Jaguar might be the lowest mileage Mark IX in the world.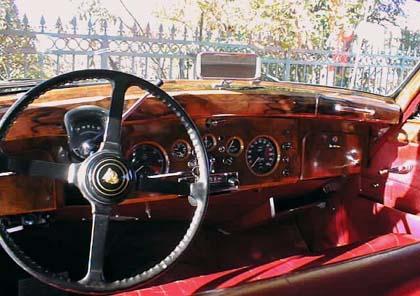 Created by Sir William Lyons right after WW II to compete with the offerings of the numerous other British luxury car manufacturers, the big Jaguars became so successful that they eventually even usurped much of vaunted Rolls Royce's terrain. The decline of chauffeur-driven cars and the proliferation of owner-drivers even in the luxury car bracket worked in favor of Jaguar, which was able to outshine the competition with its Walter Hassan designed, high-revving dual overhead cam engine, the most powerful to date.
Innovative technology, derived from Jaguar's Le Mans-winning race cars, found its way into the factory's production vehicles and the

big cats were among the first to feature 4-wheel disc brakes.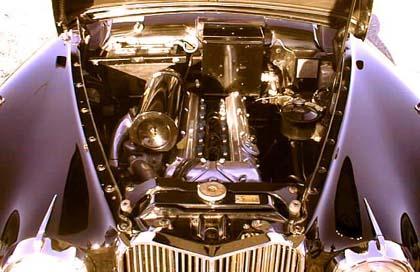 Grace, Space, and Pace was Sir William's slogan for these advanced saloons.
However, the traditional attributes of a fine British luxury automobile were not to be neglected on the Jaguar Mark IX. Few cars of the period display more generous amounts of fine inlaid burl walnut, delivering a testimony to traditional English cabinetry.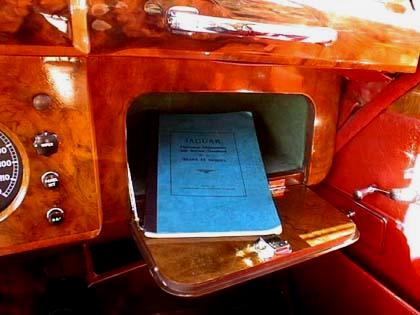 Please note the original operating handbook in the glove compartment, the latter one lined with a fine green felt usually found on good snooker tables.

One of the many impressive aspects of the car is the combination of the finest materials used in the interior. Aside from the generous amounts of burl wood, there are vat-dyed

CONNOLLY hides, lots of chrome-plated fittings, a wool headliner that is simply stunning, and WILTON carpeting.
Amazingly, the lipstick red upholstery is still original, of a wonderful patina, and with virtually irreplaceable sculpturing.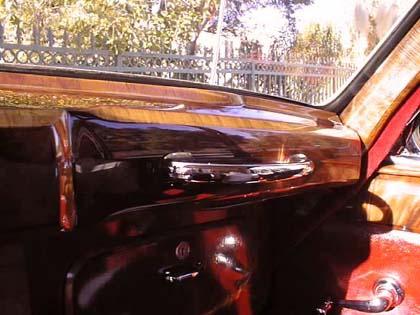 The condition of the wood bears mute testimony to the sheltered life this car has led. Always stored in a climate-controlled environment, there is none of the discoloration, cracking or splitting so commonly found.
The rear passenger compartment features sumptuous

MOUTON overlays.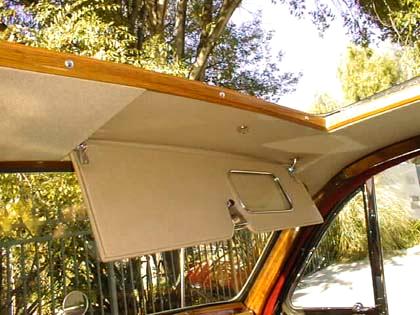 The large, factory fitted sunshine roof provides driver and passengers of the Jaguar with a convertible-like traveling environment. The fold-down sun visors are exquisitely finished.
Recessed compartments in the front doors contain tool boxes, fitted with the hard-to-find, apparently unused tools and even a grease gun.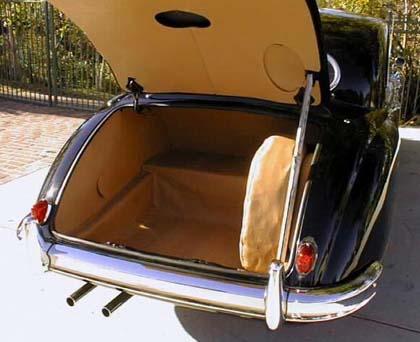 The trunk area is spotless and finished in the original materials. The jack and spare are immaculate, just like you would expect from a concourse car.
Above:
A must on every classic British motorcar--the badge bar.
Trophies and show pictures accompany the Jaguar.
Almost a miracle: the perfect shift indicator escutcheon.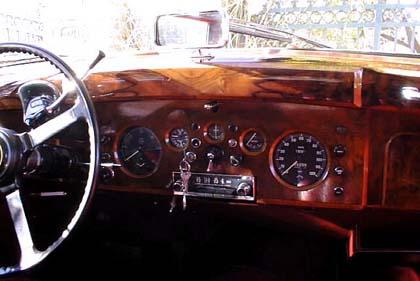 The impressive array of finely detailed

SMITH instruments is in full working order. The front and rear clocks and O.E.M. RADIOMOBILE seem to have a mind of their own though, and function only intermittently.
Possibly a remainder of Jaguar-built WW II aircraft, the 4 black-light bulbs illuminate the dash with an eerie glow at night.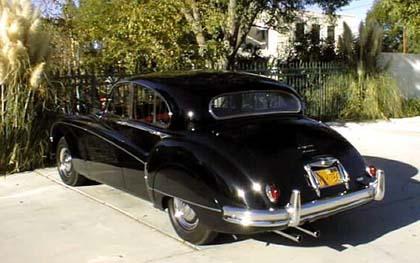 Space restrictions do not permit me to show every luxurious detail of this amazing automobile.
The following list names but a few:
3.8 litre, 6-cylinder DOHC engine with
220 bhp (numbers match, of course)
BORG-WARNER
3-speed automatic transmission
DUNLOP
4-wheel disc brakes
Power-assisted steering
The original
DUNLOP Road Speed RS5 6.70xH-16 tyres
Twin picnic tables for rear seat passengers
Locking center cabinet in rear
Dual glove boxes, ash trays and cigar lighters
Dual gas tanks
Telescoping steering wheel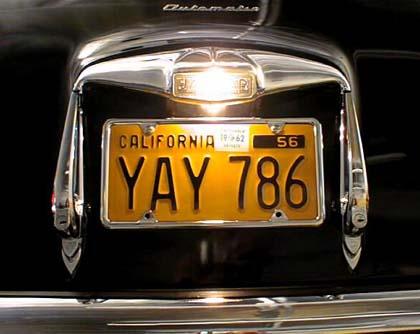 A set of pristine California YOM plates is included. The Jaguar is currently registered in the State of California until

December of 2000.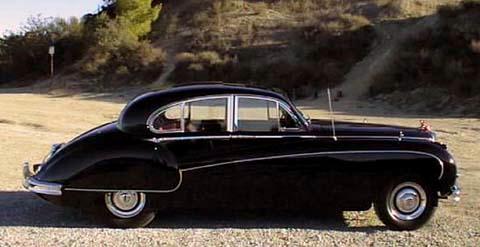 Measuring

16' 4½'' in length and 6' 2'' in with, with a weight of around 4,000 pounds, this truly is an impressive motorcar, indeed. This rust and accident-free automobile drives much like a Rolls Royce of the period, but its handling is far superior. The engine purrs!
Although these pictures, taken on December 12th, 1999, may not show it adequately, I guarantee the following: The coachwork is as straight as an arrow, with absolutely no signs of any dents, dings or scratches. On a large car, especially a black one, with Art Deco inspired body panels, this is quite an achievement.
Whether you are in the market to purchase a post-war Rolls Royce Silver Cloud, Bentley S-Type or maybe even a Mercedes Benz 300 'Adenauer', you may seriously consider acquiring the Milestone Car for auction here. It represents a tremendous opportunity to become the proud owner of one of the finest Jaguars in existence.
Having the best possible color combination conceivable, it literally stops traffic, even in car-crazy Los Angeles. Why not motor to the Country Club in Jaguar's finest saloon?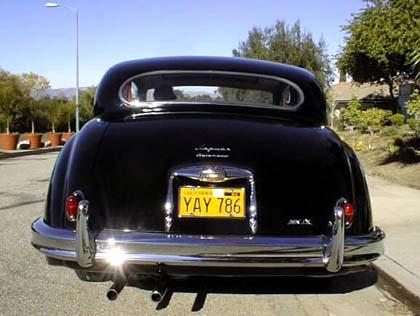 ---
Copyright © 1999 by Californiaclassix.com. All Rights Reserved.