The Godfather's Car!


In 1927, Alfieri Maserati of Bologna and his brothers founded what was to become one of the most famous Italian sports car factories of all time. Innumerable racing wins forever etched the name of the marque into the consciousness of car enthusiasts around the globe. Maserati caused a sensation in 1963 when they introduced their first 4-door luxury sedan to the public. The Quattroporte cost more than a Rolls Royce and offered considerably higher levels of handling and performance, with advanced features like a De Dion rear end and a high-revving 4.2-liter V-8 engine.
With the Quattroporte, Maserati had opened a new market segment: that of the high performance luxury sedan. Others, like the ISO Fidia, the Monteverdi 375 L, and the Aston Martin Lagonda should follow, but the Quattroporte outlasted them all. It still is one of the best-kept secrets in motoring.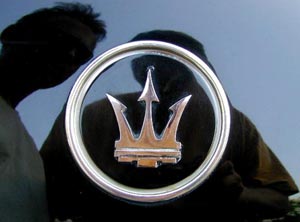 Proudly displaying the Neptune's trident--the city of Bologna's coat of arms--the Quattroporte III was first shown in 1978. The car's timeless lines were penned by none other than famous designer Giorgio Giugiaro. About 2,000 examples were handcrafted until 1990, when a Royale version with pewter goblets in the rear armrests marked the end of a legend. The car's exclusivity was mirrored by its very high price, and most Quattroportes were sold to wealthy magnates in the Middle East and the USA. In Italy, only the President and the eminence grise of the Cosa Nostra could afford one. Up to this day, the 4-porte might be the ultimate exotic sedan.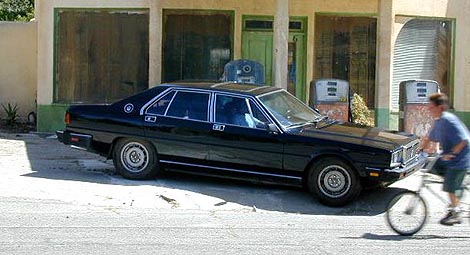 The particular car for auction here was owned by Signore Bruno, a retired Italian-American businessman now living the good life in California's wine country.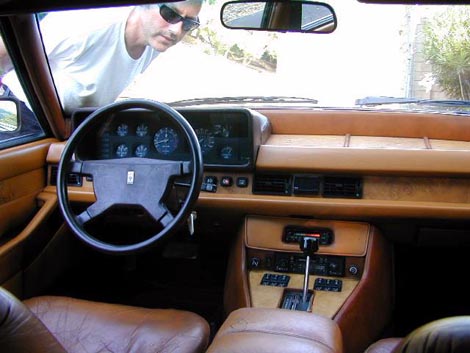 Not unlike a custom-tailored ARMANI suit, the car's restrained appearance barely hints at the superior old-world craftsmanship to be found inside. Every surface is covered with supple Italian ROSER leather or bird's eye maple wood. Not a square inch of vinyl has been used in the Maserati's interior. Even the sun visors and the steering column are leather covered. The insides of center console and glove box are actually lined with suede! Only in a Bentley may you find an equal amount of these fine materials.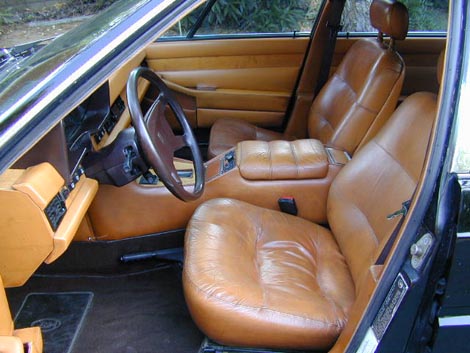 Not only is this interior very exciting to look at, but it is also extremely comfortable, perfect for long-distance touring. We drove the car back to Santa Barbara and were simply thrilled with the sheer level of luxury surrounding us.
Even with the front seats moved all the way back to accommodate a 6'6" driver, there is still ample legroom in the back. Rear passengers have their own console-mounted a/c controls.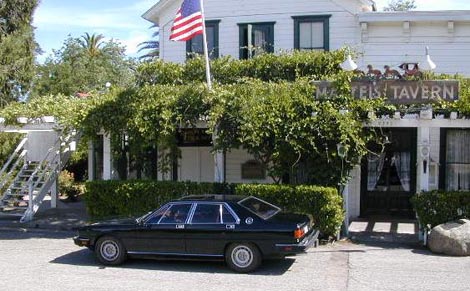 Following the old stagecoach route, we stopped for lunch at Mattei's Tavern in Los Olivos, Calif., one of the route's original rest stops. In business since 1886, it still serves excellent food in a historical environment.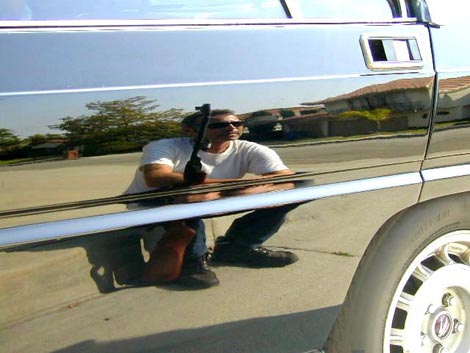 The bodyguard had to wait outside, protecting the Maserati.
How shiny is the paint, you were asking?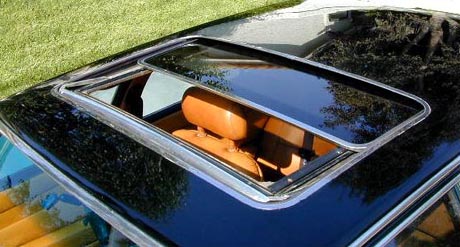 Despite the car's cold air conditioning, we enjoyed driving with an open top. This car is one of the few Quattroportes to feature a sliding power moon roof.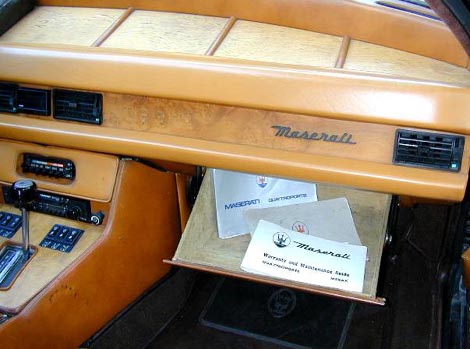 Original books and manuals are included. Car was delivered new in 1982 to an entrepreneur living in Indian Wells, a posh enclave near Palm Springs, California. The car was always garaged and, apart from some cracking in the wood panels atop the dash, does not show the sun damage so common in California cars.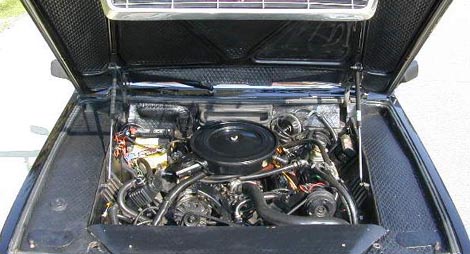 The Achilles heel of the Maserati was--outside of Italy--its complex and demanding 4.9-liter four cam V-8 engine. The lack of qualified technicians and parts suppliers this side of the Atlantic has prevented many prospective buyers from acquiring one of these magnificent motorcars.
Luckily, there is a solution. This particular car has been professionally converted to a late-model GM drive train. Even if you live in Podunk Holler, Nebraska, owning this exotic Maserati should not cause any undue problems. The car can be serviced at any garage, and reasonably priced mechanical parts are available at the nearest NAPA dealer.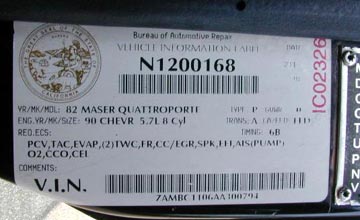 The fuel-injected, 1990 Chevrolet 350 cubic inch V-8 engine is backed by a late-model GM TH700-R4 automatic transmission with lock-up torque converter. Thanks to a Chevrolet big block radiator with twin thermostatically controlled fans, the car runs cool, even on hot summer days and outside temperatures in the triple digits.
The motor is fully B.A.R. certified and smog legal, even in California, with its stringent state emission laws. Photo above shows the all-important label.
The conversion has been done so well, most folks will not suspect that an American heart lurks beneath the skin of this Italian beauty. This Maserati features the best of both worlds!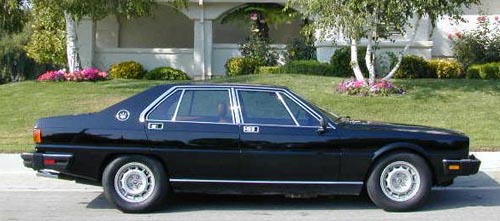 Black exterior is stunning. Professionally repainted once, the car is rust and accident-free. The body panels are extremely straight, and--apart from a few very minor imperfections--there is nothing to take away from the car's beauty. Make no mistake; this is a massive car. Overall length is 196 inches, and it is 70 inches wide. It weighs over 4200 lbs!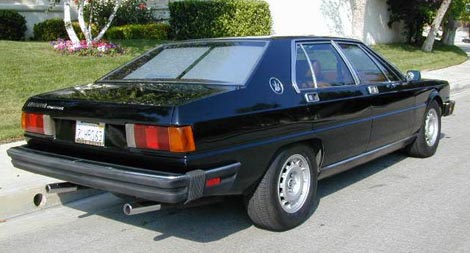 Driving the Q-ship, you feel safe and sound. The car starts with ease, shifts, handles, and brakes solidly. Cruising at 65 mph, the engine turning a mere 2,200 rpm, the Maserati achieves an excellent gas mileage of around 18-20 miles per gallon. Push down on the throttle, and this heavy car takes off like a Corvette. Other motorists, spotting the grille-mounted tridente in their rear view mirrors, clear the passing lane in a hurry, as if they had seen a ghost or a Highway Patrol car.
Maserati's stock dual exhaust looks potent and sounds just right.
Built-in rear shades and slightly tinted windows enhance your privacy and help keep the interior cool.
You enjoy VIP status wherever you go.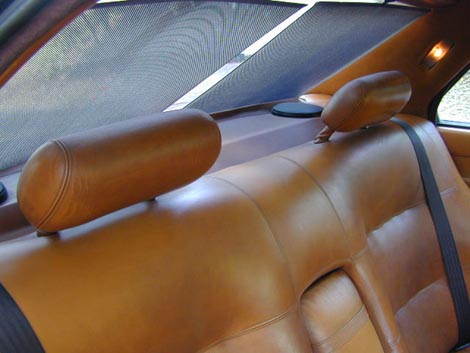 Enveloped by the unique, patinated Italian leather, dyed in the traditional Maserati caramel color, driver and passengers will enjoy the concert sounds of the custom BLAUPUNKT/ALPINE StereoCassette sound system.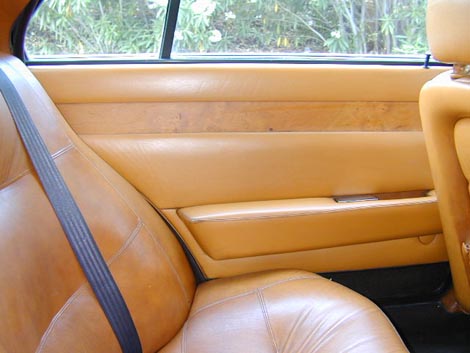 This is Italian interior design at its best! Homes of the Rich and Famous . . .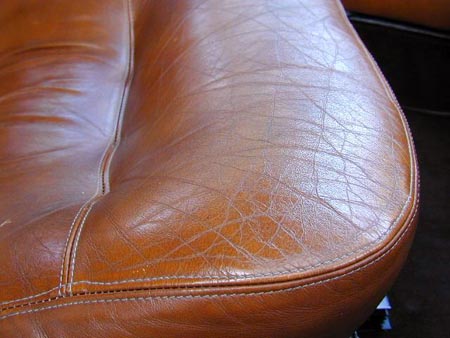 The leather has withstood the test of time very well. Being 18 years old, it is still very supple and has aged gracefully, like a good Chianti, with just a few imperfections, such as two tiny holes in the driver's seat, too insignificant to touch. However, if you are a perfectionist and decide to take care of this down the line, Signore Bruno has included an extra hide. (Shown below)
Black and caramel--the finest color combination for a luxury car of this caliber!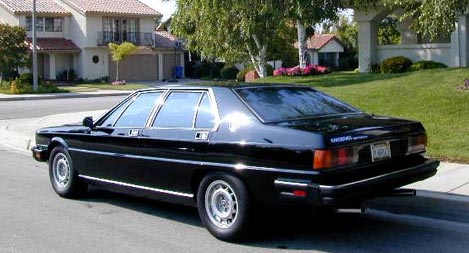 Park this timeless automobile in your driveway and your neighbors will be stunned. Where else can you find the looks of an Italian supercar, the luxury of a Rolls Royce, and the reliability of a Chevrolet all rolled into one? How much did you pay for this car?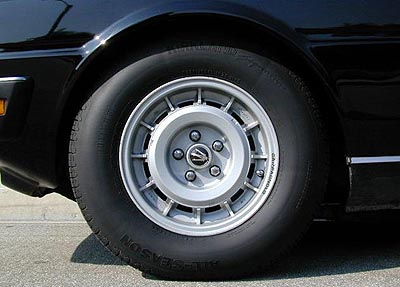 Another Maserati highlight: the ultra strong, but extra light CAMPAGNOLO Superleggera Electron-magnesium wheels, fitted with new 235/70/15 tires all around.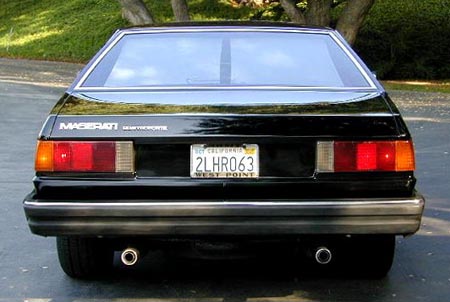 Naturally, the Quattroporte is fully appointed with every conceivable power option: Apart from the already mentioned items, such as air conditioning, there are power seats, mirror, windows, and door locks. Remote trunk and gas filler door release, tilt and telescopic steering wheel and (GM) cruise control complete the picture. Surprisingly, most of the gadgets work, but the Maserati would not be a true Italian if everything were absolutely perfect. For instance, the cigar lighter does not work and the oil temp gauge is not connected, but you probably will not need it with the cool-running Chevrolet engine, anyway.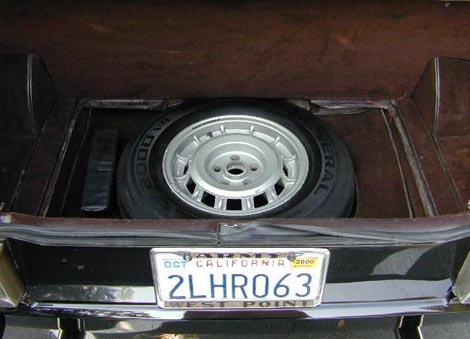 Cavernous, nicely carpeted trunk has a volume of 21.5 cubic feet. Hidden below a cover is the full-size factory spare wheel. Maserati is currently registered until October 16, 2000.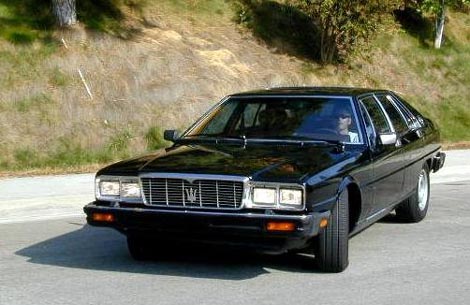 Very rarely does an opportunity like this arise. A thoroughbred, low mileage Italian supercar with documented California provenance, rust and accident-free, and dependable due to its fully certified GM drivetrain. Where could you possibly find another one?
Viva Italia!
---
Presentation & Copyright © 2000 by Californiaclassix.com. All Rights Reserved.
No part of this presentation may be reproduced without written permission of the author. E-mail inquiries to Webmaster@Californiaclassix.com.