It's not just a car; it's a Volkswagen!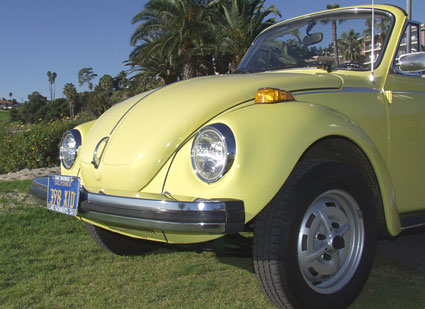 Owning and driving a classic Volkswagen is a lifestyle choice.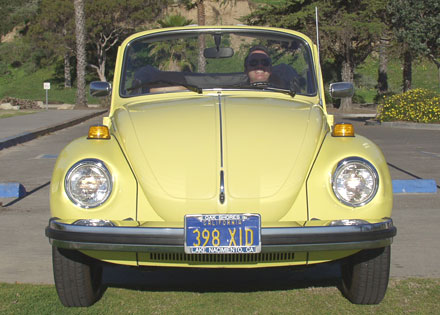 Clearly, the most characteristic Volkswagen is the immortal Beetle. Herr Porsche's most successful pre-WWII design, it's a timeless machine that defies comparison and classification, built more than 27,000,000 times in 57 years. Whether you are a blue collar worker or a bank director, whether you commute to work or park next to your yacht: you are always stylin' in a Beetle.
Even more so in a KARMANN Käfer Kabriolett, the finest, most luxurious, and--short of a Hebmüller-- most desirable Beetle ever conceived.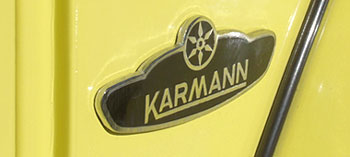 Unlike the Volkswagen sedans, assembly of the Kabrioletts was commissioned early on to Wilhelm Karmann's Karosseriewerke in Osnabrück, right in the heart of the Fatherland, where they were carefully built by specially trained, Old World craftsmen. Like a Rolls Royce Corniche, the VW Cabriolet features a full four-seater configuration, a wonderful, thickly padded convertible top, and an omnipresent attention to detail. What the Cabriolet doesn't have is the Rolls' exorbitantly expensive complexity, thankfully!

No wonder then, Bug lovers worldwide were truly heartbroken when it all came to an end on January 30th, 1980, after 31 years of uninterrupted production. The last Cabriolet built, still designated a '79 model, is now prominently displayed at the Volkswagen museum in Wolfsburg.
The low-mileage Cabriolet presented for auction here is special in more ways than one.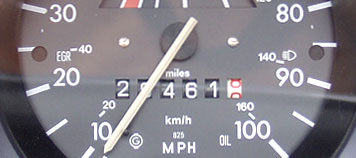 First and foremost, this car has only covered 29,461 actual miles since it was driven off the showroom floor at HARRY HILL VW in West Covina, California on April 7, 1979. That's less than 1,250 miles annually, on average!
This spectacular convertible has always remained in the Golden State with its original Lady owner and still proudly displays both original-issue, 6-digit, blue-and-yellow California license plates.
Click on any of the above images for a full-size view
Let's go straight in medias res and examine this unique Volkswagen closely. Could this really be the pristine example you've been looking for?
When checking out a Bug, the first order of the day is to scrutinize its trunk. Rust and/or accident damage would be in plain view!
Original, black cardboard cover is nicely preserved. Paperwork includes original CA "pink slip" (title) plus all manuals: owner's, service, and radio.
Date-coded (01/79) spare wheel. Air valve still properly pressures windshield washer reservoir.
Trunk floor is virginal. Original factory-applied paint, no wrinkles, not even surface rust. Bone dry and tidy!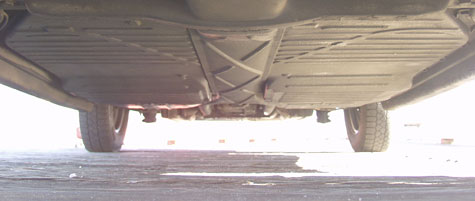 We continue our inspection underneath the car. A rust-free pan is a must ! Since Karmann hardly applied any undercoating all these years ago, most seams and surfaces are virtually unprotected and prone to attack by the brown cancer. To be 100% rust-free is the single most important trait determining any Bug convertible's true collectibility.
Here, it's as good as it gets! This one's a true, rust-free California native, guaranteed! Not a beach car, mind you, but a dry-stored example that has never seen rain or snow.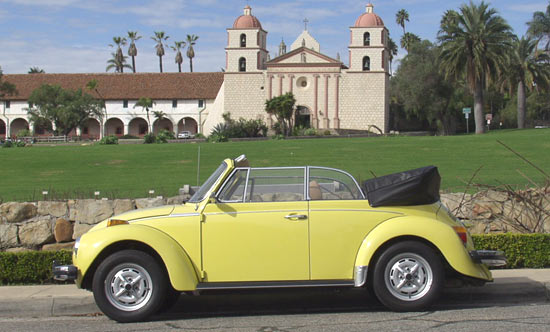 Click on the above image for a large image of the Beetle's right side
The good news don't end with the Bug's belly. Its body is rust-free as well, even in areas normally hidden from view. Doors and hoods line up perfectly, further confirming our impression that this fine example could be "the one." Lemon yellow is a very desirable, factory Volkswagen color; the small, black-on-silver paper label in the trunk confirms the original paint code L A1 D. Finish is very glossy and the car is virtually free of imperfections, such as scratches, chips, or dents. It's ready to be shown with pride, really.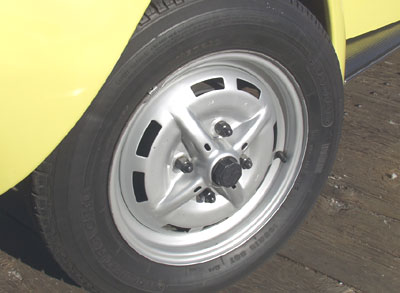 All four matching, date-coded, factory-original "sport wheels" feature original argent silver paint and--freshly spin-balanced--radial tires of the correct dimension 165 SR 15.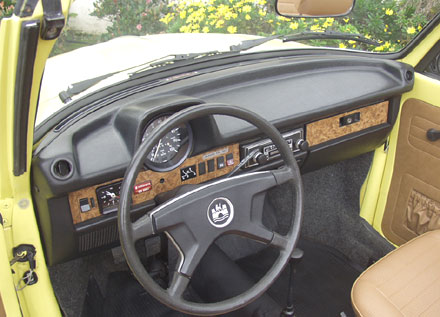 The Beetle's interior gives convincing testimony to the car's ultra-low mileage. The steering wheel and dash are crack-free and perfect, the wood applique does not even show a hint of fading. Late model Super Beetle convertibles could boast a number of improvements over earlier models, such as a clock (yep, it still works!), fresh air blower fan, heated rear window, adjustable head restraints, 3-point safety belts, and even a spotlight illuminating the heater levers between the seats.
Often, it's the small details that make all the difference. Take the label on the driver's sunvisor, for example. It is unobtanium; after almost a quarter Century, it is usually fragmented or missing. Here, it is beautifully preserved!
No less appealing is the felt-lined glovebox, with the original tire pressure decal still intact. You'll hardly ever see all of these small, original details on a "restored" Bug.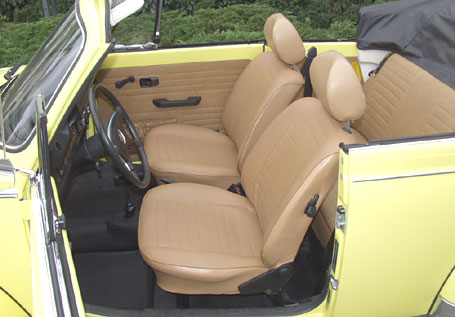 Tan interior looks completely original; it's free of any rips, tears, or discoloration.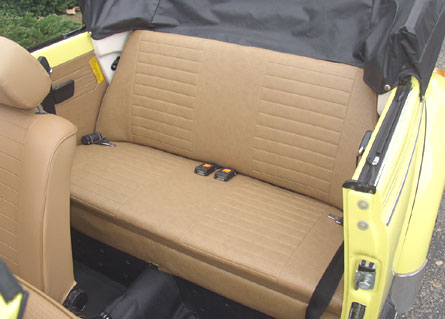 Roomy rear seat area. Unused, original safety belts. Perfect, ribbed black rubber floor mats.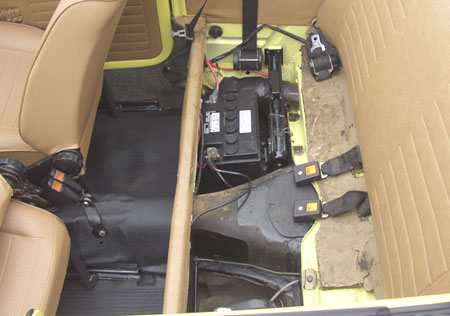 Click on the above image for a close-up view of this crucial area
Another popular area of neglect, the space below the rear seat presents itself clean, dry, and unmolested. Note unused original tire jack: not only is it still displaying the white factory grease, even the little black rubber band securing the jack handle is still intact!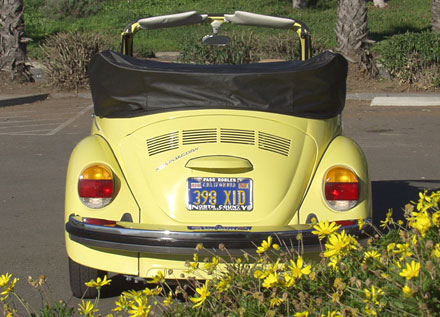 Inside and out, this car is spotless. Just check out the insides of trunk lid and engine cover!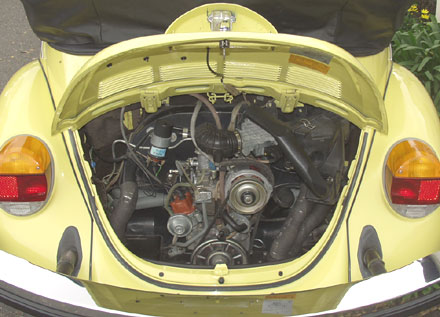 Speaking of the engine, the original, air-cooled, BOSCH L-Jetronic-injected 1.6-liter, dual port Boxer starts, runs, and sounds like a champ. Very peppy performance is another hallmark of this low-mileage Bug.
Car has just been serviced.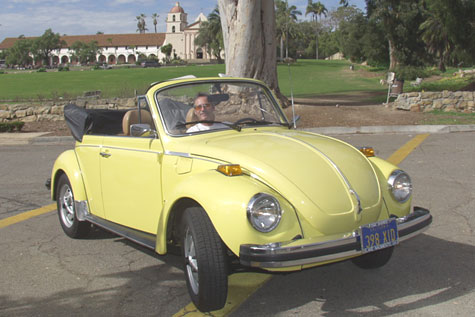 Driving this Bug is a very enjoyable affair. Its small turning radius, direct handling, good brakes, and quick-to-shift 4-speed trans leave nothing to be desired. Sustained 75-80mph highway speeds are a breeze.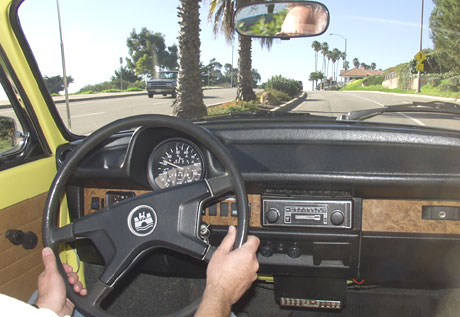 I guarantee it: as soon as the first sunrays appear in your area, you are going to relish open-top motoring, Professor-Porsche-style. Here's a modern car with obvious roots in the 1930s. The big, overstuffed top, the running boards, the wonderfully upright seating position, the invigorating sound of the air-cooled rear engine conspire to make you smile, everytime you drive this exquisitely preserved Cabriolet.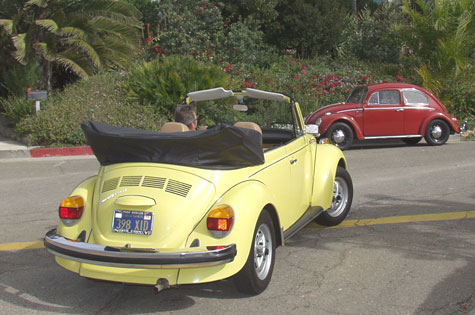 Universally loved and cherished, a rust-free, low-mileage classic Beetle convertible such as the one shown here is a valuable collector automobile. It's been over 23 years since the last one rolled off the assembly line, and time can be merciless. This fantastic example has spent the last two decades in a garage at Lake Nacimiento near Paso Robles; that's almost as good as being inside a vacuum time capsule. Factory stock, well-loved, and sparingly driven, it may just be what the Doctor ordered to cure the cookie-cutter-car-blues.