On more than one occasion, England's Rolls Royce has been named "The best car in the World," saluting the utmost effort and meticulous attention to detail applied in manufacturing each and every one of these majestic motorcars of timeless beauty.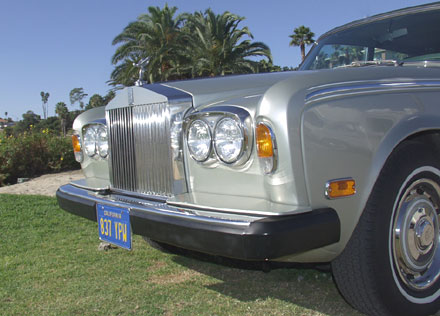 For 15 years, from 1965 to 1980, the factory's mainstay was the famed Silver Shadow model. All Shadows were beautifully built, from highest quality materials, offering the prospect of a very long service life. Change for the sake of change was avoided in Crewe; however, in 1977, these important improvements warranted management to introduce the second-generation Silver Shadow, called SERIES II:
Split-level Air conditioning system, at the time certainly the best and most sophisticated in the world
Power-assisted rack-and-pinion steering
Revised front suspension geometry
Improved engine
New dash layout, now featuring an ambient temperature gauge.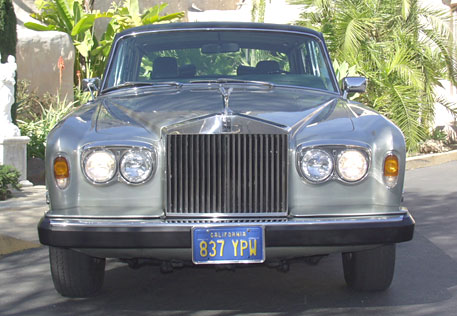 Keeping in mind that the last SS II left the Century-old brick building in Crewe, England 23 years ago, great care and determination is necessary to ferret out a worthy "keeper." The aficionado/collector ideally desires:
a one owner car
,
from sunny Southern California
,
with extemely low miles, and
all pertinent books and records
.
| | |
| --- | --- |
| | The immaculate 1979 Rolls Royce SS II--VIN *SRK36933*--is such a dream find. Sold new on 9/29/1979 right here in the Southland, at Roy Carver Rolls Royce, Inc. in Newport Beach, California, this magnificent motorcar has been owned by Royalty since day one. It comes with the original California pink slip (title) and features its original, vintage, six-digit, blue-and-yellow California license plates, front and back. |
Click on any of the above two images for a full size view
The original Window sticker is a most valuable document, since it clearly shows two rare options, one, the fully leather-trimmed dash and radio surround, and two, the $2,500.00 EVERFLEX roof covering, usually an exclusive feature of the LWB Silver Wraith saloon. $80,580.00 is still quite a chunk of money today; 24 years ago one could have bought a nice executive home in Newport Beach with this kind of cash!

Click on the image to the left for a full size view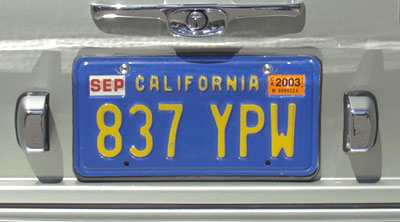 The Rolls Royce is currently licensed through September 2003.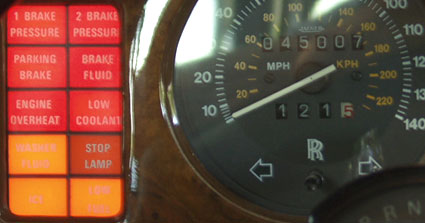 Having been driven by Royalty only on special occasions and for representational purposes, just over 45,000 actual miles have accrued on the odometer in over 23 years; that's less than 2,000 miles per annum!
Note: All warning panel cluster lamps correctly illuminate just prior to engine starting.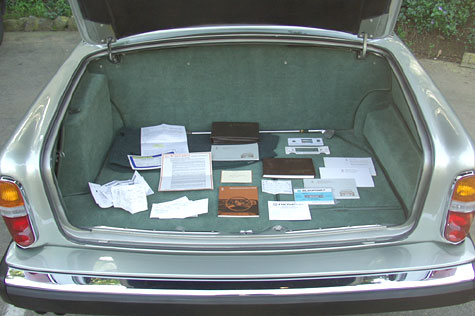 Click on the above image for a close-up view
A trunkful of documents. "Complete books and manuals" would be a gross understatement!
Here's what the new owner will receive:

Rolls Royce warranty document
Owner's handbook
Supplement to above handbook
Delivery information booklet
Consumer information booklet
Radial tires pamphlet and MICHELIN warranty
Stamped service/maintenance book
Sales handbook 1979/80
Window sticker
Factory equipment/color code card
New vehicle temporary registration
Original California Certificate of Title
All registrations since 1979
PIONEER warranty card
BLAUPUNKT radio manual
A/C operation dash tag
Radio operation dash tag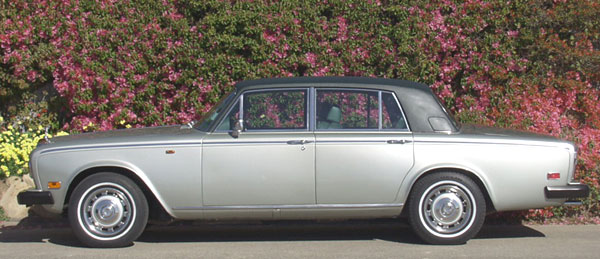 Often used as static objects gracing flagstone-paved circular driveways in Beverly Hills, we are fully aware that Rolls Royce motorcars do not always have a great reputation as reliable "drivers." This pampered, ultra-low-mileage car is the exception to the rule; it can be driven--free of worries--on a daily basis; I guarantee it! Touch the key for a split second, and the mighty 6¾-liter V-8 engine comes to life, instantly. Almost inaudible at idle, it is a smooth and swift performer. The original, GM-sourced TH 400 automatic transmission shifts almost imperceptibly.
Click on the above image for a full size view
The 43,500-mile Essential Maintenance service (including Special Services) has just been performed by Rolls Royce-guru HHR in Canoga Park. The A/C blows ice cold; it has been retro-fitted for R134 refrigerant. Sparkling clean engine bay reflects low mileage, tender loving care. Even the engine compartment light still works and the fragile bonnet insulation padding is unblemished.
Most importantly, this fine vehicle is the first vintage Rolls we've ever encountered that does not leak any fluids. Phenomenal!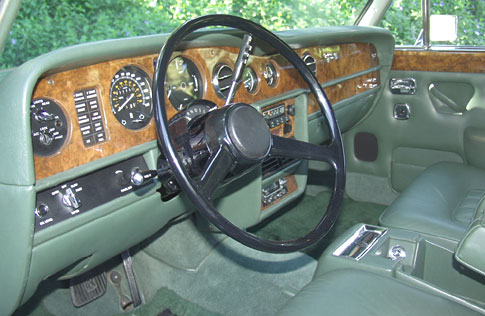 The good news continue inside. Fabulous walnut burlwood trim is truly flawless. All lights, switches, and gauges work, even the cruise control, map light, and VDO clock. Factory-installed BLAUPUNKT Frankfurt AM/FM stereo radio with automatic power antenna and separate PIONEER cassette unit deliver excellent aural pleasures.
This Rolls has never been smoked in; ash receivers and lighters are unused!
| | |
| --- | --- |
| | CONNOLLY leather and Rolls Royce are almost synonymous. The CONNOLLY experience commences with the intoxicating, irresistible leather aroma, continues with the tactile pleasures only the finest bovine hides can afford, and ends with the visual confirmation that virtually all interior surfaces are covered with the coveted material. Still-supple seats, dash, and door panels are wonderfully preserved. |
Even the seatbacks are leather-covered! Rear passengers can enjoy dual burlwood-framed vanity mirrors and reading lamps, as well as the traditional foot cushions. Fine WILTON carpeting and genuine Scottish mouton overlays to the front and rear footwells complete the picture.

Click on the image on the left for a full size view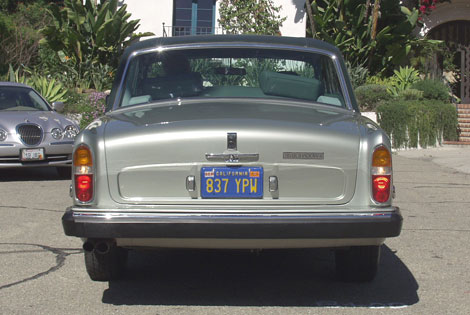 Silver Shadow II's sparkling, pewter green exterior reflects the wonderful condition of the passenger compartment. The coachwork is free of dings, dents, or scratches, and the finish is deep and very glossy. EVERFLEX top and chrome brightwork--including the impressive, hand-built radiator grille--look perfect.
Naturally, there is not a speck of rust anywhere to be found!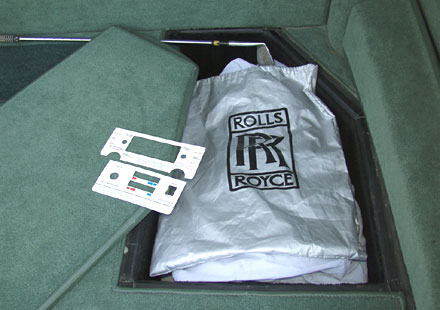 The huge trunk is fully carpeted with leather-bound WILTON. Battery and small tools (including spare light bulbs) hide in special compartment on the left, heavy tools are concealed to the right. "Smuggler's box" contains a nice, custom-fit car cover with RR logo.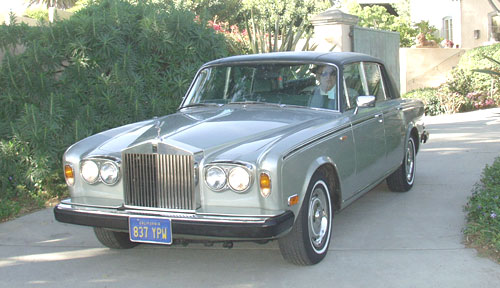 Back in the driver's seat, let's find out if this visually stunning motorcar drives as good as it looks. A quick cruise through beautiful Montecito confirms that all is right in the Queen's realm (around here, though, her name is Oprah); the Rolls behaves flawlessly. Its compliant suspension lives up to its name, power-assisted steering and brakes respond with authority to the softest touch. The car truly glides on its expensive set of brand-new MICHELIN whitewall radial tires of the size 235/70R15.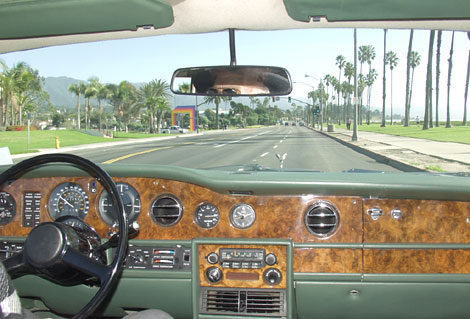 On the road, one is always pleasantly aware of Emily, the Flying Lady mascot, a masterpiece of fine English silversmithing. It feels wonderful to drive this Rolls!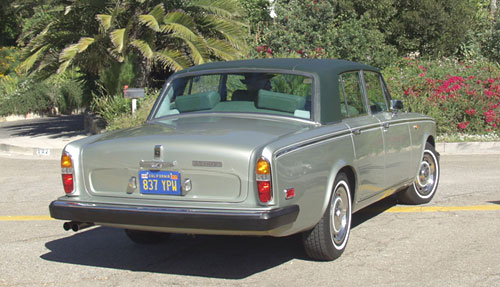 It's good to own The Best, especially when it carries a rather pedestrian price tag. Imagine shopping at Saks Fifth Avenue, paying Wal-Mart prices! If you believe in the old adage "buy the best Rolls you can find," your search may be over.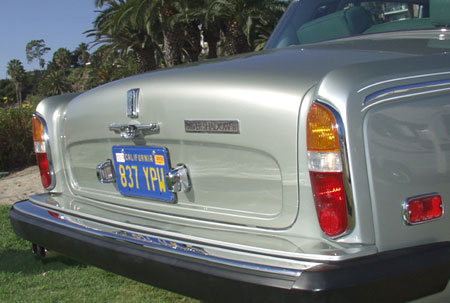 Everything is right about this truly royal carriage: colors and equipment, originality and provenance, mileage and condition. A combination of attractive traits that's impossible to duplicate, for any amount of money.
May the sun never set on the Empire!