Quality, prestige, safety: lots of wonderful things can be said about Mercedes automobiles. But, does the sight of a big, luxurious Mercedes elevate a sports car enthusiast's heartbeat? Not likely. However, that's going to change right now, 'cause here comes the sportiest post-war Mercedes since the 300SL Gullwing, the 1979 450 SLC 5.0!
A rare find? Now that's an understatement!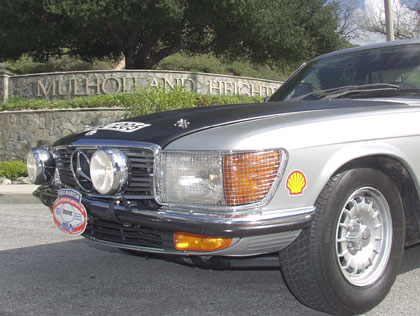 Built as a test platform to collect data for the next generation of aluminum engines, the '79 450SLC 5.0 was manufactured in extremely limited numbers and was breathtakingly expensive. Exactly 1,470 examples were built for road use, just enough for ONS/FIA homologation; only a fraction were used as Competition Coupes in various motorsport arenas. Reportedly, just 40 '79 5.0s were sold new in the United States. Equipped with automatic transmissions and luxury amenities theretofore unheard of in race cars, the trailblazing SLCs re-established Mercedes-Benz as a shining star in the universe of road racing and rallying. Today, all authentic 450SLC 5.0 Coupes are rare and collectible; many surviving examples having been exported to the land of the rising sun.
Click on any of the above images for a full-size view
Competition history included an outright win in the grueling, 18,000-mile Südamerika Southern Cross Rallye late in 1978 and high placements at Paris-Dakar, Rallye Akropolis, and other WRC events.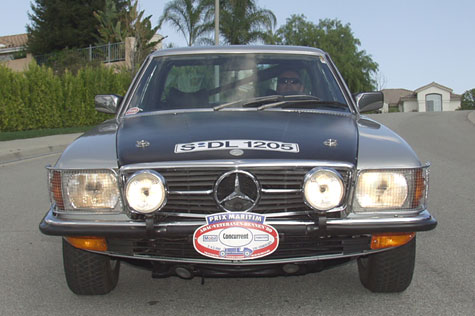 The stunning Mercedes presented for auction here is an authentic, matching numbers, 1979 Mercedes 450SLC 5.0 Lightweight Coupe. It is not a replica; it's the real thing!
The car was campaigned by a privateer mostly in Germany until 1983, when it was officially exported to the United States, receiving formal DOT and EPA clearance. A legal California resident ever since, it remained in a private collection in Palm Springs until early 2000, when we were fortunate to acquire the car.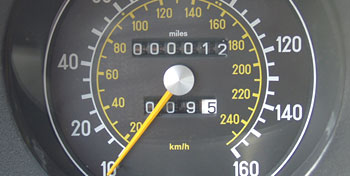 We went the extra mile and spent almost two years to lovingly restore this perfectly rust free car to its former competition glory, with the goal of running Brock Yates' coast-to-coast Cannonball Rallye and the Colorado Grand. Keeping the car's dual-purpose nature in mind, we opted for a factory suspension set up and softer brake pads. In addition to countless hours of labor, we spent over $12,000.00, mainly for paint, interior, and dealer-sourced replacement parts, documented in a detailed Microsoft Excel file which we will gladly
e-mail
to you upon request.
A mere 000026 miles accumulated on the refurbished odometer since restoration was completed, and the car looks almost showroom fresh! The
undercarriage
is superbly preserved and gives testimony to many years spent in a dry desert climate. Any aficionado can tell you, the demon rust is the No. 1 enemy of the 107-model Mercedes, and rust-free survivors are indeed rare!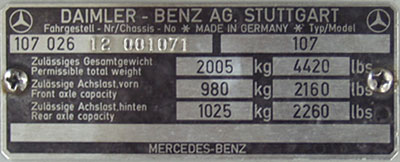 The factory VIN plate identifies the car, VIN *107-026-12-001071* as an authentic 450SLC 5.0, the 1071th car built, to be precise.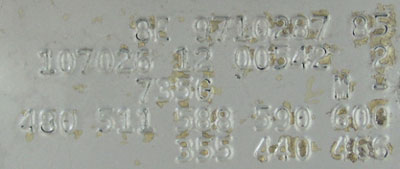 The factory data plate identifies all the options the car was delivered with, as well as the color code 735G (GLASURIT Astral Silver).
The codes translate like this:
355: Antenna with CB-splitter on left quarter panel
430: Headrests
440: Cruise control
466: Central locking system
511: Panasonic stereo radio
588: Combination code for the two following codes:

581: Automatic climate control
584: Power windows front and rear

590: Tinted windows with SEKURIT safety glass rear window
600: Headlamp washer system
Note: all of the Competition Coupes were delivered without the sliding steel sunroof, for obvious reasons.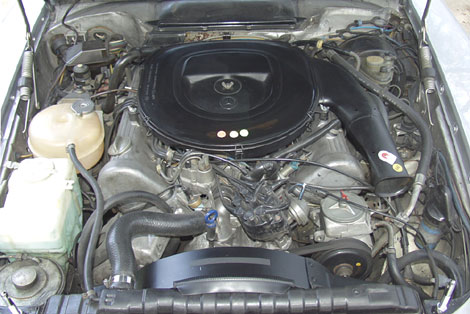 Click on the above image for a close-up view
More or less a factory experimental car, the 450SLC 5.0 was exlusively equipped with the brand new, "one year only, all aluminum" 5.0-liter power plant, delivering 240 Teutonic horses (net) to the rear wheels. Using the feedback and data received through competition use, an aluminum alloy 5.0-liter V8 made it into production in 1980, albeit in slightly modified guise and with one (1) extra cubic inch displacement.
Engine # 117-960-12-001097 is as healthy as Leni Riefenstahl at the height of her career. It starts on the button and runs like a charm. A bone stock 450SLC 5.0 Lightweight Coupe will outperform any contemporary Mercedes, including the 450SEL 6.9 and even the newer generation's fastest contenders, the 560SEC and 560SL, in about any discipline you can think of. It's the proverbial "Überwagen!"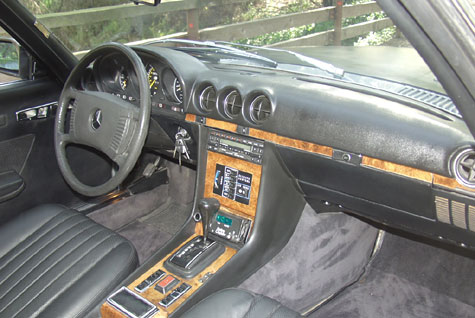 Sumptuous cabin is the World's most comfortable rallye car cockpit. Mostly stock and in excellent condition, just a few slight alterations are evident.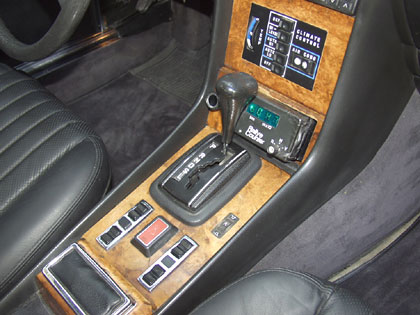 For example, the ash tray has been relocated to the rear of the center console to make room for the (working) vintage Rallye Counter. This precision instrument svivels to increase legibility for the co-pilot. All you need now is a set of HEUER stopwatches and you're ready for any vintage rallye . . .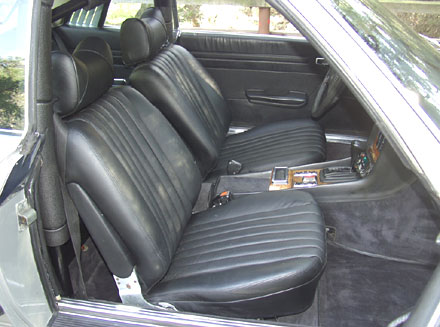 The ultra-comfy front chairs are actually very nicely contoured and provide ample support during fast, swervaceous road trips. Front and rear seats have been completely re-upholstered in fine German leather, featuring the correct grain and perforation, to the tune of $3,150.00. Charcoal gray velour carpeting looks new.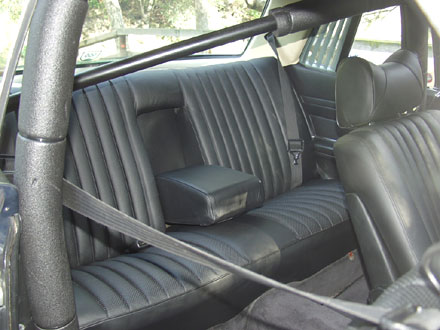 Rollbar only slightly impedes access to rear; one adult and a couple of kids could still relax back here, cradled by aromatic leather. Rear seat assembly easily removes for competition.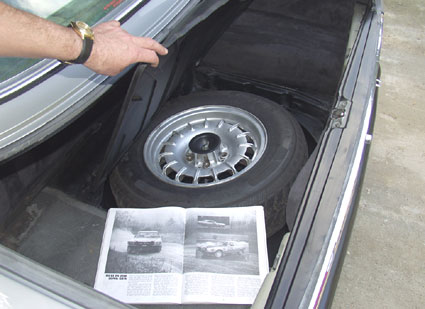 Here's a race car with a carpeted trunk spacious enough to handle the vacation luggage of an entire family!
Matching, date-coded spare resides below trunk floor; oversized battery--in its original compartment--is strategically located in right rear corner.
Wearing its circa 1983 war paint, the SLC looks mighty impressive from all angles. For a more incognito look, all the authentic numbers and decals could be removed, but wouldn't that be a sin?!
| | | | |
| --- | --- | --- | --- |
| | | | |
| Headlight stone guards | Stuttgart license plate | Competition hood pins | German Tech sticker |
| | | | |
| Original CIBIE OSCARs | Motorsport Club | Preserved fuel sticker | Factory 5.0 script |
Click on any of the above images for a full-size view
The plethora of details, many of which are simply irreplaceable, is truly mind-boggling. Have you ever seen a real, factory-built competition Mercedes, in the flesh?
"Wer Wind sät, wird Sturm ernten!"
(He who sows wind, will harvest storm!)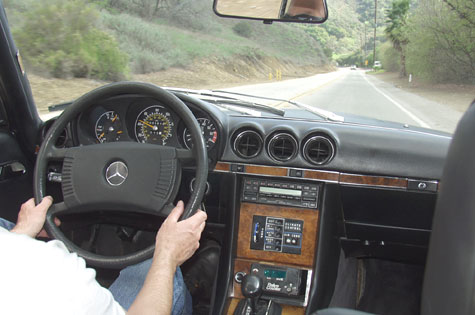 Nothing about driving this road rocket suggests that it is--indeed--an extraordinary vehicle. Seating position is utterly comfortable and not at all different from your neighbor's new starship. But stomp on the loud pedal and the 5.0 surges ahead like there's no tomorrow, authoritatively, at the same time almost eerily silent. It's a Mercedes, after all, and it behaves like the valedictorian of a private boarding school. Amazing!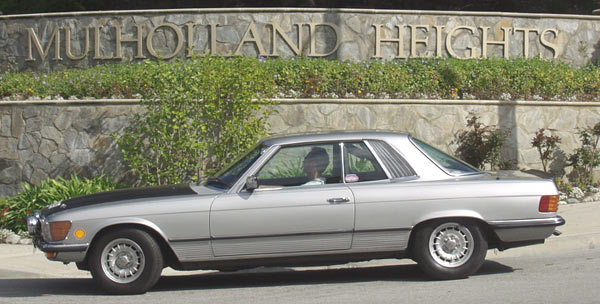 It feels like the car is running on rails, no matter how hard you push. Its safety limits--announced by a slight oversteer--are far beyond my own, which is no surprise, really, for here is a car designed to run at over 140mph flat out, all day long, over rough terrain!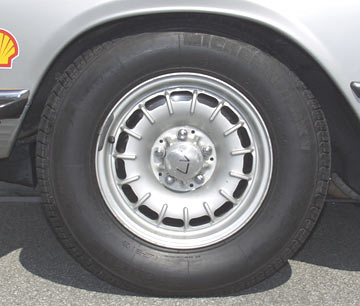 Mercedes did a lot to preserve the factory stock appearance, however, there are subtle changes everywhere. The alloy wheels, for example, are ½ inch wider than those found on the regular SLC; if you look closely, you'll notice the special center caps sans three-pointed-star emblem.
Here it is, a Lightweight 450SLC 5.0 with impeccable provenance. It features alloy hoods, alloy wheels, an alloy engine, lightened alloy door skins, and many vintage competition parts. All matching numbers, it sports excellent, highly glossy German racing silver paint over a smooth, rust-free body. Its engine runs like a Swiss ROLEX watch, with perfect oil pressure. It does not overheat. It comes with a clear California Certificate of Title, is fully street legal and ready to wow the troops at the next Mercedes Club event, vintage Rallye, or to be an--albeit highly visible--daily driver.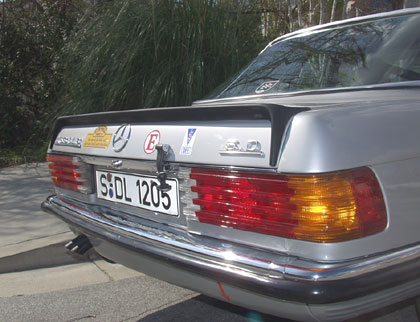 If you're looking to acquire the rarest, most collectible Mercedes sports racing car built since the legendary 300SL Gullwing of the 1950s, do not hesitate. It is doubtful that there's another authentic 450SLC 5.0 like this available, anywhere.