"Canyon Lake Rose":
SoCal's Cleanest Mercedes 280E!
Mercedes-Benz is the oldest, still active car manufacturer on the planet. For over a Century now, the craftsmen in Sindelfingen have built automobiles of unmatched quality and longevity. All Mercedes-Benzes have in common the dependable rear wheel drive configuration and a rock-solid design that has made these vehicles famous as the best-engineered cars in the world. These traits culminated in the W123 model, built from 1975-1985 and carrying the distinction of being sold in larger numbers than any other M-B model, ever. Apart from the famous Ford Model "A," no other car has ever achieved such an amazing reputation of being indestructible.
"Canyon Lake Rose," as the car for auction here was affectionately called by its original owners, is a stellar example of Mercedes' most successful automobile to date. It is built like a vault and performs as reliably as a Swiss watch. It demands nothing but a regular oil change and some unleaded gasoline to be perfectly happy.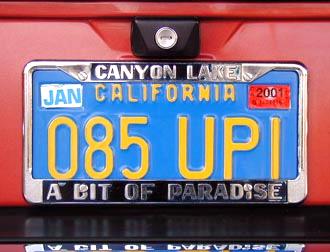 Nevertheless, this particular sedan has been cherished and pampered to such a degree, that with utter confidence I'll call it outstanding, its appearance being nothing short of breathtaking. It is the cleanest car of its kind I ever had the pleasure to discover in all my years of car-scouting here in Southern California. Of course, this Mercedes still carries its original blue-and-yellow California license plates and comes with a clear title, a current smog certificate, and is registered through January, 2001.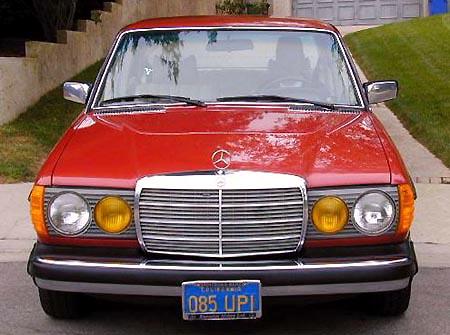 Picked up brand new in 1978 by its first (and only) owner, a retired airline pilot, directly at the Mercedes factory as part of the popular European delivery program, this 280E is special in at least three aspects:
First of all, it has been ordered in the extremely rare and beautiful factory color Terracotta (DB paint code # 525G).
Secondly, being a US-spec car, it is generously equipped. Amenities include, but are not limited to:
Ice cold air conditioning (automatic climate control)
Power window lifts front and rear
Tinted windows
Heated rear window
Quartz clock
Cruise control
MB Tex upholstery
Top of the line BECKER Mexico Stereo Cassette radio with fader and multiple speakers
Arm rests front and rear
Automatic transmission
Variable assist power steering
Four-wheel power disc brakes
Central locking system (including trunk and gas filler lid)
Fog lights
Although redundant, let me state for the record that every option on this car works perfectly.
Finally, the car is equipped with the rare and desirable, top-of-the-line 280E engine.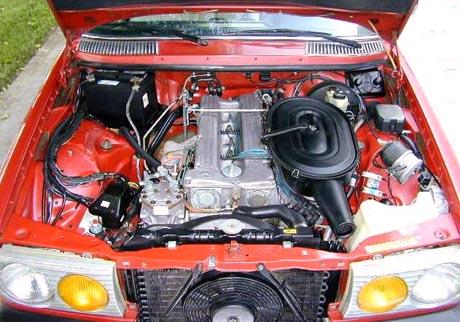 The fuel injected 280E power plant is special, indeed! An inline 6-cylinder (engine code M110), equipped with dual overhead camshafts (DOHC), it was Mercedes first post-war 'high-tech' engine. Even its successor, the 300E, first introduced in the 1986 model, can only offer a single camshaft. The BOSCH K-Jetronic fuel injection with air volume control, first tried and tested in the big 6.9-liter sedan, completes the picture and makes the M110 engine the most powerful engine ever factory-installed in the W123 lineup (wagon, sedan, and coupé).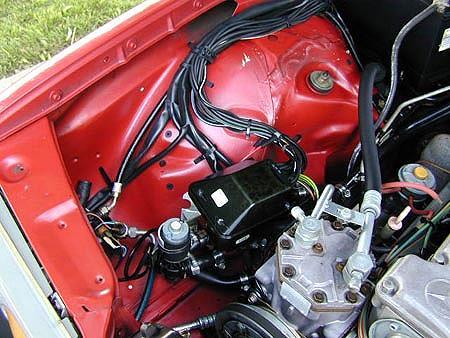 The car for auction here impresses with a super-sanitary engine compartment. If you keep in mind that this car is over twenty-two years old and everything you see here is untouched and factory original, you will understand the meaning of "a picture tells more than a thousand words"!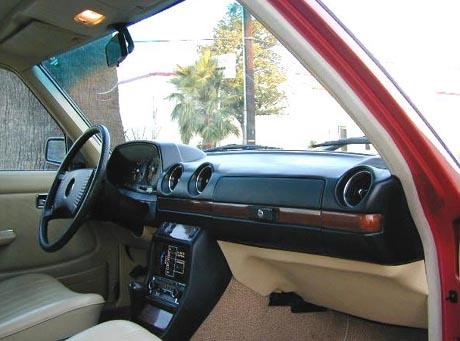 The--almost mesmerizing--cleanliness is not limited to the engine compartment, though. The entire car presents itself virtually spotless.
Let's get a bit more specific:
The dashboard is perfect. Not a single hairline crack here. No fading, either. It looks like it was installed the day before yesterday.
The same applies to the Zebrano wood on dash and console. Aside from the slightest indication of use--limited to forensic inquiry--it is in new condition throughout.
The off-white, embossed headliner is . . . well, you guessed it . . . 'as new.'
"How about the carpeting?" you may be tempted to ask. Thank you for bringing it up. It is all factory original, and also 'as new' with not the slightest signs of wear.
The car has never been smoked in, and the often cited 'new car smell' is still recognizable!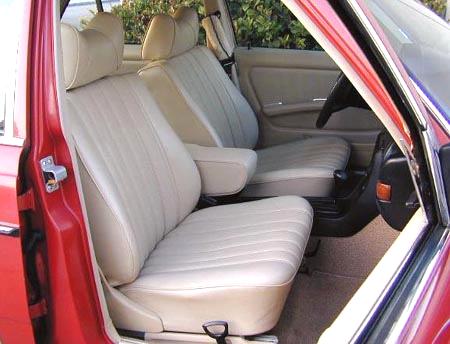 No wonder, then, that the parchment Hühnerleder interior is also all original and simply stunning: no rips, no stains, no tears, nothing that would leave anything but a most favorable impression. Take my word for it, I did not have to have it cleaned; this is the way it has always been!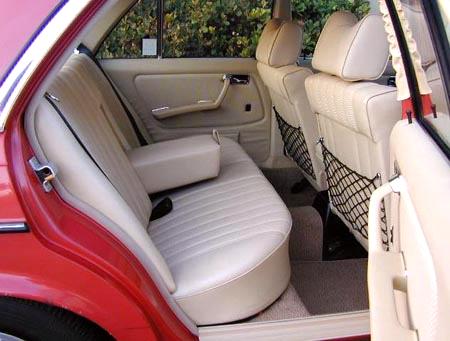 The same statement applies to the rear passenger compartment. Both armrests, front and rear, are retractable; storage nets on back of front seats are a rare factory option.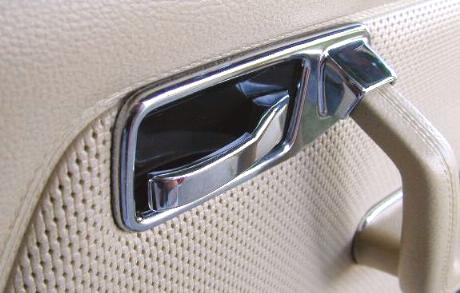 Picture above shows upholstery detail: Parchment is a very light cream-gray color. There is embossing and embossed stitching throughout, accompanied by beautifully finished chromed metal components: the unsurpassed quality of a Mercedes-Benz. No peeling, pits, loose plastic clips, or rattling here! Omnipresent solidity.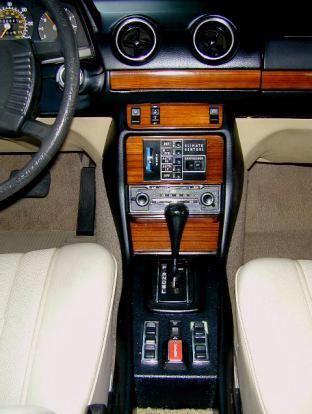 The center console with its beautiful real wood inserts houses the panel for the automatic climate control, the BECKER Mexico Stereo Cassette radio, as well as an (unused) ashtray with (unused) cigarette lighter. Also visible above are the floor shifter for the smooth M-B automatic transmission, the thumb wheel for the radio speaker control, and power window as well as hazard flasher switches. Take a glimpse at the ultra-clean oatmeal German velour carpeting!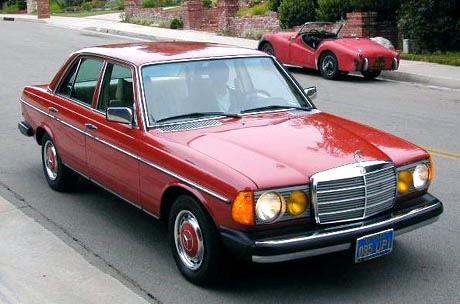 Quite impressive, isn't it? But how does a meticulously maintained Mercedes 280E drive?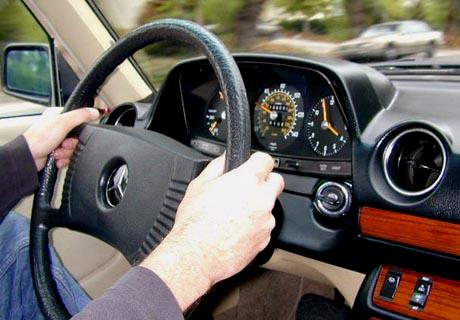 The DOHC six is a wonderfully smooth and powerful engine. The 280E is not a sports car, however, although the Europeans still run their 280Es on the German Autobahn or Italian Autostrada up to their top speed of 125mph. Plain and simple, it's a solid, confidence inspiring, extremely safe sedan with more than enough power to make passing other cars a safe undertaking. This Mercedes starts at the first turn of the key and immediately settles into a smooth idle. It runs, drives, shifts, handles, and brakes perfectly, thank you very much. You will not be disappointed!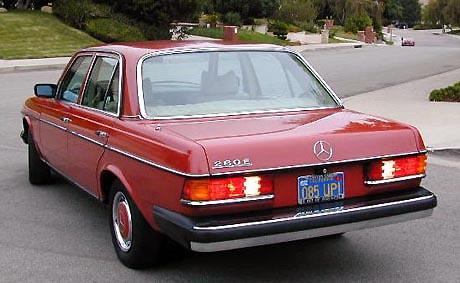 Every light bulb works perfectly, inside and out. All the brightwork on the car, chrome as well as polished stainless steel, is in outstanding condition. Not simply good or very good, but outstanding!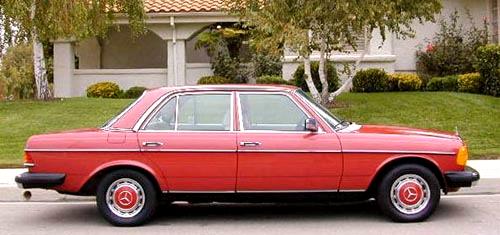 The car's paint finish, which I believe is mostly factory original, is in great condition, too. Aside from the most miniscule rock chips, which have been touched up, the finish is beautiful and displays a high luster, just like a basket of freshly picked and washed strawberries, their wet surface reflecting the sunlight!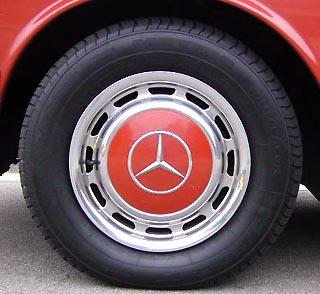 Of course, in the tire department, only the best is good enough! MICHELIN tires of the correct dimension 195/70 R14H--expensive, but well worth the elevated price--have been mounted all around. The original hub caps are still very attractive, a sure-fire indication of a careful driver!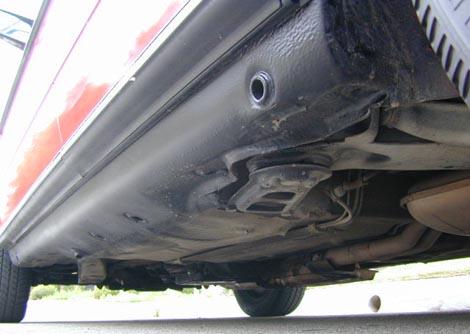 Inspecting the 280E's undercarriage does not lead to any unpleasant surprises. All virgin metal, with not an ounce of non-factory undercoating, the car is as healthy as the day it rolled off the assembly line. Mercedes' factory rust prevention being exemplary, with zinc-phosphate coatings before the final paint process, and vinyl-based undercoating protecting not only the insides of the hollow body structure, but also the engine compartment, exhaust, fuel and brake lines. Additionally, this car has lived all its life in the dry climate of the Californian desert. It has never had any rust or rust repair anywhere. I guarantee it!
I also guarantee that the car has never been involved in any accident.
Observing the Mercedes' flanks from a cat's position confirms that it has miraculously escaped wayward shopping carts, tennis balls, and over-eager car wash attendants for over two decades. No dings, no dents, no scratches . . . another proof of the utmost care this Mercedes has received!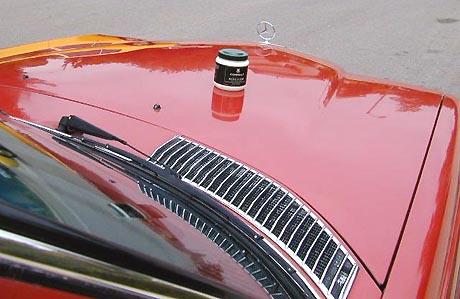 Above: mirror-gloss paint surface.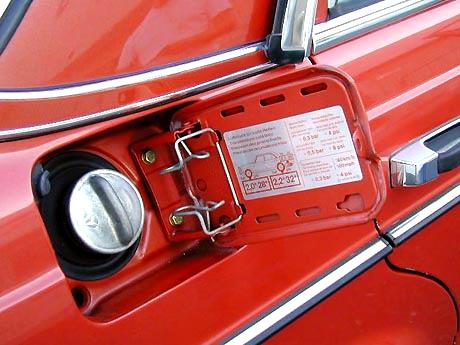 Even remote areas, such as the gas filler section, are spotlessly clean: there are no chips in the paint, the rubber is intact, the bolts still shine with their gold-cadmium plated original finish, the gas cap holder's zinc plating shows no trace of deterioration, and the tire pressure decal is flawless. Could it possibly get any nicer?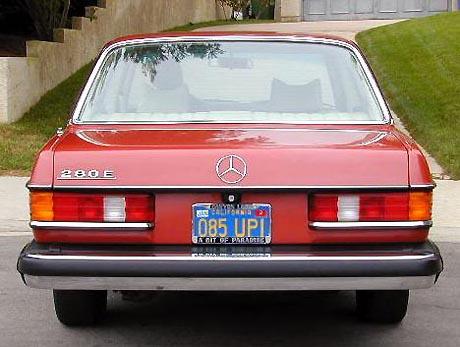 Suitable as a fine family car for five, as a relaxing highway cruiser, as a perfect, inexpensive second car (yes, it already qualifies for very reasonable Classic Car insurance rates!) as well as a safe set of wheels for a son or daughter on their way to college, this Mercedes is barely broken in and will certainly reward its new owner with many, many miles of trouble-free performance.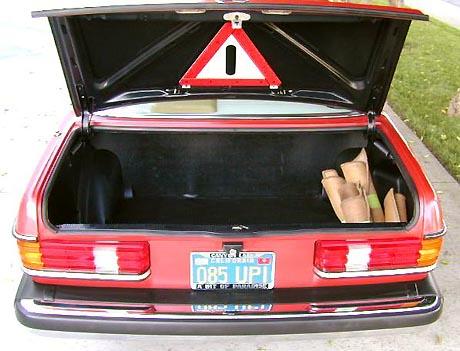 The cavernous luggage compartment is as clean as it gets! Surely, it has hardly seen any use over the years. A set of original, protective floor mats come with the car.
Note factory 'Warndreieck' (hazard triangle) mounted inside of trunk lid!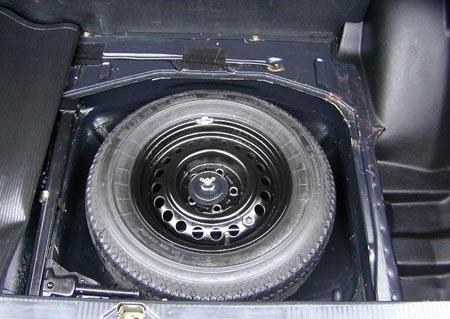 A separate storage compartment below the trunk floor holds the factory spare. Apparently unused, it is in 'as new' condition; the same can be said about the Mercedes jack and lug wrench.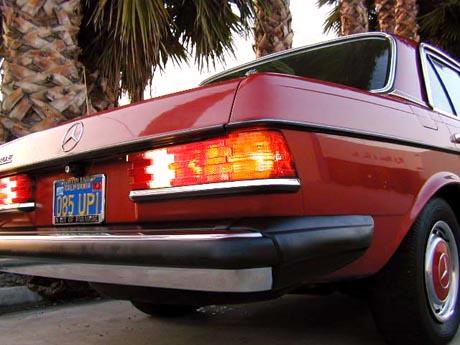 What appears prima facie as just one clean Mercedes, is in fact a true pearl in the vast ocean of pre-owned automobiles. The top-of-the-line model, fully equipped, maintained to a "T," this is a supreme automobile, suited for a wide variety of applications. Why purchase a tinny, used Hyundai or Daewoo, that depreciates faster than you can pay it off when, for the same $$ or even less, you and your family could chauffeur a Mercedes that needs nothing?
If your goal is to receive the best value for your hard-earned money, you are well advised to purchase the best car available: this one!
---
Presentation & Copyright © 2000 by Californiaclassix.com. All Rights Reserved.
No part of this presentation may be reproduced without written permission of the author. E-mail inquiries to Webmaster@Californiaclassix.com.