Back in the 1930s, Clark Gable, Groucho Marx, and Gary Cooper frolicked in the Hollywood Hills driving special-order, supercharged Duesenberg SJ Roadsters. Not long after The Great War, the members of the Rat Pack preferred the Chrysler-powered Dual Ghia, made in Italy.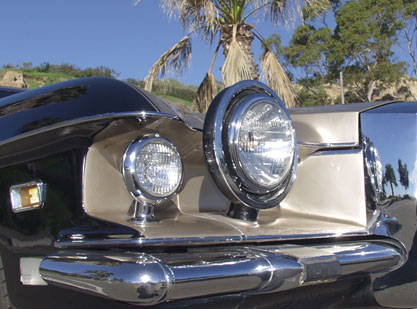 A decade later, with the last Ghia--the 6.4L Coupe--gone, another famous name was resurrected to fill the void: the Stutz Blackhawk. Flamboyant metal sculptor Virgil Exner, former Chrysler director of styling and the father of the "100 Million Dollar look" of the Imperial division, conceived the modern-day Stutz.
Elvis bought five of them.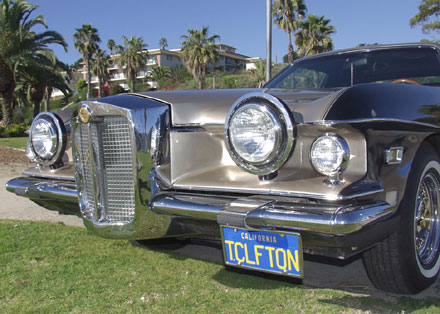 Priced at $47,500.00 in 1973, a Stutz cost as much as a nice Ranchette home in the San Fernando Valley and was actually more expensive--and much harder to get--than either Rolls Royce or Mercedes 600. Like its predecessor, this ultra-exclusive automobile was powered by an XXL-sized American Vee-Eight big block and clad by experienced Italian craftsmen. As understated as a diamond-encrusted Swiss Rolex watch, the Stutz attracted the rich and famous, the only ones who were able to afford it and didn't mind living in the spotlight.
The car maker's long list of celebrity customers included Lucille Ball, "Drunky" Dean Martin, Frank Sinatra, Sammy Davis, Jr., Isaac Hayes, Liberace, and King Fahd of Saudi Arabia.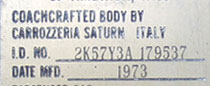 Stutz Blackhawks were built in very limited numbers between 1969 and the mid-1980s at Carrozzeria Saturn in Cavallermaggiore, near Torino, Italy. The Stutz Blackhawk VI presented for auction here, VIN *2K57Y3A179537*, was assembled in Italy on a brand new 1973 Pontiac Grand Prix chassis and subsequently shipped to Long Beach, California. Can you imagine the majestic sight of the brand new Stutz parked next to the Queen Mary ocean liner?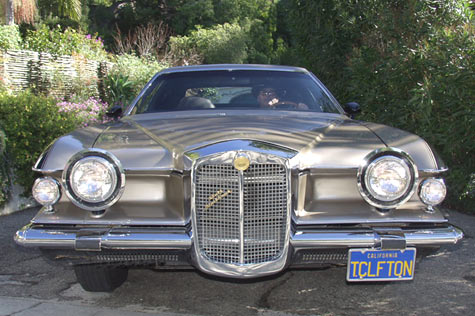 Destined for an undisclosed celebrity who purchased it new at Jules Meyers' dealership in Los Angeles, the Stutz was promptly sent out to the Universal City garage of George Barris, the "King of the Kustomizers." George applied his subtle touch, two-toning the car's exterior with a champagne over pearlescent black paint scheme, mounting special exterior lights, and removing the tubular grille guards for a visually cleaner, pleasantly gynaecic look.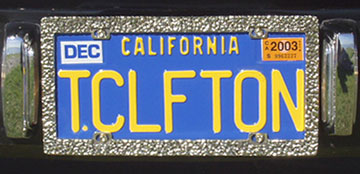 The car is said to have been used subsequently by the late comedian Andy Kaufman during his numerous incognito appearances as lounge singer Tony Clifton. More exclusive than an Excalibur or a Clenet, the Stutz Blackhawk is the paradise bird in the wild jungle of celebrity automobiles. A perfect match for The Man in the Moon !

Click on the above image to see the car's other side
Even in VIP-studded Santa Barbara, the Stutz' extrovert personality attracts more attention than Siegfried and Roy riding nude on a white tiger down Las Vegas' Strip. Travel in a Stutz and once you've arrived, you'll have to respond to awed bystanders' questions and even be asked to sign autographs.
Now, let's dig a bit deeper and find out what makes a Stutz the non plus ultra of personal wheels on the planet, shall we?
Click on any of the above images for a full-size view
Bling, bling, bling . . .
Above, from left to right:
Yes, those are real DAYTON spoke wheels with special 24K Gold nipples and knock-offs
George Barris put his personal touch on a few Stutz cars. Here's his cloisonnee Barris Kustom coat of arms.
Want to go blind, pimp daddy? Check out the fully chromed door sills!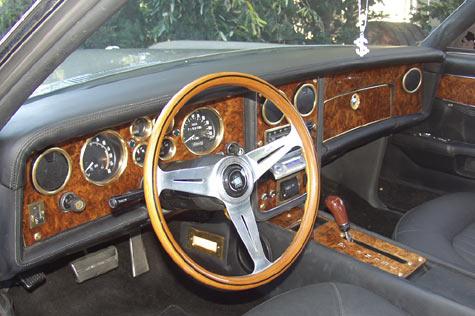 Click on the above image for another image of the dashboard
The interior is your own private oasis of classic-period-inspired luxury. After 30 years, there's still an unmistakable whiff of fine leather and wood. In fact, beautifully matched birdseye maple is everywhere you look. Most interior hardware is 24k gold plated. Steering wheel's a signed, wood-and-aluminum NARDI, of course.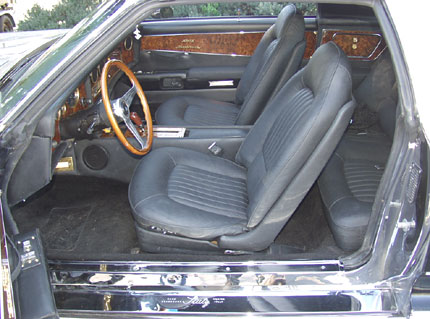 Click on the above image for a close-up view of the front seats
The Stutz is a very large car, and there's plenty of room for la dolce vita inside. Elvis just loved driving his Stutz!
Black seat upholstery is immaculate throughout, headliner and carpeting appear as new. Everything is finished beautifully and shows the custom-built touch, from the small, engraved Italian plaques on the gauge faces, proclaiming "Acqua," "Benzina" and so on, to the gold plated bezels of the courtesy lights.
Click on the right image for a full-size view
Large, sliding steel power sunroof is but one item on the long list of factory Stutz amenities. Back in 1973 this was truly unequalled luxury; it's still very impressive today! Here's a partial list:
Power steering
Tilt wheel
Power brakes, discs in front
TH 400 automatic transmission
Power windows
Power door locks
Full instrumentation (six gauges)
Dual mirrors, left side remote-controlled
Air conditioning
Cruise control
Leather-covered dash and door panels
Licquor cabinets to the rear compartment
Heated rear window
Dual air horns (town & country)
Dual chromed Duesy-style lakes pipes
Hidden windshield wipers
8-way power seat
Digital clock (Yes, it still works!)
Custom SONY x-pod CD/Stereo system with multiple speakers
Remote trunk release
Click on any of the above images for a full-size view
You want luxury? Here comes luxury that makes a contemporary Rolls look like a set of wheels for the have-nots!
Above, from left to right:
Door panel with wood inlay and gold plated STUTZ BLACKHAWK insignia
Sporty console. Note solid wood shift knob
Retractable SONY CD sound system
The boys (and girls) in the back room can rejoice in a cozy atmosphere. Just keep the bar fully stocked. You'll always find a designated driver for this car!
Cheers!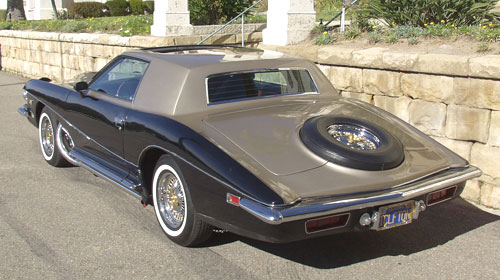 A feast for the eyes from any angle! Stutz' extravagant body lines mirror its lavish interior accoutrements. Valets at any Beverly Hills eatery will be proud to park your Stutz in the front row. Don't take the Lincoln Blackhood oder Cadillac Escalator truck to impress the Ladies or close that all-important deal; you're a player, you've got style in spades and you can afford to flaunt it!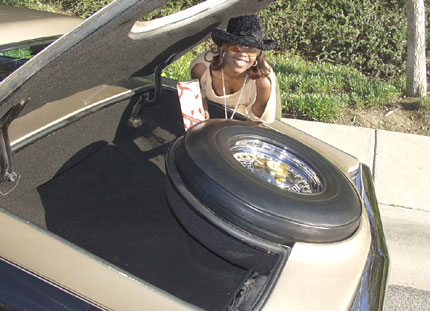 Aside from its free-standing headlamps, one of the most prominent classic-inspired design elements of the Stutz is the trunk-mounted spare. This is not a simulated wheel, it's the real thing!
Trunk compartment is cleanly lined with high-grade black carpeting.
Well,
how does it feel cruising around in a Stutz
, you might wonder.
Clearly, size does matter and despite its elegant appearance, a Stutz is a mighty large automobile, not only compared to my Goggomobil Coupe, but also to pretty much everything else on the road. Fact is, at over 19ft it's actually longer than a contemporary Cadillac Coupe de Ville.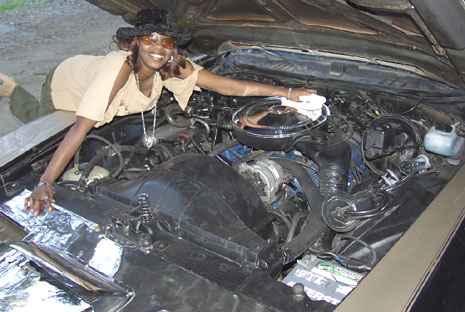 Click on the above image to see a close-up view of the engine
And this bigger is better approach continues in the engine compartment. A 455 cubic inch (7.5 liter) Pontiac big block provides gobs of torque, enough to put many Corvettes to shame! The monster motor seems to be in excellent health. Stutz' odometer shows only 71,555 miles, believed to be genuine. We've just spent almost $4,000.00 at Stutz specialist Helmut Haupt Restorations in the San Fernando Valley to fine-tune this grand machine, including new fuel and power steering pumps, new alternator, a carburetor rebuild, major tune up, new weatherstripping, electrical work, etc.
The 30-year-old Stutz is now ready to be driven anywhere with great peace of mind.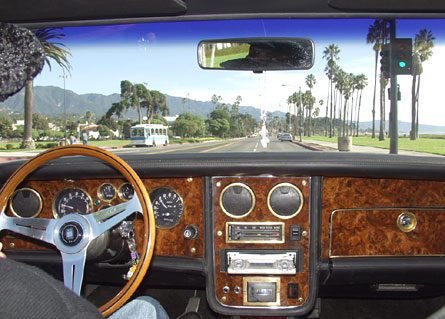 Since driving impressions are closely related to other motorists' reactions, steering the Stutz through traffic is much like piloting the Spruce Goose to land atop a tidal wave.
Like a car from another world, its "in your face" ostentatiousness makes people stop in their tracks. You see heads turn, jaws drop, and (almost) hear necks crack while mesmerized pedestrians watch you in disbelief. There is simply nothing like a Stutz on the road, and driving such a fine automobile is a wonderfully refreshing respite from the cookie-cutter boredom of modern-day conveyances!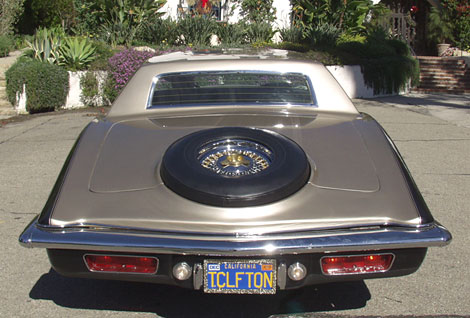 If you are a successful entrepreneur, an artist, a retired captain of industry, or a real estate agent, this Stutz might be just the right vehicle to pick up influentual clients and associates. An ubiquitous Suburban or Navigator hardly displays your exquisite taste in the finer things in life, no matter how big its rims might be!
A timeless Stutz Blackhawk is a very valuable collector car, and most decent examples on the market carry price tags of--at least--$30,000.00, more if previously owned by a celebrity.
This one sold for $17,900.00