An Outstanding Four Point Five!
There is no doubt that today's Mercedes Benz automobiles are refined means of personal transportation. They are sleek, aerodynamic, but somehow less appealing than the sedans of the classic era. One is hard-pressed to tell a new Mercedes apart from a BMW or . . . Japanese Lexus. Sorely lacking is the old-world build quality and ambiance that made their predecessors--among them the last hand-built sedans, the W108/109 series of the late '60s and early '70s--so famous.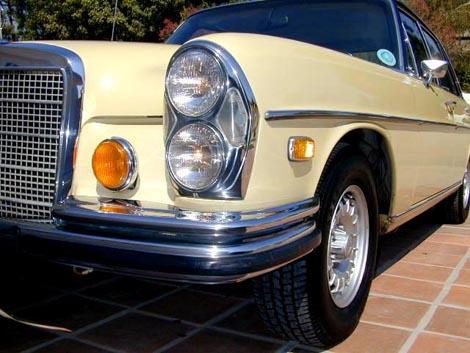 It is questionable if any of the contemporary sedans will ever become collectibles in the true sense of the word and withstand the challenges of time as well as the W108 did. In direct comparison, it is utterly fascinating to note just how much character the ultra-comfortable W108 has. A well maintained example will also definitely hold its own in modern-day traffic, its brakes, suspension and handling being fully capable of handling the task.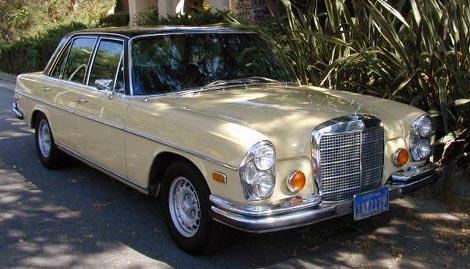 The attention to detail and the thoughtful manner in which these cars were put together is simply incomparable. Even now, thirty years later, a well kept four point five is a very prestigious automobile, on par with a vintage Rolls Royce. The lavish use of chrome plated bright work--here perfectly preserved--is astounding, and the classic, upright Mercedes radiator grille proudly displays the three-pointed star.
The 1973 280SE 4.5 depicted here is one of the last cars of this body style produced. For various reasons, it is a very special automobile. Its first owner, a fastidious lady from the Menlo Park, Calif. area, specifically ordered her sedan in the rare color combination of black over maple yellow. A factory two-tone Mercedes of the 1970s is a rare car, no doubt. Apart from this special color scheme, a host of other extra-cost appointments were specified.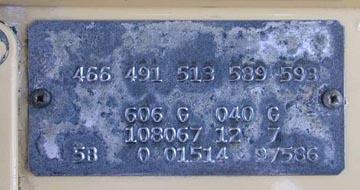 The manufacturer's data plate above shows both GLASURIT paint codes, 606 G (maple yellow), and 040 G (black). Amazingly, this fine 280SE still wears most of its original--and very glossy--factory applied paint. Aside from a few very small imperfections, too insignificant to be visible in these pictures, the coachwork is immaculate!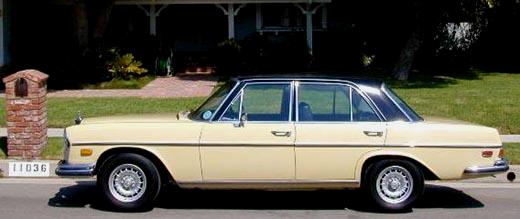 A few of this Mercedes' luxurious appointments:
Air conditioning
Power steering and brakes
Black leather interior
Tinted glass
Power windows
Passenger side outside rear view mirror
BECKER Mexico Cassette radio with multiple speakers
Power antenna
Remote-controlled, trunk-mounted CD-changer
Aluminum alloy wheels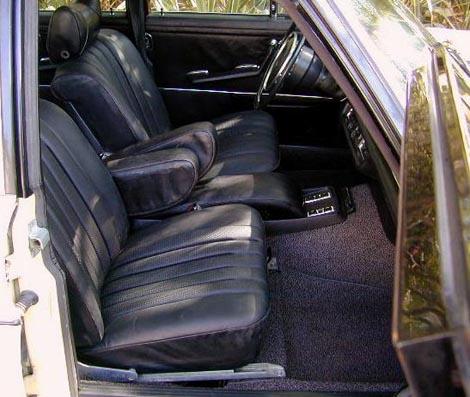 The interior is invitingly clean. Factory Salt and Pepper Feintuft carpeting is immaculate. The embossed, original white headliner is like new. The aroma of fine leather envelops driver and passengers. The seats have just the right amount of patina and are still nice and firm, without rips or cracks. The driver's seat is height-adjustable.
Note in the picture above the removable console leather insert. With both armrests folded up, it accommodates an occasional extra passenger: This wonderful leather cushion is one of the rarest factory options available at the time!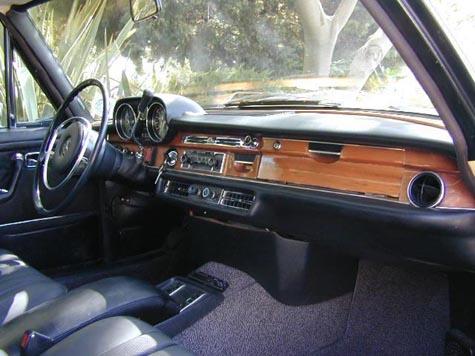 A dashboard worthy of its name! Real zebrano wood is amazingly well preserved. Original dash top is still beautiful. There is not a single crack in the steering wheel, a dream come true! Heater control levers are original and fully functional. A/C is factory unit, not dealer-installed.
The rear passenger compartment is very comfortable. Apart from one small rip in the center arm rest's leather, the upholstery is nicely preserved. The wood inserts framing the windows are beautiful and add to the luxurious flair of this motorcar.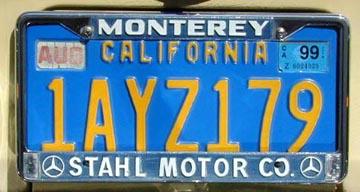 Delivered new on December 9, 1972 in California, the car spent all its life in this state, first in the Redwood City area, later in Beverly Hills.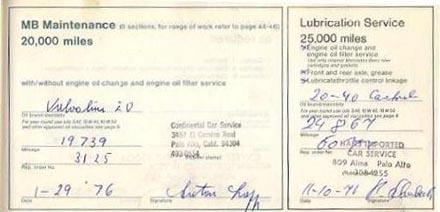 This Mercedes is also a very low mileage automobile. It has traveled less than 3,500 miles annually, for a total of 89,620 actual miles. Key to the survival of any car, even a Mercedes, is adherence to its factory prescribed maintenance schedule. The regularly stamped maintenance booklet shows that this car has been faithfully serviced throughout its life.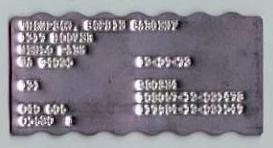 (Above) Even the protect-o-plate is still there!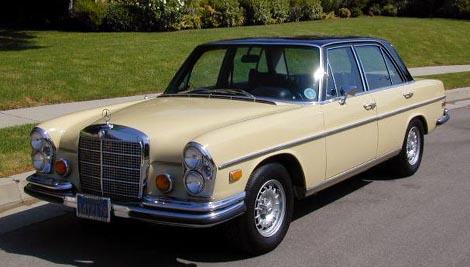 Drive up at any exclusive shop or fine restaurant in this S-class sedan, and the valets will make sure you'll get a preferred parking spot. In fact, the indestructible W108 sedans are still very frequently seen around Beverly Hills, where elegant Ladies (and Gents) emerge from their original cars to frolic in the upscale etablissements . . .
These folks surely could afford to purchase a brand-new Mercedes every year, but the old W108 is just too good a car to trade in.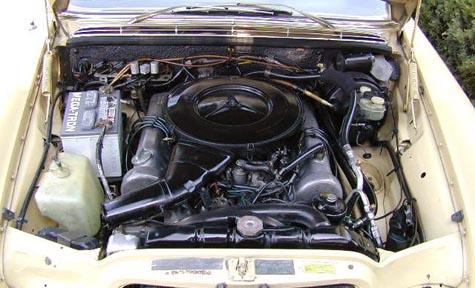 Engine compartment is as clean as the car's exterior; it is untouched and all original!
It houses Mercedes' legendary M 117, cast iron 4.5-liter V-8 engine with overhead camshafts and BOSCH mechanical fuel injection. A definite improvement over the earlier straight six and the somewhat sensitive M 116 3.5 liter V-8 power plant, the 'big' V-8 churns out over 200 horsepower with ease. It is designed to cruise effortlessly on the Autobahn at 120mph all day long.
The motor always starts on the first turn of the key and runs magnificently. To this day, the 'old 4.5' holds a well deserved reputation as the most dependable V-8 ever made by the Huns. Without the later black boxes and plethora of electronic emission controls that give nothing but headaches (but were necessary to keep up with ever-tightening DOT and EPA government regulations), this solid engine behaves very much like a 'good old' V-8 from Detroit, but it is, of course, much more refined.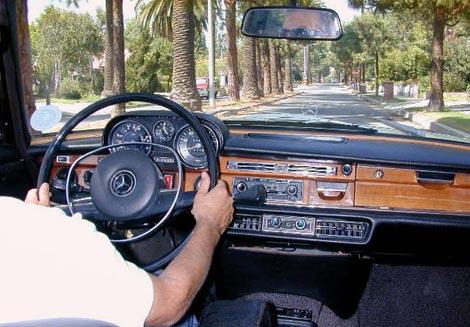 Driving the big Four Point Five is much like driving a Rolls Royce Silver Shadow or Silver Spur, but without the vagueness of the Brit's brakes and steering. This Mercedes drives like it runs on rails. It is tight and precise in every aspect of its existence.
It shares with the Rolls solidity, soundness, and the feeling that nothing can harm or affect this car, at any speed or in any situation. The Germans still drive these cars on the Autobahn, the pedal pressed to the firewall, whenever traffic allows. Knowing that it holds 8 quarts of engine oil-- almost twice the life-juice of a comparably-sized US motor--provides the peace of mind that it won't be thermally challenged.
All the gauges work, of course, and that includes the VDO clock. The engine's oil pressure is superior and all vital signs suggest a long life span ahead. Low miles and rigorous service are key elements to a prime candidate and this one surely must be among the finest survivors of its kind anywhere!
Did I mention that the huge, 4-wheel disc brakes have just been serviced?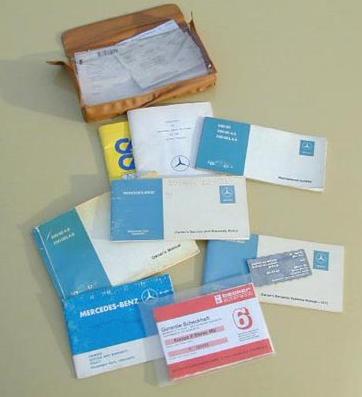 The factory folder holds the following documents:
Owner's Registration Card
Protect-O-Plate
Owner's Manual
Maintenance booklet (last factory service at 79,613 miles at Mercedes Benz of Beverly Hills)
Owner's Service and Warranty Booklet (coded with VIN)
Owner's Emission Systems Manual 1973
Directory of Mercedes Benz Dealers
Owner's Manual and Warranty Booklet for BECKER radio (still in plastic).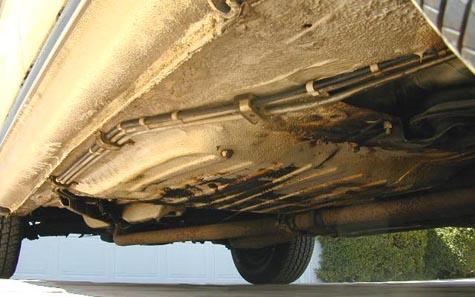 A view of the undercarriage speaks volumes. There is not an ounce of corrosion or non-factory undercoating to be found anywhere. What you see is 27-year-old factory paint and remnants of the assembly line applied, protective wax coating. Even here in Southern California, you'll be hard-pressed to find another car that's three decades old and looks like it has never been driven in the rain. I have never seen a nicer undercarriage on a classic car, save for the occasional trailered show participant. It's breathtaking!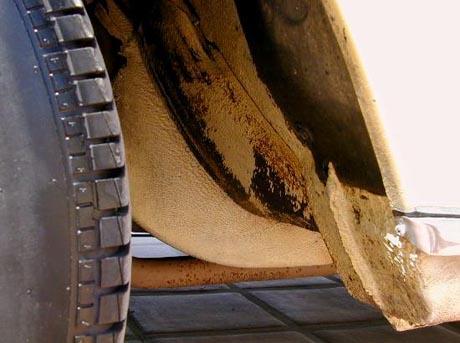 Front wheel well detail. This is a pristine, completely original and unrestored survivor!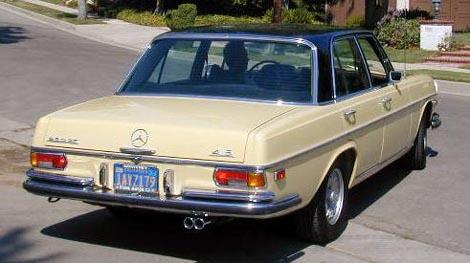 Not only is the factory paint miraculously preserved, but virtually all the chrome, bumpers, moldings, mirrors, and emblems are pristine as well! This car surely belies its age. It's almost as if it has spent most of its life in a bubble, away from the elements. Maybe the owner parked it in her living room?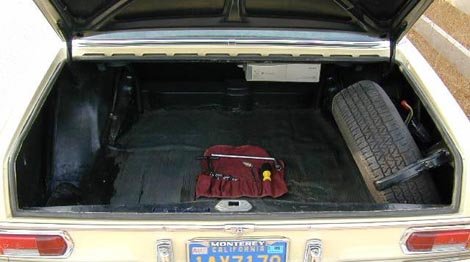 Spacious trunk is extra clean and free of any corrosion. The factory rubber trunk mat has given its life to protect the trunk floor's virginity. Original spare tire, jacking equipment and tools are present. Note the CD-changer, a welcome 21st century addition, mounted out of thieves' reach and out of sight. It is remote controlled from the interior.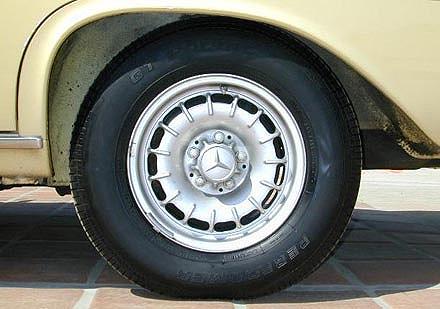 The O.E.M. 6½x14 forged aluminum alloy wheels are unblemished and shod with near-new 215/70 R14 H high speed tires. Again, have a look at the inner wheel well!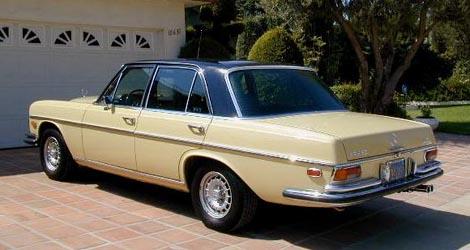 Instead of shelling out big bucks for a new car that will depreciate faster than you'll be able to pay it off, you could be driving this stunning, well maintained S-class Mercedes.
An original Southern California car, featuring a very desirable color combination and V-8 power, a car that is classic car insurance eligible and will not depreciate at all, has no rust or accidents . . . what else could you possible ask for in a vintage Mercedes?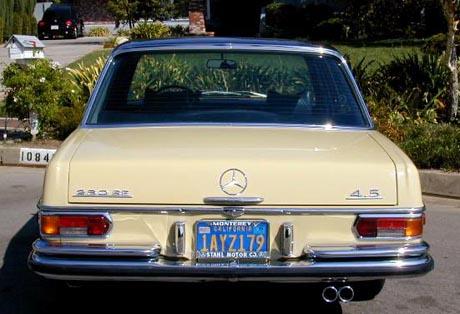 Prices for clean examples of the marque are steadily climbing. Now is the time to buy one and make money while you drive it. Enjoy!
Thank you for your interest, and have a nice day!
---
Presentation & Copyright © 2000 by Californiaclassix.com. All Rights Reserved.
No part of this presentation may be reproduced without written permission of the author. E-mail inquiries to Webmaster@Californiaclassix.com.