Experts agree: the most durable Mercedes cars ever built are those of the New Generation W114/115 series, dubbed Strich Acht ('Slash Eight'), introduced at the Frankfurt Auto Show of 1967. Manufactured for almost a decade, until 1976, and devoid of black boxes and electronic gimmicks whose failures eventually relegate even rust free late-models to the boneyard, Mercedes' New Generation cars are as solid as Sherman tanks and destined to live forever.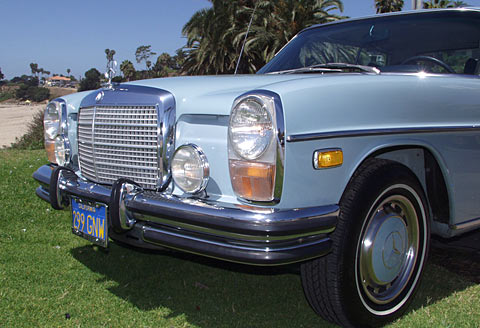 Click on the above image for an XXL-sized view (800 x 586 pixels)
Exceptional longevity, utilitarianism, and value aside, what a collector wants is a car that elevates one's heartbeat by its sheer presence alone. Luckily, in 1968 Mercedes added the 250C to the 'Slash 8' family: an elegantly styled Hardtop Coupé like no other. Unlike its successor, the W123 Coupé, the 250C was built in relatively limited numbers and shared the sedan's longer wheelbase, thus providing plenty of space for 5 tall adults and a cavernous trunk, large enough even for Zsa Zsa's luggage.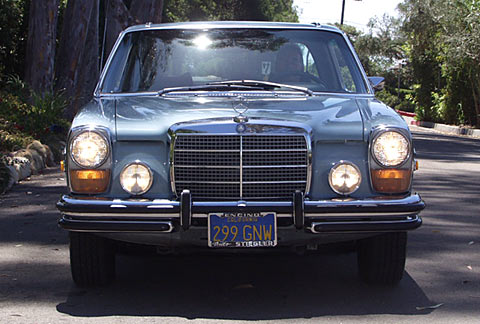 Click on the above image for an XXL-sized view (800 x 588 pixels)
Ironically, these wonderful cars have been overlooked by collectors until recently. Doing daily duties for three decades or more, few have enjoyed the care of a single owner, pampering it like a favorite child. Few have been stored in a climate controlled garage, never been repainted or reupholstered, never been involved in as much as a parking lot mishap. Consequently, the car offered here would just be what a collector lusts for: a virginal, all original Coupé, never restored, nor needing restoration, a car that looks like it just left the showroom floor.

We've found the proverbial needle in the haystack, the "Blue Mauritius," right here in beautiful Southern California, and are truly proud to offer her to the discriminating aficionado.
Built in November 1971, VIN *114023-12-006976* was sold new on September 13, 1972 by Colonial Imports in Glendale, California to a Santa Monica obstetrician. One of only 2,839 U.S. 250C Coupés built that year, the car stayed with its original owner for 30 years, until 2002, at which time it was purchased by a collector from Woodland Hills, California, and became part of a small but nonetheless exquisite stable of Porsche and Mercedes automobiles.
This 250C certainly is one of the finest examples of its kind in the World, being 100% original and untouched--save for an updated Mercedes sound system--and featuring superbly preserved original paint, upholstery, and chrome.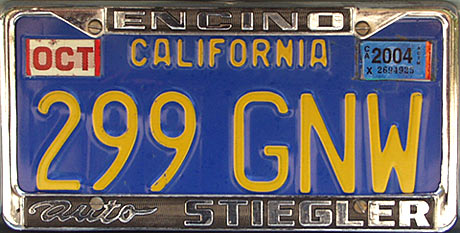 Befitting such a mind-boggling survivor, the Coupé proudly displays both its original 1972 blue-and-gold California license plates. The car is currently registered until 10/24/2004.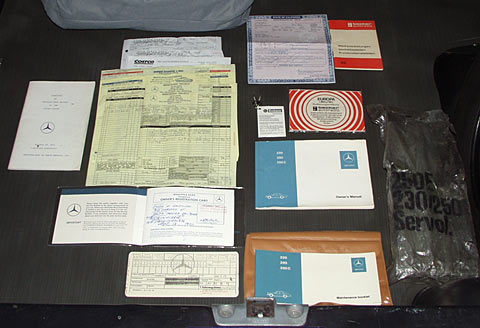 Click on the above image for an XXL-sized view (800 x 585 pixels)
You've probably guessed it, all books and manuals--shown here atop the immaculate trunk mat--were neatly tucked into the original tan vinyl pouch, including:
Owner's Manual
Service and warranty policy
Faithfully stamped Maintenance Booklet
M-B Dealers Directory
BECKER radio instructions and dealer list
HIRSCHMANN Antenna Booklet, keys still attached (!)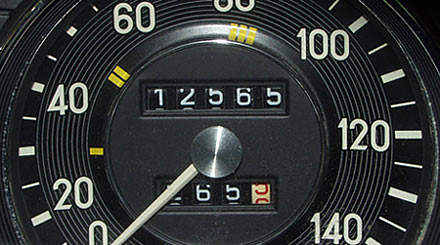 Always driven sparingly, only 3,500 miles were added to the odometer each year, on average, just enough to keep the vital fluids circulating.
Please, feel free to follow us while we're inspecting this truly exciting survivor thoroughly, top to bottom, inside and out.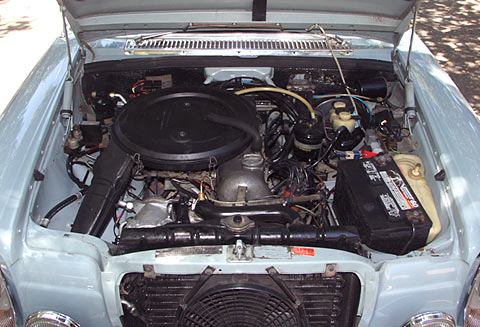 Click on the above image for an XXL-sized view (800 x 552 pixels)
Let's start with the engine, shall we?
It's esoteric knowledge that, despite its model designation, the prestigious 250C Coupé did not come equipped with a 2.5-liter engine when sold in this Country. Instead, Mercedes stepped up to the plate and installed the famous M130, 2.8-liter SOHC powerplant, topped by dual Zenith 2-barrel carburetors, right from the factory into all US-models. No computer, no electronic throttle sensors, no fuel injection, but enough power from its 157 teutonic horses to cruise at triple-digit speeds on the Autobahn, all day long.
Engine compartment is spotlessly clean, even in the most remote corners; truly a feast for the eyes!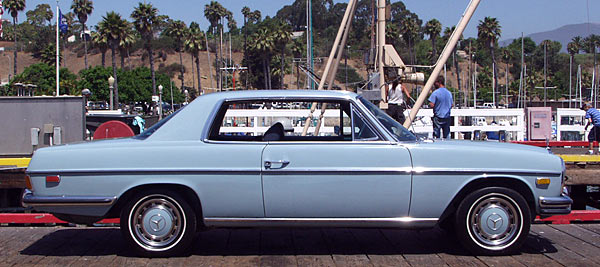 Click on the above image for an XXL-sized view (900 x 477 pixels)
Examining the the sleek body lines, you might realize that the Coupé's roofline is lower than the sedan's. Mercedes actually chopped the top about two inches for a sportier look, a styling cue that was later copied by Bertone for the Volvo 262 'Crown' Coupé.
Be assured, everything you see here is factory original. This star cruiser has never been apart. The glossy 'Horizon Blue' (code 304) paint has been applied in Stuttgart, Germany, back in '72; there are no dings, dents, or scratches anywhere. The doors still close with the characteristic bank vault sound no automaker has ever been able to copy.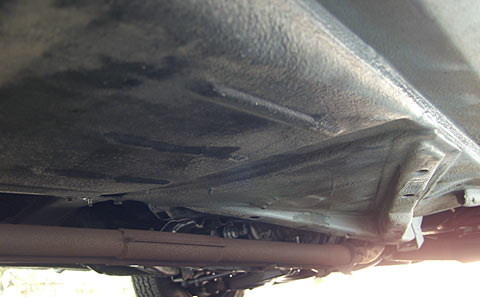 Click on the above image for an XXL-sized view (900 x 557 pixels)
Breathtakingly preserved factory paint aside, what matters even more on a 32-year-old automobile is the condition of the undercarriage.
Of course, this car never needed any rust repair. Not an ounce of non-factory undercoating spoils the perfect picture. Better yet, this Mercedes still shows its factory blue paint underneath!
Impressed? We thought so. But it gets better!
Click on any of the above images for a full-size view (800 x 600 pixels)
Let's inspect the wheelwells a bit closer. The photos above show the right front; be assured, the other three wheelwells are as clean.
But 'clean' can be a relative term. Think three decades of use. Driving on dusty, dirty roads. Think of gravel and debris being flung around in here. There's simply no way that the factory paint deep down there could survive like this. But here it did, amazingly, which eloquently speaks about the incredible care this Mercedes has received for the past thirty-two years.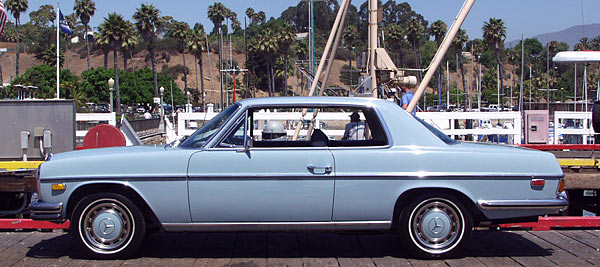 Click on the above image for an XXL-sized view (900 x 470 pixels)
To meet ever-tightening DOT safety regulations, Mercedes was forced to equip all of its vehicles with huge, locomotive-style bumpers, starting mid-'73. Larger taillights and exterior mirrors further diminished the inherent beauty of the early Coupés. Emission requirements and an archaic catalytic converter did the rest. Thus, the early (pre-'74) 250Cs, like the one shown here, are far more desirable than the later cars.

Click on the above image for an XXL-sized view (800 x 540 pixels)
Ready to look inside?
Let's start with the dashboard. Big "ocean liner" steering wheel has been protected by a blue leather cover to this day. Gauges look absolutely new. Instruments, lights, switches, power windows: everything works flawlessly, even the clock. Illuminated heater levers look perfect and move smoothly. The air conditioning system has recently been gone through completely, to the tune of over $1,500.00. Fitted with an upgraded compressor, it blows ice cubes on demand. A Mercedes cassette radio with CD-controller has been professionally installed in the original console location.
Click on any of the above images for a full-size view
Period coco mats have always protected the factory carpeting, keeping it like new. Lift the carpets, and you'll see flawless factory paint on the floor pans. It doesn't get any better than this!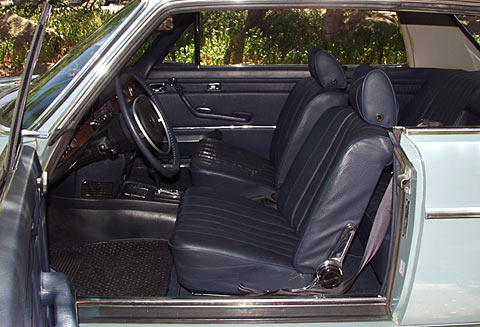 Click on the above image for an XXL-sized view (800 x 583 pixels)
The interior exudes all the Gemütlichkeit of the Bavarian Obersalzberg Bratwursthaus. Solid elegance is the main theme; richly embossed blue MB-TEX (instead of cheap Naugahyde), a sparkling clean headliner, chrome-plated fittings, real Zebrano wood accents, and the traditional square weave carpeting provide a cozy atmosphere.
Legroom is otherworldly. Even a 6'8" giant finds plenty of space and will agree that the W114 is one of the most comfortable cars in the world, Rolls Royce saloons included.

Click on the above image for an XXL-sized view (800 x 580 pixels)
There is also plenty of room in the rear passenger compartment, even for full-figured and long-legged people. Seats, side panels, carpeting, weatherstripping . . . everything proves to be fantastically preserved and ready for another 32 years of use. The build quality of the 250C is unsurpassed; even a brand new Mercedes-Benz could not hold a candle to the achievement of the /8-series. Sad but true: they don't make 'em like this anymore.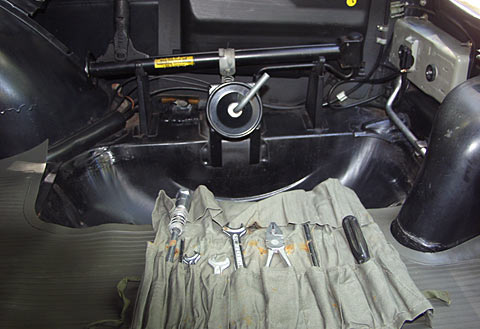 Click on the above image for an XXL-sized view (800 x 588 pixels)
The cavernous trunk is big enough to swallow several bicycles at once. Its rust free floor is still protected by the--beautifully preserved--original gray rubber trunk mat. The spare, jacking equipment, and all the 'hidden corners' nobody cares to inspect are clean as a whistle.
A special treat is the factory tool roll, protected by the 32-year-old plastic cover. Truly a hard-to-find item!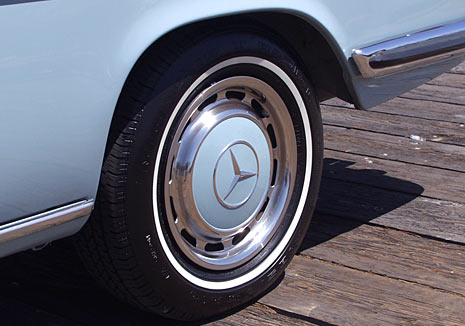 Click on the above image for an XXL-sized view (800 x pixels)
The 250C rides on stock 6 x 14" steel wheels, complete with painted and polished factory aluminum wheel covers. Road rash? None. Tires all around are new MICHELIN X white walls. Nice!

Click on the above image for an XXL-sized view (800 x 554 pixels)
A stunning car, no doubt. But what's it like driving a 32-year-old show piece in today's traffic?
Let's find out!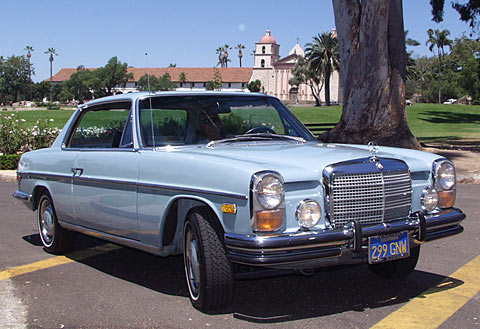 Click on the above image for an XXL-sized view (800 x 575 pixels)
Sunday, July 18, 2004. Another perfect day in Paradise. We took the Coupé on a trip from Santa Barbara to the quaint New Age town of Ojai. Going horseback riding!
On the 101 Freeway, the Benz humms along happily at 75mph, thanks to its advanced 4-speed automatic with fluid coupling. Admiring looks, thumbs up, and many smiles along the way confirm what we knew all along: everybody loves this car!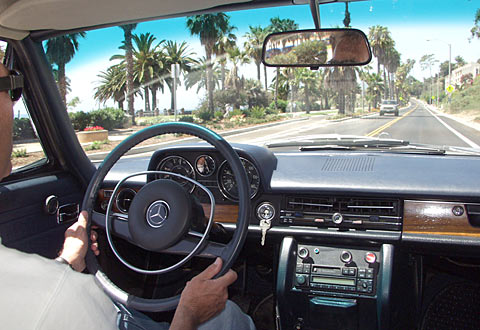 Click on the above image for an XXL-sized view (800 x 600 pixels)
Going uphill on Highway 150--one of the most beautiful roads in California--the 250C can show its strength and road manners on the never-ending twisties, which it did with aplomb. Power steering is very precise and power-assisted 4-wheel disc brakes anchor the car with the authority of a parachute.
This is not only a safe car; this is a bullet proof tank in beautiful disguise.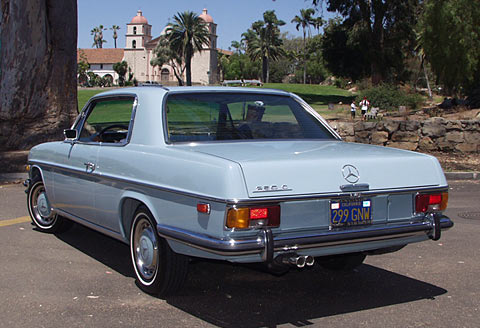 Click on the above image for an XXL-sized view (800 x 575 pixels)
If you are a person of impeccable taste, someone who appreciates a pampered survivor more than today's dernier cri which fades so quickly, this rare Mercedes Hardtop might be just the car for you.
If you enjoy the unhurried lifestyle of old, cruising along quiet country lanes, side windows lowered, a warm spring breeze tugging at your hair, you might fall in love with this unique automobile.
If you love German solidity and value a car that's sophisticated in design, but mechanically straightforward, you could fit the owner profile of the 250C.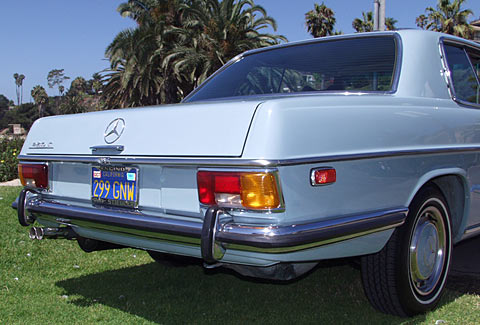 Click on the above image for an XXL-sized view (800 x 580 pixels)
Being a 1972 model, this fine motorcar is smog inspection exempt in California (and most other States of the Union) and qualifies for utmost affordable Classic Car Insurance.
That said, this 250C is not an entry level Mercedes; rather, it is one of the finest, all original cars of its kind in the country, and deserves a new owner who will cherish and preserve it. You couldn't restore one for the money we're asking. A car is original only once, and in the long run, it surely pays off to buy the best original car you can afford.