How'd you like having a classic Italian supercar in your garage? A Ferrari, Maserati, or Lamborghini, perhaps, one that can tear up the lanes of the Autostrada while cruising at 160mph?
Que bello!
But, wait a minute!
You would also have to deal with the dreaded fragility of an exotic, quadruple-cam 12-cylinder engine and obscenely expensive maintenance bills. Who--aside from late-night talk show hosts and movie stars--can afford paying in excess of $3,000.00 for a tune-up or upward of $25,000.00 for an engine rebuild?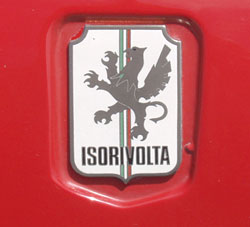 Fortunately, there's a solution, one that has been discovered and explored by the likes of Carroll Shelby and Alessandro DeTomaso: take the most beautiful Old-World sports car creation conceivable and implant the muscular heart of an American athlete, right at the factory!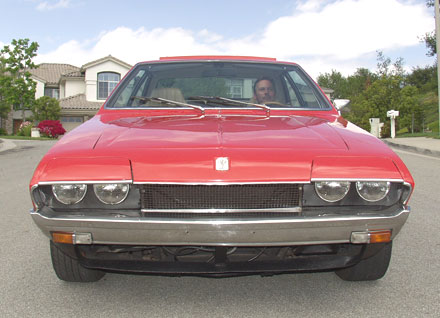 That's exactly how Signore Renzo Rivolta envisioned his Italo-American hybrids. Starting with the Gran Turismo Iso Rivolta, the gran maestro and his son Piero built exactly 1,669 cars from 1961-75 in a small factory on the Via Vitt. Veneto in Bresso, near Milan, Italy. Among them was the legendary Grifo, a car so beautiful that it would serve as a template for the arguably most exciting street-legal car of all time, the Bizzarrini 5300 Stradale!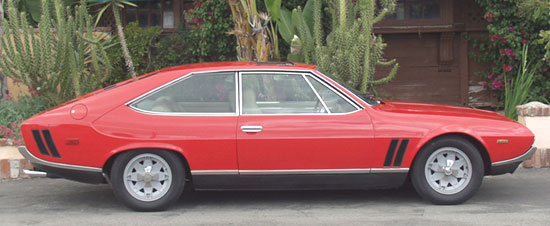 For those supercar aficionados with a family (but not ready to miss out on the excitement) Ferruccio Lamborghini in 1968 built the drop-dead gorgeous Espada, a real 4-seater with looks to die for. Rivolta borrowed the Espada's (and Miura's) famous designer, Marcello Gandini, and fired back with the Lambo's straight competitor, the esoteric 2+2 Lele, named after Piero's wife. Its bodywork executed by Bertone, the Lele is as beautiful as Gina Lollobrigida.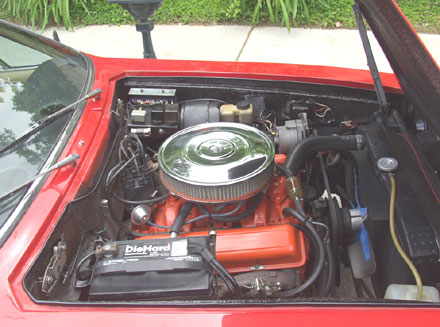 Motivated by various small block Chevrolet and Ford V-8 power plants and backed by a choice of 4 or 5-speed manual or automatic transmissions, Leles are serious contenders on Europe's superfast highways, even today. Back in the early '70s, there was nothing with four seats that could keep their pace, except--maybe--a Monteverdi 375 HiSpeed or the aforementioned Lamborghini Espada.
The 1972 Iso Rivolta Lele presented for auction here--VIN 500125--is one of just 295 cars built before the factory was forced to close its gates in 1975 after a costly Formula One adventure. According to various print sources, it was the final Chevrolet-powered Iso. It is one of less than 50 Leles fitted with the fabulously strong German ZF 5-speed manual transmission.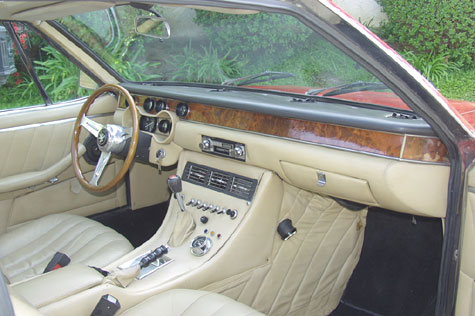 Italian haute couture characterizes the leather-clad passenger compartment. The classically beautiful dash is replete with seven round JAEGER dials; 200mph (320km/h) speedometer, 7,000rpm tach, and oil pressure gauge are deeply recessed in leather binnacles; oil temp, water temp, amperemeter, and fuel gauge are set in fine burled maple. Note the beautiful NARDI wood-and-aluminum steering wheel with the ISO horn button.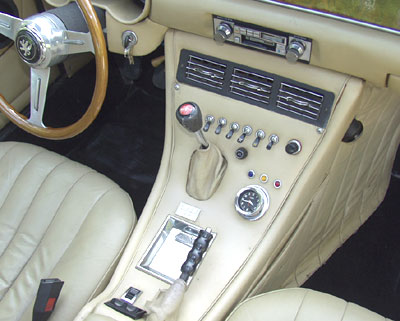 Wide supercar console houses switchgear worthy of a Learjet. Of course, the power windows work, as well as the electric sunroof!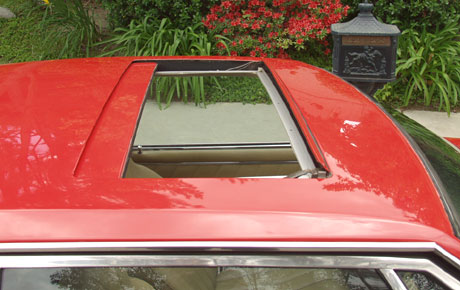 The electric sunroof option was so expensive that only a tiny fraction of all Iso buyers ordered it. A big mistake, really, since it enhances the driving experience and increases the value of this car greatly. Try to find another Iso Lele with a factory power sunroof, anywhere in the World!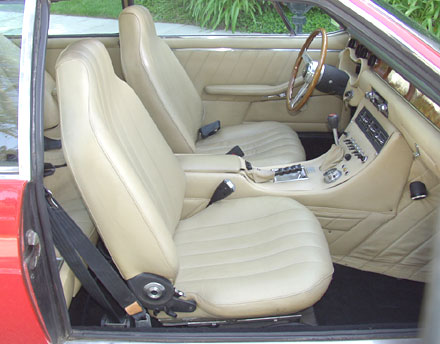 Sumptuous fauteuils help create a luxurious ambiente. There are no rips or tears in the original Italian leather, and the chairs are still firm. There are 4 map pockets and storage compartments in the rear arm rests.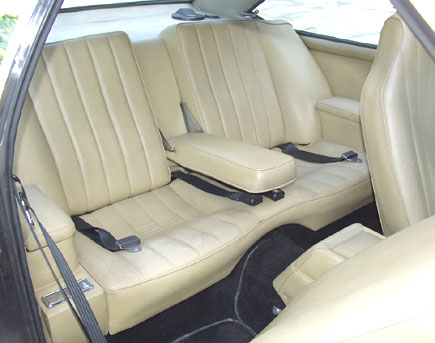 Yes, you're looking at a fully useable, very comfortable rear passenger compartment, not an emergency space suited only for kids, as you would find it in a Porsche 928. Black carpeting looks brand new.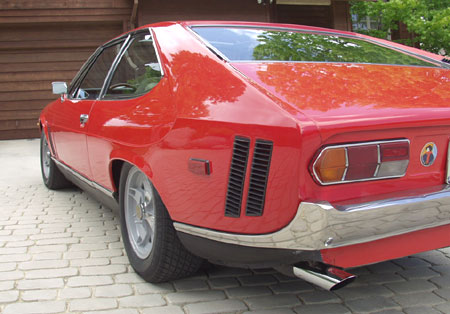 Gandini's timeless design incorporates brake cooling vents, CAMPAGNOLO knock-off magnesium wheels, and stainless steel bumpers and trim. 33 years after it was introduced in Turin, the Lele still looks impressive and intimidating. Most casual observers believe it to be a Ferrari or Lamborghini and who could blame them?
Painted bright Rosso Corsa a few years ago to a "driver" standard, the surface is very glossy; nonetheless there are a few imperfections, such as a ding on the hood, and a few isolated bubbles on the door bottom.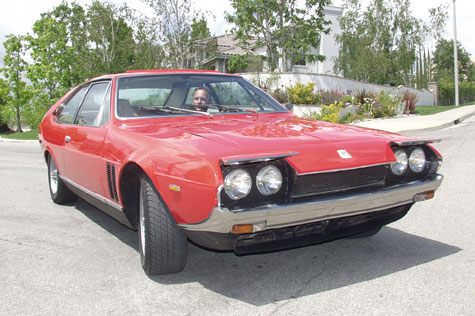 So what's it like driving an Iso, you might be anxious to know.
Frankly, so was I, never having had the pleasure before. Would it be like driving an Espada, but more bruto, with muscle flexing instead of a concerto of cams and valves?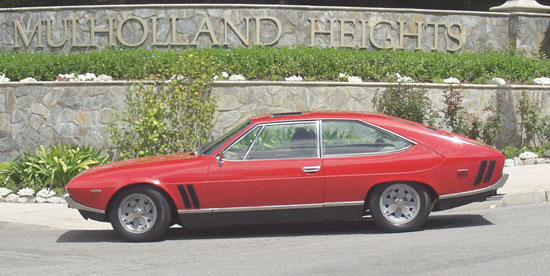 On Saturday, May 4th, I was ready to inhale. Every last puff.
And, indeed, driving the Lele is a unique experience. Imagine the power of a tarmac-melting '60s Corvette, but with plush Coupe accommodations, the aroma of Italian hides, and a supple ride. The Iso starts easily and settles quickly into a rumbly idle. Put the ZF 5-speed's gear lever into first, and off you go. 4-wheel power disc brakes and clutch take little effort to operate, just the steering requires some muscle, until the car gains speed. An unending supply of power on tap, you search for the highway, immersing yourself in the essence of mid-century Grand Touring.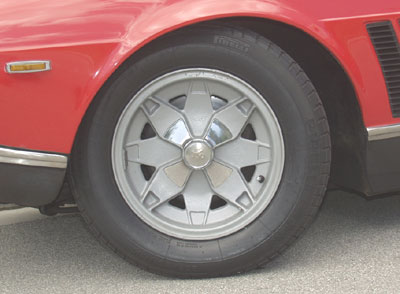 Built to cruise at three-digit speeds on the Italian Autostradas and German Autobahnen, there is so much safety built into the car that it won't break a sweat, no matter how hard you drive it. The grippy PIRELLI P600 extreme high speed tires of the dimension 235/60 VR 15 on those beautiful magnesium CAMPAGNOLOs surely do their part.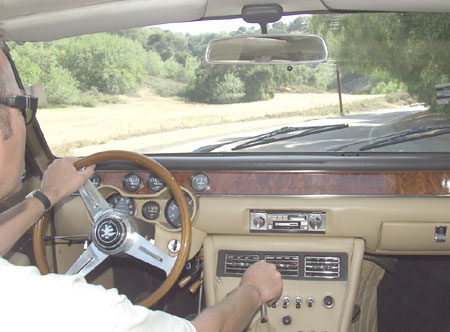 Let the sunshine in!
What really got me going is the mellifluous music coming from those two huge exhaust pipes. Iso's power plant doesn't sound at all like a typical V-8. More like a high-revving Ferrari F355 or an old-school V-12. It rumbles, barks, screams, sings, cries, and even backfires occasionally . . . a mechanical concerto that words cannot sufficiently describe.
I love this car!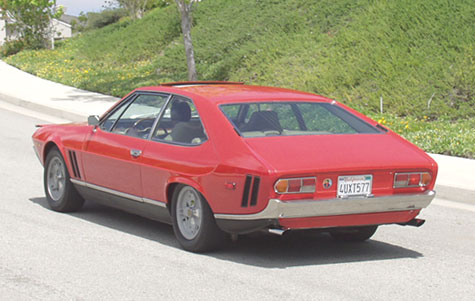 Iso's badge features the Griffin (it. Grifo), a mythological animal that's half lion, half eagle. Most fittingly, no doubt, since the Iso Lele masterfully combines smooth elegance with dominating power.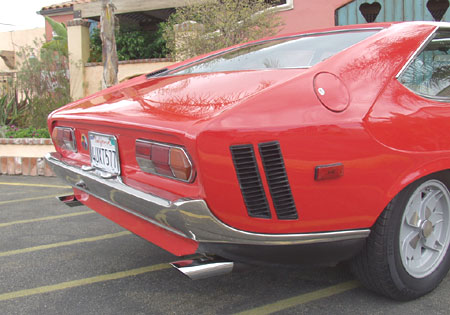 The Lele truly epitomizes the hip 1960s Gran Turismo style. Its pedigree encompasses fabled names like Bizzarrini, De Dion, Gandini, Bertone, Corvette, and ZF. It is a surprisingly spacious 2+2 fastback supercar that incorporates the best two continents had to offer. You may think of it as a Lamborghini with reliable U.S. Muscle Car power.
It's rare, it's beautiful, it's fast, and it found a new owner, right here at Californiaclassix.com.