After weeks of anticipation, finally, the garage door of a picturesque estate near Santa Barbara's Old Mission is carefully unlocked. From the shadow emerges the familar shape of an early Porsche 911, quietly hibernating beneath a custom-tailored flannel cover.
The cover is lifted slowly, revealing a gleaming silver beauty. Your heart skips a beat when you notice the small black emblem on the car's engine lid: 911S.
Double-checking the production date on the VIN-sticker, you realize: you've just hit the jackpot!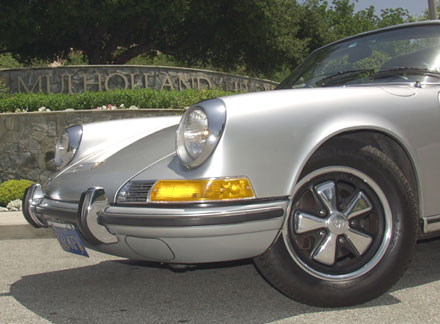 After all, this is one of the most exciting automobiles to own, period! The pure fascination of things mechanical was engineered to perfection in the late, great '72-'73 2.4-liter "S" models. Stirring emotions you long thought buried behind pinstriped suits and bifocals, the "S" is a lightweight rocket on wheels that stimulates all of your senses. Its sole purpose is to do it fast, loud, and intense. A street legal club racer, the 2.4 "S" is the legitimate predecessor of the legendary '73 911RS.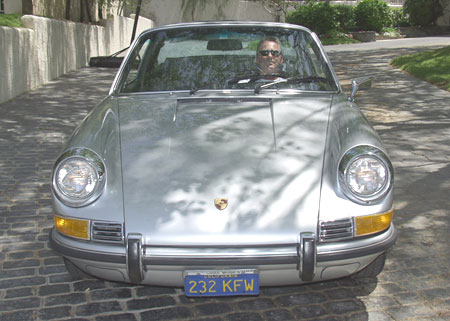 Most appreciated by serious collectors, well preserved examples of the breed have become very hard to find. Many have been "updated" and modified by well-meaning owners throughout the years, others have silently retreated to automobile heaven after fighting a losing battle with the merciless rust devil.
Just released from the loving care of its owner of 28 years, this particularly attractive example of an exceedingly rare model--only 969 "S" Targas were built in '72--will dazzle the true aficionado with its amazing provenance.

Born in July of 1971, just before the Porsche factory summer vacation and subsequent start of regular '72 model year production, VIN *9112310012* is the 12th "S" built and one of only a handful of pre-production '72 Targas in existence, worldwide! According to a marque specialist, the first few '72 "S" models left the factory sans lip spoiler. Here's such a rare example!

Sold new in Santa Monica, Calif., this matching numbers, air-conditioned "S" spent its entire life in the Golden State.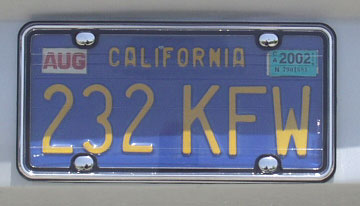 The original-issue, 6-digit blue-and-gold California license plates have graced this 911S for over three decades!
According to the original Bill of Sale, the car was purchased on 6/4/1974 at Ralph Cutright Porsche, 1932 Wilshire Blvd., Sta. Monica, Calif., for the--then princely--sum of $9,850; the dealer reluctantly accepted a 1966 Ford Mustang as a $250 trade-in!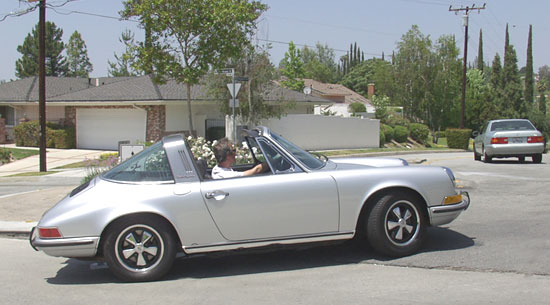 Fifty-four (54) chronologically filed service and maintenance records totalling $31,931.78 comprehensively tell the amazing tale of this pampered 911S.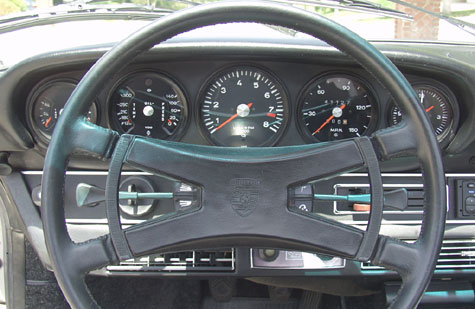 Included is an invoice dated 7/23/77 from Steve Taub Porsche; apparently, at 48,219 miles, a new odometer was installed.
This odometer currently shows 41,127 miles. With just 89,346 total, documented miles accumulated in 31 years, this "S" is a true low-mileage example, driven less than 3,000 miles annually, on average!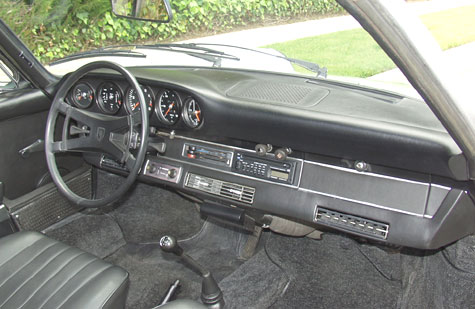 Here's a vintage Porsche that has not only been driven sparingly and serviced faithfully, but one that also was fortunate to always be garaged, away from the elements. The interior looks incredibly fresh. Leather-clad steering wheel and vulnerable door pockets are unblemished, proclaiming "low mileage 911!" The dash looks like it's 3, not 31 years old. For musical entertainment, a modern BLAUPUNKT Madison CD/Stereo system with ALPINE Speakers has been installed. But the real music is coming from the back . . .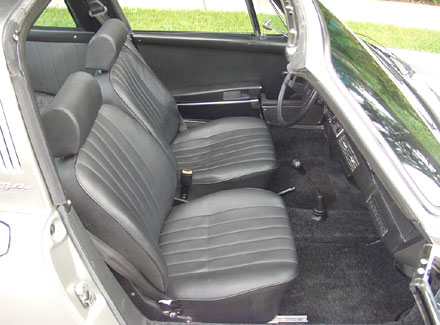 Seat upholstery and carpeting appear immaculate. A smoke-free automobile, you won't find anything but spare change inside the ash tray.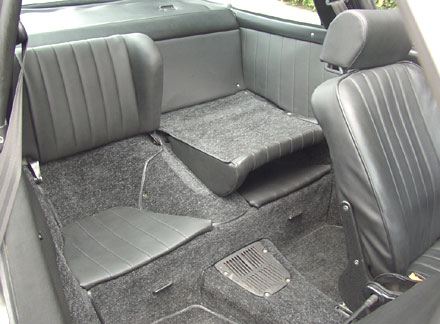 Rear occasional seats look like they've never been sat on, not even occasionally.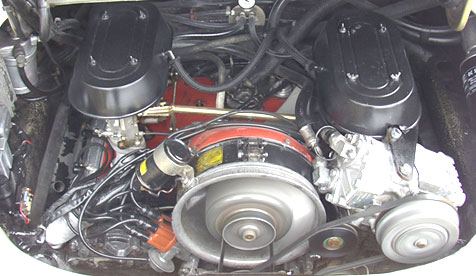 Click on the above image for a large closeup view
Strong heart of the 911S; hallmark of the original, KARDEX-matching engine #632-0036 is a distinctive, bright orange fan shroud. 190--conservatively rated--Teutonic race horses turn the "S" into a veritable screamer and propel the silver, 1075 kilogramm projectile from zero to sixty in six seconds flat, with a top speed of over 140mph. Compared to the mundane 911"T" with its paltry 135hp, this is serious stuff. Not until the 3.2 liter Carrera of the 1990s existed a naturally aspirated 911 that moved faster than the lightweight 2.4 liter "S".
About 25,000 miles--and 17 years--ago, this engine came to enjoy a major top end rebuild, a 2.4S WEBER kit replaced the unreliable MFI, and the bullet-proof Carrera chain tensioners were installed; the receipt from Santa Barbara Porsche specialist Schneider Autohaus in the amount of $3,965.37 is on file, of course. Aahh . . . the joy of owning a vintage sports car, replete with documented history!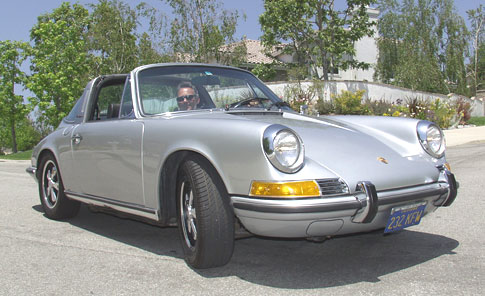 Speaking of joy, to drive this fabulous "S" provides the thrill of a lifetime. Negotiating Highway 33 from Ojai to Maricopa last Saturday, with its fast, sweeping turns, it was Goosebump City all over again. Free to negotiate vast expanses of two-lane blacktop at triple-digit speeds, I felt like Steve McQeen driving his 2.4S via narrow European secondary roads to LeMans . . .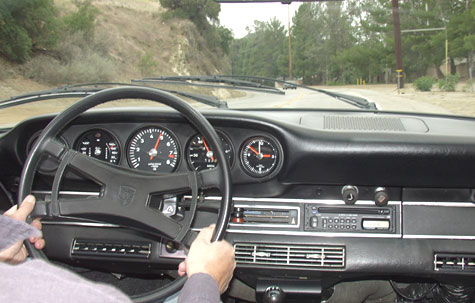 The engine revs smoothly like a turbine from idle speed all the way to its 7,200rpm redline. The type 915 5-speed transmission helps tremendously in regard to fun and acceleration capabilities. This Targa runs, drives, shifts, and brakes beautifully. In fact, it is the best running and driving Porsche 911 I have encountered . . . ever! And, yes, being a 1972 vehicle, it is smog exempt in the State of California and elegible for most affordable Classic Car Insurance.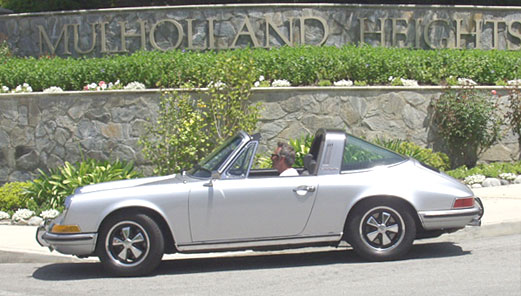 With its flawless black Targa top folded and stored in the trunk compartment, open air motoring takes on a whole new dimension. Pleasantly, there is almost no wind-buffeting! The 911 Targa combines the advantages of a convertible's open air pleasures with those of a coupe's rigid body construction. Who says you can't have your cake and eat it, too?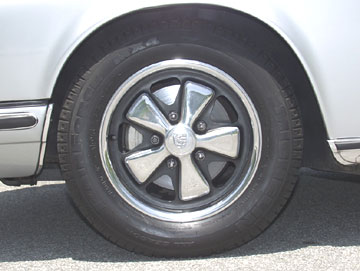 Porsche's FUCHS 6x15 aluminum wheels with highly polished spokes are very special, indeed.
MICHELIN Rainforce MX4 tires of the dimension 195/65/15 were installed less than 3,000 miles ago. Have you noticed the large aluminum "S" brake calipers?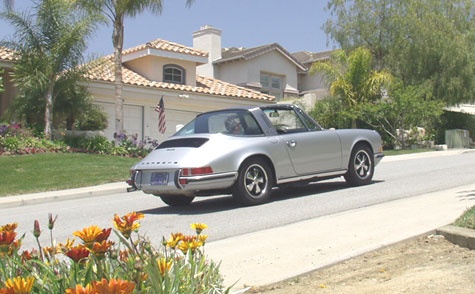 Click on the above image for a large closeup view
Renowned local shop Santa Barbara Auto Refinishing painted the "S" to factory standards and specifications, less than 4,000 miles ago. The expensive Targa top seals were replaced; there is absolutely zero leakage in this critical area. Total documented expenditure: a whopping $10,647.92!
This 911"S" is ready for the next PCA show.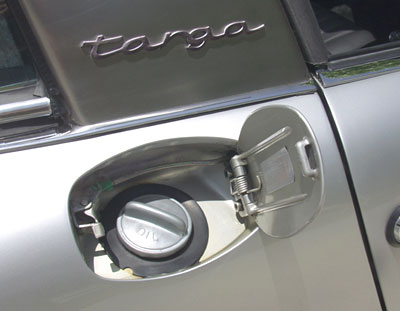 1972 was the only year for the outside oil filler, located behind the passenger door. Like the remainder of the car, this area is Q-Tip-clean!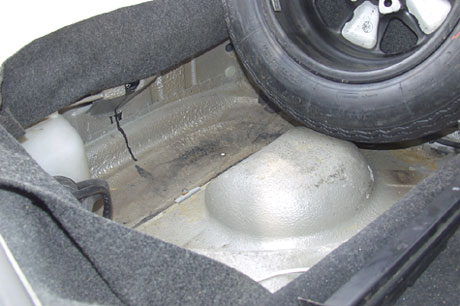 Trunk is as healthy and original as you'll ever find. Matching, date-coded FUCHS spare wheel has never been used. A custom bra is included, as well as the original tire jack, the driver's manual, and even a deluxe factory brochure.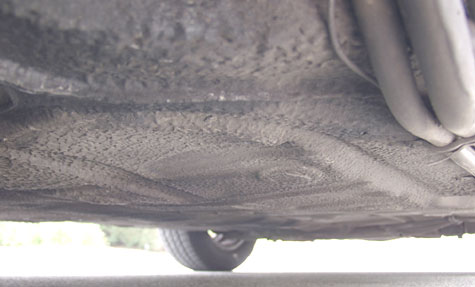 Only in California will you encounter such a virginal undercarriage, undisturbed, and 100% rust free. As guaranteed by its caretaker, this "S" has never seen a drop of rain in the past 28 years; the former owner, a noted collector, only used it as a Sunday workout toy, time and weather permitting. And it shows . . . everywhere!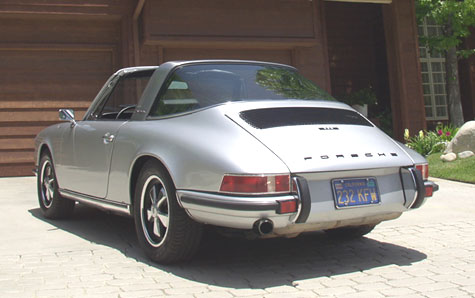 Rarely does the opportunity arise to acquire a Porsche 911--or any car, for that matter--that has been kept as pristinely as this silver open air "S". Three decades of loving care by a mature enthusiast, combined with the benign California climate have helped to preserve this automobile. I seriously doubt that another '72 911S exists that displays such a unique combination of favorable traits:
It's a rust free, air-conditioned, documented, low-mileage California blue-plate car, a rare pre-production 911S, sporting a most desirable color combination.
Best of all, it's for sale right here on eBay-Motors, starting at just $19.72. Now's the time to act!
It'll be futile to e-mail in a few weeks, asking me to find another 911S just like it. Sure, one can beat the odds, but how likely is it to hit the jackpot twice in a lifetime?