On more than one occasion, England's Rolls Royce has been named "The best car in the World," saluting the utmost effort and meticulous attention to detail applied in manufacturing each and every one of these majestic motorcars of timeless beauty.
Naturally, there are always people arguing that a top-of-the-line Mercedes or BMW sedan would be the proper vehicle for high speed commuting on Europe's fast-paced highways. When it comes to appropriate open top motoring, though, even the technology-heads respectfully concede to Her Majesty's venerable Rolls Royce, proving the point to be made: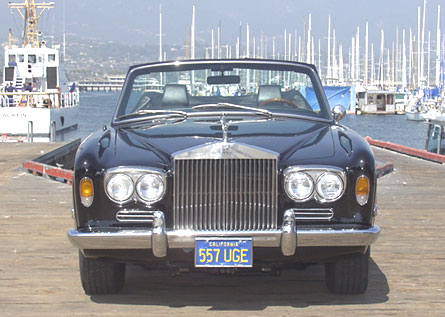 There exists no other automobile on this planet that could match the built-in charisma and prestige of a Rolls Royce convertible.
Granted, if you just want to get from A to B, you could take the Benz (or any other car), but if you truly want to arrive, the Corniche is your one and only choice.

Hand-built for over three decades at a leisurely pace of about four cars per week by select Old-World craftsmen, the Silver Shadow-based Corniche--like the RR Camargue named after a breathtakingly beautiful region in Southern France--undeniably is the finest post-WWII convertible made. Essentially a timeless design, age seems to be a negligible factor when evaluating a suitable candidate for acquisition. The primary criterion regarding its value as well as its magnitude of visual and social impact is a Corniche's state of preservation.

Unlike the 4-door Silver Shadow sedan, which was built "in house" in Crewe, Corniche coachbuilding was commissioned early on to RR subsidiary H.J. Mulliner, Park Ward Limited in North London.
Mind you, a Corniche is not simply a Silver Shadow with two doors. Far from it, esteemed Viscount, it is an entirely different-looking vehicle, equipped with numerous aluminum alloy body panels, countless, very costly improvements, and lovingly created, unique details. Last time we checked, a Rolls Royce convertible retailed at $365,428.00; this fine example here, valued at about 10-15% of a new replacement, must constitute an incredible value.
Click on the above image to view a full size image of the car's left side
The stunning Rolls Royce Corniche convertible presented for auction here, serial number *DRX9283*, is a true California car. Factory ordered in splendid triple black livery, the car spent most of its life inside a climate-controlled carriage house, kept company by an Aston Martin, a Bentley, a Bristol, and a few other, less pedigreed offerings from Her Majesty's realm.
The 86,423 miles shown on the odometer are believed to be the correct, total mileage of the vehicle, an assumption supported by its--quite exquisite--present condition, being over three decades old. Hard to believe? See what a pampered life in Southern California can do for you!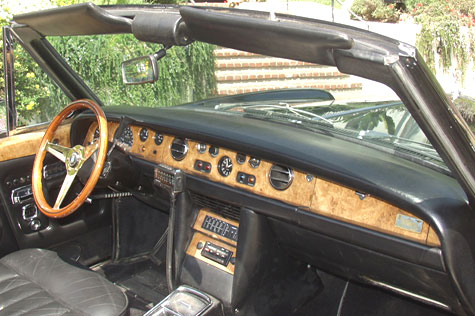 The proverbial Beverly Hills Rolls. Corniche dashboard is unlike any other, a delight of unmatched finesse. The interior displays an abundance of visual panache, with acres of black CONNOLLY leather, gold-plated NARDI volant, esoteric BLAUPUNKT Berlin stereo, and dazzling bird's eye maple wood that was professionally refinished in 1985.
Gauges
BLAUPUNKT Berlin
Gooseneck Stereo System
Coachbuilder's Plaque
on Dashboard
Click on any of the above images for a full size view
(Above, left to right)

The first Rolls designed specifically for the self-driving gentleman, there is ample space behind the gold-plated wood wheel. All lights and instruments work as they should, including the clock, and there is no wear to the finely crafted SMITHS white-on-black gauge faces.
State-of-the-art, circa 1980. BLAUPUNKT Berlin gooseneck stereo system with equalizer and cassette player still provides first-class tunes. (Why was it called the Berlin ? Because it could peek over the wall !)
Rarely seen dash plaque celebrates Mulliner's coachbuilding tradition.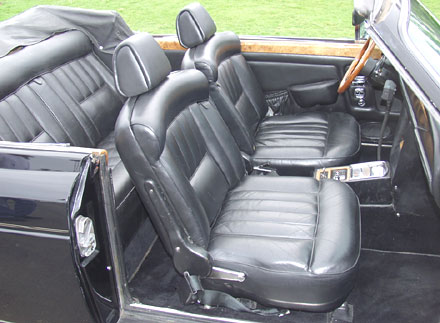 Click on the above image to view another full size image of the car's front seats
Owned for many years by the scion of a famous drugstore empire, the Corniche has received its share of proper care and feeding, reflected here by the mouthwateringly appealing state of the original CONNOLLY hides and the factory WILTON carpeting.
Leather Detail
Owner's Handbook
Passenger Side Doorpanel
with Controls
Click on any of the above images for a full size view
(Above, from left to right)

It's not "like new," however, I'm steadfastly calling it perfection. Like a bespoke suit, a vintage Rolls Royce leather interior is virtually irreplaceable!
Original, linen-backed owner's handbook is a "must read."
Yards of the finest black leather and lavish chrome accents adorn interior surfaces, such as the doorpanels. Felt-lined door compartments are utterly suitable to house lead crystal Cognac flaçon and sifters. Cheerio!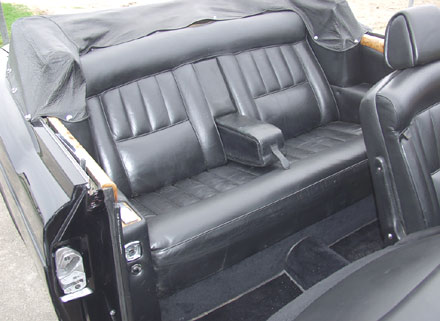 A true 5-passenger convertible, the Corniche's rear seat features plenty of space for three full-size adults when called to duty. Never before has giving rides to your friends from the Club been so much fun!
Click on any of the above images for a full size view
Mason's black certainly is the most attractive color to grace a Corniche. Polished to a mirror-like gloss, the finish looks spectacular, with scarcely an imperfection marring the surface. All the chrome sparkles brightly, with no pits or dings to report. This 31-year-old motorcar appears to be rust and accident free; very comforting to know, indeed!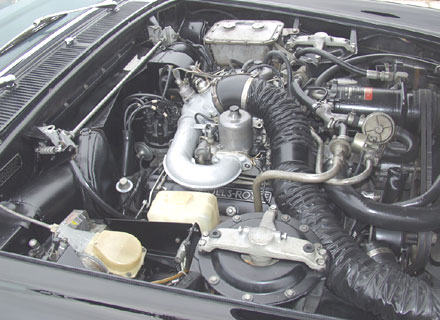 Click on the above image to view another large image showing the engine
Aside from having a most appealing and healthy body, this Corniche also has a perfectly healthy heart!
The 6 ¾ liter (411c.i.) Vee Eight, with matching engine number *9283*, can rightfully be called the World's finest Big Block. Assembled by hand to the most exacting tolerances in the industry, it is destined to live forever. The motor whispers almost inaudibly from idle all the way to an rpm range you will most likely never explore and has sufficient power and more than enough torque to propel the 5100-pound car to its top speed of 120mph, should the need ever arise.
This fine example has been extensively serviced at MODENA MOTORS in West Hollywood; the proprietor of this reputable establishment would be happy to share the service files wtih interested parties. Additionally, Rolls Royce specialist Helmut Haupt of Woodland Hills has rectified several minor issues prior to our listing this vehicle; you can be assured of peace of mind regarding the mechanical status of this Classic.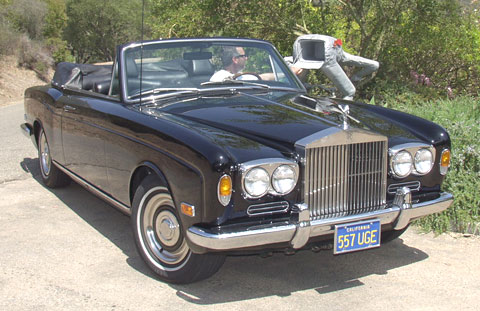 Isolated technical data cannot appropriately convey the way a Rolls Royce Corniche drives. It is a majestic experience, incomparably dignified, one that touches all senses and greatly contributes to your and your passengers' wellbeing.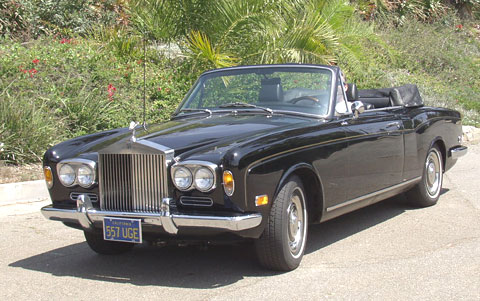 Click on the above image to view another large image showing the Rolls with the convertible top erected
Words don't do this culmination of superlatives justice. A Rolls Royce, a Corniche convertible, sexy triple black, Southern California's blue skies . . . how could you possibly eclipse this experience?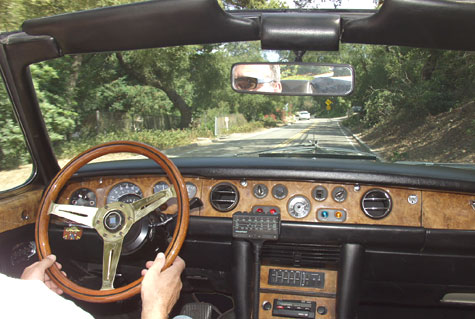 The car glides along like a swan atop a glass lake. It is as silent as the Canterbury cathedral's narthex at dawn, and smoother than a silk kerchief. You can't help but adore the investment-cast Emily gracing the hand-built, nickel-plated radiator grille, inhale the intoxicating aroma of real CONNOLLY hides, marvel at the feel of mirrored birdseye maple wood, and be dazzled by reflections from the golden NARDI steering wheel. Everything within reach is hand-crafted from the best there is, regardless of cost.
The expressions of attention, admiration, and respect mere mortals carry toward you whilst travelling in the black steed can be almost overwhelming at times.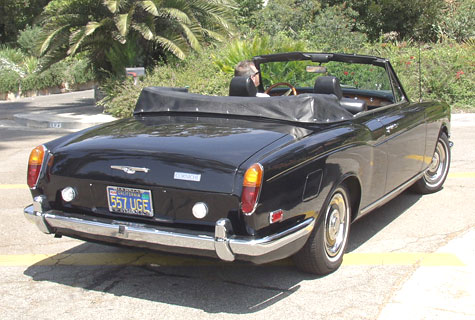 Luckily, the Corniche is a practical car, too. It seats five adults in otherworldly comfort, is dependable and never out of place, unless you happen to live in a house with wheels.
With the convertible top up, the car will fool unsuspecting folks into believing it to be a fixed head coupe, not a drop head convertible. You can drive it through the automated car wash and won't see a single droplet entering the inner sphere. Rolls Royce quality, throughout!
Click on any of the above images for a full size view
The top boot is made entirely from black leather. It is flawlessly preserved, just has shrunk a bit over time and thus fits a little too tight.
The black EVERFLEX convertible top is correct and original as well.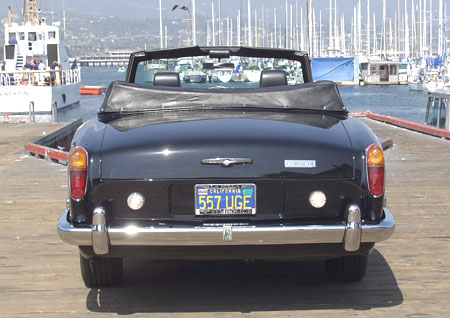 A Corniche convertible is one of the few true four-wheeled blue chips. At a mere fraction of the cost of a late model, this very collectible chrome-bumper Corniche has outlasted its maximum depreciation point and is now following the inflationary stream to steadily gain in value. That aside, it is a wonderfully preserved, stunning example with nearly unlimited appreciation potential, sporting the right color, displaying just the right amount of patina the British would die for. The car is destined to become a family heirloom, deserving to be passed on proudly to your progeny. At that time, it will be worth far more than its September 2002 price, guaranteed!
May God Save the Queen!