The Age of Thunder dawned when The Beach Boys were still singing about the "Little Deuce Coupe" and a "Fine 409." The great unlimited era of the Canadian-American Challenge Cup introduced performance-crazed racers and fans alike to winged monsters of ungodly size and otherworldly power. The "everything goes" attitude of the Can-Am rulebook brought out the best in engineers and drivers from innovative independents like Chaparral and Shadow to the giants of the game, McLaren and Porsche. When Porsche's 917 Panzer --propelled by over 1000 horses--became the undisputed King in '72, the handwriting was on the wall. Another couple of short seasons, and the glory days of Can-Am were over, like an adrenaline-fueled dream. It sure was fun while it lasted . . .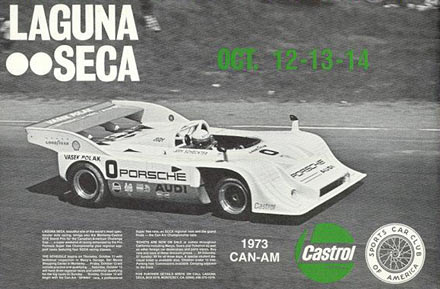 While larger-than-life figures such as Jim Hall, McLaren, and Peter Bryant spent season after season in the spotlight, Can-Am also helped some little-known racing engineers and entrepreneurs to gain a measure of fame, if not fortune. One of them, a rather enthusiastic gentleman from Kansas, in 1967 hand-built the first car to bear his name: Gene Tice.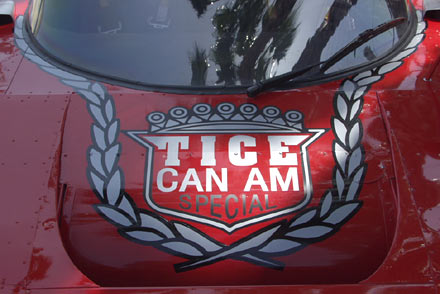 During the next few years, Tice built a total of six race cars. The very last one, shown on these pages and dubbed the "Tice Can Am Special," was a tube-framed, alumium-skinned road rocket in the best Can-Am tradition. The car vanished sometime during the 1970s. A quarter of a Century later it was discovered sitting in an abandoned garage in Wichita Falls, Texas.
The drivetrain was missing, as were parts of the front end, the wheels, and assorted tidbits; otherwise, the car was healthy and a perfect project for . . . none other than Gene Tice himself! That's right: the man who originally constructed the car, now a septuagenarian living in Las Vegas, rescued it in 1997.
Gene had something special in mind: he wanted to turn the last surviving Tice into a wild but street-legal machine.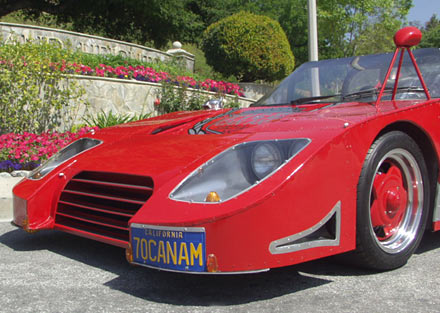 CAD Performance in Lakeland, Florida was contacted, and their Super/Street Rotating Package was utilized to turn a 1970 Cadillac 8.2 liter mill into a fire breathing, 512 cu.in. Cadzilla motor. An Eldorado supplied the transmission, a Corvette donated the driveshafts, a Pontiac the front end parts and disc brakes. CENTERLINE racing wheels were ordered to specs, as were the tires. Bit by bit, the resurrection took place. The result is nothing short of spectacular!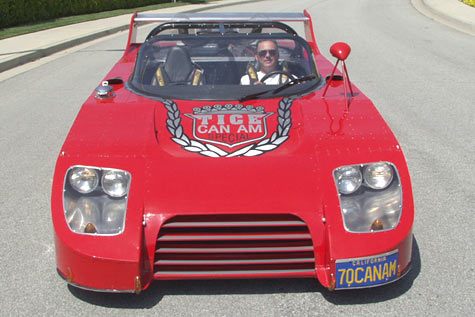 Still wearing its weathered Sunoco livery, Gene regularly exercised the car on the highway. A trip to Las Vegas Motor Speedway's ¼-mile netted a stout 11.88/112mph time slip (on street tires). An impending move to Hawaii finally forced Mr. Tice to part with his favorite brainchild. In December of 2002, we brought the Can Am Special to California.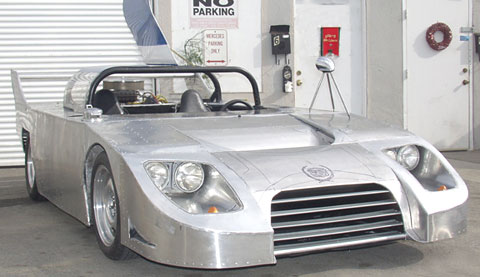 The car was stripped down to its bare aluminum alloy skin and restored almost from the ground up. Old-world master craftsman Helmut Haupt in Canoga Park, Calif. (818-710-0478), spent over 200 hours on reconstructive cosmetic surgery alone. Expert labor doesn't come cheap; you do the math.
Click on any of the above images for a full-size view
Helmut reworked the entire front section and the tubular frame for the drivetrain; he manufactured the air induction box and reconstructed the entire rear wing, guided by nothing but period black and white photographs. Finally, the body was repainted Ferrari Rosso Corsa, the decals were recreated, and famed pinstriper Tom "Itchy" Otis added the final touches for a picture perfect look.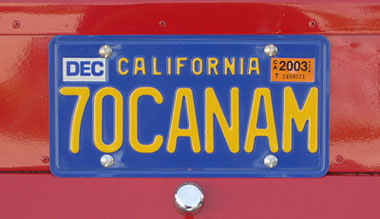 The finished Tice Can Am Special looks like nothing else on the road. An authentic, tube-framed, aluminum-bodied winged wonder straight from the Can-Am era, it is in a league of its own. Titled as a 1970 TICE and currently licensed with the blue-and-yellow California vanity plates shown, it is a turn key, road ready supercar, waiting to flex its muscles!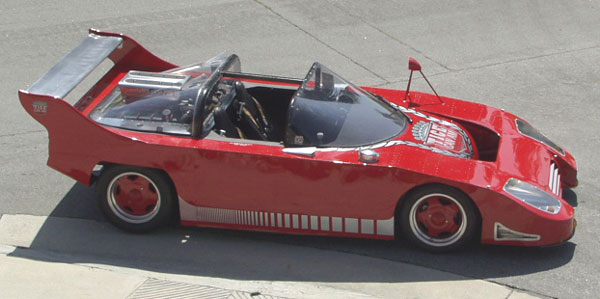 Let's take a closer look, shall we?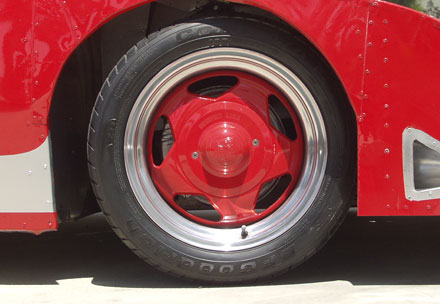 Polished alloy CENTERLINE racing wheels with matching painted centers are shod with BF Goodrich ZR-rated high performance radials all around, 205/50-15 in front, and 245/50-15 in the back.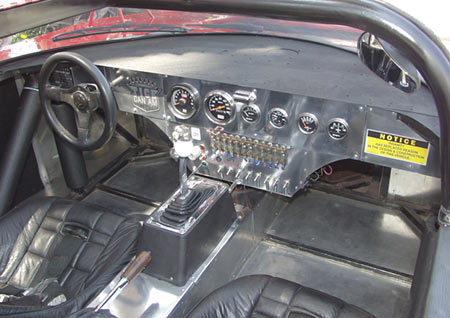 Click on the above image for a full size view
Starkly functional--but very spacious--cockpit brings back Can-Am memories. No-nonsense black wrinkle finish and polished aluminum abound. Row of toggle switches, neat wiring loom with all fuses in plain view, six round gauges with white-on-black dials and chrome bezels, small, leather-covered steering wheel: it's Business, spelled with a capital B.
Black, high-back racing seats are comfortable enough for any road trip. Pilot and passenger are secured by NHRA-approved DEIST 5-point safety harnesses. IMSA/SCCA-approved main safety switch has been moved to the cockpit.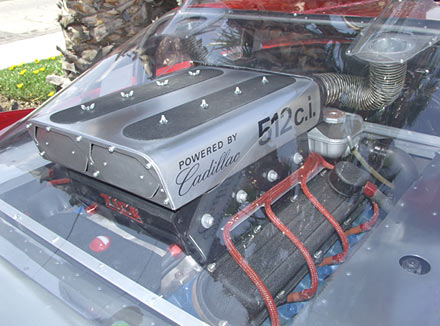 Click on the above image for a full size view
Caddy under glass!
Prominently displayed beneath a custom lexan cover is the Special's strong heart, the 512 cubic inch (8,397cc) Cadillac luxo-engine. Invoices totalling $4,812.38 document the build-up of this blueprinted and balanced big block. From big valves to a high-lift cam and 10.0:1 compression pistons, every high-performance part available for the big Cad was utilized.
Even the rocker shafts are anodized! And, yes, the Tice runs fine on premium unleaded fuel.
Huge rear wing looks faster and more furious than any you're likely to encounter on the street. Fully adjustable, it creates the neccessary downforce at any speed. This is a full tilt alloy spoiler, not one of those wimpy appendages found on 2003 rice burners.
But it doesn't end here. A plethora of details, invaluable and irreplaceable, creates the right ambiance. This car truly is a show stopper. It is fully sorted and needs nothing to be instantly enjoyed.
| | | | |
| --- | --- | --- | --- |
| | | | |
| Tripod Mirror | USRRC Sticker | VIN plate | Texas Racing Team |
| | | | |
| Headlight Detail | Ram Air Induction | Air Scoop | Le Mans Gas Cap |
Click on any of the above images for a full-size view
Details, from top left, clockwise:
Can-Am exclusive: Tripod mirror, good for a peek around the huge rear wing
United States Road Racing Championship decal, from the early 1970s
Vehicle Data Plate, as riveted to the dash panel
Texas Racing Team sticker, testimony to car's history
Fully functional Le Mans style gas cap atop aluminum gas tank
Dual fresh air intakes, a necessity when driven with gullwing doors in place
Ram-Air scoops guide cool air to induction system
Headlight detail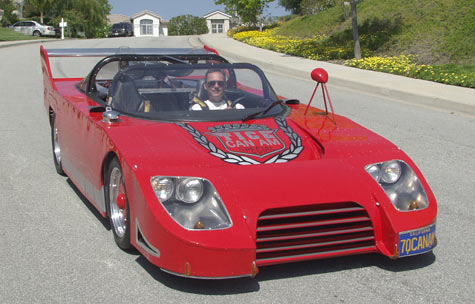 Click on the above image for a different view
So what's it like, driving a Can-Am flyer on public roads?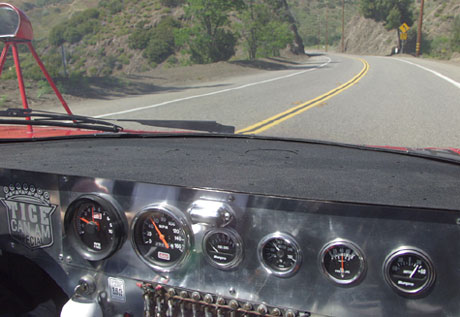 Funny thing is, the torque monster drives almost like a . . . Cadillac. The car starts on the first turn of the key and idles at 800rpm, accompanied by a deep rumble. At speed, the bellowing sound escaping those two 3-inch pipes is heart-pounding, to say the least. Steering is wonderfully light and precise, brakes are power-operated. Clutchless trans, Chaparral-style, allows for manual selection of the three forward speeds or full auto mode. Tall-geared, the Tice accelerates faster than a speeding bullet, faster than you might want to find out on public roads.
Twin electric fans keep mechanical things at sane operating temperatures. Except for the fuel gauge, replaced by a handy, calibrated stick, everything works, down to the last little bulb. Driven without the gullwing doors installed, you are in the spotlight, make no mistake. Cruising on a Southern California freeway at 65mph may cause sizable traffic jams. Everybody wants to have a look, yet nobody dares to challenge you to "race." The Tice demands a huge measure of respect!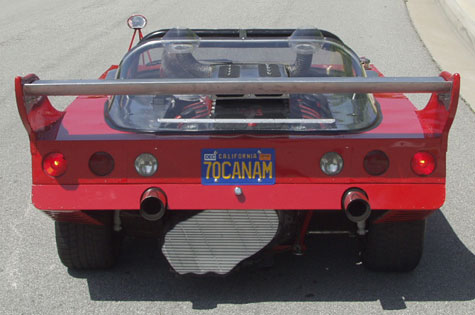 No wonder, really, since nobody would expect to see a true Can-Am fugitive at the stoplight. Not a replica or kit car, it is an authentic Can-Am period racer that has been transformed into a road car, perfectly suited to be enjoyed on a frequent basis. You could drive it to the post office or to work, if that's what you desire!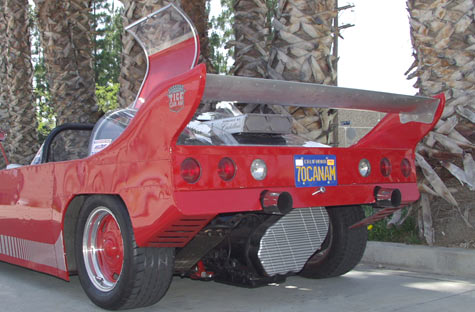 Of equal impact as a McLaren or Ferrari F50, just more exclusive, the Tice Can Am Special must be one of the best deals out there. Duplicating it would easily demand a six-digit figure. Actually, you would never be able to create another street legal, smog exempt Tice Special. It's the last remaining survivor of the original six cars built by the old master. The real deal. Living history.
Addendum:
This car sold in July of 2003 and found a new home in a collection in Florida.