The Rumble Fish
Welcome to Californiaclassix' Marine World. Today, we'll be looking at one of the nastiest predators around: the Barracuda. But not just any Barracuda, mind you. This one is unique.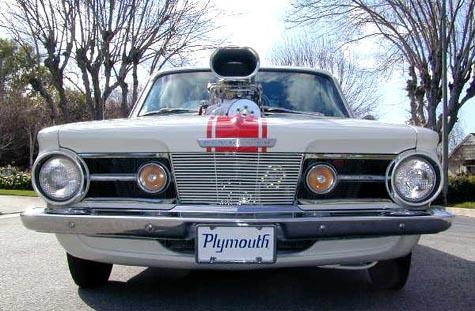 You surely have heard the phrase: "Injection is nice, but I'd rather be blown." Indeed, nothing translates raw horsepower like a fat blower sticking waaay out of the hood of a vintage '60s American muscle mobile. Have you ever seen a blown early Barracuda?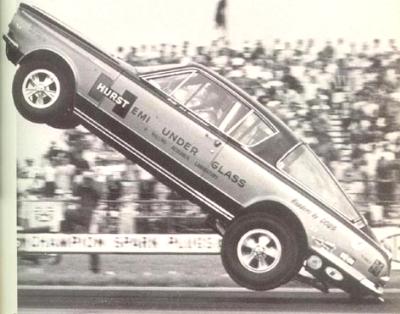 Probably not, which is a shame, really, since among '64-'66 Barracudas you'll find some of the most exciting muscle cars in history. These nimble fastbacks were perfectly suited to build amazing performers that stand out in more than one way. Prominent examples are the Bill Shrewsberry-driven "

HURST Hemi under Glass," the first funny car, that used to travel most of the ¼mile on small casters attached to its rear bumper, or Richard Petty's No.43 OUTLAWED (yep, even the King was a drag racer once), and the Golden Commandos' GOLDFISH dragster.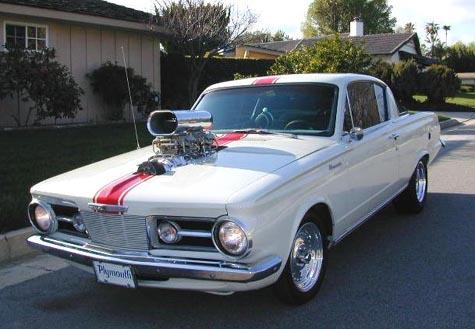 So get ready to see another wild fish, this one a visually stunning combination of a straight, beautifully preserved body and a fully polished BDS setup. So what's the story behind the Rumble Fish ? Thank you for bringing it up.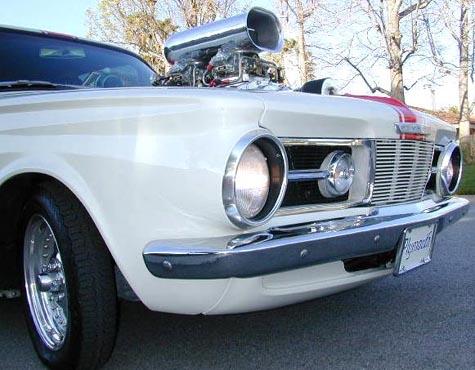 The Barracuda presented here, one of 64,596 built for the model year, was purchased new in June, 1965 by the proverbial little old Lady, a high school teacher back at a time when teaching used to be a rewarding profession. With just over 72,000 miles accumulated by 1979, when the owner got too old to drive, the car was parked, still bone stock, original paint and all.
Hibernating for two full decades, the 'Cuda was discovered in 1999 by a wealthy real estate agent, a member of the "10 Million Dollar Club," who now resides in glitzy Las Vegas. Mr. X had lots of passion, lots of cars, and lots of cash to burn, and he lovingly refurbished and tastefully hot-rodded the Rumble Fish. He drove it only occasionally and has since decided to move on to the next toy. One phone call away, here is the Rumble Fish, mesmerizing like an exotic deep sea creature, after 36 years ready for its third owner.
Let me mention at this time that all the photos shown here were taken on March 10, 2001.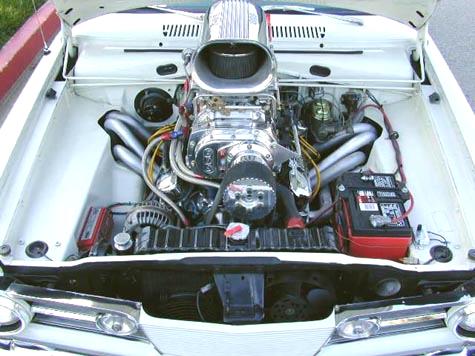 Heart of thunder: Tweaked MoPar small block with a steel crank and a BLOWER DRIVE SERVICE 6-71 supercharger running @ 12 lbs. of maximum boost, fed through dual 600cfm HOLLEY double-pumpers running on premium unleaded gas. Supercharging is a popular form of enhancing the engine output on many current production cars. Nothing, however, looks as radical as a Rootes-type 6-71 top-mounted blower setup with a 3-inch belt drive. MSD electronic ignition helps explode the combustible mixture, exhaust gases exit through Doug Thorley-style fenderwell headers, dual thermostatic fans on a HD radiator with a stainless recovery system keep things cool at all times. Engine compartment looks nice and tidy, with fresh wiring. Stock alternator was retained and even the factory heater/blower is still functioning properly. Of course, the Rumble Fish now features front disc brakes with a dual master cylinder. Suspension has been rebuilt with graphite bushings as needed.
(To view the engine closer and from different angles, click the links for a left and right view.)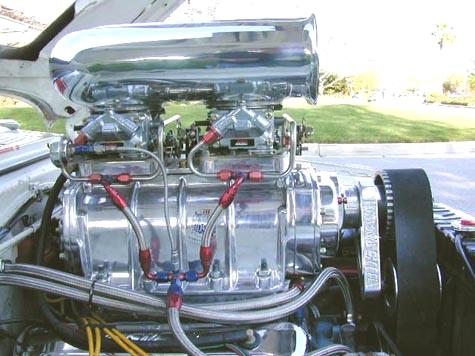 The tower of power: Braided stainless lines with anodized aircraft fittings throughout. Aluminum components are fully polished. Everything in the engine compartment is Q-tip clean.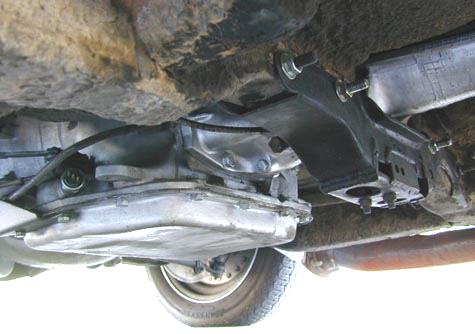 Transmission is a stout 727TorqueFlite with a

HEMI converter, built by Competition Trans in Las Vegas, Nevada. It features its own cooler and fan, mounted inside the left front wheel housing. Check out how clean the pan is; there's not a drop of fluid anywhere! Also visible above is the typical relief structure of Mother MoPar's factory undercoating. There is absolutely NO RUST on the Rumble Fish's belly. we guarantee it!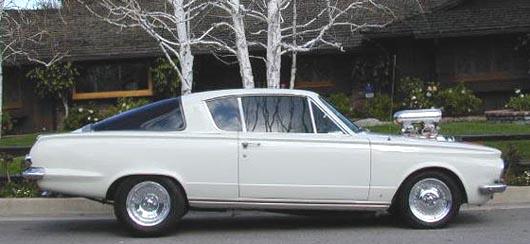 The right stance. Ingenious MoPar torsion bar front suspension is easily adjustable for ride height. Half-elliptic rear springs are augmented by air shocks.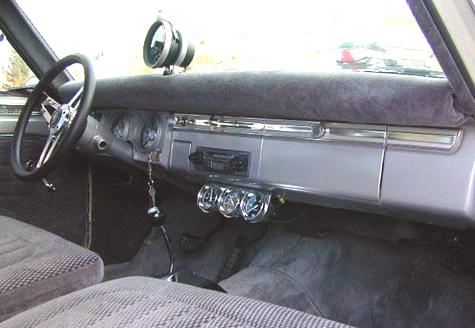 Cozy interior was fully redone, courtesy of Bob's Custom Upholstery. Steering wheel is a vintage series GRANT; the slap-stick shifter a ProMatic 2 by HURST, of course. AUTOGAGE instruments monitor all vital functions. All instruments, stock and custom, work flawlessly. JENSEN cassette stereo fits the stock radio opening.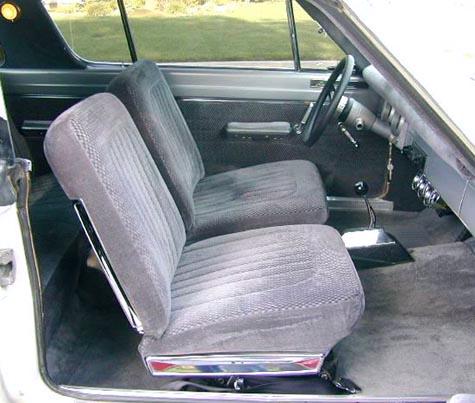 The business suite. Note original chrome seat trim. Upholstery and carpets are flawless. No stains, no rips, no tears anywhere.
The original Drive-in movie mobile. Rear bench folds flat, as does the trunk closing panel, giving you the space of a medium sized bedroom, replete with practical grab handle. Feel free to stretch out and watch the stars, or whatever it is you like to do. Don't believe it? See for yourself!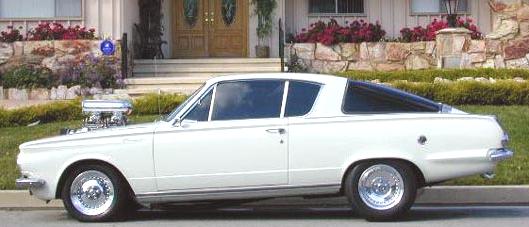 Impressive, impressive, but how does it drive ?
Thank you for asking.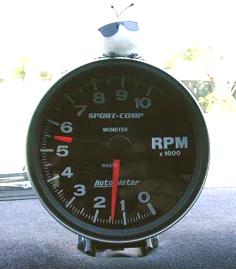 Someone has to monitor the revs on the AUTOMETER sport-comp MonsterTach . . .
You flick on the ignition switch, wait for the external fuel pressure gauge to register, push the gas pedal once, then turn the key. The starter shrieks for a second and a half and the motor comes to life. What you immediately notice is the characteristic high-pitched scream of the blower, just like a gear-drive, but much more intense, and the rumbling sound coming from those large-diameter twin exhaust pipes. You put the shifter in gear and the fish swims along happily, much like a regular, albeit very powerful, car. The differential has been fitted with a set of 2:92 gears to allow easy cruising. Of course, people stop and stare all the time, but--and that's a good thing--you can actually drive this Barracuda to work, day in and day out.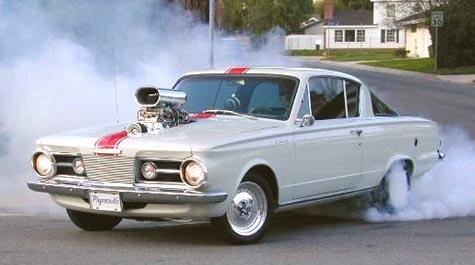 Put the pedal to the metal, however, and all hell breaks loose! With forced injection, the engine thinks it has over 500 cubic inches. Acceleration solely depends on how good you can control power output without barking the baloneys too much. I like to think of it as the fastest way to turn money into rubber. One thing I can guarantee with all sincerity: you won't be wishing for more power. Definitely not!
Let me explicitly state that the whole setup is in perfect working order. No untoward noises, no leaks of any kind, no issues that would need to be sorted out. This is a fresh, professionally done combination--as durable as your granny's Dodge Dart--provided you do not abuse it.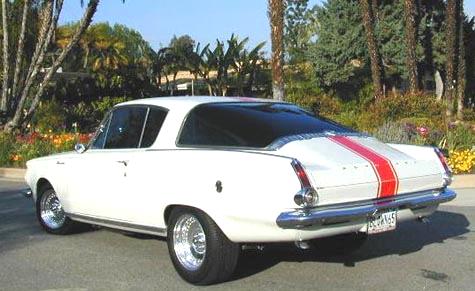 Power and smoke aside, let's focus for a second on the fabulous fastback's maritime looks. Its body lines are razor sharp, chrome and stainless trim is well preserved, and you receive more than your fair share of thumbs up driving down the highway. Wherever you park the Rumble Fish, you'll draw an enthusiastic crowd, at car shows or cruise nights. If you want to stand out in a sea of cookie-cutter Camaros, Chevelles, and Mustangs, the Rumble Fish is definitely for you!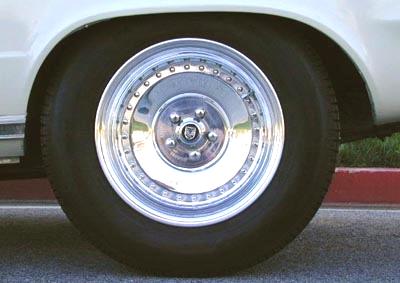 Polished CENTERLINE AutoDrag "fly-weight" aluminum wheels of the size 15 x 8½ with 245/60-15 rubber just fit inside the stock rear wheel wells; 15 x 3½ dragster-style pizza cutters out front, sporting 135-15 tires, round out the picture: it's the classic street machine setup!
Shades of the '64 to '67 Corvette Sting Ray: BaBaRaRaCuCuDaDa!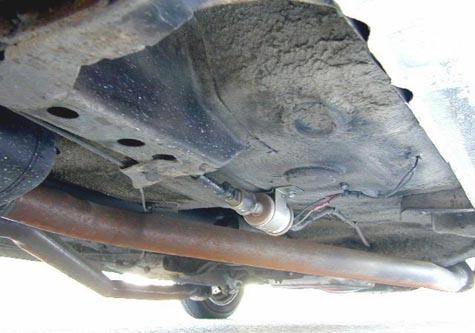 Very important is what lies beneath the shiny paint. As mentioned above, the undercarriage is virgin. Pampered by perennial sunshine, this Barracuda has never needed any rust repair, guaranteed! What you see is the factory-applied undercoating. After 36 years, it still is undamaged and continues to protect the metal.
Click on the photos above for a full-size view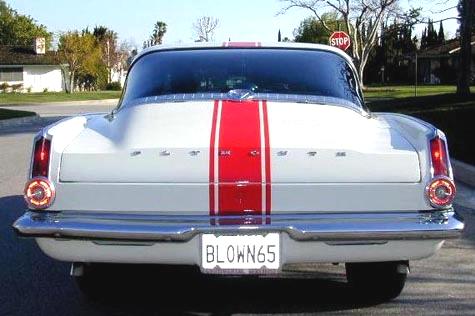 BlOWN 65 is the car's actual license plate. 'Cuda is currently registered for street use and comes with a clear Certificate of Title. If you are in the market for a wild street machine that could serve double duty as a daily-driven family car, look no further.
We do not hesitate to say: fly in and drive home!
MoPar or No car!
Thank you for your interest, and have a nice day!