The Professor's Pride!
The MGA debuted late in 1955. Based on EX182, the famous Le Mans racer prototype, its steel-and-aluminum body--along with the Austin-Healey, Aston Martin DB2, and Jaguar C-Type--is one of the handful of really superb designs to emerge from Her Majesty's England in the Fifties. Almost Italianate, the hunched-down two-seater features a very long hood and a small cockpit just ahead of the rear axle; it is devoid of any superfluous chrome trim, quite contrary to the prevailing style of the decade.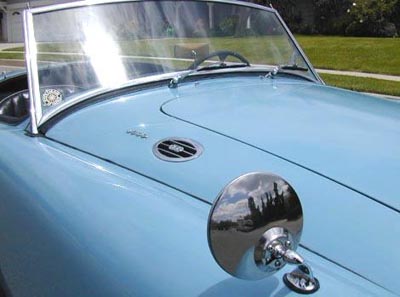 For 1960, the MGA, now called 1600 Mark I, gained front disc brakes and a slightly enlarged engine, improvements that enhanced the Roadster's performance remarkably.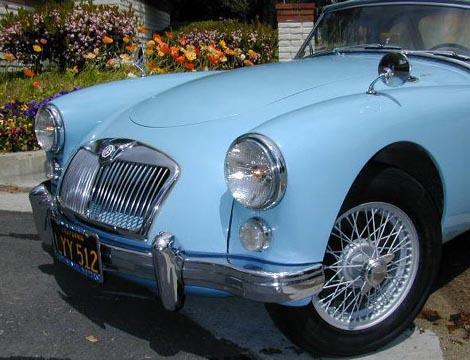 Knock-off wire wheels were an option that every dyed-in-the-wool sports car enthusiast would have checked on the order form, if it wasn't for their exorbitant price. Not as expensive or esoteric as Italian BORRANIS, granted, but nonetheless pricey enough to make them one of the most appreciated options today on almost any period sports car.
They look spectacular and lend the car that incomparable British charisma.
Almost forty years since the last MGA left the red brick manufacturing plant in Abingdon, finding an unrestored, low-mileage example is a rare occurrence, indeed. The Iris blue Roadster for auction here is the epitome of Britishness: it oozes character and displays a patina that is irreplaceable. A car like no other, it stands out in the ocean of perfectly resurrected but soulless objects of automotive desire like a Great Blue Shark in the midst of a school of seahorses.
Purchased new in California's Central Valley, the car was owned by a Professor at UC Davis for almost 36 years. Due to the owner's advanced age, it was put up on blocks inside his garage in the early 1970s, with only 42,709 miles showing on the odometer.
The Professor did not have the heart to sell his pride and joy; instead, he willed the car to his nephew. In 1996, upon his passing, the car was taken out of storage and made roadworthy again by a specialist garage in Sacramento. The bill for $1,654.64 includes the ubiquitous hydraulic system rebuild, rear brake job, cooling system redo, carburettor cleaning, belts, hoses, a new heater valve, and a major tune up. Additionally, a valve job was performed and the generator was replaced.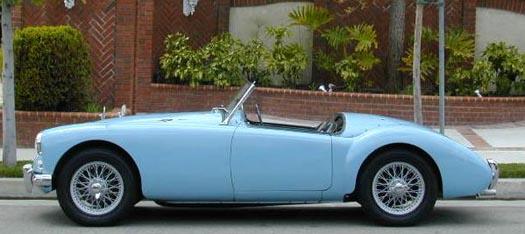 Since then, the car has been driven just over 200 miles.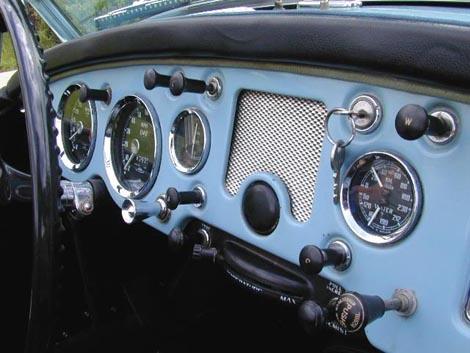 There is no substitute for originality, and this MGA proves the point. Looking at the painted metal dash, with its fascinating array of beautifully preserved JAEGER gauges and multitude of bakelite pull-knobs, one is transported back in time. The tactile pleasures are markedly increased by the knowledge that everything actually works, hereby indirectly confirming the car's low mileage of 42,922.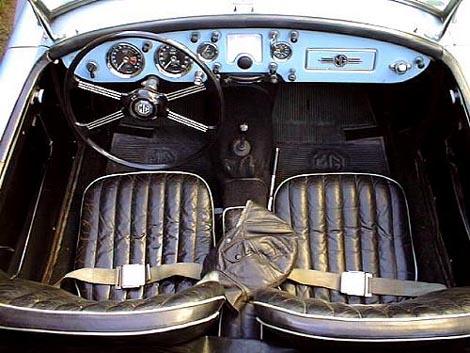 The black, vat-dyed CONNOLLY leather with contrasting sky blue piping is still original and as perfect as a British nobleman's favorite tweed jacket, you know, the one with the leather patches on the elbows. Sure, there are cracks and abrasions, however, they actually add to its priceless charm. Replacing these seat covers would be a sin! For more on this subject, please check out Californiaclassix' Buyers' Guide.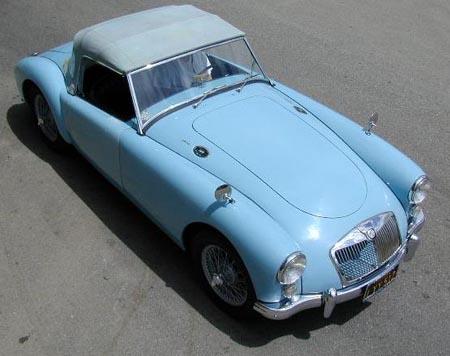 Also original--meaning forty-one years old--and in great condition is the blue-gray convertible top; it fits like a glove. A set of N.O.S. side curtains is included; they have never been used and are stowed safely inside the black pouch behind the seats.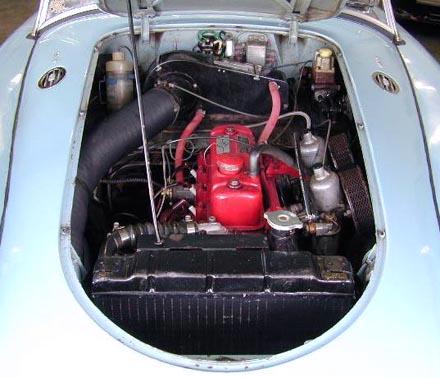 The 1600 Mark I is powered by a rock-solid 1588cc pushrod engine that has earned its reputation of being unbreakable. A large 1600, cast into the block, confirms its originality. It may come as a revelation to many, but all you ever need to keep this strong 4-banger going is a screw-driver, a hammer, a set of pliers, and maybe a little wire. For anybody who's paying his own bills, it surely provides peace of mind to know there are no black boxes, injectors, electronics, and fancy stuff like that. Similar to Porsche Speedster and Lotus Super Seven, the MGA is a minimalist car designed to deliver maximum fun!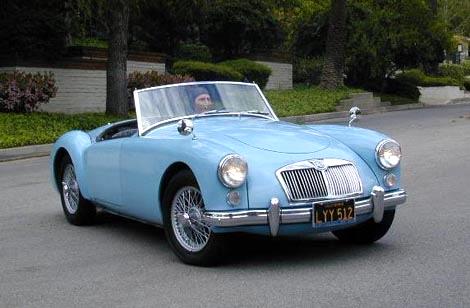 This Roadster begs to be driven! Turn on the ignition, set the choke, pull out the starter knob, and the motor comes to life almost instantly. A healthy exhaust note, not unlike that of the old ABARTH sport mufflers, alerts the senses. Select first gear, release the clutch, and off you go. Though over 40 years old, this MGA still manoeuvers comfortably in today's bustling traffic.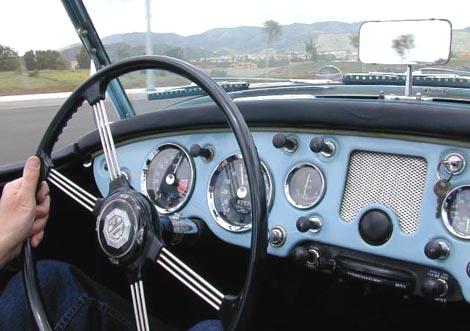 The wind-in-the-hair fun quotient is tremendous, to say the least! Dogs bark, kids point, and girls swoon wherever you go, and a brisk drive in the Roadster is not only a feast for all senses, but also instant relaxation for the mind. You feel what you drive. It's almost as if you are a part of the machine.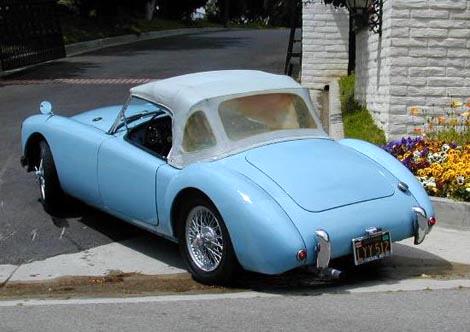 A real Roadster is driven top down in all but the most severe weather conditions, just ask any Englishman. Better knowledge notwithstanding, on this blustery and overcast April day we opted to raise the top, our excuse being that we had to take a photo of it anyway.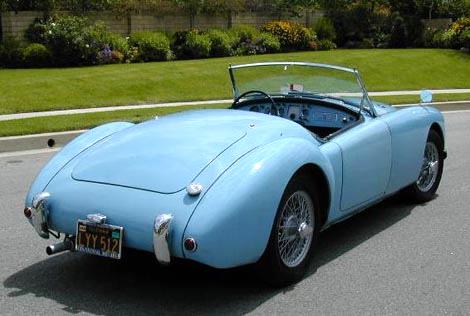 The Professor, being the absolute aficionado, was very aware of the MGA competition history and decided early on to add a little racing flavor to his motorcar. Two small button taillights replaced the ungainly stock units, and the full bumper was exchanged for a couple of neat-looking nerf bars, actually lifted off a Bugeye Sprite, thus creating a look closer to that of the famous EX 182 racer. Small as they might be, these tasteful period mods improve tremendously upon the MGA's already clean design, making it stand out among its peers and adding to its mystique.
Foresightedly, the Professor saved the stock bits; original rear bumper and lights are still with the car, and in excellent condition. The car could be returned to stock configuration within a few hours. But why change a good thing?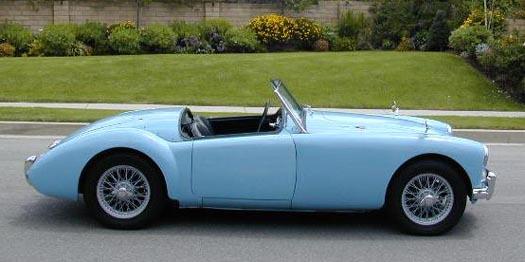 Still wearing its original shade of Iris blue, a most attractive and appropriate color, the car has been (at least partially) repainted, many years ago. There are no major blems, just a few small dings, chips, and touched-up spots; overall, the finish is still very attractive and displays a rich, buttery glow. The mellow body is entirely rust-free and the car was never in any kind of accident. The fragile section around the front grille, which effectively acts as this low car's front bumper, is amazingly clean, straight, and free of any filler. The lower edge of the front fenders and the notoriously rust-sensitive doglegs are cancer-free. If you know just how rust-prone these completely unprotected MGs are, you will highly appreciate this marvelous specimen!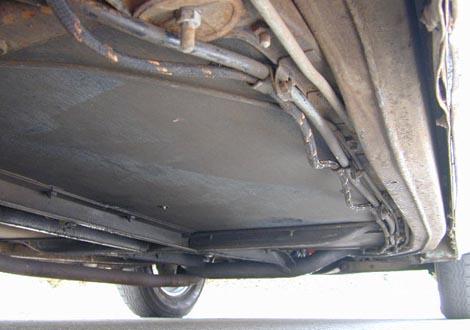 Equally pleasant to observe is the MG's absolutely virginal undercarriage. Still carrying its original, hand-wound, cloth-covered wiring loom--as visible in the photo above--all the sheet metal and wood is dry and healthy, without any signs of cancer or rot anywhere.
Traditional, painted wire wheels with chromed knock-offs have been fitted with MICHELIN X tires of the dimension 165-15.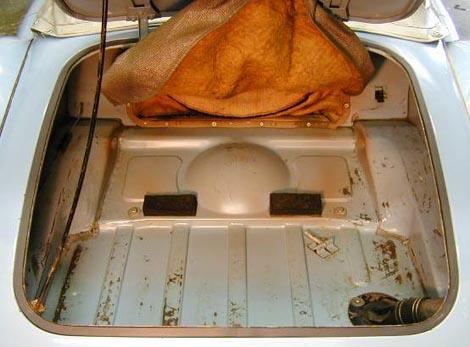 Just like the remainder of the car, the trunk is gorgeous! Featuring its original 1960 finish, there is neither rust nor any sign of body damage. All the small but so important tidbits are in place: the original fuel filler neck clamp, spare wheel mounts and brackets, and even the original HARDURA spare tire cover.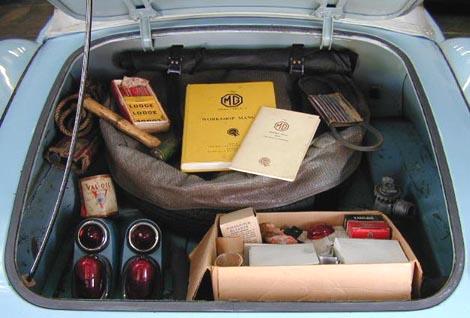 In fact, the trunk comes filled with lots of goodies! There's a matching spoked spare wheel, also with a MICHELIN tire, a THOR lead and copper knock-off hammer, Workshop and Owner's Manuals, the jack and handle, both original taillight units (with perfect lenses), and an entire box full of small parts that might come in handy over the years.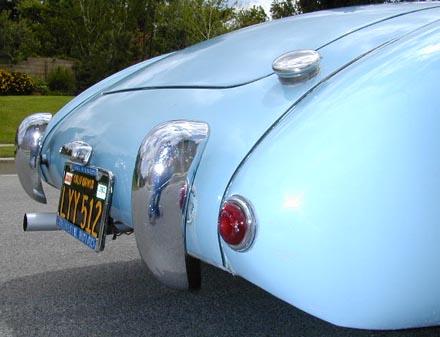 So here it is: a rust and accident-free, Southern California black plate, disc-brake MGA 1600 Mark I, with tasteful period mods, in perfect working order, with the original top, and 42,922 original miles. Almost impossible to match in the sum of its traits, this motorcar also possesses something only few others can lay claim to: a soul!
An irreplaceable artifact straight out of the past, it is a reminder of the merry old days. It will put a smile on your face every time you look at it, make you a happier person every time you sit in it, and will fill you with joy every time you drive it! Ask me how I know . . .
---
Presentation & Copyright © 1999-2001 by Californiaclassix.com. All Rights Reserved.
No part of this presentation may be reproduced without written permission of the author. E-mail inquiries to Webmaster@Californiaclassix.com.