A Miracle!

On February 19, 1960, a 52-year-old hardware store owner from Los Angeles, California finally realizes a long-held dream.
At

MARSHALL-CLAMPETT , a local DeSoto - Plymouth - Studebaker dealership, George buys his first brand new car.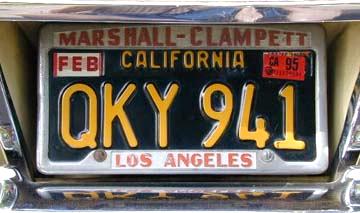 He vows to cherish and pamper this car, a canary yellow

DeSoto Fireflite 2-door hardtop, for as long as he lives. A man of his word, George keeps his promise.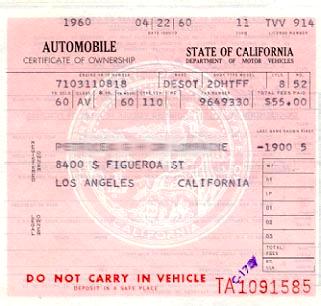 Even after he is no longer able to drive, he faithfully pays the annual registration fees for the

DeSoto and his neighbors see him frequently in the garage, cleaning and waxing his pride and joy.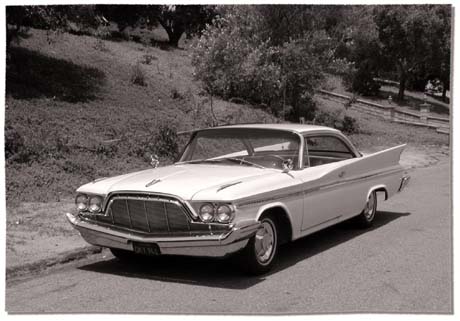 40 years and 40 thousand miles later . . .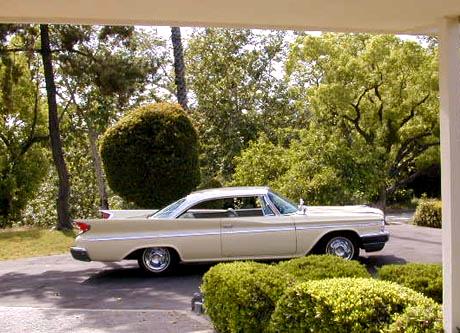 George passes on, at the ripe old age of 92. The

DeSoto is being liquidated by the executors of his estate.
One of only 3,494 Fireflite 2-door hardtops built, one has to wonder as to how many have survived, considering that these cars were built to be obsolete by the next model year.
And, among those few survivors, how many: one-owner cars and still have their original title? plus
Have traveled only about
1000 miles annually , on average? plus
Have
always been garaged ? plus
Have
never left the benevolent climate of Southern California ? plus
Have been spared
any rust or rust repair? plus
Still wear most of their
factory paint and have never been in an accident ?

I am certain we are talking about a mere handful.
Quite possibly, the car for auction here could be the best unrestored '60

DeSoto Fireflite left on the planet.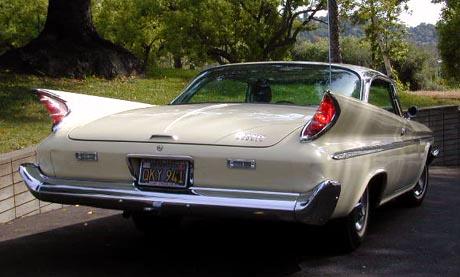 Proudly displaying its original black and yellow California license plates, this is a special automobile indeed!
The 1960

DeSoto design was finalized when Chrysler vice president Virgil Exner was at the height of his influence in Highland Park. Having gained fame first in 1954 with the introduction of Chrysler's 100 million Dollar Forward Look, Exner proved to be a master in the art of sprucing up the corporation's offerings. The DeSoto for auction here is no exception. Of course, it possesses the corporation's tried-and-tested engineering features, such as
361 cubic inch, 295 hp B-block V8 engine
Torqueflite
3-speed automatic transmission
Unibody construction
Torsion-bar front suspension
But it is the sculpture-like Exner design that made the

DeSoto stand out among its peers, and that makes it so highly collectible today.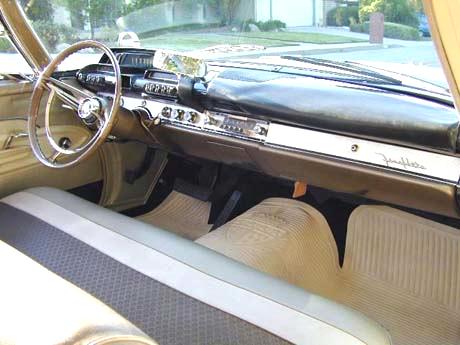 The low-mileage car for auction here redefines the term survivor.
Modernistic interior presents itself in outstanding condition. Seat upholstery, door panels, and dash are all original. The black factory carpet has been covered by white accessory rubber mats since day one. The rear parcel shelf is spotless.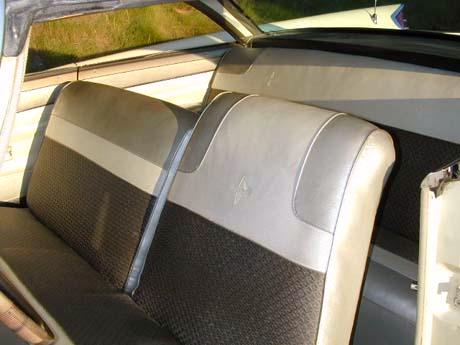 The three-tone cloth and vinyl upholstery matches the car's exterior color harmoniously and, with the high-back driver's seat, is typical of 1950s cars.
Space travel was popular fiction back then, and the dashboard's design reflects the Buck Rogers theme. Pushbutton controls for transmission and heater were a MoPar specialty.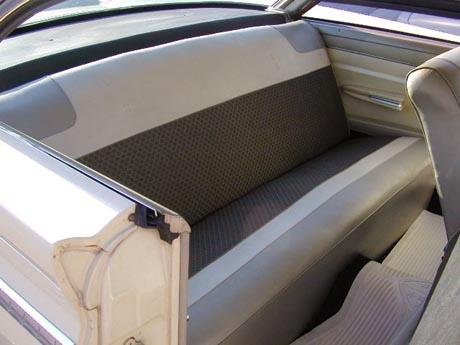 George and his wife Lorraine weren't cursed . . . uhhh . . . blessed with children: The rear seat looks unused.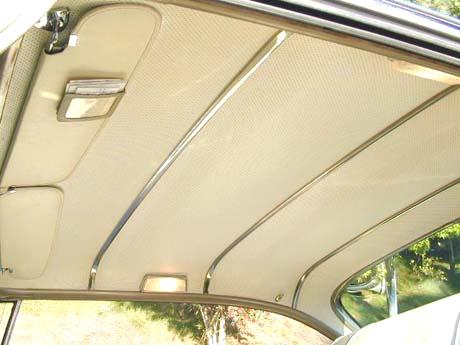 The perforated cardboard headliner--obsolete today--is perfect. Note the beautifully preserved sun visors with period registration holder.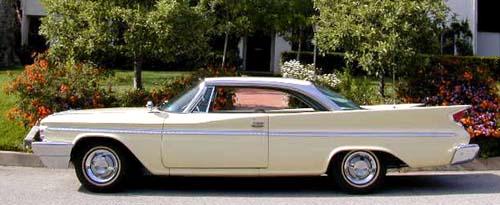 Clean lines of the

DeSoto are beautiful to behold. Despite being over 215 inches long, the car looks lithe and nimble.

The original owner's manual is in the glove box, along with an old

AAA road map of SoCal.
Earl Noonchester of M & C was responsible for DeSoto 's mechanical care in the early days. His calling card is still stapled to the manual.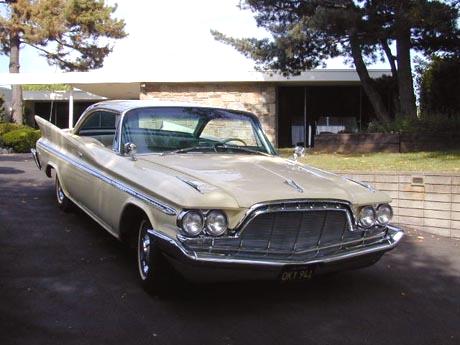 DeSoto

's mighty grille is very impressive and clean as a whistle. Body is as straight as an arrow! Canary yellow paint is still very glossy. Note the accessory dual outside rearview mirrors.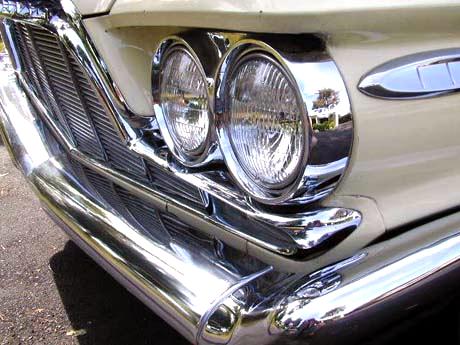 There is a lot of chrome and stainless trim, and--apart from a crack in the rear license plate surround--it is in excellent, pit and dent-free condition.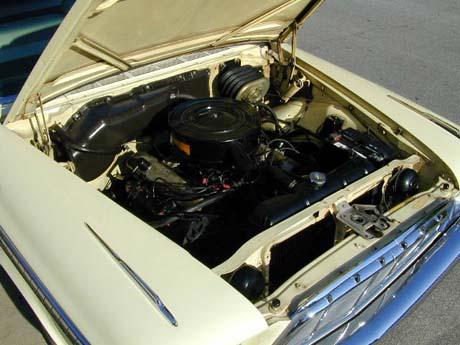 The engine compartment is as stock as it gets. It has not been detailed, but deliberately left completely original. The big V-8 runs fantastic, acceleration is almost scary and--with power steering and brakes--the car is easy to maneuver in any traffic condition. We have driven the

DeSoto a few hundred miles since re-commissioning it after its long hibernation, and we are in awe of its performance and handling. Of course, the gas tank has been cleaned, the carburetor rebuilt, the radiator flushed, and new hoses, thermostat, filters, and battery have been installed. Apart from possibly replacing a few dried-out suspension bushings, I could not think of anything this car would need in the mechanical department. Every light, switch, gauge, and lock works perfectly.

Two stickers on the door jamb volunteer very illuminating information:
Left, a

SEARS label dated 2-19-75 at 29,343 miles. The newly installed tires carry a 35,000-mile warranty, which will not expire for a long time! On the right, a service record dated 9-26-84 at 39,240 miles. The car has been driven less than a thousand miles since: odometer presently shows only 40,318 miles.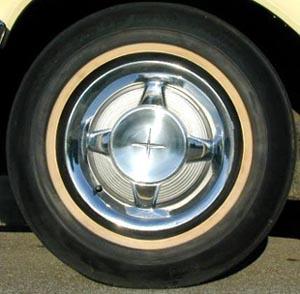 One of the fine

SEARS Road Handler tires and a sculpted hub cap . . .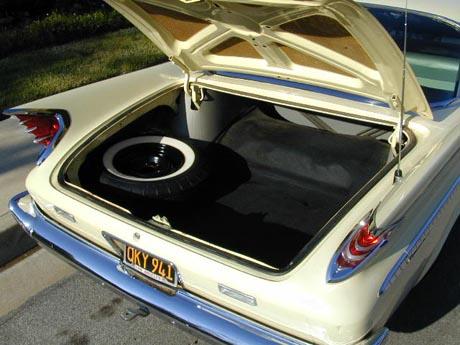 Enormous trunk still houses the original spare wheel with its O.E.M.

FIRESTONE white wall tire and unused jacking equipment. The trunk mat and cardboard side covers are as nice as the rust free trunk floor. The perfect condition of the weatherstripping is nothing short of astounding; mute testimony to the fact that this car has spent all its life garaged, away from damaging sunlight and ozone.
On the right, note the original, fin-mounted antenna. DeSoto is equipped with its factory-installed TRANS-AUDIO AM tube radio; it works flawlessly!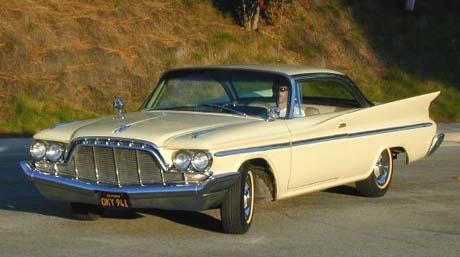 The 1950s, this decade of automobile design excess, did not last forever, and, by 1961, with the introduction of such somber cars as the Corvair and the Falcon, there was no room anymore for the vision of a Virgil Exner. Seemingly straight out of American Graffiti, the chrome-bedecked, tail-finned, big-block V8-powered 1960

DeSoto is a true, fully functional museum piece par excellence.
If we had any garage space left, this amazing survivor would definitely not be for sale. Where would I be able to find another one in this condition? This Fireflite Coupé is a perfect icon of the post-WW II American Dream that had captivated (not only) its 40-year owner. Hopefully, the

DeSoto will find a new, second owner who is as enthusiastic and faithful as its first.

We do humbly request, do not let this unique opportunity expire without giving serious consideration to bidding.

Thank you for your interest, and have a nice day!
---
Presentation & Copyright © 1999, 2000 by Californiaclassix.com. All Rights Reserved.
No part of this presentation may be reproduced without written permission of the author.