Half a Century ago, in the Fabulous Fifties, when chrome-laden, tailfinned twenty-foot dinosaurs roamed American highways, people in Central Europe were happily driving around in far simpler vehicles.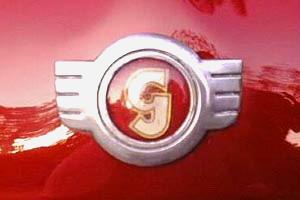 Civilian motorized transportation right after the end of WW II was virtually limited to old army trucks, motorcyles and scooters, and even 10 years after the war's end, only the wealthiest German citizens could afford a new Opel or Mercedes Benz. Tired of being exposed--year-round--to the elements, more and more folks turned to the emerging Rollermobiles, nowadays called microcars, which essentially were three or four-wheeled motorscooters with a roof.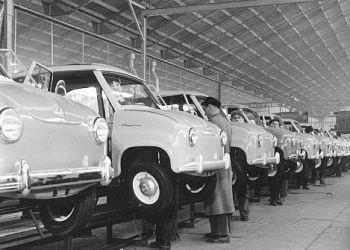 A contemporary of the BMW Isetta, the Fuldamobil, and the Messerschmitt Kabinenroller, the Goggomobil was one of the most successful Kleinstautos of all time. Named after the company owner's grandson, Goggo Glas, this vehicle met with instant success because it looked like a real car, albeit a very small one.
Launched in 1955, the Goggomobil survived long after all other microcars had perished; production finally ended in 1969.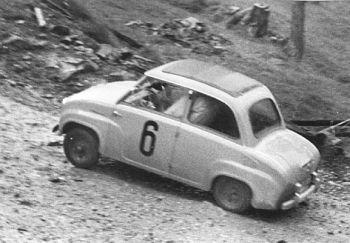 Robust and agile, little Goggos participated in many motorsports events. One enterprising couple from Hamburg even circled the globe on a 60,000-mile trip that lasted from 1957-62. Not unlike Volkswagen and Porsche, the Goggo's rear engine/rear wheel drive configuration provided plenty of traction, even in rough terrain, and its generous ground clearance made it surprisingly adept at dealing with the bad backroads of the era. Sometimes, it's easier for a small one to get through; just think of the enormous Rallying successes of the Austin Mini Cooper in the 1960s!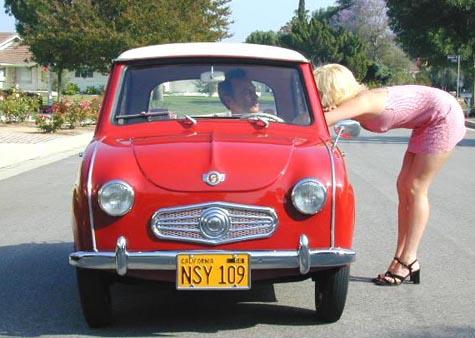 Piloting a Goggomobil is one of the most exciting adventures available in today's time of sensory overload, where people have to try bungee jumping to feel alive again!
Note the smart, chromed "radiator grille", a very sought-after period accessory.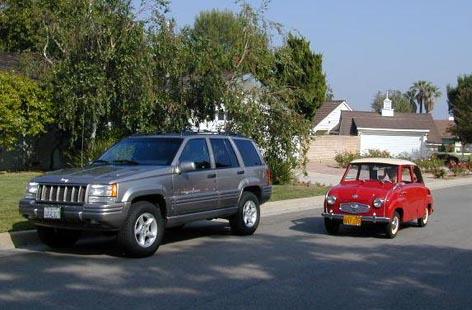 If you believe that size does matter, you will appreciate the jaw-dropping impact of a Goggomobil encounter; people literally can't believe their eyes. When the flashy red Goggo drives by, everybody stops, smiles, and waves. Often, drivers of other vehicles actually change lanes to let you pass and get a closer look!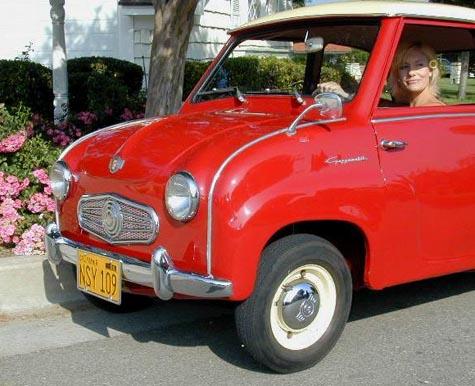 Most importantly, the Goggomobil's 15 cubic inch (246 cc) engine, a 2-cylinder, 2-stroke design, emits fantastic sounds and intoxicating smells. Trailing a small white cloud of 2-stroke mix, you will be amazed how addictive driving such a dwarfish--9ft. long and 4ft. wide--automobile can be. The engine's maximum output of 13.6 horsepower (yep, the "extra" .6hp is needed!) comes in at a staggering 5,400rpm; the Goggomobil can rightfully be called a screamer. You'll have to experience it yourself; let me assure you, you'll enjoy every minute to the fullest!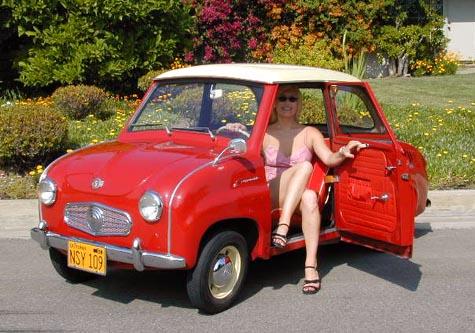 The first examples of the Goggomobil featured the popular suicide doors. Every self-respecting European Circus owned an early Goggo as its "clown car," and I will never forget the laughs generated by the sight of half a dozen wild performers spilling out of a Goggo in Munich's old Circus Krone. They then proceeded to lift the tiny car onto their shoulders to carry it outside!
(Ladies: you'll always look elegant exiting the Goggo.)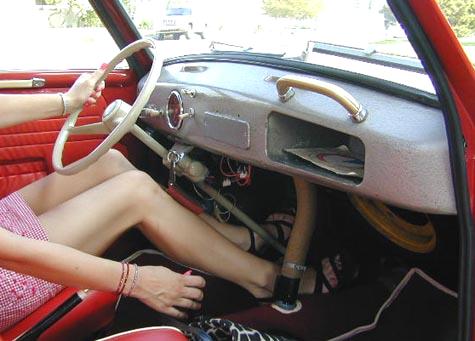 Despite being such a small car, Goggo's interior is amazingly spacious. So spacious, in fact, that even pilots with a six-foot-plus frame and their long-legged flight attendants will feel utmost comfortable inside, guaranteed!
Passenger-side grab bar is very useful during hard acceleration. Barely visible below the dash is the spare wheel. Flexible tube ducts lukewarm air to defroster outlets on dash or to your feet, as needed.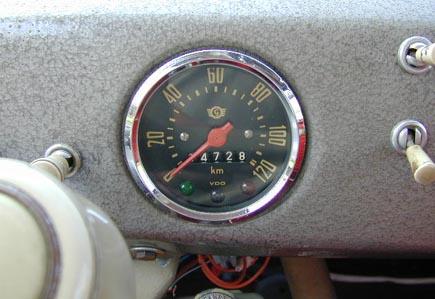 The instrumentation is all business: With a pleasant focus on what's really important in a car, there is Goggomobil's VDO speedometer, now displaying 34,728 kilometers, about 21,700 actual miles. Of course, a Goggo features lights, a horn, and even windshield wipers.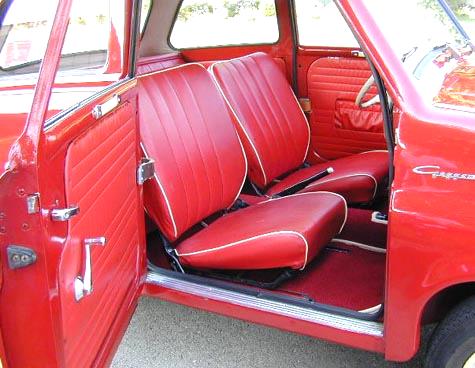 Red interior with cream piping matches the exterior colors. Morrokide seats are all original and in very nice condition. Passenger seatback even reclines! All seats are quickly removed for outdoor use when picknicking, etc.
Red loop carpeting with cream-colored piping has just been installed.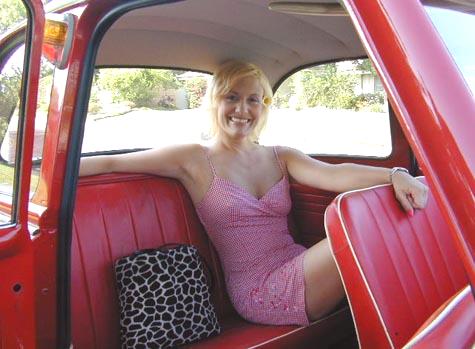 Yes, the Goggomobil is a true 4-seater! I have the German Kraftfahrzeugbrief to prove it; the strict German authorities actually permit four adults to ride in the Goggo (we've tried it, it really works!).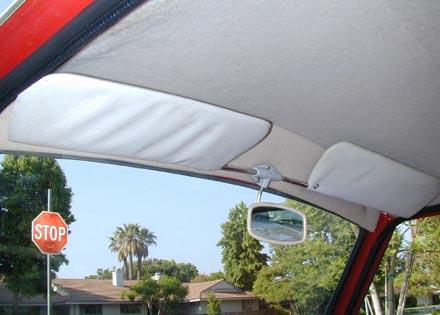 Just like a "real" car, there's a nice rearview mirror, a pair of sun visors, and a wool headliner.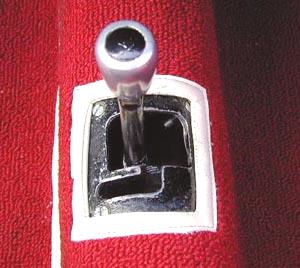 Did the Goggomobil acquire its nickname Arbeiter-Ferrari ("Workman's Ferrari") because of details like this smart aluminum shifter for its gated 4-speed transmission?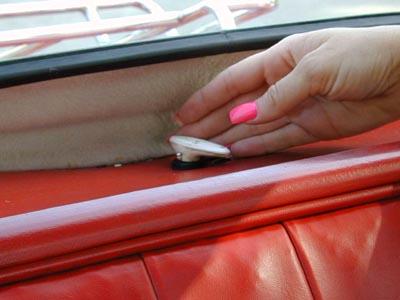 Achtunk! Always turn the three-position (off/on/reserve) fuel cock to the "off" position when parked to avoid flooding the engine. Fallbenzin means you don't need a fuel pump as long as you operate your Goggo within terrestrial gravitation.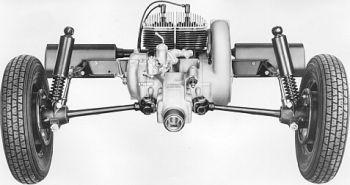 Simple but highly functional construction with independent rear suspension gave the Goggomobil handling characteristics superior to most competitors'. Visible above are the finned cylinders with the large fan housing and the BING carburetor. Goggomobil features 12-Volt Dynastart unit. Chief engineer Dolezal had previously worked at the ADLER motorcycle factory.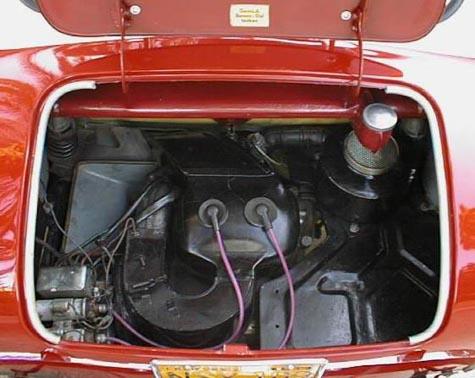 The motor is hidden under its black fan shroud. Everything is easily accessible. Right-hand shelf actually holds small luggage items.
Parts availability for Goggos is excellent, with fast and economical service by Uwe Staufenberg's www.goggomobil.com, among other specialists. Facsimiles of the German owner's and repair manuals, as well as a bilingual spare parts catalogue, are included.
This engine runs like a charm, just like you would expect it from a low mileage vehicle. There are no leaks of any kind and the engine happily lives on its 1:25 fuel-oil mix. Fabulous!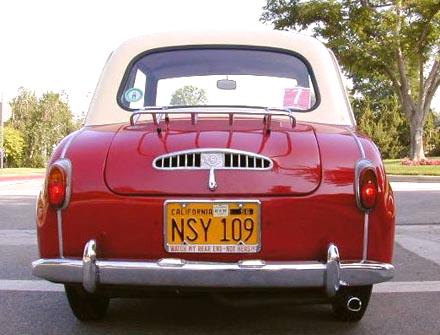 A set of valuable period California license plates is included. Should the car remain in the Golden State, it could legally be registered with these 1959 plates, due to the DMV's "Year of Manufacture" program.
Ready for a road trip, the Goggomobil even comes with a chrome luggage rack!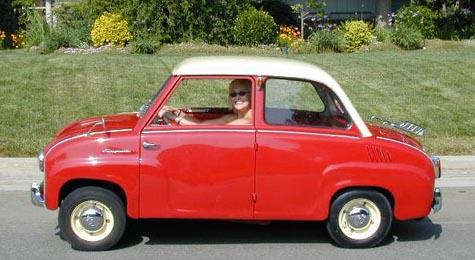 The car's brightwork is in excellent condition throughout. Unlike most microcars on the market today, which are being offered in various states of disrepair, this Goggomobil has been completely refurbished; everything works as intended and the car is ready for your next adventure!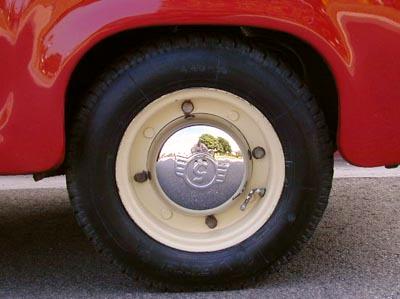 10-inch steel wheels wear 4.40x10 tires. Austin Mini radials would fit nicely, if perfect high-speed handling is your goal ! Winged "G" hub caps are new.
Goggo's so short, it only needs one turn signal per side, mounted on the B-post.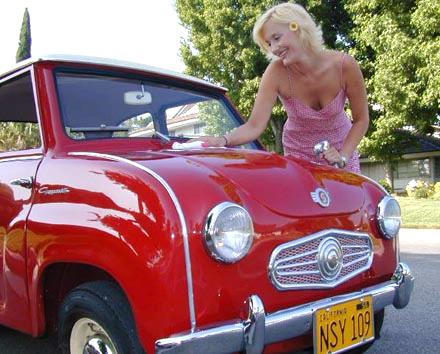 Goggo's paint is as sparkling as kids' eyes when you tell 'em that this car can be driven to school by any 10-year old! The deepest red, worthy of a Ferrari, combined with the cream-colored top, assures high visibility.
However, much more important, and even more breathtaking than Goggo's shiny skin, is what lies beneath, in an area normally hidden from view: the undercarriage.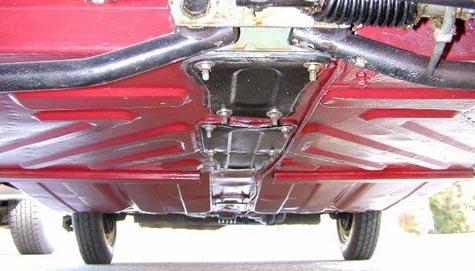 A picture tells more than a thousand words: simply beautiful, isn't it? A few years ago, Goggo's all-metal body was sensibly restored from the ground up, to German standards. There is no hastily fiberglassed, hidden rust anywhere! Following its restoration, the car passed the extremely strict German TÜV safety test, where engineers in gray smocks cower in a pit, ice pick in hand, ready to poke mercilessly through fresh undercoating and fail every poor old car having soft spots underneath.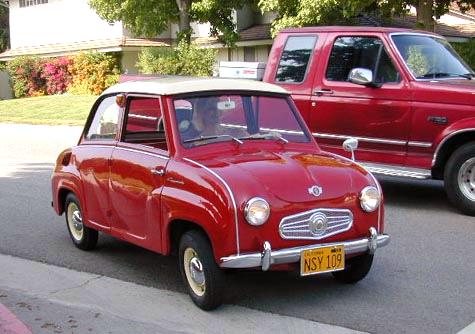 Definitely suitable as a daily driver, the Goggo loves to be shown off. Here in Santa Barbara, I use my '62 Goggo Coupé (not for sale) almost daily to run errands around town or to drive to the beach. The car is very frugal, and happily putt-putts along in city traffic. Top speed is about 50mph, so excursions on secondary roads and rural highways are a breeze.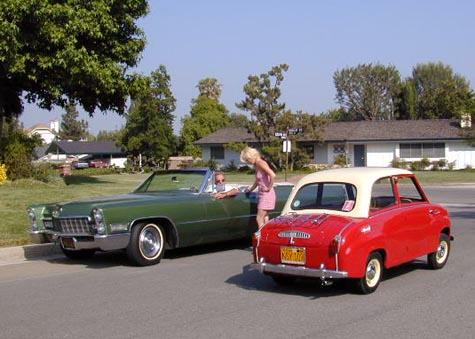 Attention getter par excellence ! Owning a Goggo makes you an instant celebrity in your neighborhood. Park it in front of your business; imagine the crowds it would attract! Shriners love Goggos for parades, and we'll be taking this one to the Topanga Memorial Day Parade.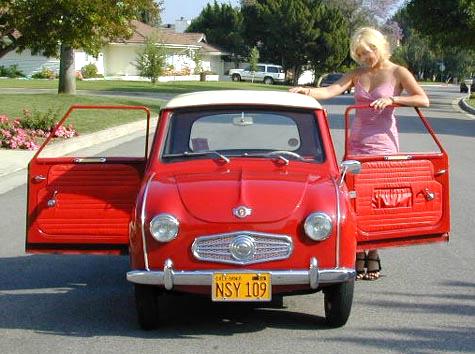 Isn't she cute?
If you always thought you needed an exotic sports car to have fun, think again: nothing on wheels, not even a Lamborghini, will get you more smiles per gallon than a Goggo. It is the perfect vehicle to leave your daily routine behind and enter the realm of happiness!