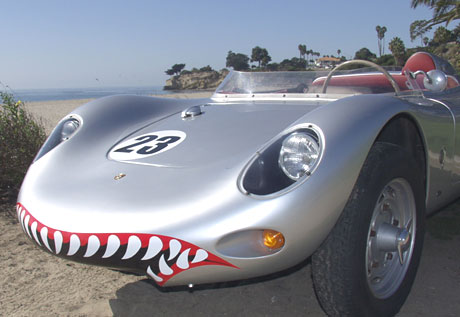 B-A-N-Z-A-I ! The visual impact of a P-51 Mustang fighter plane wearing German Rennsport Silber livery. Ferry Porsche's fabulous Spyder RSK. You'll never encounter a more striking automobile on public roads!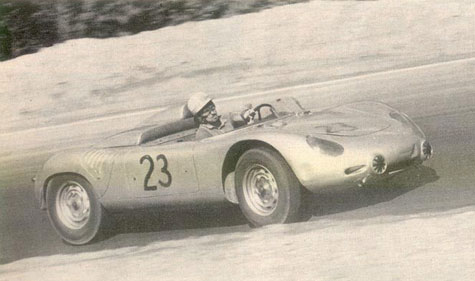 The RSK (Type 718) was the successor to the famous "James Dean" 550A 1500RS Spyder. Only 33 were built in 1958/9. Just a handful made their way to the U.S. In its heyday, the RSK was the machine to beat, dominating SCCA racing, Sicily's Targa Florio, the Nürburgring 1000km, and its class at the 24 hours of Le Mans. A survivor, like ol' #23 here, would set you back a cool $500,000.00, if you could find one.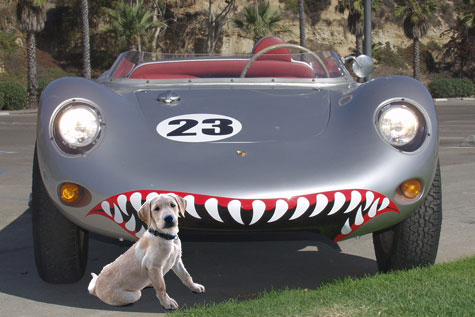 RSK ownership being beyond the financial capabilities of most enthusiasts, this unique recreation's impact on the unsuspecting public can only be described as mind-boggling. Dogs bark, kids point, and girls swoon. Even the experts, including drivers of various Porsche 356 models, seriously believe this RSK to be the real thing!
And that's no wonder, really. After all, first titled and registered for road use in California as a '64 Porsche, equipped with vintage, six digit, black-and-yellow California license plates, a German dataplate stating Porsche as the manufacturer, and numerous authentic Porsche bits, as well as body badges, scripts, and mock RUDGE knock off wheels, it is hard to doubt its authenticity.

Even the beautiful, teardrop-shaped coachbuilder's badges of the original are mounted to the front fenders. Just like the 550, the ultralight RSK's aluminum body construction was commissioned to coachbuilder WENDLER in Reutlingen, the heart of the Fatherland.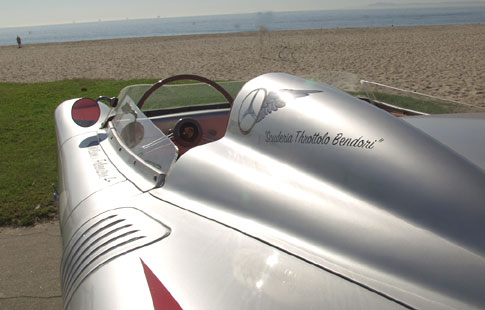 Almost looking like a streamliner ready to conquer the Bonneville salt flats, there are few cars of such dramatic proportions, even fewer outside a race track. Drive a polished-aluminum Lotus 11, a Lola T70 or Porsche 917 Longtail on the highway, the impression couldn't be more striking!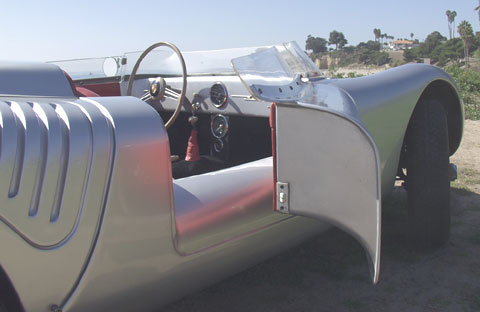 Open the wide doors, not a bit less outstanding than those of a Mercedes 300SL, and you enter a no-nonsense cockpit.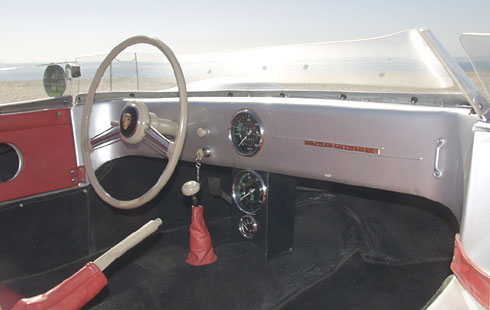 Click on the above image for a closeup image of the dash
It's a trip back to the 1950s, stark and functional, with a wraparound LEXAN windshield, authentic Porsche instruments, and a stubby floor shifter with period Bakelite shift knob.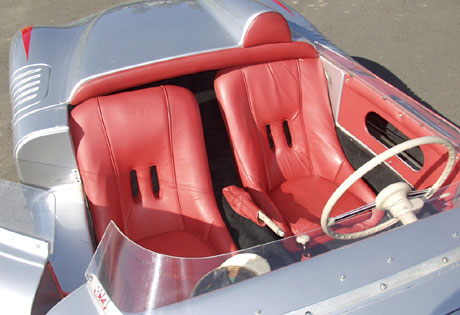 Comfortable, Speedster-type bucket seats were sumptuously upholstered using real, Ferrari-red CONNOLLY leather. Remainder of interior features leather, as well.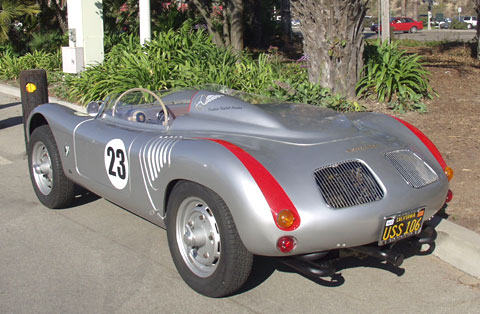 Wind-tunnel testing had shown that the tail of the RSK was a good place to scavenge air for cooling, hence the twin, chromed grilles in the back of the Typ 718. In the late 1950s, Porsche experimented with various engines, even an eight cylinder unit. The vulnerable 4-cam motor most commonly used has been substituted here with an ultra-reliable Type 1 flat four power plant.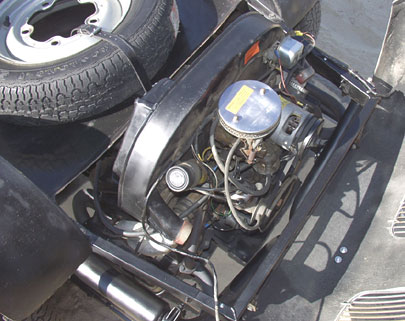 A factory replacement engine, it shows a rebuilder's tag from the Netherlands. Based on an AS41 case, it features dual intake ports fed by a single carburetor. Healthy as an ox, it is devoid of any oil leaks, does not smoke a bit, and you may trust it to run for many years to come, with the dependability of a Volkswagen Beetle.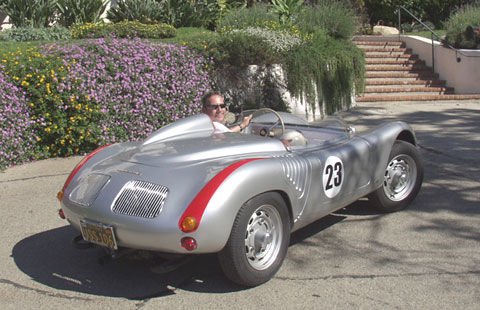 Ready to be enjoyed at a moment's notice, this RSK does not need the constant attention of factory-trained mechanics. It fires up at the first turn of the key, and off we go!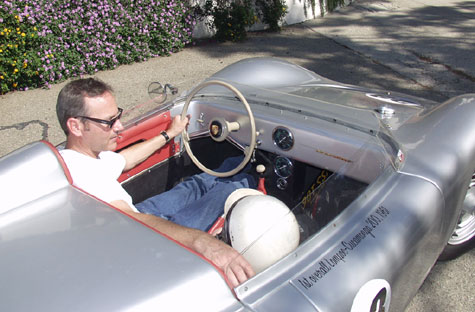 We? Yes, that's my 5-year-old daughter strapped down in the passenger seat, wearing von Trips' old racing helmet. RSK is the proverbial Café Racer.
Lettering on passenger door proudly proclaims: 1st overall Lompoc-Cucamonga 200, 1961 .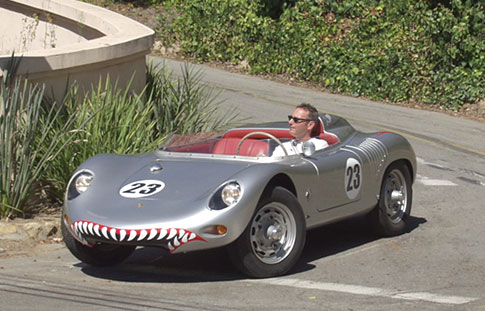 This time, we decide to zip through some of the twists and turns on mountainous Hwy. 192, high above Santa Barbara.
It's like being in a time machine, catapulted back to a more innocent decade, where pure, unadulterated fun could be had on the open roads, without pangs of conscience.
The RSK is super easy to drive. Steering is precise, 4-speed manual 'box shifts effortlessly, brakes require little effort to bring the car to a safe halt, from any speed. The Italian style of driving is entirely possible, hands near the bottom rim of the large steering wheel, changing gears with two fingers; just taking in the azure blue skies over California's South Coast at a leisurely pace while reclining on glove-soft leather.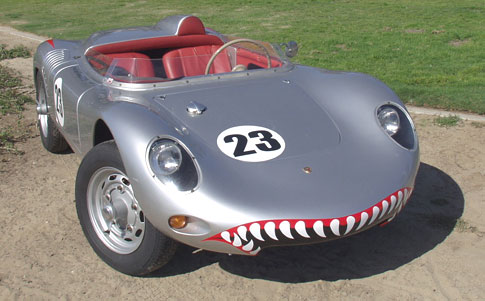 Back home; let's take a closer look at the car!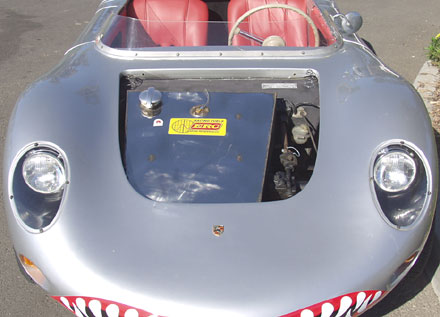 Trunk is dominated by a hand-built, stainless steel fuel tank with Le Mans-style, flip top filler cap.
The image on the left can be enlarged by clicking on it
Metallic silver is the only suitable color for a true German race car; here, the years have created a lovely patina, little chips and scratches adding to that genuine "as raced" look. Santa Barbara's own C-Wood, of AIRTRIX fame, painstakingly re-fashioned the car's 1950s airport racer credentials, using real paint, not cheap decals.
Click on any of the above images for a full-size view
Authentic details. (Clockwise, from top left):
Hood detail: Porsche crest, lucky #23, aluminum flip-up fuel filler cap
Rare, enamelled Nürburgring racing badge
Fantastic war paint, immortalizing a famous old racing fraternity
Speedster banjo steering wheel with PORSCHE horn button, vintage gauges, levers, and knobs.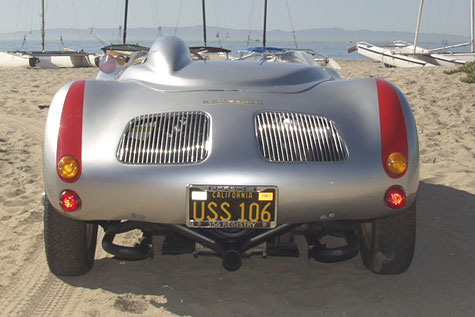 Sold for $28,000.00 during the 1993 Pebble Beach Concours weekend--at the Monterey Sports Car Auction--to a Lady from Laguna Beach, the car had seen virtually no use since. We went through the entire car, installed a fresh battery, and tuned it thoroughly. Number 23 is licensed through August 2003 and ready to be driven anywhere, with great pleasure.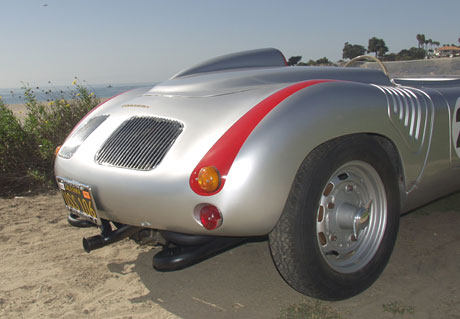 There are Porsche 356 Coupés, there are Speedsters, original ones and replicas, there are more 550 Spyders out there than were ever built by the factory. There are bunches of "new" Cobras and even Ford GT40s. But nothing comes close to this RSK. Built from the ground up by dedicated craftsmen, decades ago, old faithful #23 is in a league of its own. It combines utterly delightful austerity with Million-Dollar looks. A true 1950s statement, the RSK will put a magic ear-to-ear grin on your face, every time you take it for a spin.