Famous "Limited Production "
Concept Truck!
"Is that a custom truck?" you will be asked all the time.
This is a very valid question, since you are driving down the road in a pickup truck styled like no other, seemingly straight out of George Barris' Hollywood Kustoms shop. Truth is, the truck was factory-built. In Detroit.
No kidding . . .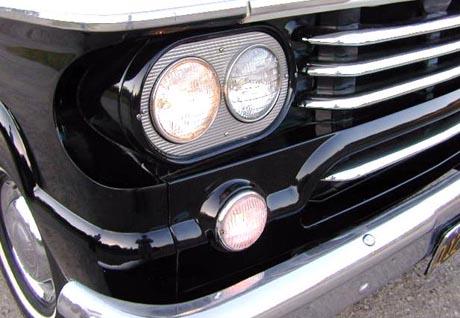 In 1957, competition among the "Big Three" is at an all-time high. Chevrolet cleverly uses pure show cars, exhibited across the nation at the Motorama, to drum up excitement among prospective car buyers. Some design features of these concept vehicles make it into production, on automobiles such as Cadillac's Eldorado Brougham and Chevrolet's Corvette and Cameo. Ford, on the other side of town, has its Retractable Convertible and the car-like Ranchero pickup, both new for '57.
And Dodge?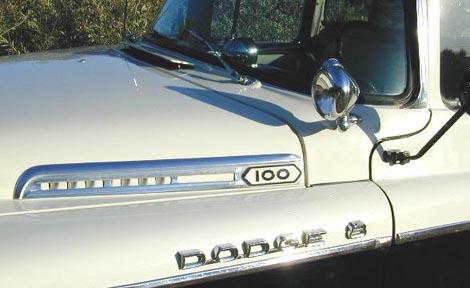 Joe Berr, head of Dodge's so-called "Special Equipment Group" (SEG), rises to the challenge. He takes a pair of rear fenders and a rear bumper from a 1957 Dodge two-door Suburban Station Wagon and has them fitted to a Custom cab pickup. Chrysler's management gives the 'green light' and the Sweptside is born!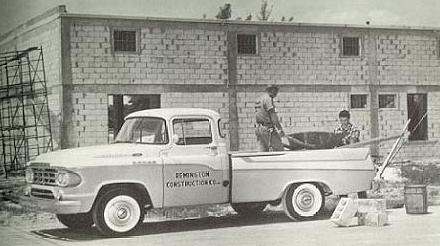 It is doubtful, that any of these stylish and exclusive Sweptsides were ever used for mundane work duty, as this old factory photo suggests . . .


(Used with permission of Daimler-Chrysler Archive)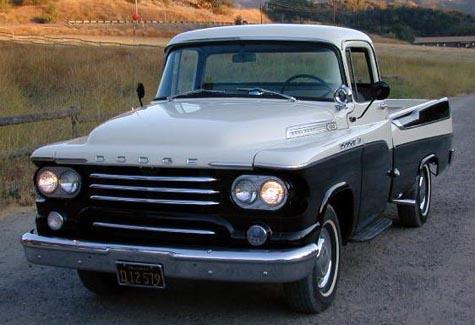 Built in very limited numbers at SEG, away from the regular assembly line, between late 1957 and January 1959, the Sweptside is so rare that even knowledgeable 'car guys' hardly ever had the chance to see one in the flesh. You can imagine my excitement, being a MoPar enthusiast, when I found this amazingly well preserved specimen!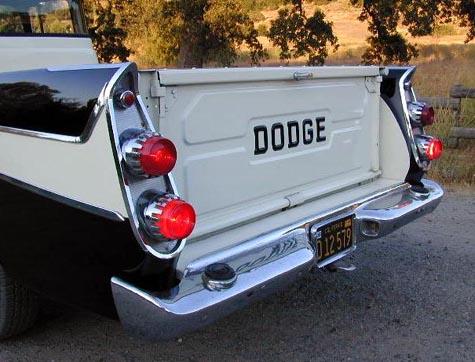 A California truck since new, it was owned for decades by "Uncle Gus", an affluent rancher and horseman from the Hollister area. Uncle Gus loved this Dodge, and never would have dreamt of using it as a work vehicle. Sure, at times he would take a few hay bales along, for his show horses, but the fact that the insides of the bed are dent-free speaks volumes about the care the vehicle has always received.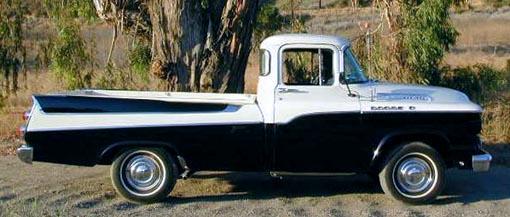 The 42-year old pickup's body is in outstanding condition. If you know just how rust-prone the "Class of '58" was, you will truly appreciate the fantastically rust-free sheet metal of this D100. Even the most vulnerable spots, such as the cab corners and the rear wheel arches, are absolutely healthy. The rear quarter panels are arrow-straight, without any dents or dings. The cab is equally nice. The brightwork is complete and amazingly straight. The bumpers might benefit from a dip in the chrome tank, but they are also very straight. The two-tone paint, though older, is still very attractive, glossy, and without any major blemishes. This truck certainly stops traffic!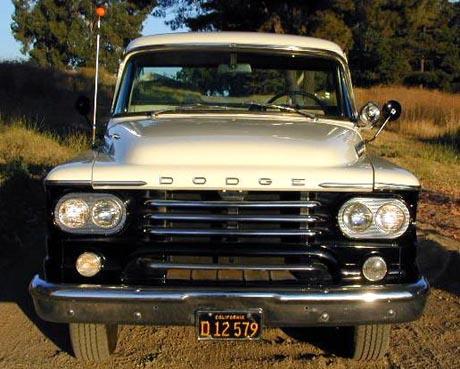 The quad, hooded headlights and a grille with four thick, horizontal chrome bars combine to form an unmistakable face. All the lights work. Note the--optional--tinted glass.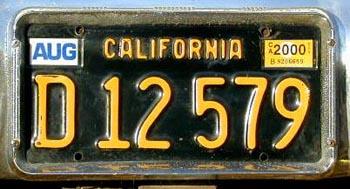 The Sweptside proudly displays its original set of vintage California black-and-yellow license plates, in nicely preserved condition. The truck has never been in a fender bender. It is currently licensed for street use. Fly in and drive home!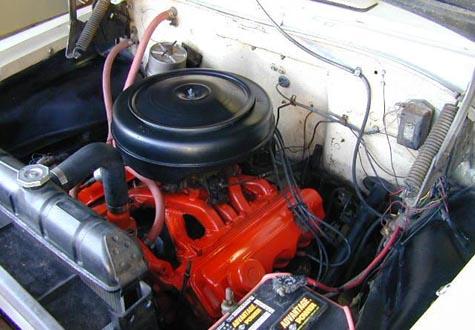 Mechanically, the pickup is very strong. In fact, Dodge's own 315 cubic inch V-8 engine also powers some '58 Dodge passenger cars. With an advertised output of 204 horsepower and the CARTER 4-bbl carburetor, the optional V-8 was almost twice as powerful as the standard L-head six!
The truck has just received a newly rebuilt radiator and water pump, as well as a new battery and all-new belts and hoses.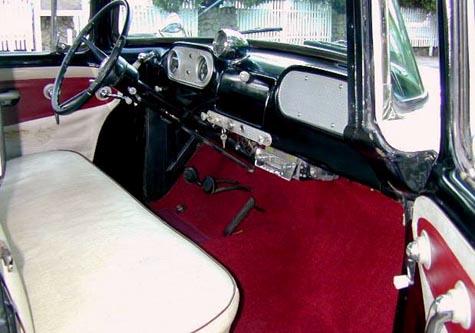 Inside, this pickup could almost be called plush. There are no rips in the seat material, and the deep red carpeting is new. Being the top-of-the-line offering for 1958, the Sweptside comes with a number of neat options, such as door arm rests, heater, windshield washer, electric 2-speed wipers, glovebox lock and perforated headliner (here partially missing). Price for the 116-inch wheelbase Sweptside was $2,124 new, a hefty 30% premium over the standard pickup!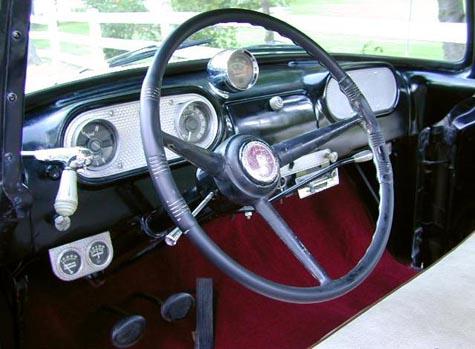 With the exception of the chrome tach, all the gauges work fine, even the accessory oil pressure instrument and ammeter. Gauge facings are very nice. The big steering wheel is free of any major cracks, but would benefit from a little TLC. Transmission is a three-on-the-tree manual unit, strong as an ox, and needing a sensitive hand to shift without noise.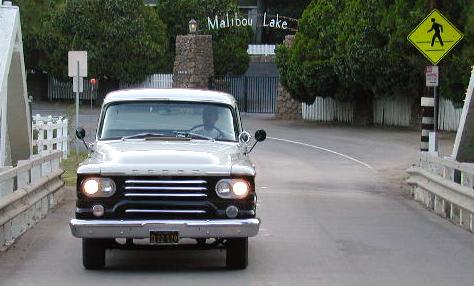 This is not a farm truck and it doesn't drive like one! In fact, it literally owns the passing lane on the freeway. Acceleration is surprisingly swift; a smooth suspension and crisp handling allow for effortless maneuvering, even in today's dense traffic. The brakes have been rebuilt recently, and the sweet-sounding dual exhaust system is new.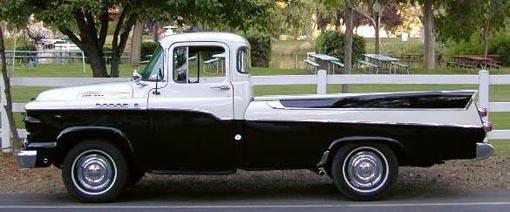 This is not a restored show truck by any means, but one that has always been nicely maintained by its caring owner, Uncle Gus. However, due to its rarity and its wonderful condition, is certainly has the potential to be transformed into a prime candidate for the show circuit, if it's that what you are aiming for.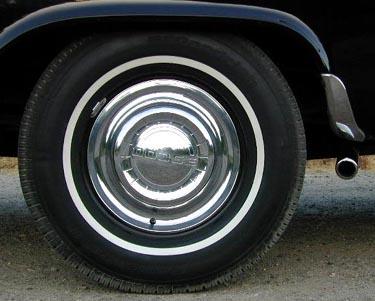 Factory one-piece steel wheels feature new white wall radial tires all around as well as the original, dent-free de luxe full wheel covers.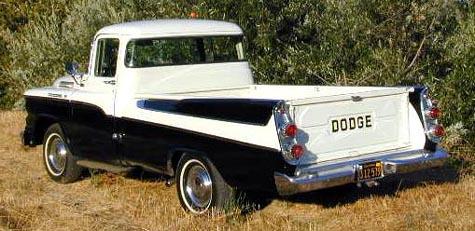 One of the most appealing aspects of this finmobile is the three-quarter rear view.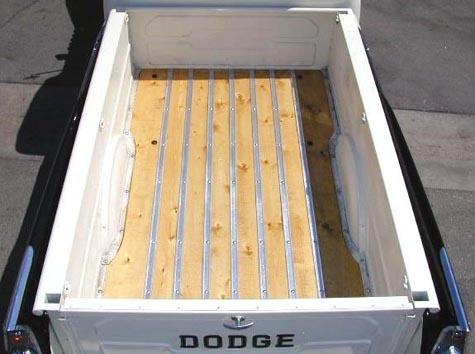 The wooden pickup bed floor has recently been replaced, a costly and labor-intensive undertaking.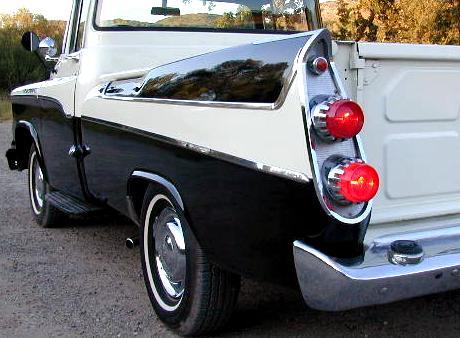 Photo above shows tail fin and taillight in detail. The pot metal housing of both taillights is in decent but not perfect condition and the same can be said about the lenses (which are readily available).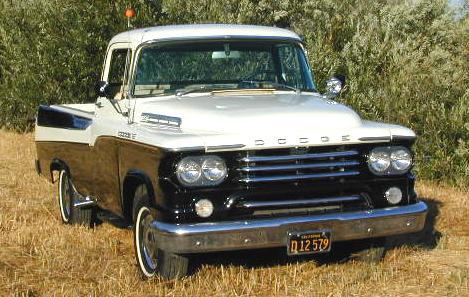 Very few of these esoteric trucks have been built; even fewer have survived the ravages of time. They are rarer than hen's teeth today.
The Sweptside for auction here surely must be among the finest unrestored examples in existence.
Never rusted, never in an accident, with correct engine, transmission, all trim pieces, and running like a charm: where else but in Southern California could you possibly find such a gem? This treasure is the only one of its kind that I have seen in over 25 years of attending car shows and MoPar meets; it is doubtful that I will ever be able to unearth another Sweptside.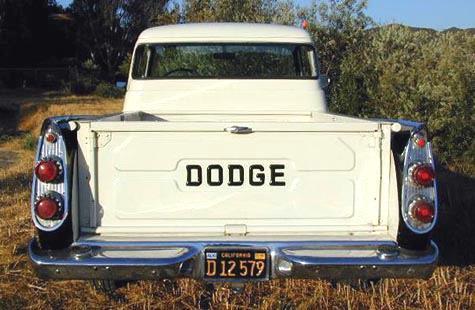 MoPar or No Car!
---
Presentation & Copyright © 2000-2002 by Californiaclassix.com. All Rights Reserved.
No part of this presentation may be reproduced without written permission of the author. E-mail inquiries to Webmaster@Californiaclassix.com.