Sixty-eight years ago, in 1935, the fabulous AUBURN Speedster was introduced to the World.

Click on the above image for a full size view
Originally conceived to succeed the famed DUESENBERG Model J, designer Gordon Buehrig and chief engineer August Duesenberg were commissioned directly by E.L. Cord, owner of the AUBURN-CORD-DUESENBERG conglomerate, to create a sports car of otherworldly beauty, money being of no concern.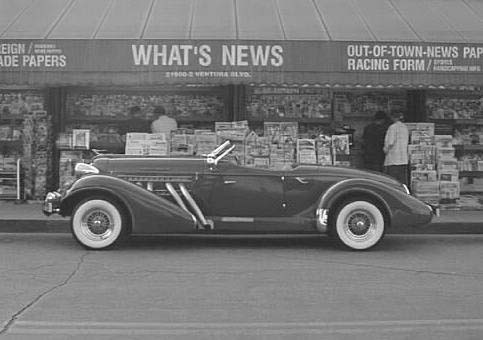 With its impossibly long hood, pronounced boat tail and de rigueur nickel-plated, external exhaust pipes, the Speedster's sculpted body became an instant American icon of the Classic Period. Then as now, few automobiles stand out as clearly as symbols of wealth and success as the Boattail Speedster with its Million-Dollar look.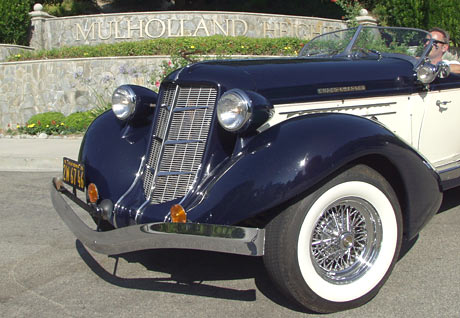 Not surprisingly, AUBURN Boattail Speedsters--built in very limited numbers for just a couple of years during the height of the Great Depression--were featured prominently in many magazine ads and movies. Unearthing one that's for sale today has become an almost impossible task.
The Boattail Speedster introduced for auction here is as special automobile in more ways than one. In fact, it's unique, and if you bear with me, you'll understand why.
Please, note that all the color photos shown here were taken on August 9, 2003 and document the car accurately as it presents itself today.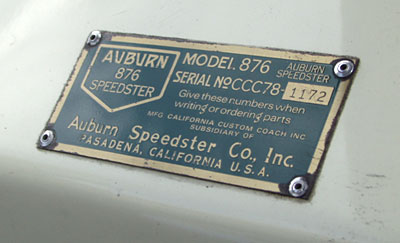 Serial No. *CCC78-1172*, appropriately titled as a 1935 AUBURN, was hand-built from the ground up at California Custom Coach, a subsidiary of the Auburn Speedster Co., in Pasadena, Calif., sometime in the late 1970s. It is an astonishing recreation to exact size, ensured by body molds taken from one of its older siblings.
Few were made, even fewer have survived, and all of these car have become highly sought after collectors' items in their own right.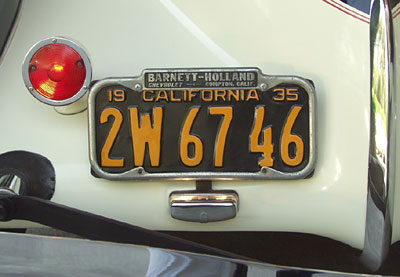 This magnificent motorcar is a low mileage, one owner vehicle that has never left the Golden State. It comes with a clear California Certificate of Title and can legally be driven with 1935 Year Of Manufacture (Y.O.M.) license plates. (The restored set shown on the car is included in the sale.)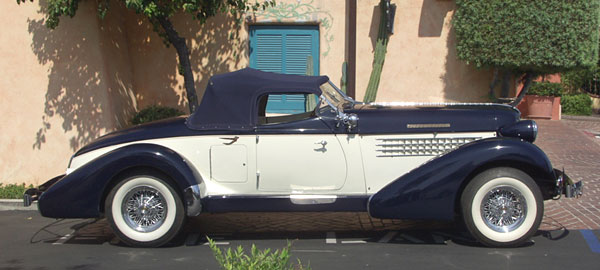 A large automobile by anyone's standard, the AUBURN is x ft xx inches long, x ft xx inches wide, and, with the top closed, stands xx inches tall.
Click on any of the above images for a full-size view
Some of the Auburn's exquisitely designed original features, from left to right:
Lockable rear side door allows easy access to golf clubs, etc.
Dual RAYDYOT spotlights
Rakishly curved, Duvall-style split windscreen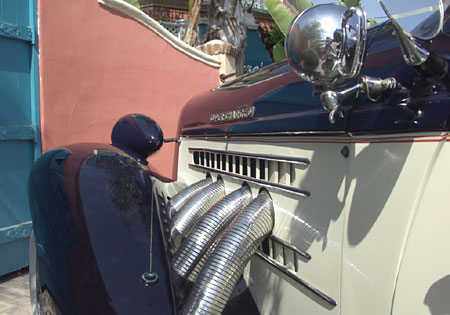 Click on the above image for a large close-up image
Despite its advanced age, this Speedster still carries most of its factory-applied paint. Naturally, during decades of enjoyment, it acquired a myriad of small imperfections, mostly rock chips, primarily on the fenders, which have been touched up with a fine brush. None of this is visible to the casual observer, and it does not take away from the car's inherent beauty.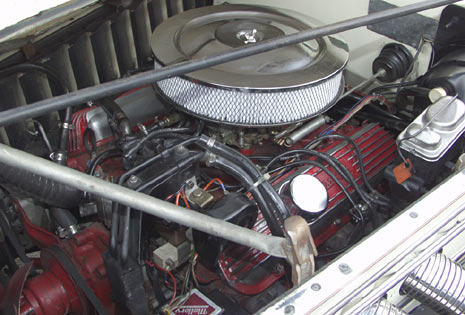 This AUBURN is powered by a powerful, bullet-proof Ford 351 cu.in. Windsor V-8 engine. A Ford C4 3-speed automatic transmission, power steering, and power disc brakes make operating this large car super easy. The entire drivetrain is in a prime state of health. No exhaust smoke or any untoward noises spoil the experience of driving this gem, the most impressive car on the road.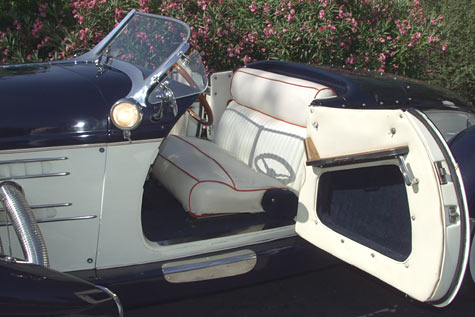 Nothing stimulates the senses of an automobile aficionado as much as a luxuriously appointed interior.
Rear-hinged doors open wide and allow for an elegant entry into the AUBURN's inner sanctum.
Richly pleated seat upholstery and side panels are cream-colored with red piping, elegantly offset by brand new, cut pile carpeting in gorgeous navy blue.
Behind the wide seat, there's actually a very large, fully carpeted storage area, able to receive the convertible top, plus plenty of luggage.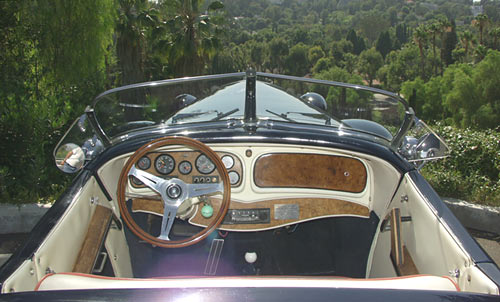 Click on the above image for another image
Five classic VDO white-on-black precision gauges are surrounded by authentic burl wood trim. Yes, the clock works, too! Steering column tilts; volant is a fine, Italian NARDI wood-and-aluminum wheel. AM/FM stereo unit and hidden anti-theft switches are also included. Inredibly, this Auburn even comes with the unique sniffers (mounted at the sides of the dash), which over half a Century ago prevented the motorcar from being started in case of a fuel leak!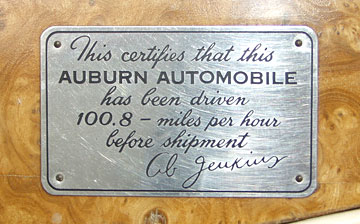 Every super-charged AUBURN was certified by Bonneville pioneer Ab Jenkins, of Mormon Meteor fame, to be able to reach 100mph, a benchmark for production automobiles that remained intact for many years.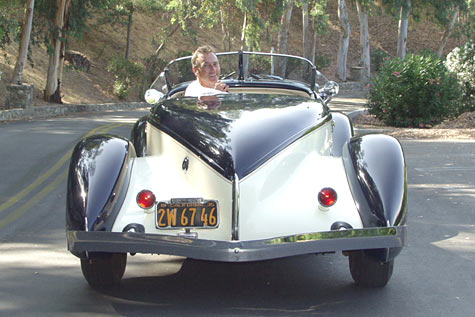 So, how does a Speedster behave in modern-day traffic?
Very well, indeed, thank you for asking. The big AUBURN starts instantly, hot or cold, idles smoothly, and glides along just fine on its wide whitewall tires. It's a very nimble car, really, with excellent brakes, and a deeply resonating, mellow exhaust note. Thanks to a powerful auxiliary radiator fan, this AUBURN always runs cool, even in 100-plus-degree L.A. summer weather.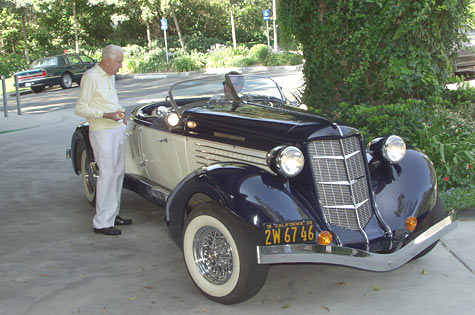 Clearly, wherever you show up with the AUBURN, be it at a fine restaurant or the country club, expect a captive audience. Making new friends is easy since there is phenomenal goodwill and admiration for this wonderful machine and its pilot.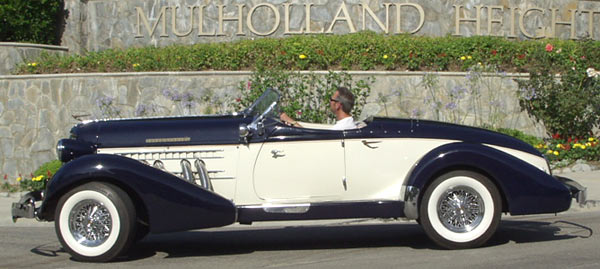 An AUBURN Speedster is a truly incomparable, very exhilarating motorcar!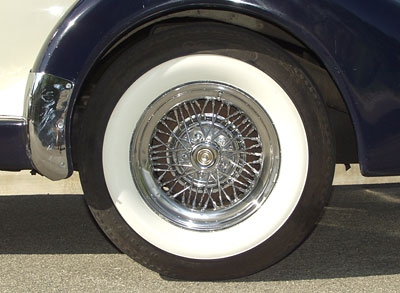 Click on the above image for a full size view
This AUBURN truly shines!
Its incredibly tasteful paint scheme is complemented by beautifully preserved chromed spoke wheels which still carry their irreplaceable machined brass center caps. Aside from their beauty, spoke wheels are incredibly successful in soften the ride of such a majestic motorcar, and the huge WWW bias ply tires--in almost new condition--round things up very nicely!
Click on any of the above images for a full-size view
Although this AUBURN, the original Speedster, was primarily designed for open-air motoring, it's comforting to find that it can very well be driven in inclement weather, thanks to its disappearing, padded convertible top and removable side curtains.
Dark blue canvas convertible top features tan headliner, hasn't seen much use, if any.
Clear LEXAN side curtains with chrome fittings.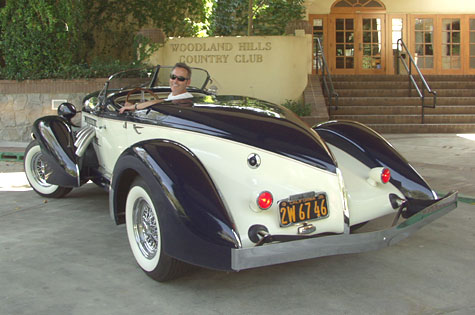 AUBURN Speedster: it's truly the quintessential classic car, here featuring a modern drivetrain. Due to its ultra-limited production, an AUBURN will always be a very special automobile. If you are among the lucky few who can afford a fine adult toy like this, you'll be pleasantly surprised that this AUBURN Speedster is not only a fabulous looker, but a reliable driver, too!