I always had a deep appreciation for MERLIN titanium frames. Merlins, especially the early frames from master framebuilder Tom Kellogg, are just otherworldly in their beauty and craftmanship. One look at the welds and you'd think the Almighty himself must have performed the seamless welding of the extremely difficult-to-weld 3-2.5 aerospace titanium alloy.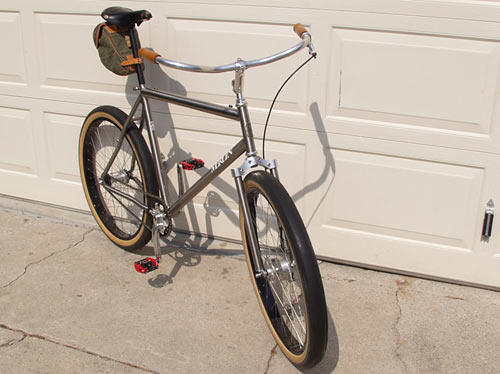 Click on the above image for an XXL-sized view (800 x 610 pixels)
When MERLIN introduced the Newsboy cruiser in 1994, I wanted one badly, more than anything else. Two issues--aside from the sky-high price tag--prevented me from getting one, though: the vertical rear dropouts with derailler mount didn't work for me, as I wanted it to be single speed right from the beginning; worse, however, was that the Newsboy came only in an 18" size, which was way too small for my 6'6" tall body.

Click on the above image for an XXL-sized view (900 x 642 pixels)
In 1995 I was able to purchase MERLIN # M8400, a N.O.S. 1993 frame in 21", the largest frame size available, and asked Merlin to change the vertical rear drop outs to either horizontal ones or track-style rear fork ends. Initially they declined my unusual request, but after being persistent, they finally agreed to do it within a total refurbishment of the frame. Alrighty! That was my ticket to a custom MERLIN, just the way I desired it so badly. While "refurbishing" the unbuilt frame, they also removed all braze-ons for the shifter cables and, unfortunately, the irreplaceable, old style headtube decal. Oh, well . . .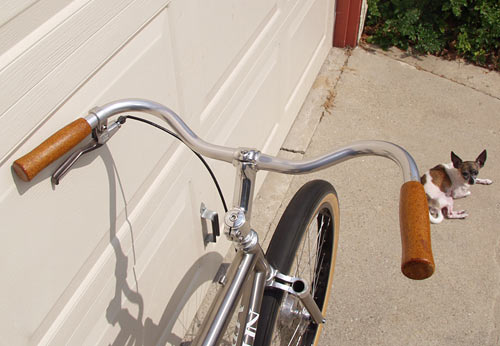 Click on the above image for an XXL-sized view (850 x 598 pixels)
The frame was only the begining, though. I wanted a balloon-tire-style boardwalk cruiser, featherlight and high-tech in its essence, but with an old-fashioned charisma. So I sourced for parts that would help me achieve the desired look.
Since the frame was still on the short side for my XXL-sized body, I used the tallest stem I could find, custom polished, complimented by NITTO Albatross bars and cork handlebar grips, both of which I got from Rivendell.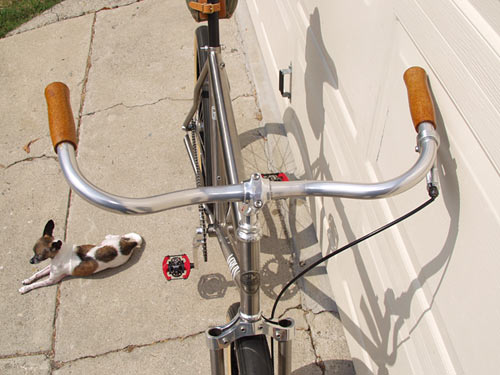 Click on the above image for an XXL-sized view (800 x 600 pixels)
I got lucky finding a matching prototype titanium fork, 1" threaded, with a stem in exactly the right length, without any provisions for a brake: a match made in heaven, since I planned on using a front drum brake only!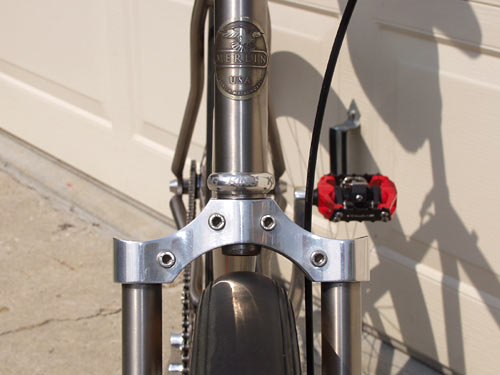 Click on the above image for an XXL-sized view (800 x 600 pixels)
Since only the best would do, I chose a KING headset. Wheels are "44 Magnum" aluminum rims, 44 mm wide, made for ice racing in Alaska, i.e. the Iditarod. I had them powdercoated gloss black, then painstakingly colorsanded and hand-polished: a slave job!
Complimenting those wide wheels are 54 mm wide RITCHEY Moby-Bite 2.1 slicks, made for rock climbing. These are the early gray ones, with gum-colored sidewalls, unobtainium today. (If you know of one or more for sale, please let me know!)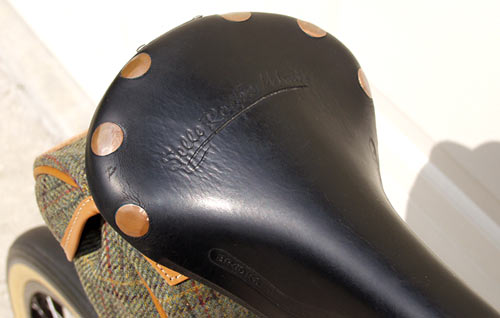 Click on the above image for an XXL-sized view (1000 x pixels)
Since a titanium seat post in a titanium frame may create problems, I chose EASTON carbon fiber (for the time being). The BROOKS Professional Team, with the large copper rivets, is not just "any" Pro; it's a French one!
Purse-quality tweed & twill seat pouch is a NYGEL SMYTHE & SONS original from Scotland, also courtesy of Rivendell.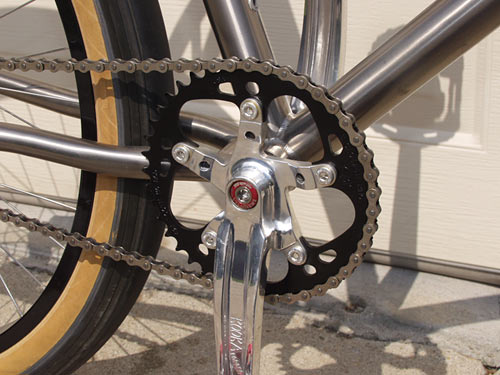 Click on the above image for an XXL-sized view (800 x 600 pixels)
Drivetrain consists of a PHIL WOOD bottom bracket, custom-polished KOOKA Ratcha crankset with ENGAGEMENT RINGS 42-tooth ring, and SHIMANO M646 (BMX/downhill) SPD pedals.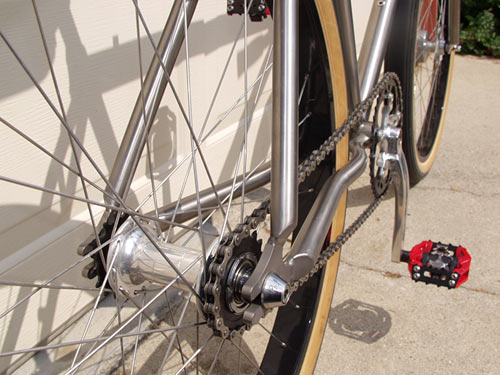 Click on the above image for an XXL-sized view (800 x 600 pixels)
But here's what makes this MERLIN a one-of-a-kind: rear fork ends, instead of the usual vertical rear dropouts. These are MERLIN originals, added by Merlin in Massachusetts. This bike, being a fixed gear rig now, carries a double-threaded PHIL WOOD flip-flop rear hub, with 18-tooth sprocket on one side, and 17-tooth sprocket on the other. If you know of another MERLIN like this, please let me know!
I have been enjoying this bike for over a decade now, mostly for cruising along the beach. It's one of my most cherished bikes (and one of the most expensive ones as well). Although the rubber on the slicks is slowly wearing thin, the bike has never been dirty, let alone wet. In fact, I never even had to clean it. It's one of the few bikes I will never willingly part with.
If you have questions or comments regarding this bike, feel free to e-mail me.
MERLIN Cruisers:
Twice did Merlin attempt to create a fascinating cruiser, the finest one in the World: first, in 1994, the Newsboy, then, in 2004, the Roots.
Twice they did a lot of things right, and twice they managed to spoil it by getting something wrong.
Cruisers are inherently simple, bare bones bikes to--as the moniker implies--cruise around on. People who buy a $5,000.00+ bicycle own more than one bike.
On the Newsboy they added a derailler and sidepull brakes, both truly inappropriate. The bike should have come with--at the time state-of-the-art--Nexus-7 internal hub, and roller brakes on both ends!
Merlin did much better with the Roots, save for the disc brakes. Luckily, both bikes are too small for me, so it doesn't really matter much, at least not to yours truly.